In:
It's time for sushi at Izumi on Royal Caribbean's Quantum of the Seas!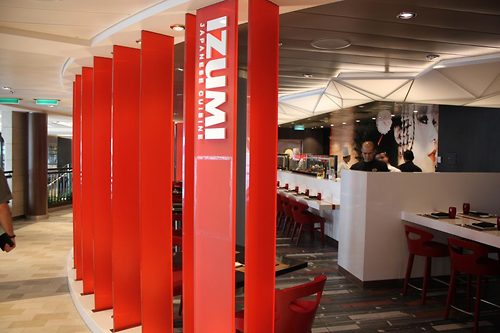 Izumi is the Japanese specialty restaurant that first debuted on Oasis of the Seas and has been spreading across Royal Caribbean's fleet ever since. 
Izumi specializes in mainly sushi, although there are some non-sushi items on the menu.  I've been to Izumi on Oasis of the Seas and Navigator of the Seas and it's been a great option because, well, I love sushi.
Going on Quantum of the Seas, I had to give Izumi a try even if I had trouble getting a reservation.  On my cruise, Izumi did not take any reservations for lunch but did take reservations for dinner.  I was able to get a table for lunch just as they were opening up at noon!
I've always enjoyed eating at Izumi because of the great quality sushi available, especially compared to the sort of sushi you would find in the Windjammer on other cruises.  
Atmosphere
Izumi is located on deck 5, in the heart of the Royal Esplanade.  It's nearly dead center in the ship, located between the Schooner Bar and Wonderland.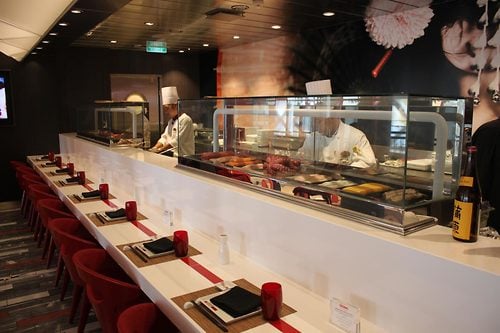 Izumi has a very open floor plan, with much of the restaurant exposed to the walk way that literally cuts through the restaurant.  There's bound to be a lot of other passengers walking by you, especially the tables closest to the entrance.  If you're looking for a quiet, intimate spot for a meal, this is not it.
The layout of Izumi is essentially a rectangle with a few extra tables opposite the entrance. There's also a sushi bar you can sit at for smaller groups or for those that want to see the chefs in action.
The furniture and look of Izumi is of a modern Japanese restaurant, with lots of reds and whites.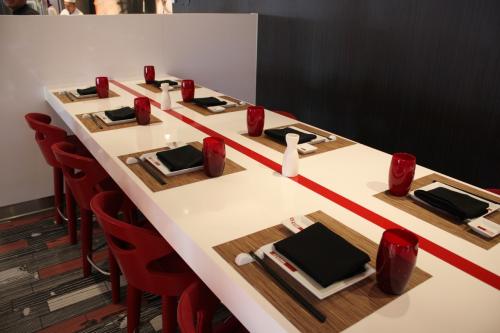 It's interesting to see where Royal Caribbean placed Izumi, because of the complete lack of separation from the areas around it.  Unlike other Izumi restaurants on other ships that have dedicated rooms, on Quantum of the Seas, Izumi is much more open and feels like a "junior specialty restaurant".  
Eats
The menu on Quantum of the Seas is the same, whether you eat at Izumi for lunch or dinner.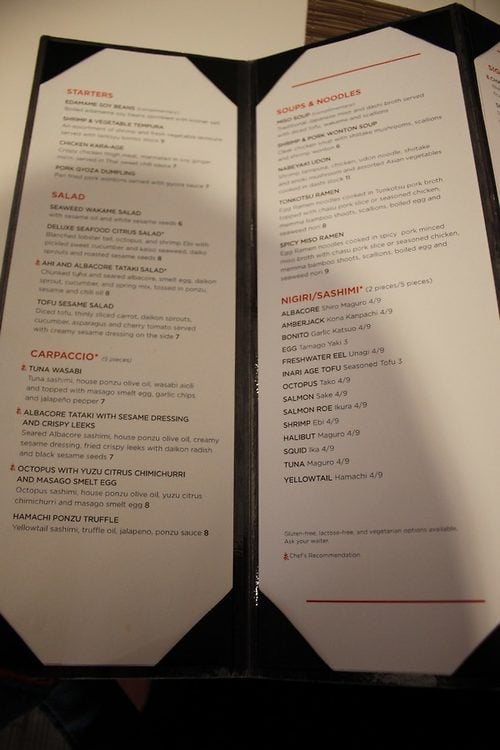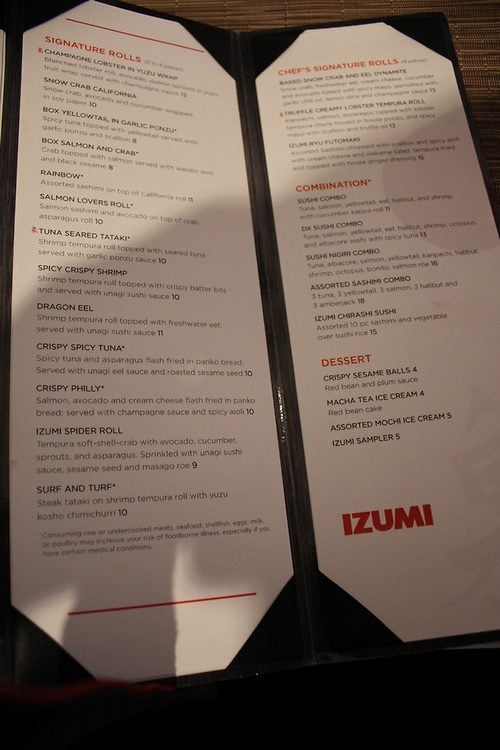 Nearly all of the items on the menu are sushi and we did not see the hot rock Japanese food that I first sampled on Oasis of the Seas (my wife would not have been pleased).  If you're okay with just sushi, the menu will be fantastic.
Like all Izumi's I have ever dined at, the miso soup and edamame soy beans are complimentary and you can have as much of either as you like.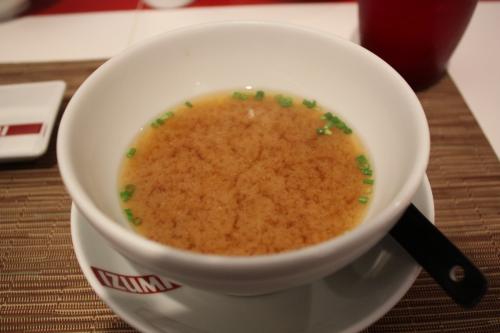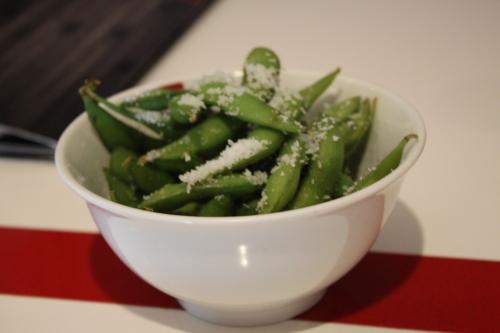 Both appetizers are very good and there is plenty of edamame to go around (as well as salt).  It's a great way to start off your meal.
The sushi offerings break down between nigri/sashimi, rolls and combinations.  Personally, I love to get a few different rolls to sample what appeals to me.
I found the prices of rolls at Izumi to be about average for what you would pay for similar rolls on land.  The chef's signature rolls tend to be more expensive but  most of the rolls will run you between $9 and $12, with most in the $10-11 range.  In the grand scheme of sushi roll prices, it's neither cheap nor expensive.
I opted for the box yellowtail in garlic ponzu roll as well as crispy spicy tuna roll.  I also ordered two yellowtail sashimi.  Tuna and yellowtail are my favorite types of fish for sushi, so I stuck with my guns.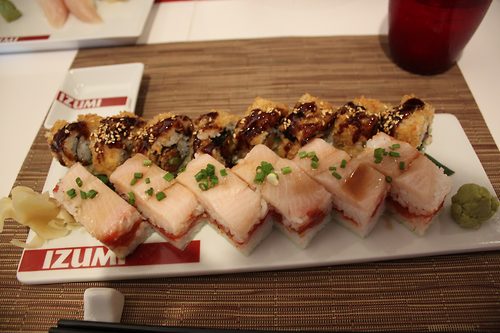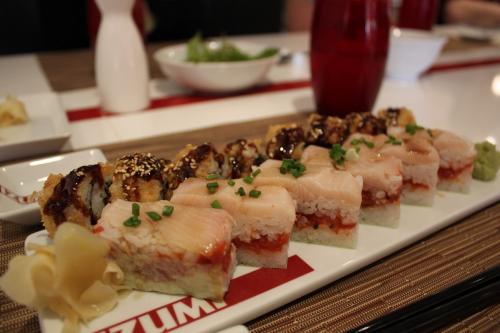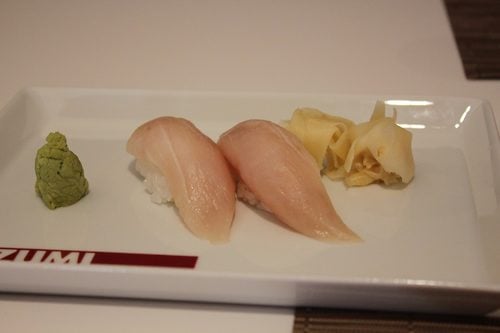 Both rolls had excellent flavor and I thought the size of the rolls were about the same as what I might get on land.  I did not order any kind of crazy sushi rolls either, so what I received is right in line with my expectations.
I received six pieces for the box yellowtail roll and eight pieces for the crispy spicy tuna.  That's a great value for sushi.
My friends dining with me also had other kinds of sushi, including this DX sushi combination plate.  Both of them reported it was quite good.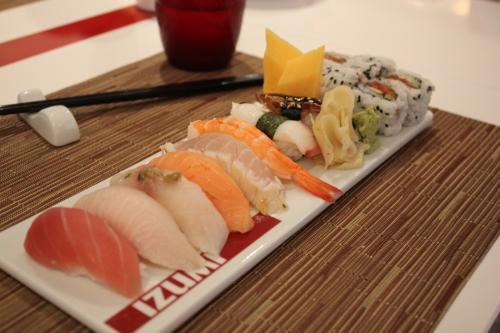 Overall
Izumi is exactly what it advertises, a great spot for anyone that is in the mood for sushi.  
Royal Caribbean has set the bar for Izumi restaurants across its fleet and the Izumi on Quantum of the Seas easily meets that expectation.  Royal Caribbean did not reinvent what Izumi is with Quantum of the Seas, but instead offers another good choice for a specialty restaurant lunch or dinner meal.
I mentioned earlier I felt like Izumi was a "junior specialty restaurant", because I don't think it's on par with restaurants like Chops Grille, Wonderland or Jamie's Italian in terms of overall experience.  Please do not take this to mean Izumi is not worth your time or is in anyway substandard. Rather, it's a different kind of experience.  Izumi more closely matches up with specialty restaurants such as Michael's Genuine Pub or Johnny Rockets because they are smaller and have lower price points.
If it were up to me, I would eat sushi everyday and certainly Izumi is a great spot to do just that.  If you want really good sushi on your Quantum of the Seas cruise, then Izumi is the place for you.
What do you think of Izumi? Please let us know with a comment!