In:
When we talk about favorite restaurants on Royal Caribbean Blog, Izumi is at the top of the list and for good reason.
On Royal Caribbean's Brilliance of the Seas, we had the chance to dine at Izumi. Three times. Suffice to say, we had a pretty good look at what Izumi offers.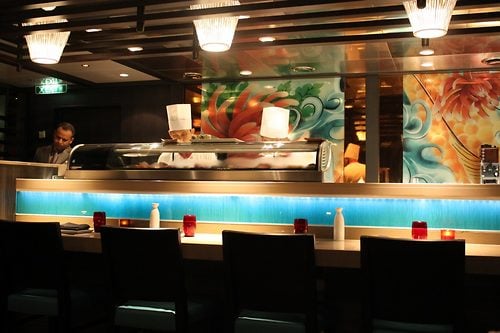 With Izumi, Royal Caribbean offers its passengers a high quality Japanese cuisine experience.  And with sushi being as popular as ever, we had to give Izumi another try on Brilliance of the Seas to ensure the experience has not changed.
Read on to see what our experience was like.
Atmosphere
Izumi is located on deck 12 at the aft of Brilliance of the Seas, where the Seaview Cafe used to be located.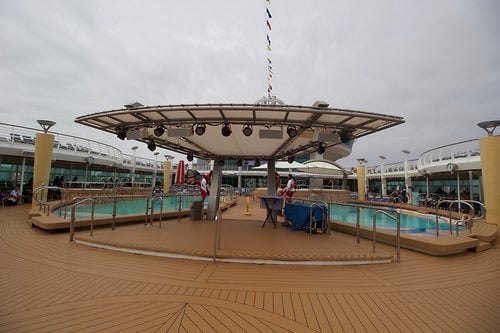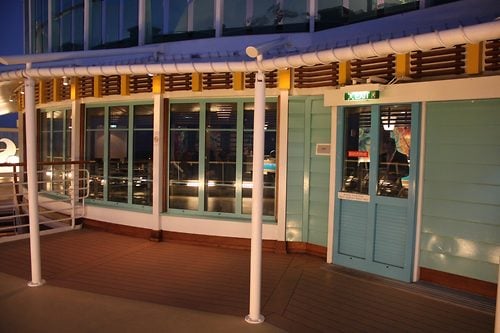 Looking purely at the exterior, you would be hard pressed to know there is a Japanese restaurant inside, given that the traditional hallmarks of a Japanese restaurant are not evident outside.
Once inside Izumi, you quickly get that feeling of being in a Japanese restaurant.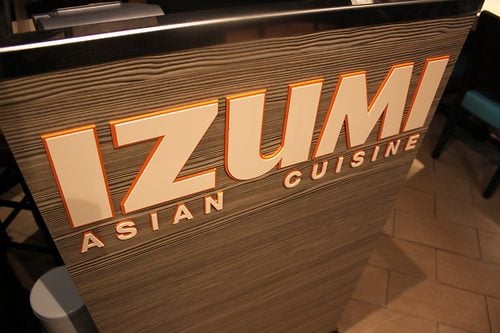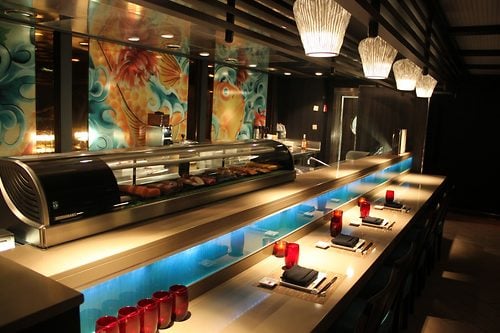 Izumi on Brilliance of the Seas features a lot of dark woods and oranges mixed with bright colors, notably a light blue.
I am not certain I could pull off the color motif found in Izumi in my living room, but it is aesthetically pleasing, especially at the bar.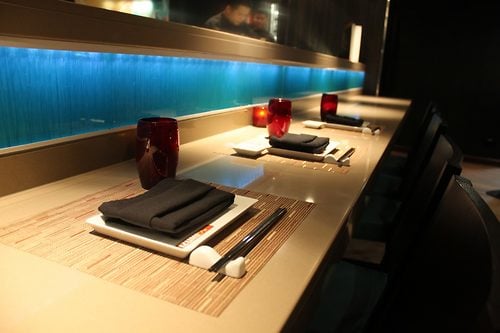 The seating area is comprised of one large room, with optional seating at the sushi bar.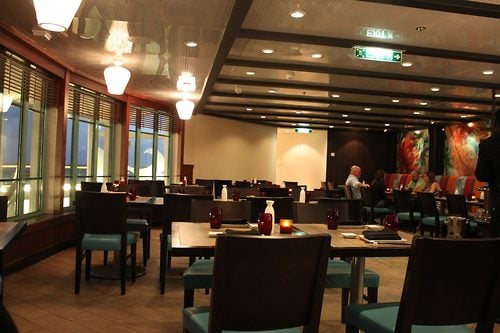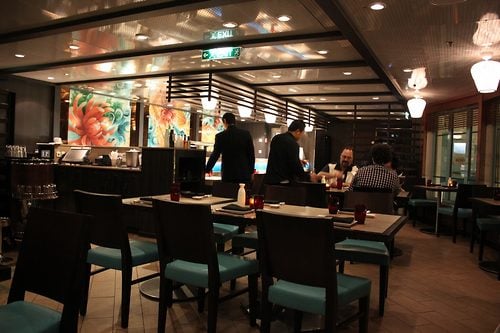 The best seats have to be by the window, which offer views out to the ocean and deck twelve.  The larger capacity tables are at the center of the restaurant.
You may not mistake the restaurant for a little piece of Tokyo from looks alone, but the food will make you second guess yourself!
Eats
On Brilliance of the Seas, we dined at Izumi on three separate occasions for "research" purposes.  The Izumi menu offers a fairly wide selection of food.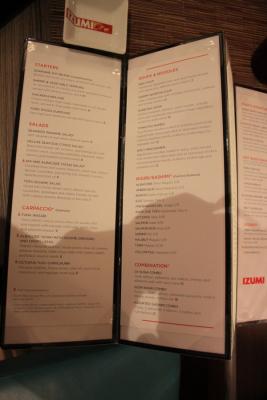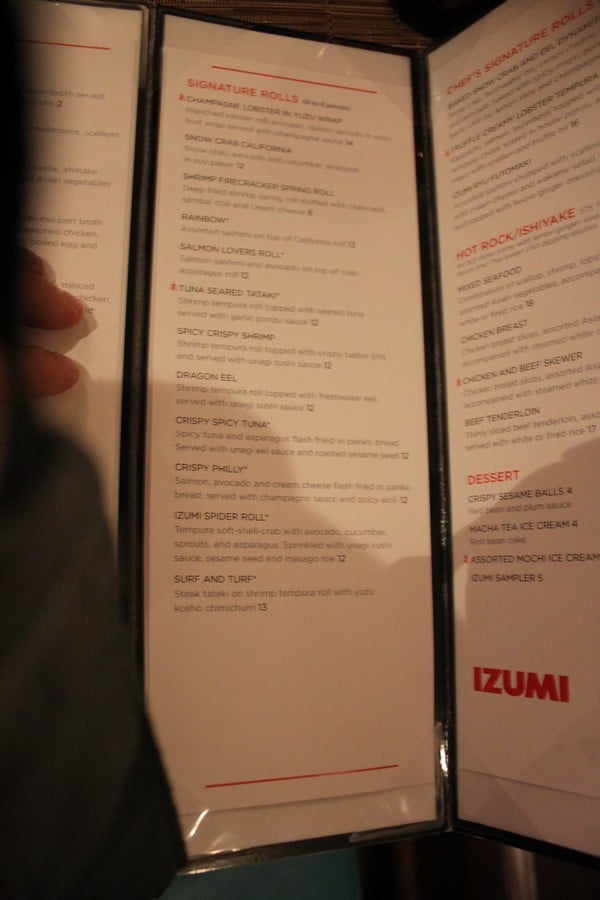 Sushi dominates the menu, but there are also a good selection of starters, salads, soups and ishiyake (hot rocks).
It should be noted that there is no cover charge at Izumi on Brilliance of the Seas. Rather, you will pay a la carte pricing for all items on the menu.
All guests receive a complimentary bowl of edamame soy beans, sprinkled with salt.  It is a delicious appetizer and I highly recommend trying them.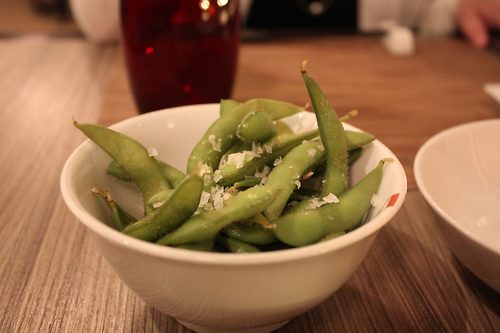 Interestingly, the miso soup at Izumi on Brilliance of the Seas now costs extra.  On all of our previous Izumi experiences, the miso soup was complimentary as well, but it seems to be a change on some ships.
I ordered the miso soup and at $2, it was the largest serving of miso soup I have ever had.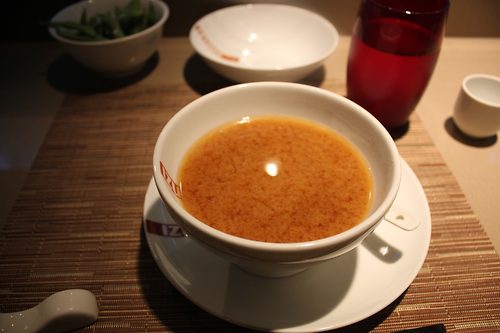 Like all Royal Caribbean specialty restaurants, there is a full bar selection.  I would be remiss not to sample the hot sake while dining at Izumi.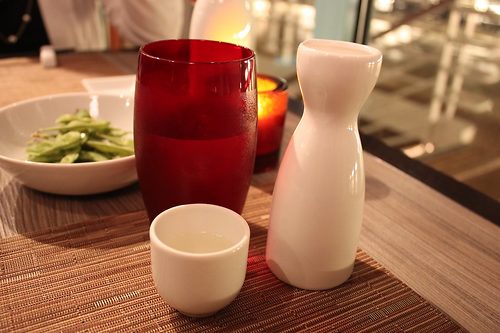 There is a serving of hot organic sake that is included with the premium unlimited alcohol package and it definitely hit the spot. Try ordering a beer and dropping a cup of your sake in it for a sake bomb!
By far, the reason most guests go to Izumi is for the sushi and this was no exception.  Guests will find a large selection of sushi to choose from, including hand rolls, sashimi, combinations, signature rolls and chef's signature rolls.
The best value is in one of the combination plates, signature rolls or chef's signature rolls.  We found it difficult to order any of the nigri or sashimi pieces without realizing we were better off financially to order one of the combination plates.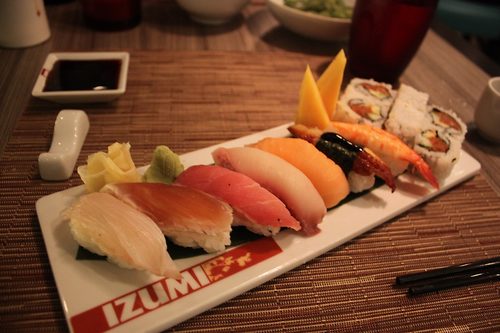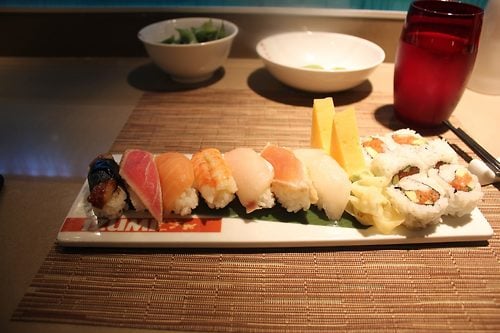 In addition, the signature rolls offer more pieces and the best quality sushi.  There is nothing wrong with the individual pieces of sushi, but we gravitated towards the signature rolls and combinations for those exact reasons.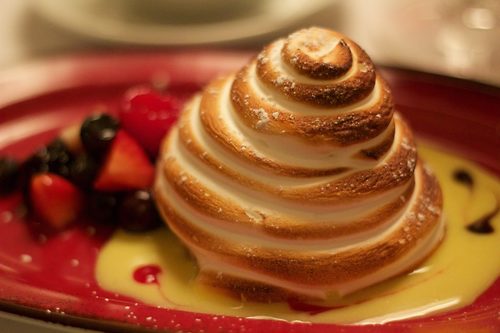 You might be wondering how good the sushi is and I can easily tell you it is as good or better than many land based sushi restaurants I have been to.  The basic hand rolls were a bit small, but any of the signature rolls were ample in size and serving.
There is also something to be said about presentation, and the sushi chefs at Izumi do a fantastic job at making their food as pretty to look at as it is to eat.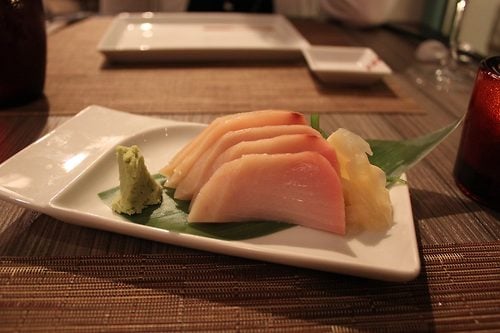 Those looking for the best value, stick with the combination plates, which offer a lot to enjoy in one price.  If you want the best sushi Izumi has to offer, go with any of the signature rolls. 
If sushi is not your thing, there are some other options worth considering.  My wife has no love in her heart for fish, so she picks the hot rock plates.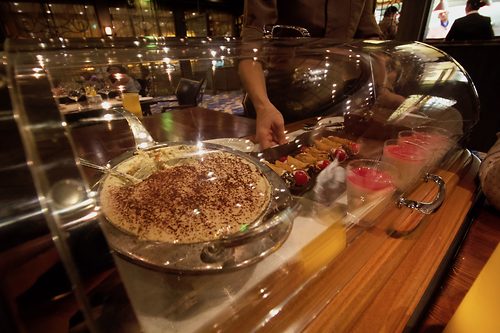 Essentially, the hot rocks are slabs of rock that are heated to to 575 °F and guests are invited to cook their choice of seafood, chicken, or beef.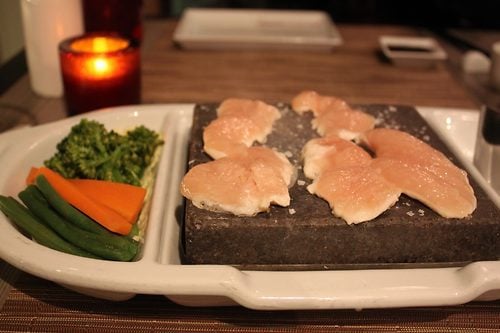 If this sounds fun, it really is.  And not to worry if you are not sure what you are doing, because the staff is happy to help you cook the pre-seasoned food.
There are also a good variety of salads and soups, although I cannot speak for them since I always saved room for the sushi!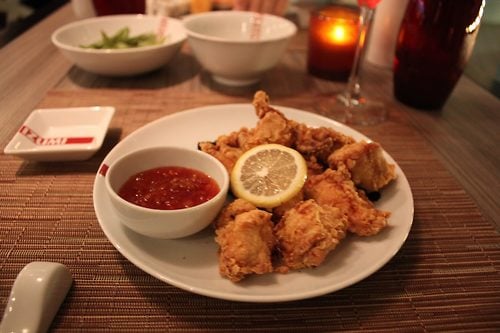 Overall
When looking at Izumi on Brilliance of the Seas, I am biased in the sense that I really love sushi.  But on the other hand, I eat so much sushi on land that I feel I can make an informed decision about how good or bad Izumi is.
In terms of service, Izumi has a very attentive staff that responded very well to everything we asked for.  
The bottom line is Izumi offers great sushi (and other Japanese cuisine) for a fair price.  Most of the prices you will find at Izumi are about what you would pay at any reputable sushi establishment on land.  As noted earlier, the combination plates are easily the best value of the menu, given how much you get for the price.
I would love to hear your opinion on Izumi.  Have you enjoyed dining at Izumi? Let us know in the comments below.