In:
It does not take much to convince me to eat at Royal Caribbean's popular Japanese specialty restaurant, Izumi, so when I learned that there was a menu update on Brilliance of the Seas, I just had to try it out for myself.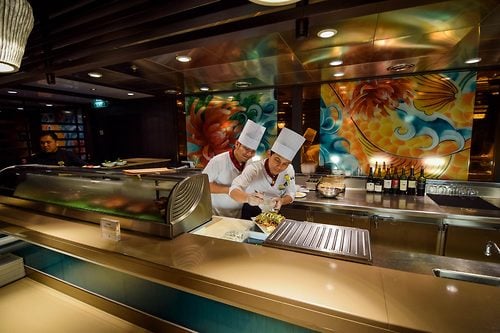 Izumi has spread to much of Royal Caribbean's fleet in just the last few years, and its success has a lot to do with the restaurant's creator and master chef, Chef Travis Kamiyama.  Chef Travis spends a great deal of his time visiting Izumi restaurants across the fleet, and trying out new ideas and offerings.
Last year, a few new menu options found its way to Izumi, and in the name of research, I took it upon myself to sample these changes.  You know, for science!
Atmosphere
I have dined at many Izumi restaurants across Royal Caribbean's fleet, but the Izumi locations on Radiance class ships are particularly lovely for their location and decor.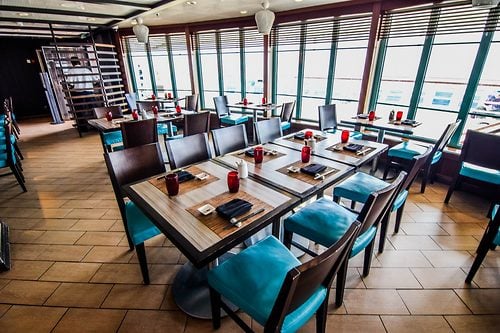 Izumi on Brilliance of the Seas is located on deck 12 aft, above the Windjammer and near the kids waterslide. 
Walking into the restaurant, you will find a mostly circular room, with tables lining the outside, a sushi bar, and tables in the interior.  In short, there is plenty of seating throughout the restaurant.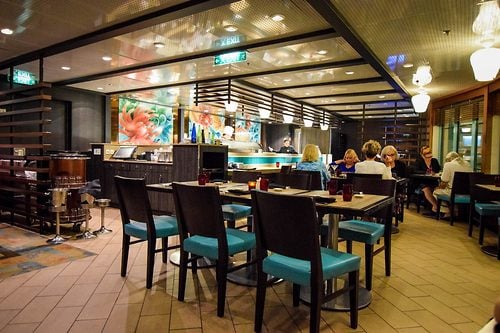 The seating by the window offers a view out to the ocean, while the booth seating on the back wall features the most comfortable seating.  Never hesitate to ask to sit at the sushi bar, where you can watch the sushi chefs at work.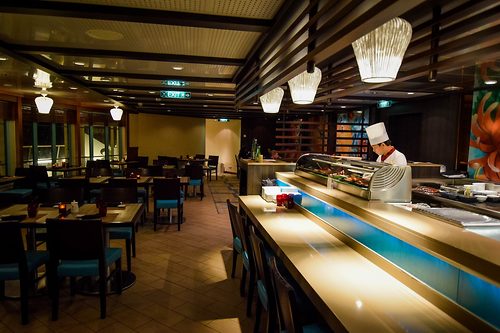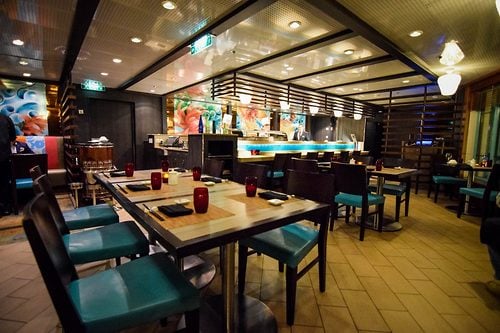 The decor of Izumi on Brilliance of the Seas features a lot of dark woods and oranges mixed with bright colors, notably a light blue.
Eats
The Izumi menu on Brilliance of the Seas is very similar to Izumi restaurants across Royal Caribbean, but as we mentioned earlier, there are a few new menu items to consider.
It is also important to note that Izumi on Brilliance of the Seas features a hot rock option, which is incredibly popular among non-sushi eaters.
Dining at Izumi is unlike most other Royal Caribbean specialty restaurants, in that there is no cover charge.  Rather, you pay for what you order. What is nice about a la carte pricing, is you can drop in for a small bite to eat without fear of overpaying.
All meals at Izumi begin with a refreshing hot towel and a complimentary bowl of edamame, lightly sprinkled with salt.
For this meal, I focused on what was new on the menu. I was a man on a mission, so to speak.  You might even say I was hungry for the truth...and for tuna.
First up was the Crispy Rice Spicy Tuna, which features creamy tuna on hot crispy rice, topped with a slice of jalapeno.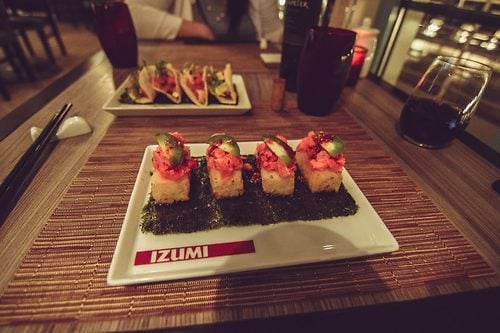 As an appetizer, this is a great starter and easily shareable (not that I offered to share any of this, but theoretically it would be possible).  The consistency of the tuna was different than most of the other tuna offered on the Izumi menu, and I am a fan of jalapeno with any of my sushi offerings.
I then moved onto the Mixed Poke Taco.  The taco combines tuna, albacore and octopus to form an interesting mix of fish in a crispy wonton shell.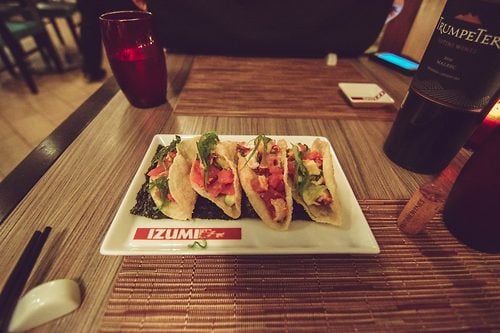 I really liked the taco, because you get the tenderness and flavor of the fish, mixed with a rigidness of the taco shell.  Combining the two made for another fun and shareable appetizer (note, I did not share this either).
Moving onto the entrees, Izumi now offers a Poke Bowl option, which is essentially the exact same ingredients as the Mixed Poke Taco.  The Poke Bowl is significantly larger than the tacos, while offering much more of those great ingredients.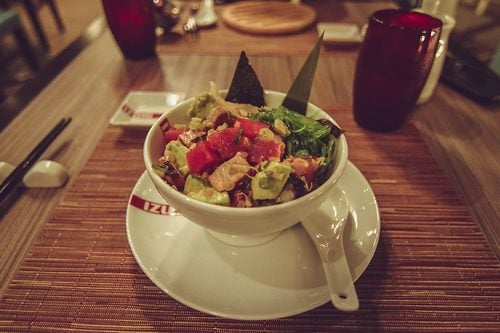 If you enjoyed the taco and want more, the Poke Bowl is for you.  Likewise, if you fear your tablemates may want to try one of your tacos, get the Poke Bowl so you can selfishly devour all the sushi-grade goodness yourself.
I also gave the Boxed Yellowtail roll a try, as I did not recall seeing it before.  Like the Crispy Rice Spicy Tuna appetizer, this roll also features a spicy creamy tuna terrine, topped with yellowtail sashimi, scallion, and a ponzu sauce.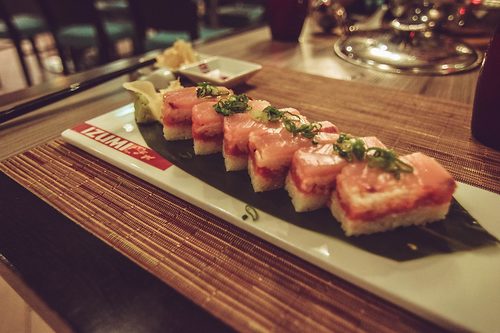 While I was guarding my sushi like a lion protecting its fresh kill on the African Savanna, my wife ordered a hot rock entree.
The hot rocks (known as Ishiyake in Japanese), are essentially a really, really hot rock (heated up to 575 degrees Fahrenheit) and served with your choice of protein to be cooked on the rock.
With the recent menu change, Royal Caribbean dropped the chicken option, but added some other choices.
My wife went with the beef tenderloin, which is thinly sliced beef tenderloin that comes with assorted vegetables.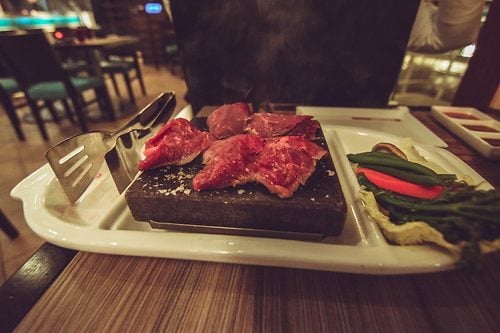 If you are concerned with cooking the meat correctly, your waiter is happy to jump in and assist.  It takes just a few minutes to cook the meat to your liking. Plus, it is fun!
Conclusion
As someone that loves anything tuna, the new Izumi menu choices were right up my alley.  Izumi has always had a strong and varied menu, but these new appetizer choices are a great addition to the menu and theoretically shareable with your tablemates (not that I even considered doing that).
Whether you go for the sushi, hot rocks, soups or anything else inbetween, there is a lot to like while at Izumi.  It is a strong menu, and I think fans of Japanese food will enjoy eating here on Royal Caribbean.
Izumi is open from 12:15 - 1:30pm on sea days for lunch, and 6:00 - 9:30pm for dinner.