Restaurant Review: Izumi on Navigator of the Seas
In:
There are certain times I really love doing research for this blog, and when I get a chance to dine at Izumi on any Royal Caribbean ship, that would be one of those moments.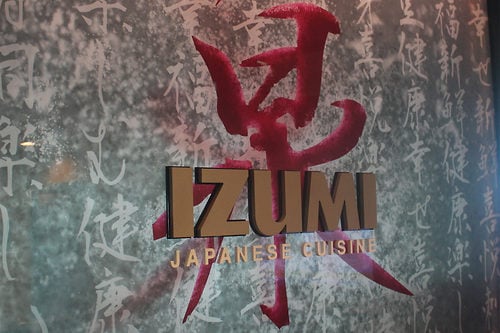 While on Navigator of the Seas I took the opportunity (okay, it was more like multiple opportunities) to dine at Izumi and try out a few different dishes. The reason why I relish returning to Izumi time and time again is because I am a self-diagnosed sushi fanatic and the sushi Izumi serves up has been consistently very, very good.
I also aspired on this trip to try something completely new (to me) on the menu and break out of my habit of ordering the same rolls.  How did I manage? How much sushi did I eat on one cruise? Read on to find out!
Atmosphere
Izumi is located on Deck 14 of Navigator of the Seas, adjacent to the Cosmopolitan Club in the Viking Crown of the ship.  Of all the specialty restaurants on Navigator of the Seas, it is probably the easiest to miss out on because there is not nearly as much foot traffic up there, compared to where other specialty restaurants are located.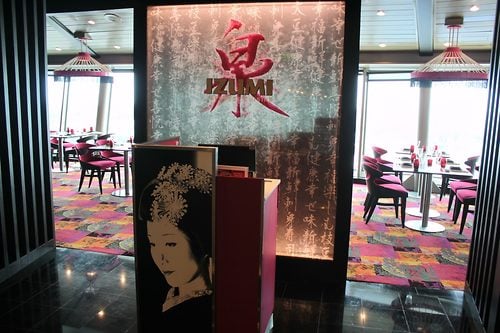 Walking into Izumi, you will notice one of the best aspects of the restaurant experience that is not directly tied to food: the views!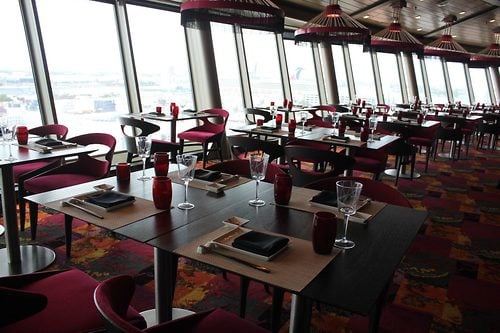 Izumi overlooks the ocean and the pool deck, which makes lunch time or early evening seatings quite desirable because you have some of the best views on Navigator of the Seas to enjoy a meal with.
The restaurant is one large, slightly curved room with mostly tables, some half-booths along one wall and bar seating.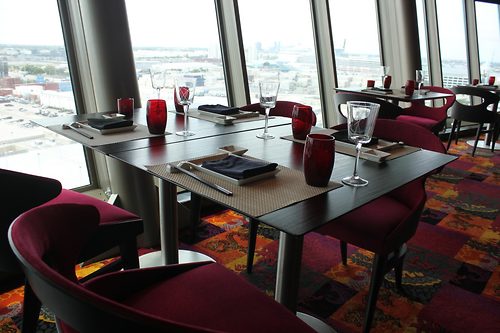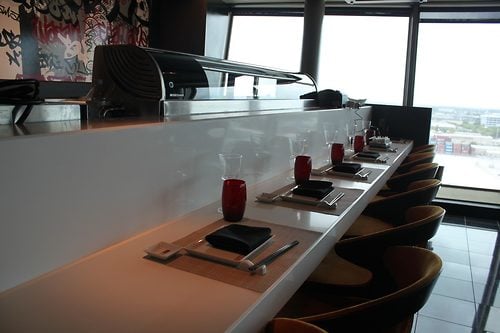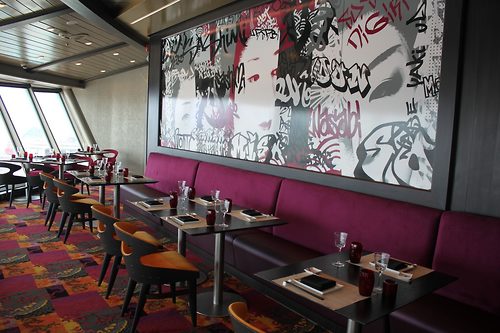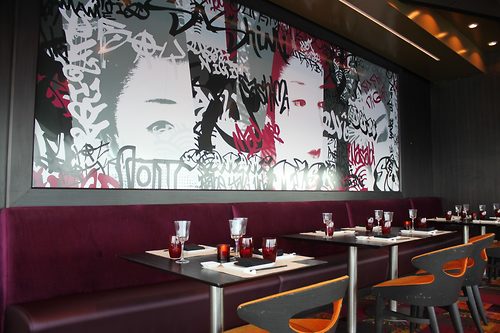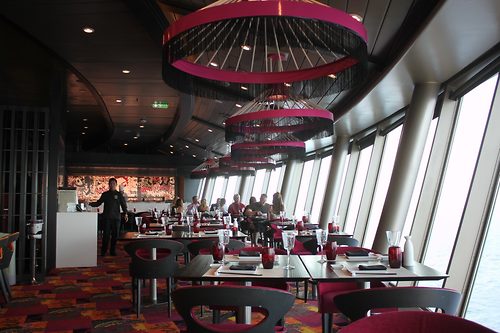 Walking into Izumi and you will definitely notice the magenta and black motif, along with some eye-catching pop art along the walls.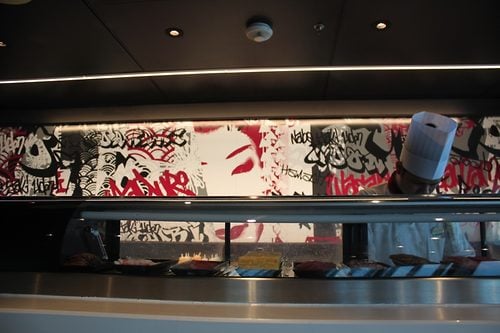 Izumi is an interesting blend of traditional Japanese dining mixed with a contemporary feel.
Eats
As you might imagine, Izumi is well known for their sushi (I believe I mentioned their sushi a few times already in just this post), but they do offer some other great Japanese cuisine.
Dining at Izumi means you will pay for your items a la carte, instead of there being a cover charge.  If you are on a Royal Caribbean specialty dining package, you will get $30 per guest allocation for your meal. You can read the entire Izumi menu and get an idea of prices and what is available.
Every meal at Izumi starts with a warm towel that you wash your face and hands with and a complimentary bowl of edamame.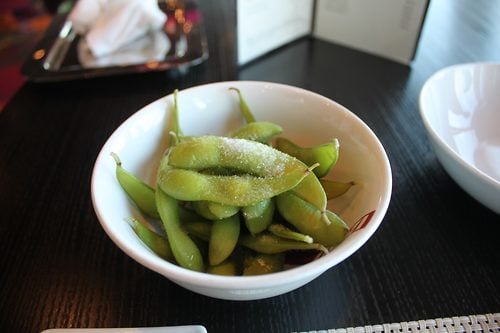 Edamame is a kind of soybean that comes in a pod that is steamed and served with salt.  You pop the soybeans in your mouth like peanuts, discarding the pod.  These are highly addictive!
I dined at Izumi a couple of times on my cruise and on one occasion I was glancing at the drink menu and noticed the "Call a cab! Sakirita" listed.  I am a sucker for cleverly named drinks, so I had to try it.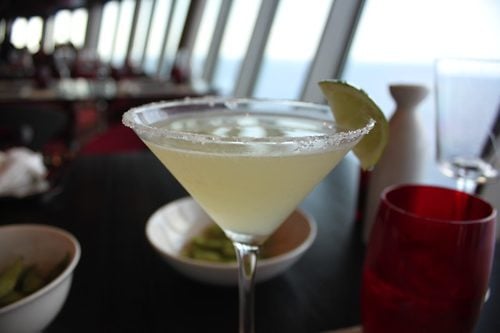 I was concerned it would be overly sweet, but the drink was surprisingly smoother than I was expecting and I did not feel like my blood sugar levels were going to shoot up either.  Very tasty and it certainly put a smile on my face.
Anytime I have sushi, I always start my meal with a bowl of miso soup.  Izumi makes a darn good miso soup and it is the perfect starter for everything else to come.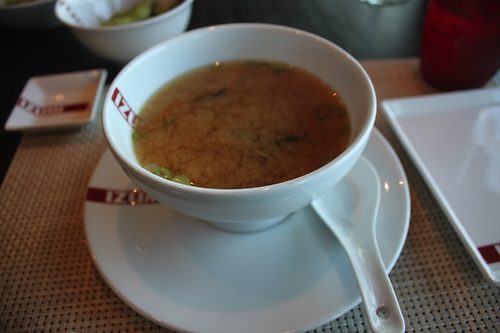 In terms of main courses, there is a lot to choose from. Izumi is not a "one trick pony" that offers just a few sushi rolls. There are salads, soups, hot rocks and of course, plenty of sushi.
If you like sushi as much as I do, the sushi combos really offer some tremendous value.  My favorite is the DX Sushi Combo: 8 pieces of nigiri, 2 tamago and 8 pieces of spicy tuna roll for $16.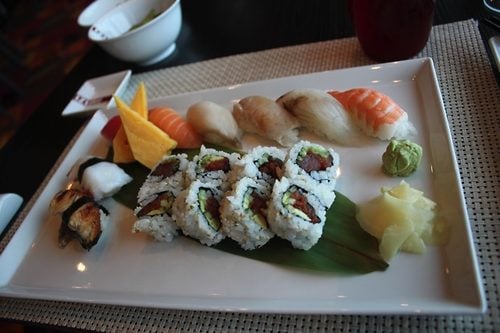 While the value is good, the sushi is even better and it has become my go-to sushi dish of choice.
As I mentioned earlier, I also wanted to try something brand new to me and something I have never had at Izumi before.
I picked the Ahi and Albacore Tataki Salad, partly because it sounded good and partly because it was listed on the menu as a chef's recommendation.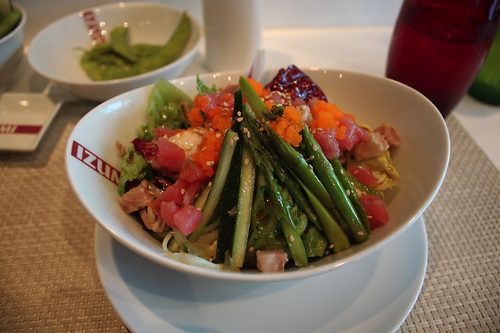 This is a great pick if you are looking for something low-carb (there is no rice) or like to combine sushi-grade fish with a great assortment of greens. I thought it was a terrific salad and quite a large serving.
I still had to order some sushi, and went with a great standard: yellowtail.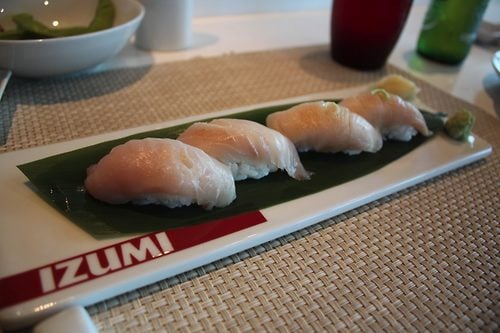 Overall
As someone that loves sushi and dines at plenty of Japanese restaurants on land, I really love what Izumi offers on Navigator of the Seas (and across Royal Caribbean's fleet in general). Great quality sushi at reasonable prices leave me happy and satisfied.
One of the advantages of Izumi being a la carte pricing is that you can drop in for a bowl of soup and a roll and not have to spend a lot of money.  Whether you want a full meal experience or just something quick, I have always found Izumi to handle what I need.
I really feel like their menu is varied enough to meet the needs of pretty much anyone that enjoys Japanese cuisine. There are the usual "starter" sushi rolls (California rolls, rainbow rolls, etc) as well as the more adventurous rolls.  There is no lowest common denominator and I think that really works to make the restaurant as popular as it has become with Royal Caribbean fans.
There is plenty to try at Izumi and it is a fantastic spot for lunch, dinner or something inbetween.
Izumi is open for dinner from 6:00pm to 9:30pm and for lunch on most sea days from noon to 1:30pm. We reviewed Izumi on Navigator of the Seas.