In:
Royal Caribbean has quietly begun including Izumi Hibachi with the Unlimited Dining Package.
Royal Caribbean's website now lists both Izumi sushi and Izumi hibachi as included with the specialty restaurant packages.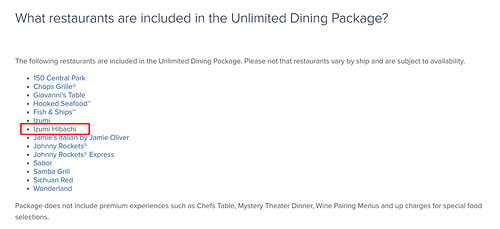 Up until recently, the hibachi was never officially included with the dining package, although some guests had luck using it on a case-by-case basis.
Izumi's hibachi is a fun and creative experience, where your chef cooks your food in front of you with a splash of entertainment thrown in.
Izumi Hibachi is available on a number of ships, including Oasis of the Seas, Allure of the Seas, Harmony of the Seas, Symphony of the Seas, Mariner of the Seas, Independence of the Seas and Spectrum of the Seas.