In:
Perhaps no specialty restaurant is as well known (or liked) on Royal Caribbean cruise ships as Chops Grille.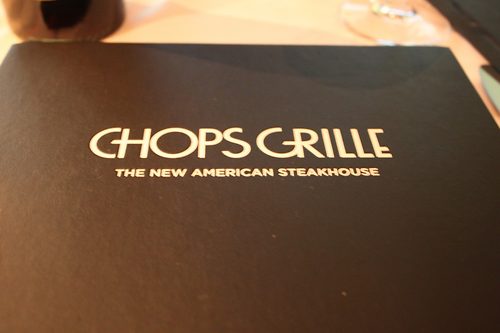 Over the years, Chops Grille has seen her fair share of changes, but it remains a fan favorite restaurant for the high quality food offered.  
While on Royal Caribbean's Brilliance of the Seas, we just had to go back and try Chops one more time and see if all the admiration it receives is deserved.
Atmosphere
Located on deck 6 of Brilliance of the Seas, Chops Grille is right outside the Schooner Bar and is the only specialty restaurant that was not a recent addition.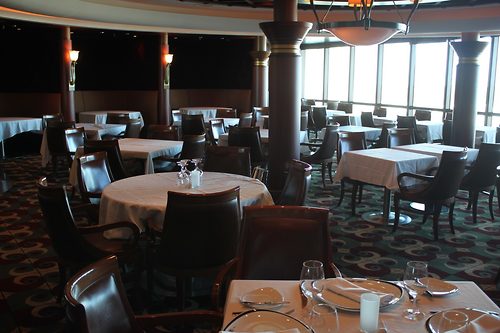 The restaurant is essentially one large room, with booth tables along the sides, some smaller tables by the windows and larger tables in the interior.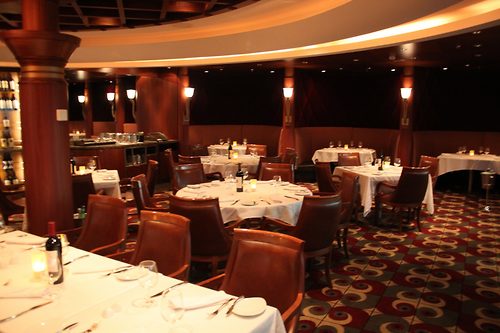 There is an open kitchen, which allows guests to watch the "action" in the kitchen from tables close enough to get a view.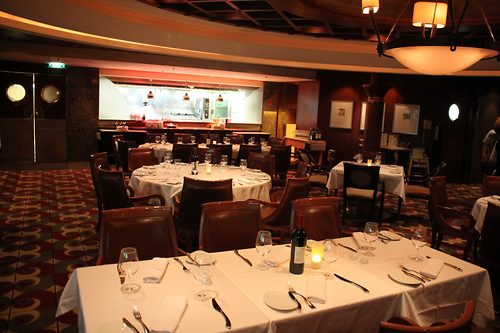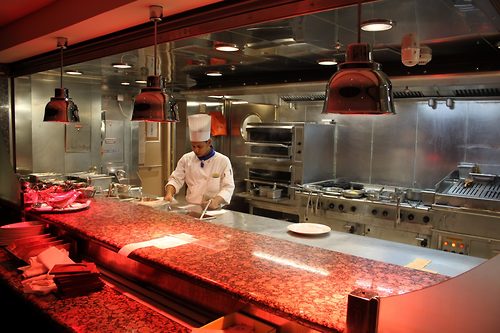 In the evening, the lights are dimmed and it certainly feels like you are dining in a fine steakhouse, with the dark and light browns contrasting against the white tablecloths and plates.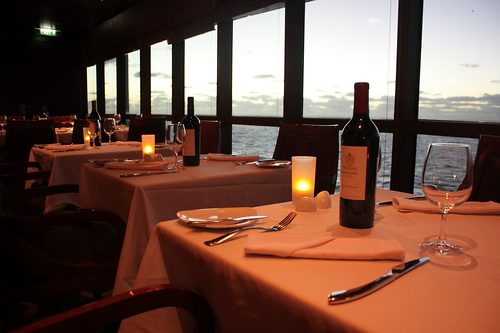 What is interesting about Chops Grille is fleet wide, the experience inside is pretty much the same and all Chops Grilles have a very similar flow.
Food
Though the focus at Chops Grille is naturally on the steaks, there are plenty of other things to talk about as well.
To begin the meal, a plate of warm bread with butter is served.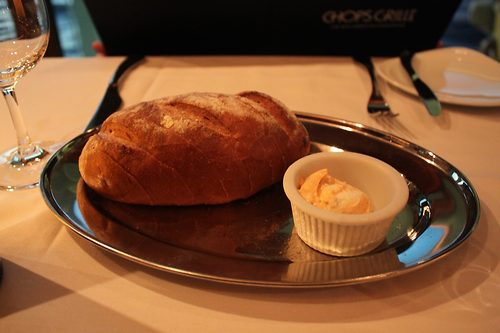 My wife swears this is the best butter ever.  We are not certain what is in it, but it just tastes really good.  Certainly a great start to the meal.
Admittedly, it is often difficult to not over eat just the bread, but you must avoid the temptation because the food that is forthcoming is always worth it.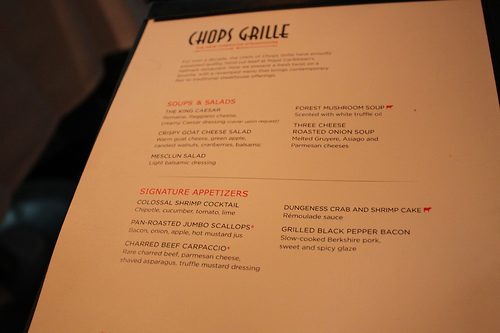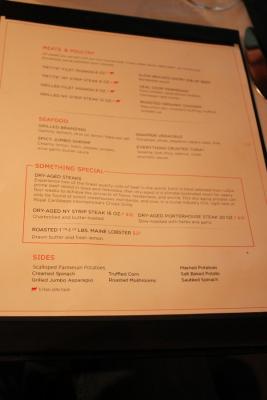 There are quite a few appetizers to choose from, and it sets the tone for the entire meal of there being too much good food to try for one stomach to handle.
For salads, we tried the mesclun salad and the crispy goat cheese salad.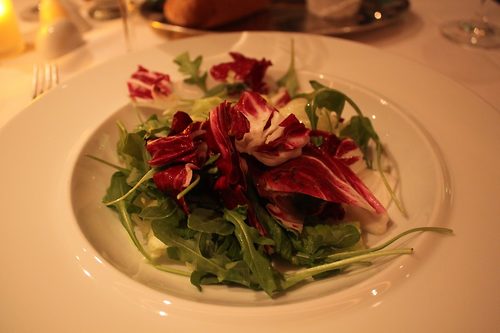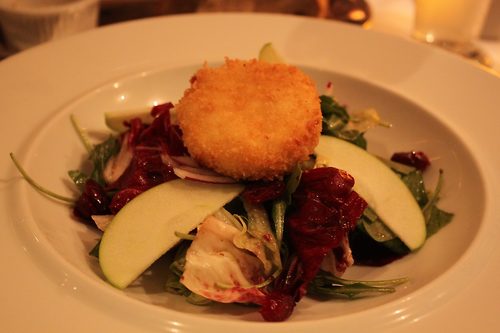 Both are freshly made and good starts to our meal.  Plus, eating a salad before hitting the "heavy stuff" totally offsets the calories, right?
The signature appetizers offer some of the best food that do not end in the word "steak".  
The charred beef carpaccio is some of the thinnest and tastiest slices of beef I have ever had.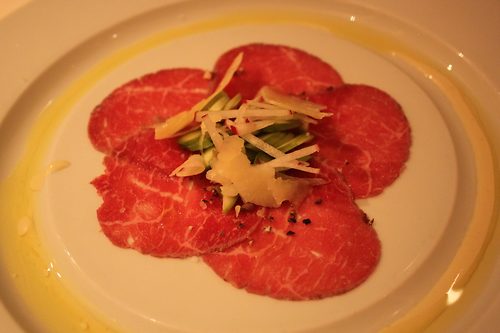 The beef carpaccio has been a staple of the Chops Grille menu for years and something I always have to order.
However, the award for most impressive appetizer goes to the grilled black pepper bacon.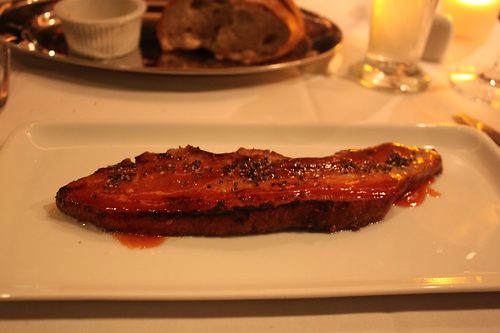 Comparing this slab of slow-cooked Berkshire pork to bacon you might get at a diner is like comparing a 12 year old Pee Wee football player to an NFL linebacker.  
This is a massive serving of bacon and among bacon aficionados, it is a must-order.
For our entrees, I went "off the reservation" and actually did not order a steak.  Please, hold your fire!
In an effort to document all aspects of the Chops Grille experience (and to watch my girlish figure), I opted to order something other than steak.  
I asked my waiter if he recommended the Everything Crusted Tuna or the Snapper Veracruz and without hesitation, he pointed me to the tuna.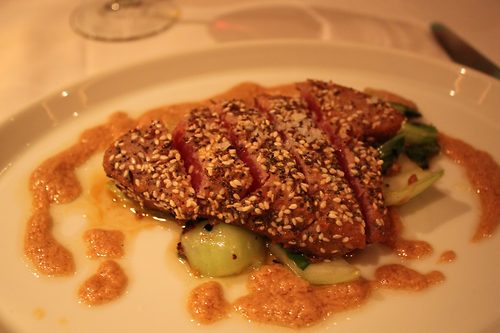 As the name implies, everything is indeed crusted on this tuna and it was mighty good.  
I love tuna and this was definitely a great piece of fish and I enjoyed the Asian inspired seasoning.  
Fret not, steak fans, because my wife went with old faithful: the "petite" filet mignon.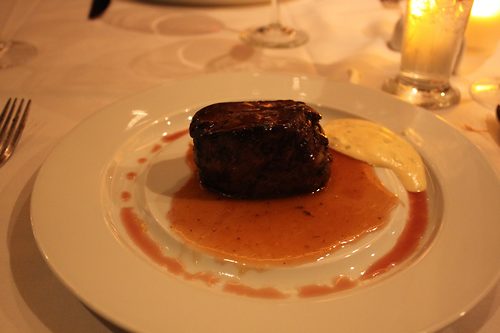 The steaks at Chops Grille have been historically great and this time was no different.  A beautiful piece of meat and cooked to perfection.  I may or may not have snuck a few bites in from my side of the table.
For dessert, I do not even read the dessert menu because I always order the same thing and regret nothing!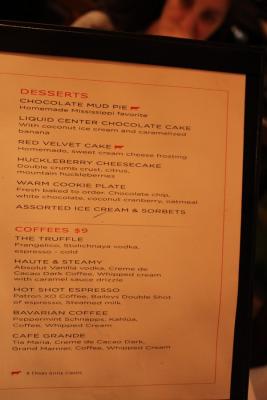 Yes my friends, I always order the red velvet cake.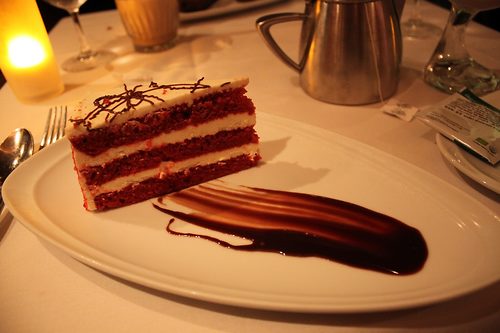 I do not care about what it used to be or anything else. It is still really, really good and arguably the best red velvet cake I eat every time.
We also ordered the chocolate mud pie, which is a rich chocolate cake served with a berry sauce.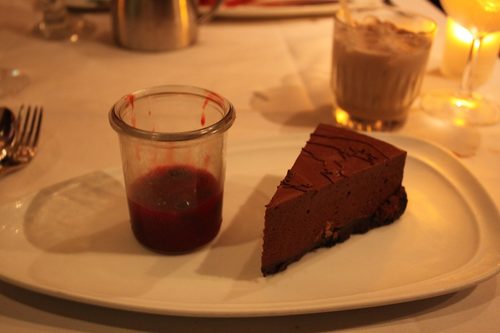 By this point in the meal, we were stuffed, so it was time to waddle out of the restaurant with the knowledge of another great Chops Grille meal complete.
Overall
I have eaten at Chops Grille on a number of Royal Caribbean cruise ships and each time I have a great experience and this meal on Brilliance of the Seas was no different.
I feel the consistently good meals at Chops Grille are why so many guests come back time and time again.  In fact, it is not unusual to hear about guests that dine at Chops Grille on multiple nights of their cruise.  It really is that darn good.
Chops Grille offers a lot of food and we did not even try the dry aged steaks this time (for our review of the dry aged steaks, check out our Navigator of the Seas review).  However, that is the strength of the menu that you can order so many options and still come away with a great meal.
Chops Grille excels at all aspects of the meal and it is because of this consistency that it is hard to ever go wrong with dining here.
What are your thoughts on Chops Grille? Leave us a comment and tell us about it below!