In:
On a recent Brilliance of the Seas cruise, we decided to revisit a popular Royal Caribbean specialty restaurant, Chops Grille, to see what's new in this classic restaurant.
Royal Caribbean's signature specialty restaurant, Chops Grille, remains a favorite for many who cruise Royal Caribbean often.  It's inviting atmosphere, great cuts of meat, and service have earned Chops Grille quite a reputation among repeat cruisers. While Royal Caribbean continues to add new specialty dining options periodically, Chops Grille remains a popular choice.
Many blog readers have shared with us their positive experiences at Chops Grille, so I wanted to re-visit Chops Grille on Brilliance of the Seas to ensure it continues to be somewhere I can recommend to others.  And so, in the name of research, my wife and I have returned to Chops Grille once again.
Atmosphere
Chops Grille on Brilliance of the Seas is located conveniently on deck 6 near the Schooner Bar.  Its location adjacent to Giovanni's Table and across from the Schooner Bar makes it an easy-to-find restaurant, since there is a lot of foot traffic in the area and odds are you will walk past it multiple times on your cruise.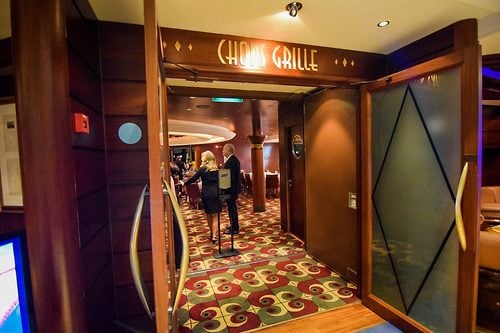 Walking into Chops Grille, you will find a large, open room that has tables filling the interior, with some booths along one side.  A few tables are near the windows to provide a view outside.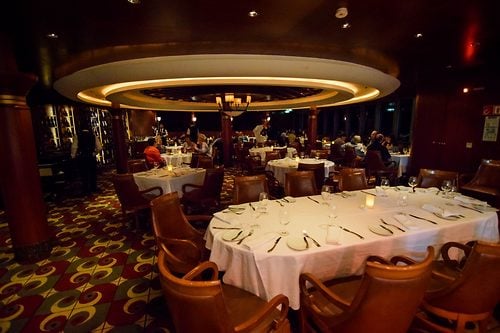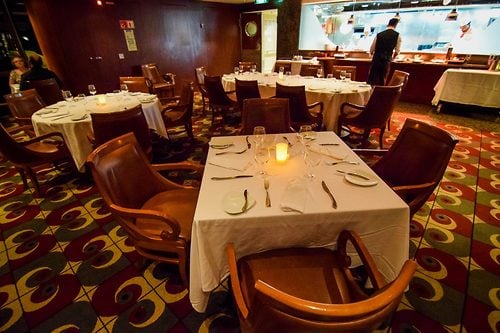 Chops Grille on Radiance Class ships has a large open kitchen, which provides a nice view for guests into the work being done to prepare food.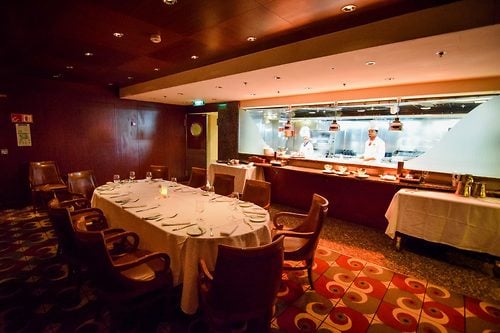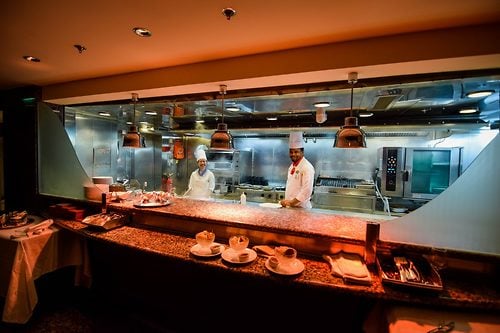 Food
The Chops Grille menu on Brilliance of the Seas has changed recently, to bring with it the "new" Chops Grille menu.  Other ships in Royal Caribbean's fleet have this updated menu, and Brilliance now joins them with it.  You can always tell the new menu from the old menu based on the fact the new menu offers seafood towers, as well as does not have the French onion soup.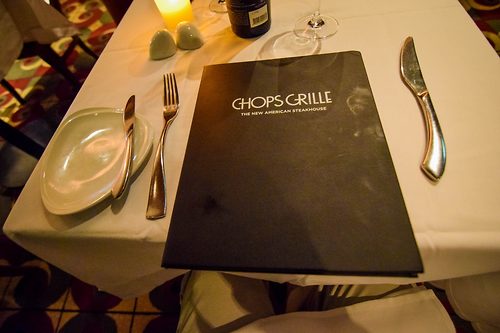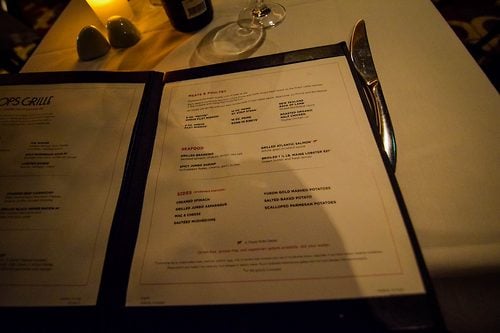 While I lament the loss of the French onion soup, I decided to try the Wild Mushroom soup.  After all, it has truffle oil, so how bad could it be?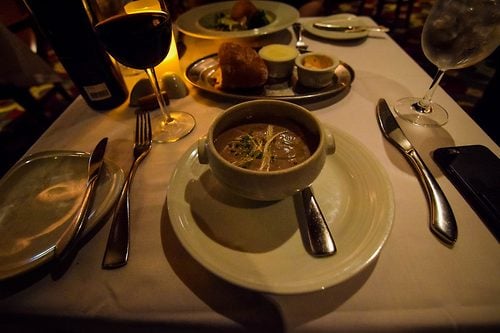 I really enjoyed this mushroom soup because the consistency of the broth was just right.  It was not too thick or watery.  Of course, the white truffle oil helped distinguish this from a mushroom soup you might heat up at home.
From the Signature Appetizers, I went with the tuna tartare.  Admittedly, I can never resist tuna, and this version was outstanding.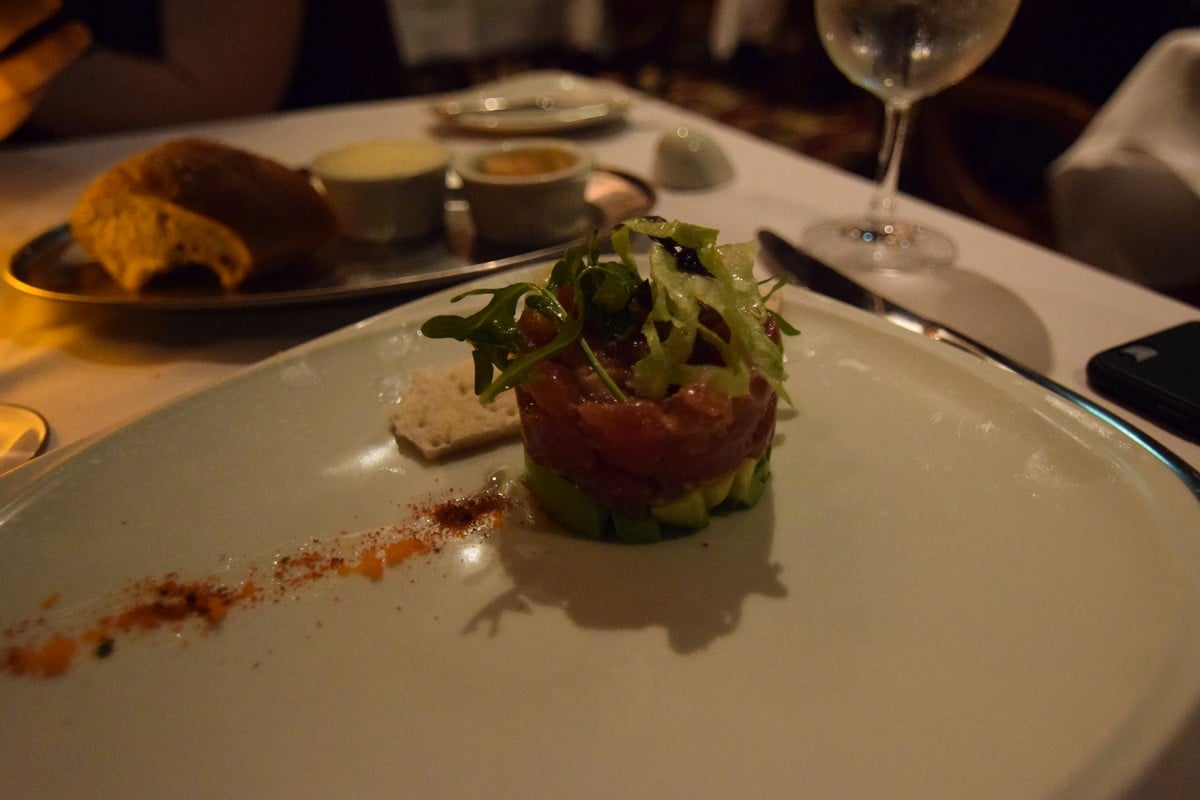 As a self-described ahi tuna habitué, I found this to be worthy of a Brazilian steakhouse style operation, where my waiter would bring me as many as I want until I turned over a card to indicate I was satisfied replete.
For our entrees, I was not sure what to order.  My wife always picks the filet mignon (no one ever regrets filet mignon), but I was not sure what to do.  I opted to ask our waiter for his recommendation on what he really enjoys.  He pointed me to the New Zealand rack of lamb.
I know what you are thinking, "There are entrees on the menu that do not have beef?" but it does indeed exist.  My hesitation about lamb is that it can be tough, and I spend more time trying to extract the meat from the bone than actually enjoying the food.
Nonetheless, how could I object to a recommendation made by a crew member I had met just 15 minutes earlier?  I rolled the dice on the lamb.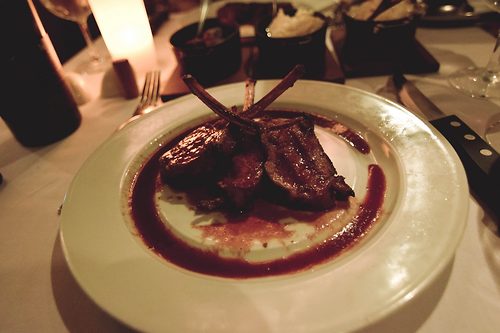 To my pleasant surprise, the lamb was extremely soft, and essentially fell of the bone.  Instead of wrestling with the knife or wondering aloud to my wife what time the Windjammer is open to, I spent a few glorious minutes enjoying a terrific serving of lamb. 
No visit to Chops Grille is complete without a few sides.  The sides can feel like a meal, but they offer a great accompaniment to your entrees.  I prefer to load up my fork with as many mushrooms as I can fit, alongside a cut of the meat and a dip in the mashed potatoes.  Perfection!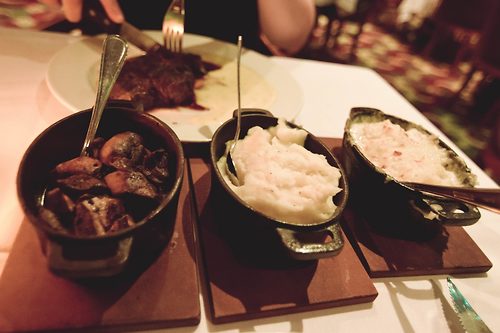 The new Chops Grille menu has resulted in the removal of the Red Velvet cake.  Alas, no restaurant is perfect.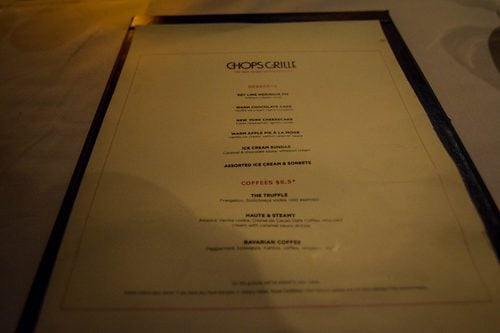 Overall
I enjoyed our meal at Chops Grille on Brilliance of the Seas.  It is easy to see why Chops remains such a popular choice with so many cruisers, based on the wonderful menu.
It is important to note that for this visit, we took advantage of a Royal Caribbean dining package, which brough the cost down considerably.  The price for Chops Grille continues to push up, so consider a dining package as a way to really save money.
For a night out of great dining, Chops Grille is a solid choice for celebrations, date nights, or "the main dining room menu isn't my favorite".
What are your thoughts on Chops Grille? Leave us a comment and tell us about it below!