In:
Royal Caribbean's steakhouse specialty restaurant, Chops Grille, price has gone up to $39 per adult on certain ships.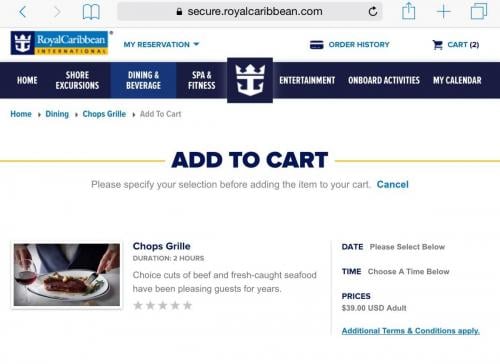 The price increase appears to have been made on Oasis of the Seas, although an upcoming Quantum of the Seas cruise still lists the $35 cover charge.  It's possible the $39 price will eventually make its way around the fleet at some point later.
Previously Royal Caribbean was charging $35 per person to dine at their most popular specialty restaurant. The roughly 11 percent increase is a new change for guests wishing to dine at the restaurant.
Royal Caribbean recently revamped Chops Grille's menu by adding dry-aged steaks as an option to the menu that carries with it an additional charge. The dry-aged steaks cost between $18-19 and the roasted maine lobster has an additional $21 charge.
In the past, Royal Caribbean has honored the old price if guests have reserved Chops Grille and paid the old $35 per person price.
What do you think of the new price for Chops Grille? Do you think it's still a good value?  Share your thoughts in the comments below!