In:
There is no denying Chops Grille's place in Royal Caribbean lore as being the preeminent specialty restaurant of the fleet. After all, it has been around the longest and constantly regarded as a great dining experience.
While Royal Caribbean has been adding a dizzying myriad of new specialty restaurants across its fleet, Chops Grille remains a signature dining experience and while onboard Freedom of the Seas, we wanted to see if that reputation is still well deserved.
In my opinion, a good dining experience and a restaurant I can recommend to others must offer excellent food and great service, at a fair price. While onboard Freedom of the Seas, I wanted to see if Chops Grille still offered that kind of an experience.
Atmosphere
Chops Grille is in the same spot it has been since Freedom of the Seas launched in 2006, on deck 11 near the entrance to the Windjammer.  
Chops Grille evokes that look and feel of a high quality steakhouse, be it on land or sea. A blend of dark browns and lighter browns and whites sets the restaurant apart from anywhere else on the ship.  It is a classy look that will have anyone that has dined at a Chops Grille on another Royal Caribbean ship feeling like they have been here before. By the same token, new diners to Chops Grille will find the restaurant's atmosphere evocative of a fine dining establishment that lets its cuisine make the statement.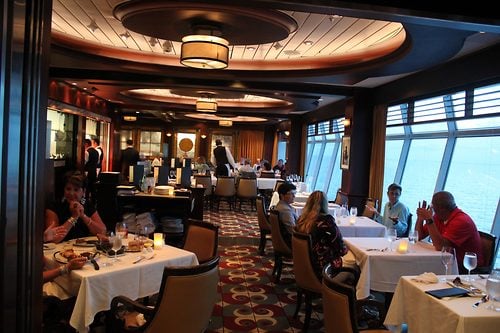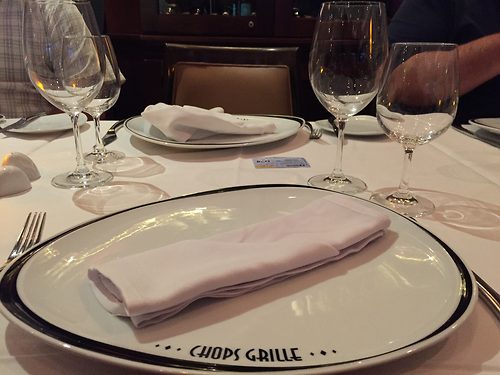 Upon entering Chops Grille, there is a noticeable glass wall that provides a great view of the ocean and area surrounding Freedom of the Seas, provided you dine there early enough to have enough natural light to see outside.  Views of the ocean are always a welcome spectacle, and any guest in the restaurant should be able to see to that window without much effort.
The restaurant is comprised of a long rectangular dining room that extends to a circular shaped space that makes up the back half of Chops.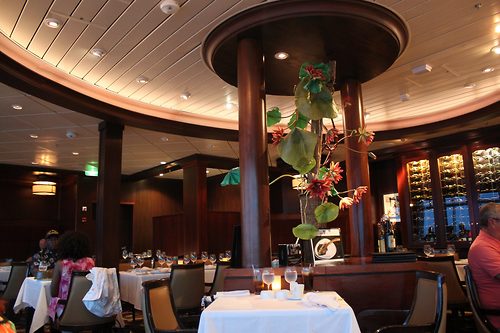 Simply put, the decor and theme of Chops Grille reminds guests they are somewhere a bit fancier than elsewhere onboard Freedom of the Seas, and that elegant touch is reinforced by the food served.
Eats
If you talk to someone about their experience at Chops Grille, the discussion will likely begin and end with the food.  Chops has quite a positive reputation among Royal Caribbean fans for the delicious food, and it is one aspect of the restaurant that brings guests back time and time again.
The Chops Grille menu on Freedom of the Seas is nearly identical to Chops Grille locations we have dined at on other Royal Caribbean ships in the last couple of years.  In general, Royal Caribbean tends to standardize its specialty restaurant menus fleetwide, although there can be some variations here or there.  At Chops Grille, you will find a menu that mirrors that of many other ships and that kind of consistency is at the heart of what has earned Chops Grille its glowing reputation over the years.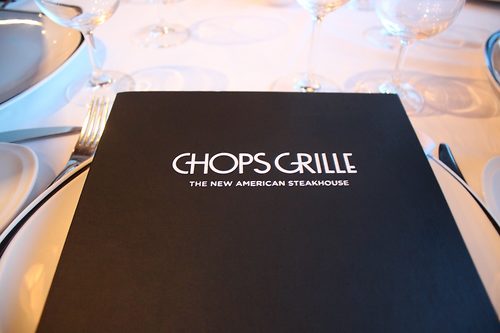 Once seated, guests are offered bread and butter to begin their meal, along with any beverages they desire.  It is worth pointing out the pretzel bread was not available anymore, nor the salted butter that we have enjoyed previously.  What we did have was good too, but admittedly I preferred the pretzel bread and salted butter.  Alas, c'est la vie.
While I may have missed out on my prized pretzel bread, I would not be denied any other favorites, such as the incredible French Onion soup.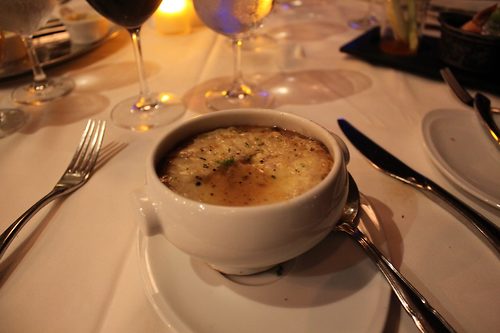 There are many great choices for appetizers, but my go-to choice is there melted Gruyére, Asiago and Parmesan cheese soup that tops a warm broth, mixed in with plenty of onions.  
While I may describe the virtues of my soup worthy of a Shakespearean sonnet, I would remiss if we did not discuss arguably the Chops Grille appetizer everyone seems to love, the grilled black pepper bacon.
When someone hears the word, "bacon," they are likely to conjure up an image of a thin strip of fried pork that might be served at a diner.  There is nothing wrong with that staple of American breakfasts, but Chops Grille's bacon is worthy of an annotation in any well-respected dictionary to refer to what is served by Royal Caribbean as a bacon without equal. Simply, it is massive, well-seasoned and tastes amazing. 
When getting to the entrees, there are many choices and very often, guests wonder if the dry-aged steak option is worth the extra price.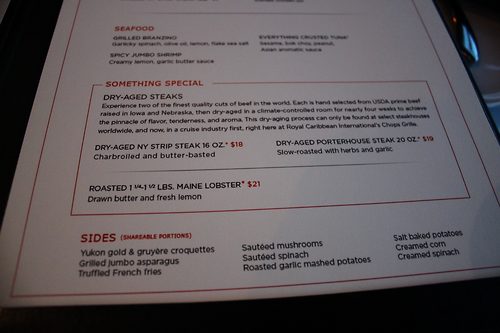 When Royal Caribbean revamped the Chops Grille menu in 2014, they added a few dry-aged steaks to the menu, which promise the best flavor of any steak on land or sea.  Dry-aged steaks are quite the steakhouse phenomenon, and Royal Caribbean has capitalized on the idea by offering them for a modest additional charge.
While I do enjoy a good steak, I freely admit that I am no steak connoisseur. That being said, if you want a terrific flavor to your steak, and want the best meat on the menu, then the dry-aged steaks are for you.  Each is $18-19 and offer the pinnacle of flavor, tenderness, and aroma.
This time around, I opted to stick to the regular part of the menu.  The filet mignon that is offered at Chops Grille is excellent, and I would not hesitate to recommend it as an option.
We also ordered the Everything Crusted Tuna, which was a nice change of pace, although I cannot say it tops the steaks offered at Chops in terms of overall flavor.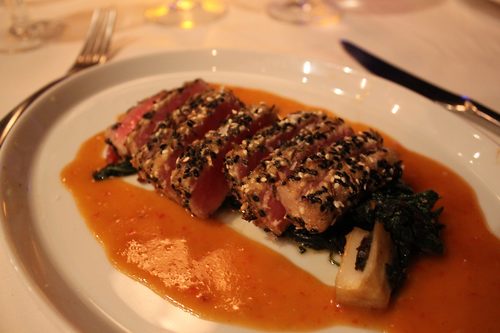 No Chops Grille meal is complete without ordering a number of side dishes.  The side dishes are served family-style, with plenty of refills if needed.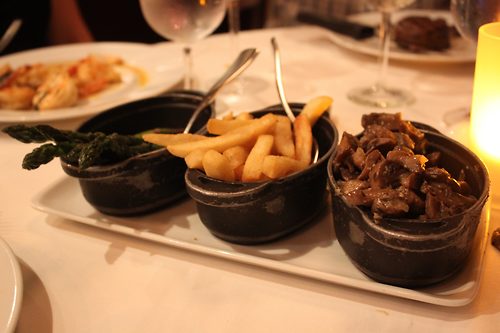 All the side dishes are quite good, and I found myself adding the sautéed mushrooms to pretty much everything on the table because they seemed to be so darn complimentary and tasty.
Arguably, the least talked about but most deserving of your drool, are the desserts.   Chops Grille has always had a great dessert selection and it is difficult to go wrong with any of the choices.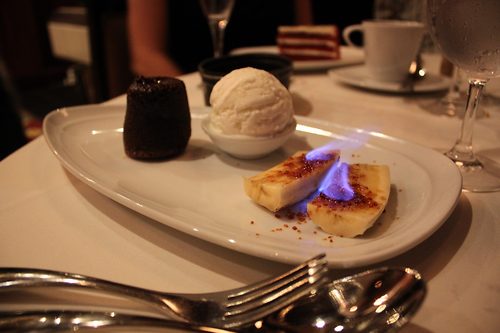 Of course, the red velvet cake and Huckleberry cheesecake stand out as real winners for their amazing consistency and forget-your-own-kids-names taste.    Your best bet is to order many desserts and sample them all, because they are worth holding back on a few servings of sautéed mushrooms to save room for.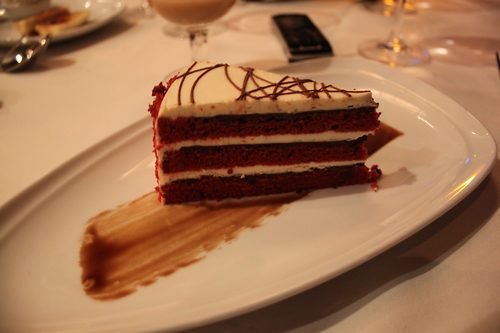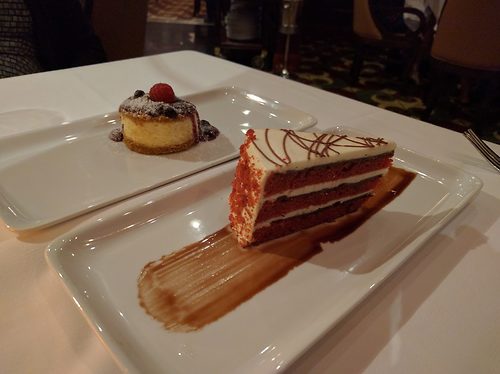 Overall
Having dined at Chops Grille on many ships over the years, I came into Chops Grille on Freedom of the Seas wondering if the restaurant is worth the cost.  The cover charge fluctuates across the fleet, with newer ships charging more, but on all ships, it remains the most expensive specialty restaurant cover charge that is not a private dining experience.
I can safely say that Chops Grille is worthy of a swipe to your SeaPass account for the great food, from start to finish.  Dinner at Chops Grille on Freedom of the Seas reinforced the notion that Chops is the premier Royal Caribbean specialty restaurant, and I believe it remains just as good a value today as in years past. 
The focus of Chops Grille remains the terrific food, and nothing that we ordered even hinted at mediocre.  The ambiance is worthy of any kind of celebration, evening out or occasion, and the food will leave you smiling and very satisfied.