In:
The first day of a Royal Caribbean cruise is an exciting time. Your vacation has just begun and you have an entire cruise full of discovering new ports, eating delicious food, watching top-notch entertainment, and relaxing by the ocean ahead of you.
While it's tempting to get onboard and immediately start partying and enjoying the day, there are a few things you can do to maximize your time, money, and vacation time later on.
From arriving at the cruise terminal to making dining reservations, exploring the ship, and finding the best spot for sailaway, here are some of the best do's and don'ts for the first day of your Royal Caribbean cruise.
Do: Explore your embarkation port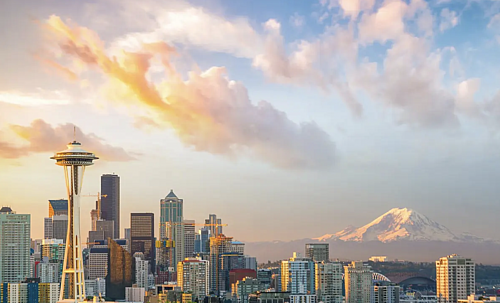 If you arrived at your embarkation port the night before, take some time in the morning on embarkation day to explore the city. Walk around South Beach in Miami, visit the Opera House in Sydney, or shop at Pike Place Market in Seattle.
Treat the morning of embarkation day as an extra port stop as opposed to waiting around in your hotel.
Do: Have required documents easy to access at the terminal
Be sure to keep items like passports, negative Covid-19 test results, vaccine cards, etc. easily accessible at the terminal on embarkation day.
You'll likely be asked to show these items several times throughout the check-in process, so keeping them all in one place is helpful.
Do: Drop off luggage with the porters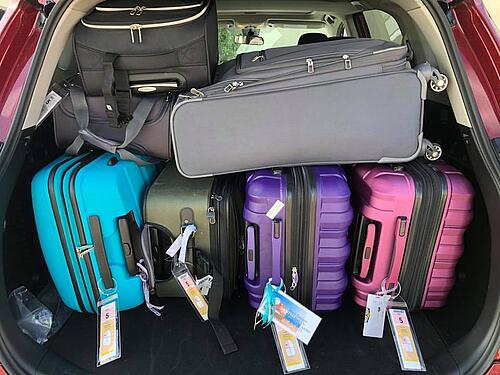 When you arrive at the cruise terminal on embarkation day, leave your luggage with the porters. We recommend taking a small carry-on bag (backpack or purse) on the ship with you, but leaving bigger luggage with the porters.
Bags will be delivered to your stateroom later in the day, so you won't have to worry about lugging your big suitcase or duffel bag around the ship. It's customary to give a small tip for each bag you leave with the porters.
Related: Should you use the porters to take your luggage on your cruise ship?
Do: Pack important items in your carry-on
If you're leaving your luggage with the porters at the cruise terminal, be sure to pack important items into your carry-on bag. Passports, money, credit cards, medication, phone chargers, etc. should all be packed in a carry-on bag to ensure you have access to the items if your luggage encounters any delays getting to your stateroom.
Do: Bring wine, soda, or water bottles onboard
Royal Caribbean allows guests to bring two 750ml bottles of wine or champagne onboard per stateroom.
In addition, guests can bring up to 12 standard (17 oz.) cans, bottles, or cartons of non-alcoholic beverages like soda or water per stateroom.
Keep these beverages with you in the cruise terminal instead of placing them in the luggage you give to the porters.
Read more: What food or drinks you're allowed to bring on a Royal Caribbean cruise
Do: Finish the eMuster drill early in the day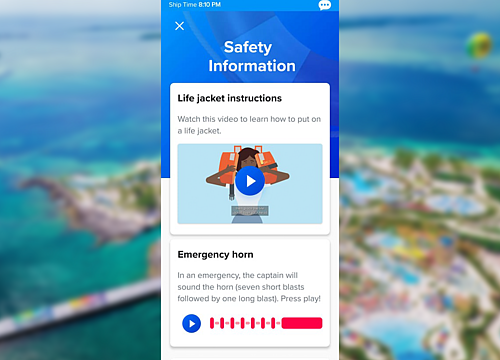 Royal Caribbean's eMuster drill is easy and convenient, so be sure to complete all three steps early in the day once you get onboard. Don't be the cause for constant announcements reminding guests to complete the drill!
Related: What to expect with Royal Caribbean's virtual safety drill
Do: Reserve entertainment
As soon as you get onboard, open Royal Caribbean's app and reserve entertainment shows for the week. Not all shows require a reservation, but the most popular productions (Two70 shows, AquaTheater shows, etc.) will require reservations.
Our recommendation is to make entertainment reservations for the first day of the show each week. Shows can be canceled due to weather or other unforeseen circumstances, so making reservations for early in the week will ensure you have plenty of time to see the show if it has to be rescheduled.
Do: Make dining reservations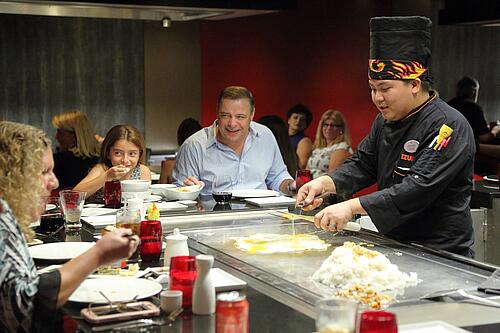 If you have a dining package, be sure to make reservations as soon as you get onboard to ensure you can select the restaurants and dining times that work best for you. You don't have to visit each individual specialty restaurant to make reservations, as the crew member at one restaurant can make reservations for other restaurants onboard.
The only exception to this is at Izumi Hibachi/Teppanyaki. Reservations for hibachi can only be made at Izumi, so it's a good idea to head there first for dining reservations.
Related: Royal Caribbean specialty dining packages guide
Do: Pack a swimsuit in your carry-on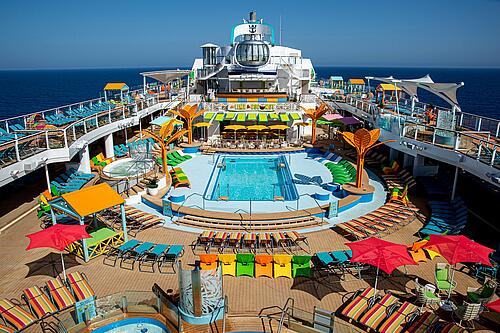 Pools, whirlpools, and water slides are available to use on embarkation day, and you'll often find that they are much less crowded than other days onboard. Make sure to pack a swimsuit in your carry-on bag so you can start your vacation right away with a sunny afternoon at the pool.
Related: The Ultimate Cruise Packing List
Do: Enjoy lunch onboard
One of the first things many passengers do once onboard is eat lunch. Many venues are open on embarkation day, including the Windjammer, Park Cafe, Cafe @ Two70, Cafe Promenade, Sorrento's Pizza, some specialty restaurants, and more!
Do: Confirm Main Dining Room reservations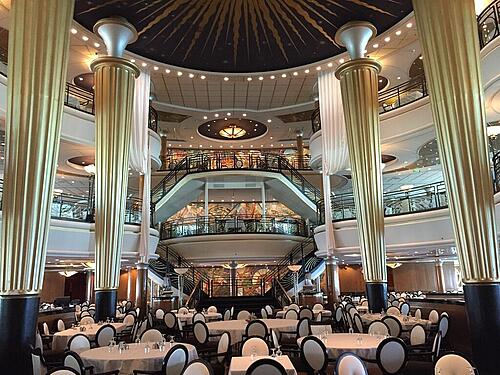 While exploring the ship on embarkation day, be sure to head to the Main Dining Room to confirm your dining reservation and table. If you would prefer your own table but are seated at a table with other passengers, see if the staff can accommodate your request.
If you have any dietary restrictions that you informed Royal Caribbean of in advance, be sure to confirm that the request has been received.
Related: Top 10 insider tips for Royal Caribbean's Main Dining Room
Do: Meet your stateroom attendant
Your stateroom attendant will visit your cabin twice a day for housekeeping service. It's recommended to meet your stateroom attendant on the first day of your cruise to introduce yourself.
Stateroom attendants will go door to door to try and meet everyone in the cabins they service on embarkation day, so take a minute to say hello!
Do: Check your cabin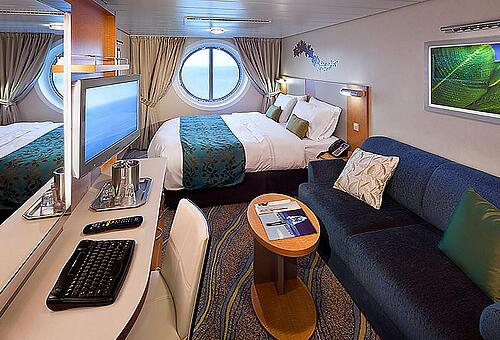 Once cabins are ready on embarkation day, do a quick check to make sure everything is working properly. Test the lights, outlets, television, etc. If you need beds separated or have any additional preferences, make sure to let your stateroom attendant know.
Related: 8 things you should know about your cruise ship cabin
Do: Walk around the ship
Taking some time to explore the ship on embarkation day can give you a better sense of what is available onboard and where everything is located.
Exploring the ship will probably come naturally throughout the day as you make your way to and from your cabin, the pool deck, lunch, entertainment shows, etc.
Do: Register kids at Adventure Ocean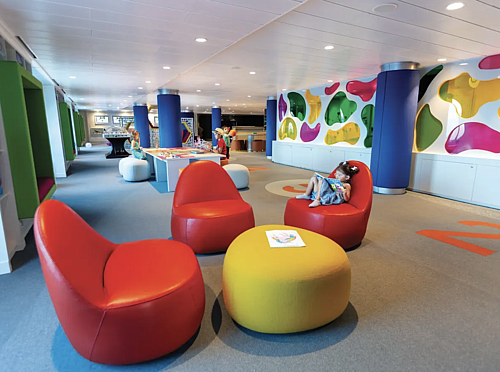 Royal Caribbean's Adventure Ocean programming for kids holds an "open house" on embarkation day where you can explore the facilities and sign your children up for Adventure Ocean.
It only takes a few minutes to register kids for Adventure Ocean, so it's a good idea even if you aren't sure that your kids will attend.
Plus, sending your kids to Adventure Ocean on the first day of the cruise can allow them to make friends right away, as the first day is a prime time for making new friends onboard.
Do: Unpack
Once your luggage is delivered to your stateroom, take some time to unpack your belongings. While it's acceptable to live out of your suitcase all week, taking time to unpack clothes and other personal items into your stateroom's closets and drawers can help you feel more "at home" in your cabin.
Do: Enjoy an embarkation day drink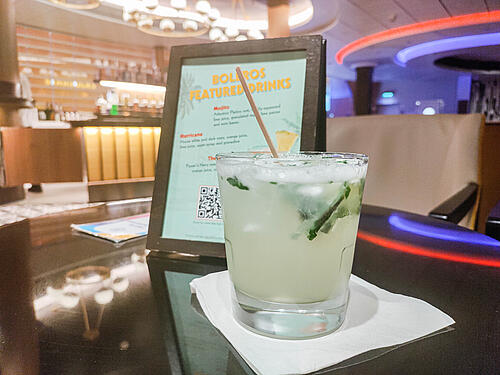 Nothing screams "cruise vacation" quite like a tropical cocktail by the pool, and that's exactly what you should enjoy on embarkation day!
After having lunch onboard, head to one of the many bars on a Royal Caribbean cruise ship to order a cocktail (or mocktail!) and get your vacation off to a fantastic start.
Related: 8 mocktails to try on your next Royal Caribbean cruise
Do: Find the best sailaway spot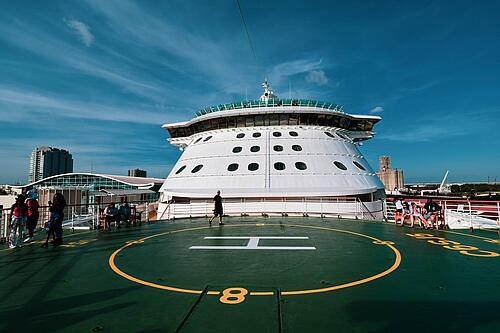 Each class of Royal Caribbean cruise ships differ in layout and design, so be sure to scope out the best sailaway spot on embarkation day to ensure you have the best views of your ship leaving port.
Here are some of our favorite spots for sailaway:
Vision Class ships: deck 10 forward
Radiance, Voyager, and Freedom Class ships: helicopter pad
Quantum and Oasis Class ships: Solarium bridge wings
Do: Take time to relax
Embarkation day can be a bit hectic onboard, with thousands of passengers navigating their way around the ship. From getting through the cruise terminal to making reservations, completing the eMuster drill, and unpacking, it's easy to feel overwhelmed.
Remember to take some time to relax on embarkation day, whether lounging on a pool chair, enjoying the hot tubs in the Solarium, or simply sitting in a lounge with a drink.
Do: Order multiple items in the Main Dining Room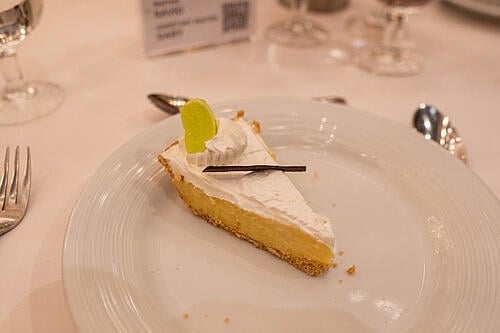 One of our top tips about the Main Dining Room on a Royal Caribbean cruise is that you can order as much as you'd like. If you're having trouble deciding between appetizers, main courses, or desserts on embarkation day, order multiple items!
After all, why choose between the key lime pie and chocolate hazelnut cake when you can have them both!
Related: 7 cruise ship Main Dining Room rules to follow– Plus 1 to break
Do: Sign up for onboard activities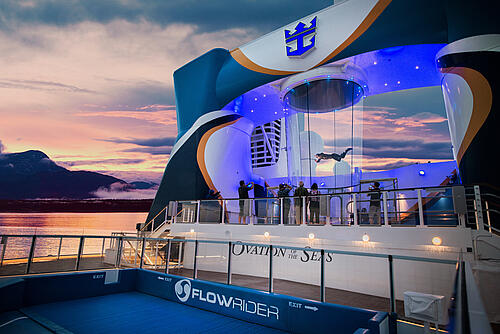 While most onboard activities do not require making a reservation in advance, there are a few that do: RipCord by iFLY, North Star, Zone Zero, and the escape rooms.
Open the Royal Caribbean app on embarkation day and make reservations for these activities to ensure you can select the date and time that works best for your schedule.
RipCord by iFLY and North Star offer both complimentary and extra cost options, so if you don't want to pay for these activities it's recommended to reserve the activity ASAP once onboard.
Do: Take a spa tour
The Vitality Spa offers free tours of their facilities on embarkation day, which can be a nice way to see what the spa has to offer and learn more about which treatments are available.
This is also a good time to confirm your existing spa reservations or book an appointment.
Do: Download the Royal Caribbean app
The Royal Caribbean app is an extremely useful tool on your cruise, as it's where you'll find a list of daily activities, your billing information, deck maps, and more.
Having the Royal Caribbean app downloaded on your phone in preparation for the first day of your cruise is recommended so that you don't waste any time once onboard.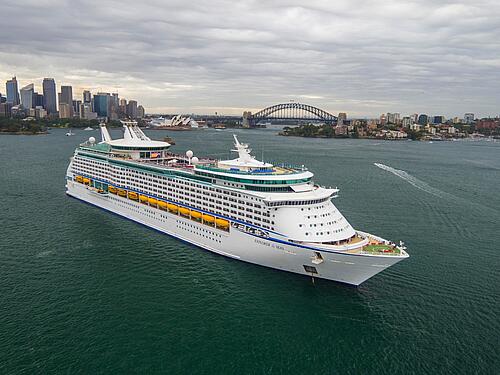 Now that we've reviewed what you should do on the first day of your cruise, let's take a look at the don'ts.
Don't: Fly to the port the same day as your cruise
One of the most critical things not to do is fly to the cruise port on the same day as your cruise. Unexpected delays, missed connections, and cancellations are extremely common in air travel, so be sure to arrive the day before your cruise to allow for some extra wiggle room.
Related: Why you shouldn't fly to your cruise the same day it begins
Don't: Arrive at the port before your check-in time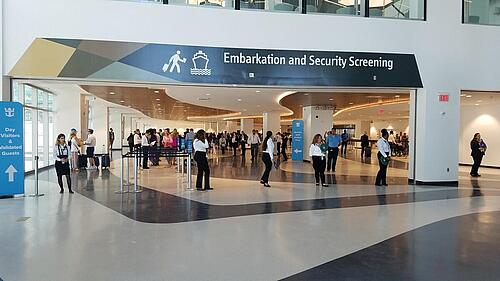 While it is hit or miss whether a departure port strictly adheres to the scheduled check-in time you picked when checking in online, it's still best practice to show up to port at your scheduled check-in time.
If your check-in is at 12PM and you arrive at 11:15, you'll probably be allowed to board. If your check-in time isn't until 2PM, however, and you arrive at 10AM, you'll most likely have to wait a while.
Don't: Go to Guest Services on the first day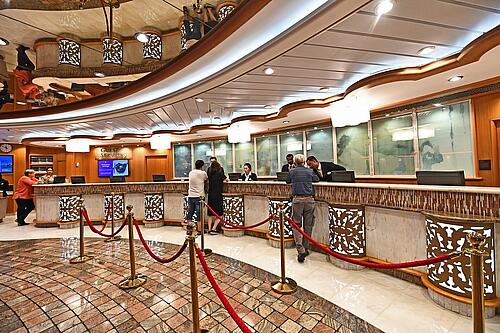 Guest Services is an extremely valuable service throughout the cruise, as crew members can answer any questions you may have, settle billing discrepancies, etc.
On the first day of the cruise, however, Guest Services can be prone to long lines. It's best to save any questions for the second day of the cruise or go to Guest Services during less busy times of the day such as during dinner.
Don't: Only consider the Windjammer for lunch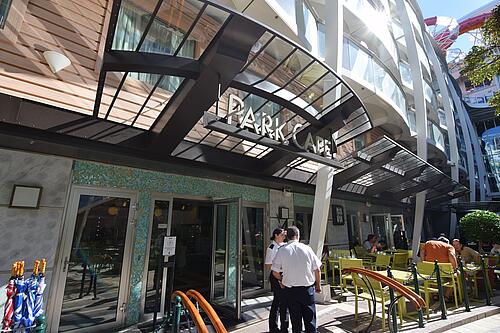 While the Windjammer buffet offers nearly endless choices, it can be extremely busy for embarkation day lunch. Consider skipping the crowds and eating at another venue instead, such as Park Cafe or Sorrento's.
If you are hoping for a more relaxed feel to embarkation day lunch, make a reservation at a specialty restaurant for a much calmer atmosphere than what you'll find at the buffet.
Related: Guide to Royal Caribbean's Windjammer Cafe buffet
Don't: Leave your phone service on
Remember to put your phone on airplane mode before sailaway! Even if you have international service, it most likely does not count cruises into the phone plan. Avoid extremely high phone bills by placing your phone on airplane mode.
Don't: Try to do everything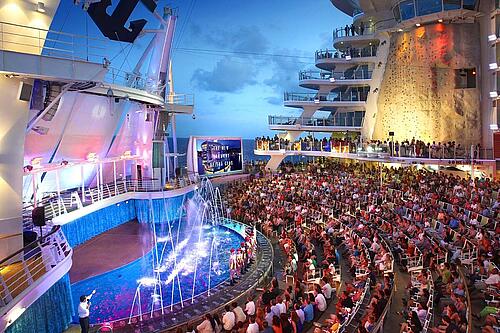 It can be tempting to pack the first day of your cruise with activities. There are so many fun things to do on a cruise, from watching Broadway musicals to indoor skydiving, bumper cars, zip lining, surfing simulators, mini golf, and more.
Don't try to do everything on the first day, though, and remember that you can spread out activities throughout the cruise. You are onboard to relax, after all, so don't make yourself exhausted by trying to fit everything in one day!
Don't: Wait to book excursions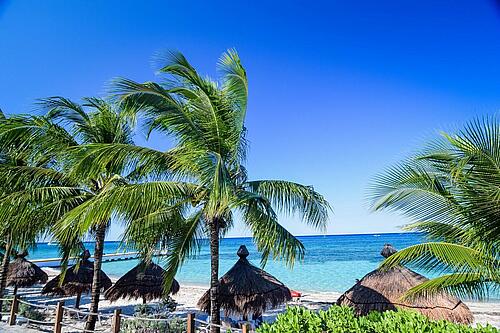 Every Royal Caribbean ship has a Shore Excursions area onboard where you can learn more about which excursions are available, talk to crew members specializing in excursions, and book tours for your cruise itinerary.
It's recommended that you book excursions in advance instead of waiting to do so on the ship so that the excursions you are interested in do not sell out. While it can be helpful to talk to crew members about the tours in more detail, you run the risk of far fewer tours being available compared to booking ahead of time.
Planning a Royal Caribbean cruise? Start here: