In:
Going on a Royal Caribbean cruise means you will visit great ports of call, experience wonderful entertainment and of course, enjoy some really good food. Royal Caribbean delivers fresh and delicious cuisine that caters to a range of tastes and preferences.
To help you navigate all your dining options, we have an assortment of tips and tricks for ensuring you have all the best information before you step onboard your ship and begin chowing down.
1. Don't order just one anything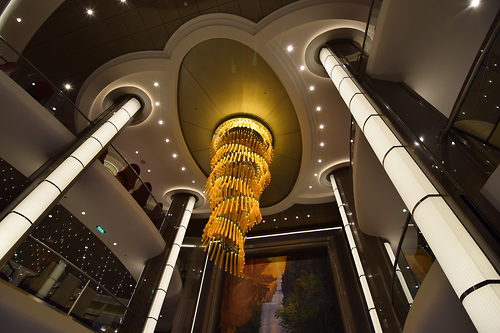 Whether you are dining in the main dining room or Johnny Rockets or a specialty restaurant, don't settle for just one entree or one appetizer.  
Royal Caribbean allows passengers to order as much as you want in most cases, which means you are free to try dishes and sample what you want.  Most often passengers act like they do in a land restaurant and only order what they wish to pay for but on a cruise, order as much as you want!
2. Bring dinner back if you can't make it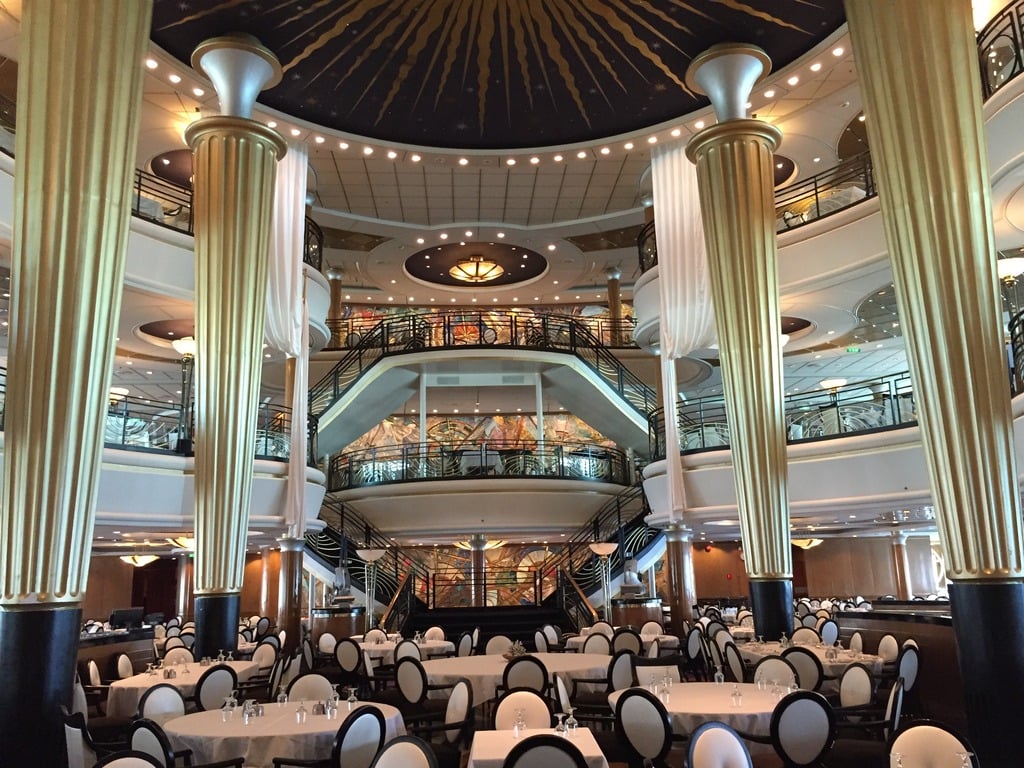 If you or someone can't make it to dinner for whatever reason, be sure to tell your main dining room waiter that someone cannot make it to dinner and they will be sure to wrap up an entire meal (including dessert) to bring back to your stateroom.
This can be a good option if someone is not feeling up for going to dinner but needs to eat.
In fact, you can take food to go from pretty much any venue. Whether you are bringing food to someone else, or cannot finish what you have, taking leftovers is perfectly fine.  
3. Bring your own wine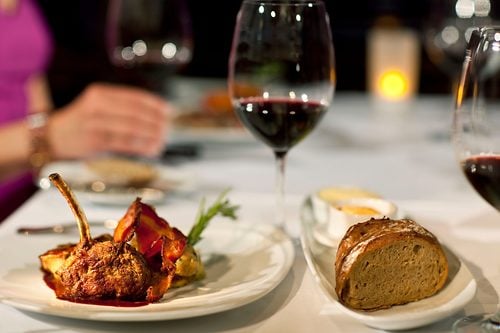 Royal Caribbean allows passengers to bring up to two bottles of wine per stateroom onboard their cruise on embarkation day. Be sure to pack the wine in your carry-on luggage only.
You can enjoy the wine in your stateroom, or bring the bottles of wine to any bar or restaurant onboard. If you choose to open the wine at a bar or restaurant, you could be charged a $25 corkage fee.  
Bringing your own wine can be a great way to save money and expand your choice of wine to enjoy on your cruise.
No, you cannot bring any other alcoholic beverages onboard with you. Those will be confiscated.
4. Have your wine follow you
Whether you buy a bottle of wine onboard your cruise or bring your own, if you do not finish that bottle in one night, have your waiter store it for you.  And if the next night you choose to have dinner elsewhere, like the Windjammer or a specialty restaurant, just tell your new waiter you have a bottle of wine stored for you.
They will ask your stateroom number and within a few short minutes your wine will appear.  This is a great way to keep using the same bottles of wine without pressure to "use it or lose it".
5. Get food allergies and special requests taken care of on day one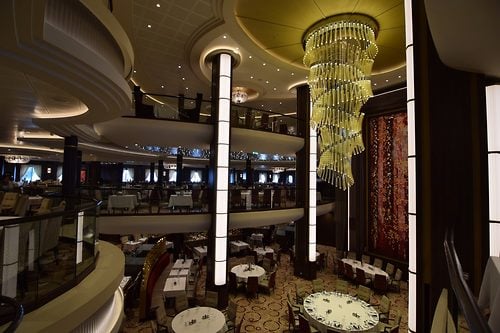 If you or someone you are travelling with has a food allergy or a special dietary request, go to the main dining room on embarkation day and ask to speak with the head waiter on duty.
Once you speak with him or her, you can convey any special requests you may have and get it in place for the rest of your cruise.
6. Pre-book hibachi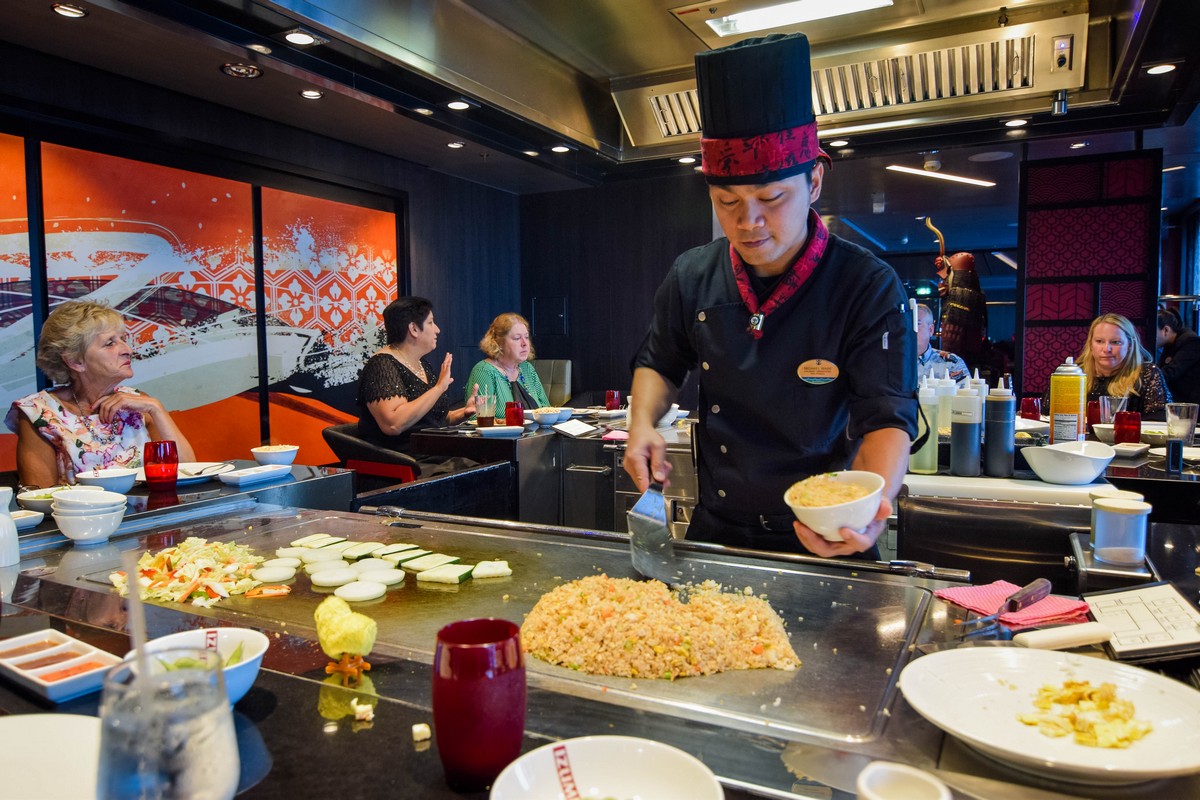 We are advocates of pre-booking as much as you can via Royal Caribbean's Cruise Planner site to save time and money, but when it comes to the wildly popular Izumi hibachi option available on select Royal Caribbean ships, pre-booking is critical.
The teppanyaki dining at Izumi is quite popular and seating is limited. Therefore, if you absolutely want to experience it on your cruise, pre-book it via the Cruise Planner to ensure a spot.  It is quite common for Izumi to sell out spots for hibachi, especially once onboard the ship.
7. Book a specialty dining package to save money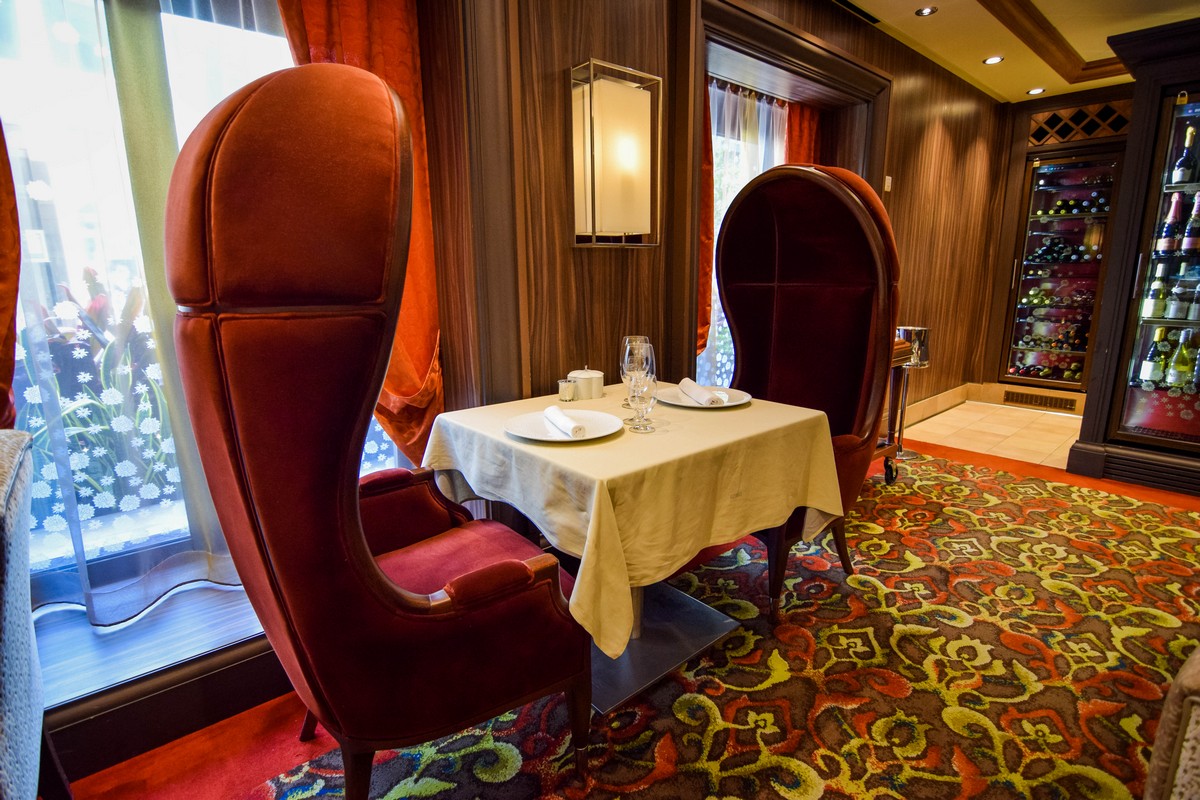 If you are interested in dining at more than one specialty restaurant, your best bet to save money is to purchase a specialty dining package.
Specialty dining packages can be purchased online via Royal Caribbean's Cruise Planner site.  These packages will absolutely save you money compared to booking individual restaurants a la carte. 
The "catch" with dining packages is you cannot book a specific restaurant or time until you board the ship, and must dine at one restaurant on either night one or two. Not to worry, booking reservations is simple enough once you get onboard, so be sure to make reservations once onboard.
8. Avoid lines for meals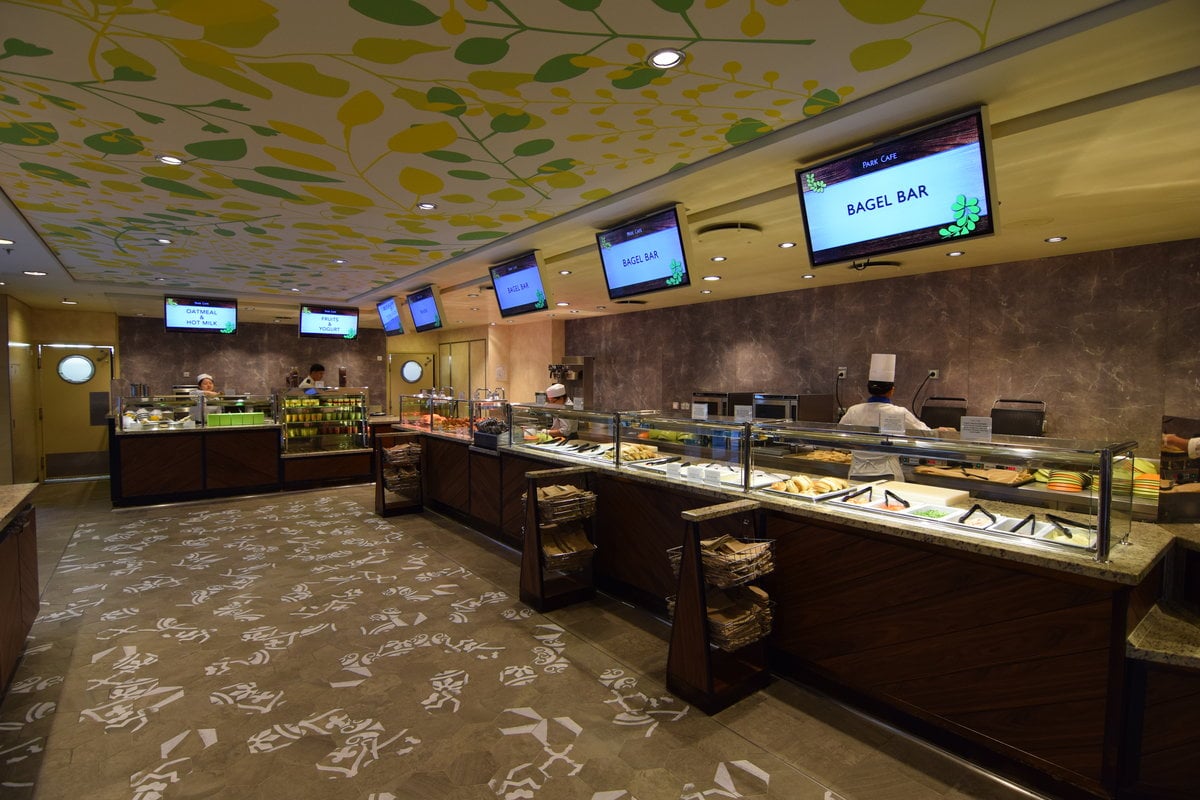 If you are looking for less-crowded options for any meal, always consult the Cruise Compass for all venues open.  Too often, cruisers gravitate towards the main dining room or Windjammer for meals.  While these are great spots, always consider other venues for quicker service.
Venues such as Cafe Promenade, Park Cafe, Sorrento's Pizzeria, Solarium Bistro and Cafe Latte-tudes offer complimentary dining choices that can be quick and simple.
9. Have My Time Dining? Make reservations
If you have selected My Time Dining for your dinner choice in the main dining room, the best strategy is to make reservations to minimize waiting for a table.
While reservations for My Time Dining are not required, having a reservation greatly reduces your wait time, especially if you want to dine at at peak times (6pm - 8pm). Moreover, the larger your group, the more important reservations are to ensuring there is a table waiting for you.
You can pre-book reservations for My Time Dining via the Cruise Planner site or make reservations while onboard.
10. Make dietary requests before you board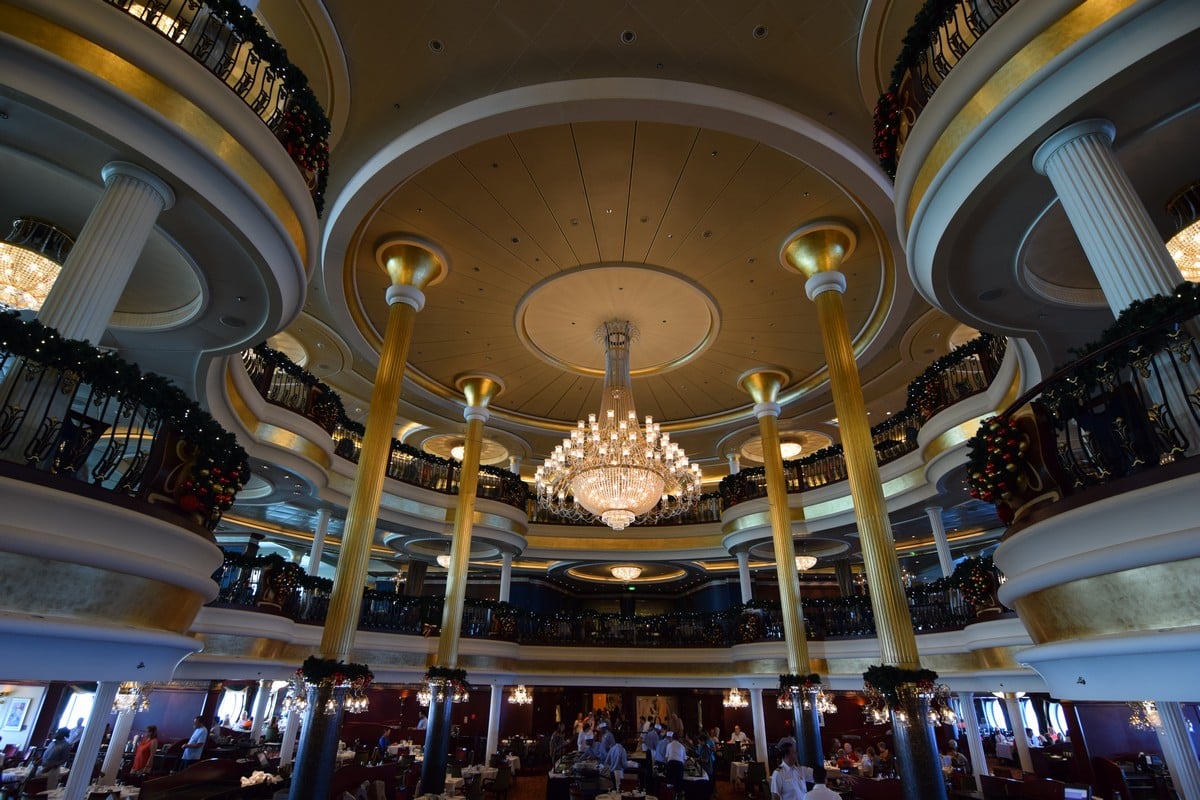 If you have a dietary restriction, then you may want to let Royal Caribbean know about them up front. 
Royal Caribbean can accomodate dietary needs such as food allergies, gluten-free, Kosher, low-fat, and low-sodium.
In additional, vegetarian meals (including Indian-style vegetarian) are available on all menus in the main dining room.  Guests do not need to make a special request for these meals.
Lactose-free/soy milk, Ensure, and Kosher meals are available no extra charge. All you have to do is notify Royal Caribbean at least 45 days prior to sailing (90 days for European/South American Itineraries).
You may also send an e-mail request to [email protected]; please include in the e-mail the guests' names, booking number, ship name and sail date.  It's best to make requests like this at least 90 days in advance of your sailing.
More Royal Caribbean dining tips
Here are a few more helpful Royal Caribbean dining resources: