In:
Let's face it: Dining is as essential to the cruise experience as the ocean itself. Despite the ubiquitous nature of food on cruise ships, passengers have plenty of questions about the logistics of it all.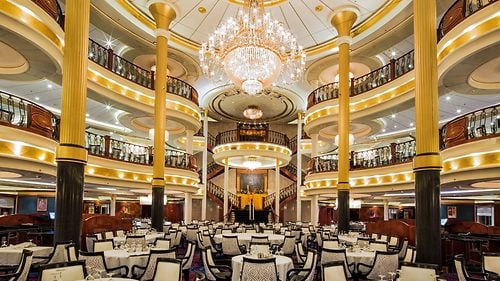 Here, for your reading pleasure, is a compilation of the most frequently asked questions about dining on cruises.
How does dining work on a cruise?
All major cruise lines' ships include three types of dining in their cruise fares.
First, travelers looking for something quick and casual can enjoy breakfast, lunch, dinner and between-meal snacks at the self-serve onboard buffet. It's free and generally includes several stations with a selection of cuisines. This option affords a ton of choice, making it great for picky eaters or cruisers with dietary restrictions.
Second, each ship will also have at least one main dining room (MDR), which offers less-casual waiter-served meals from a set menu each day.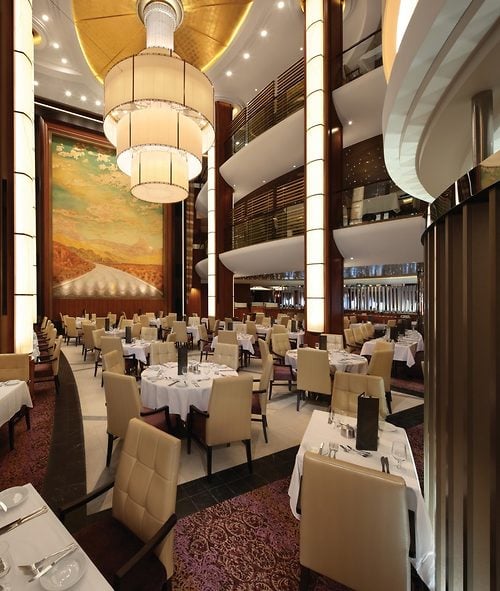 The MDR is always open for dinner, and depending on the cruise line, passengers will have their choice of set seating or anytime dining (an assigned dining time at the same table with the same waiter each night, versus dining any time between set hours at the first available table). If you choose the former, you might also end up sharing a table with other cruisers.
Third, room service is available nearly around the clock on most ships. While most charge for deliveries between certain hours, breakfast is usually included in the price of your cruise.
You can order it by filling out the order form in your cabin and hanging it outside your cabin door before you go to sleep. (It's a nice service on port days when you might be crunched for time before early-morning excursions.) Keep a few small bills handy for delivery tips.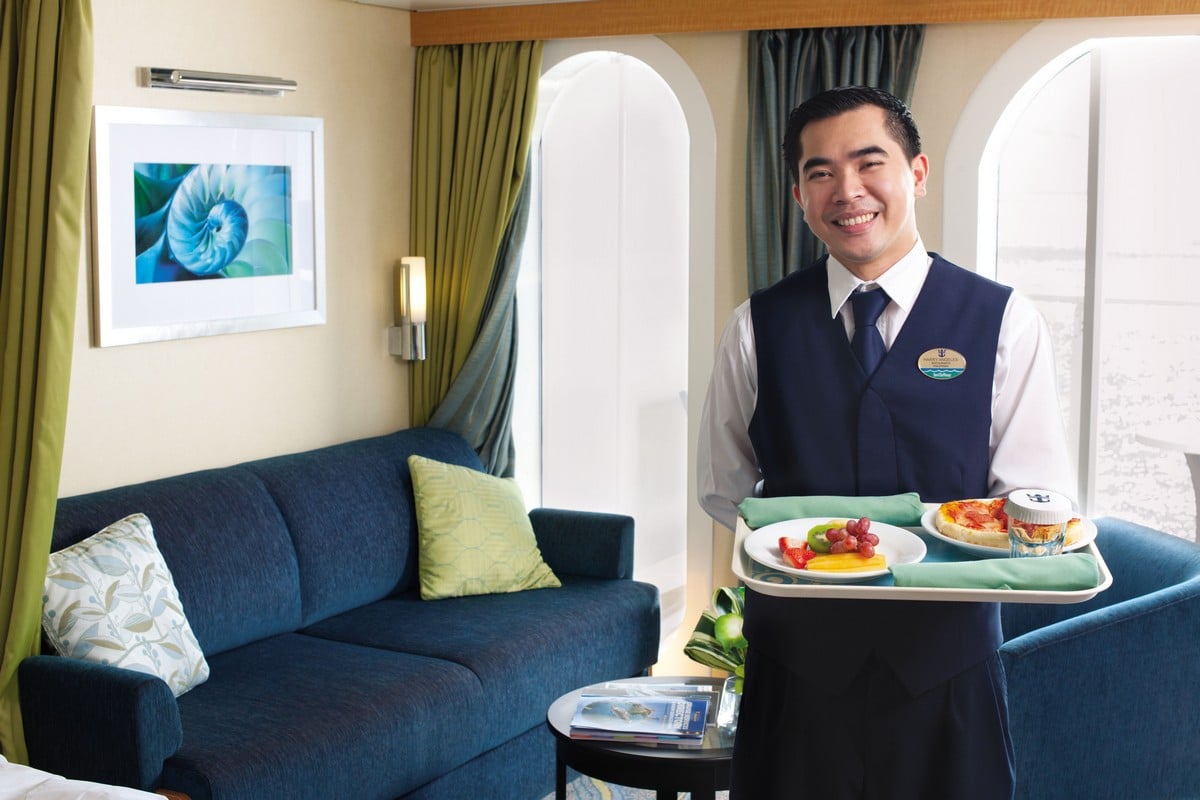 Just about every ship also has a number of alternative eateries onboard. The larger the ship, the more options you'll have. Although some are gratis, most come with additional costs. 
The culinary staffs on most mainstream cruise lines' ships are adept at catering to special dietary requirements. If you're a vegan or vegetarian, you've got food allergies, you keep kosher or you're on a special diabetic or low-sodium diet, simply let your cruise line know when you book your sailing, and the onboard chefs will work with you to come up with some tasty options.
Read more: Top Ten Royal Caribbean Dining Tips
Is dining free on a cruise?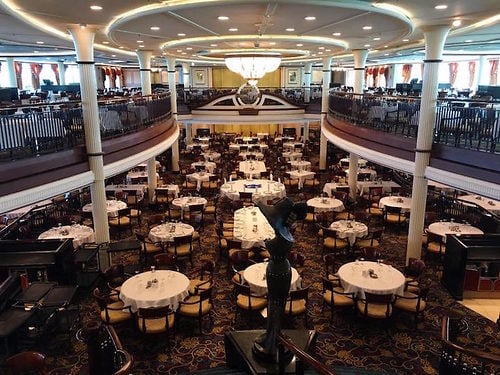 As mentioned above, dining is free at the buffet and in the main dining room. Room service breakfast is also complimentary on most vessels.
Nearly all ships feature a selection of alternative restaurants, as well. While some are included in the price, others levy either a set per-person fee or a la carte charges. Check with your cruise line for more details and pricing.
Read more: What's included in your Royal Caribbean cruise fare
Do I have to dress up for dinner on a cruise?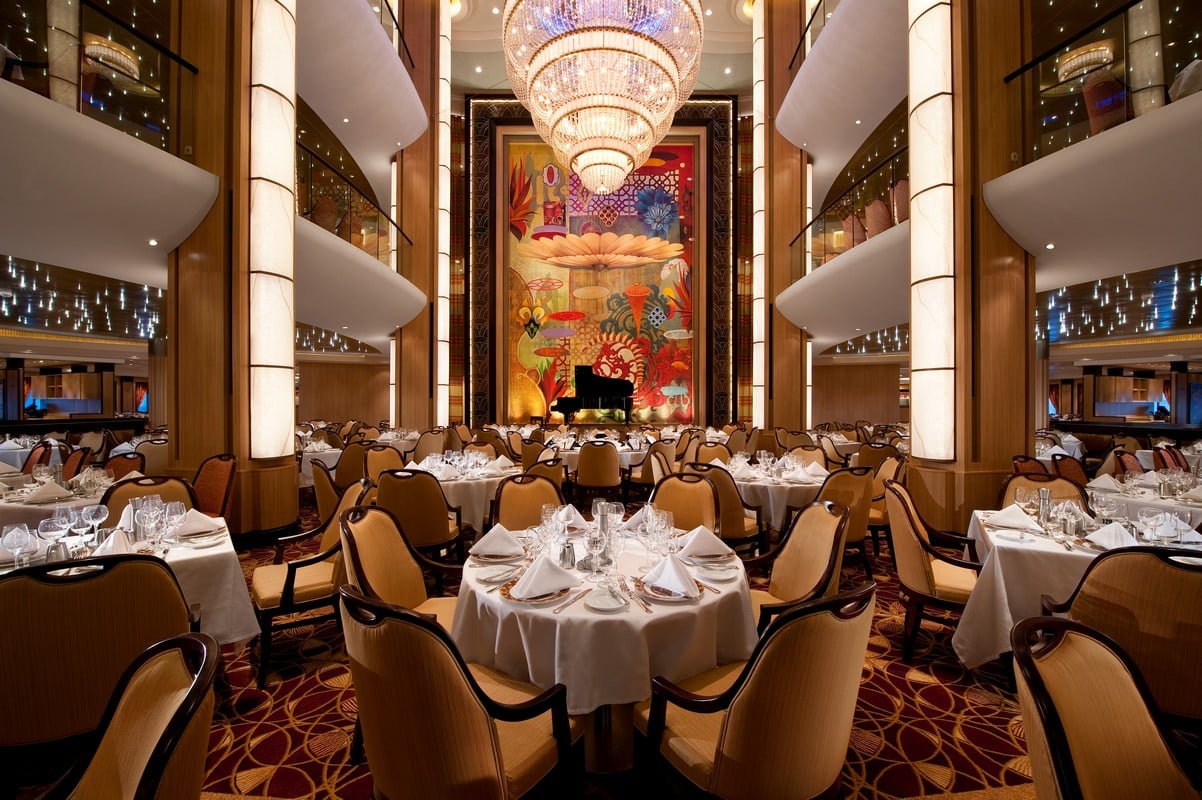 Each cruise line's dress code is different. Sailings used to be luxurious vacations where passengers yearned to dress to the nines, but that's often no longer the case. As such, many brands' formal nights have been made optional or downgraded to, simply, "elegant."
Usually voyages of a week or less in length will host one dress-up night, when passengers can feel free to wear anything from a sun dress or nice slacks with button-down shirts to ball gowns and full tuxedos. Longer sailings may have additional opportunities to get dolled up.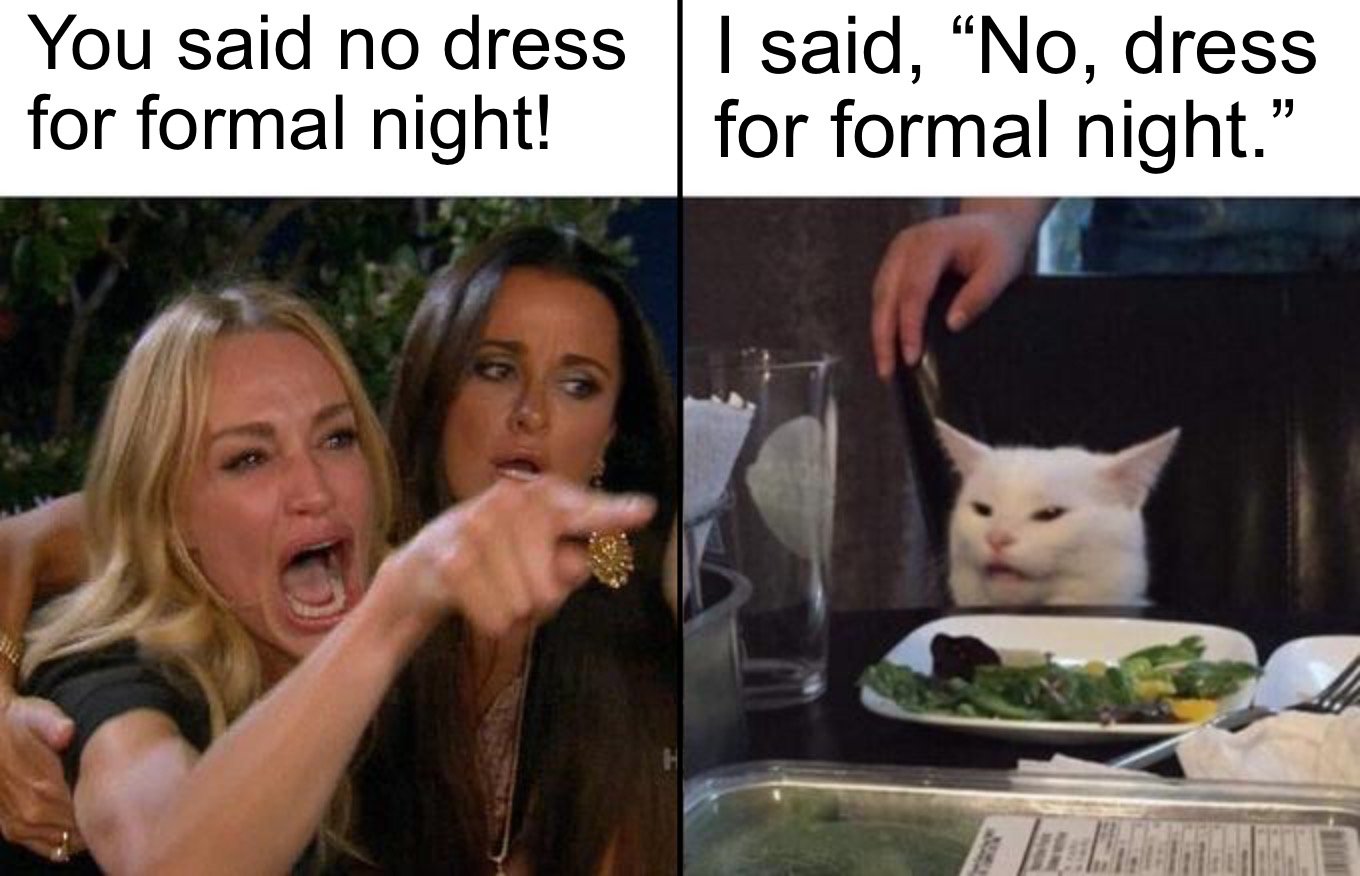 A standard rule of thumb is to avoid jeans on these nights, or you might be asked to dine in the buffet instead.
Otherwise, resort casual attire (including nice jeans) is acceptable. Most lines just ask that passengers refrain from wearing shorts, T-shirts, flip-flops, swimwear and baseball caps to dinner at any time.
Read more: Ten Royal Caribbean dining mistakes
Can I wear jeans to dinner on a cruise?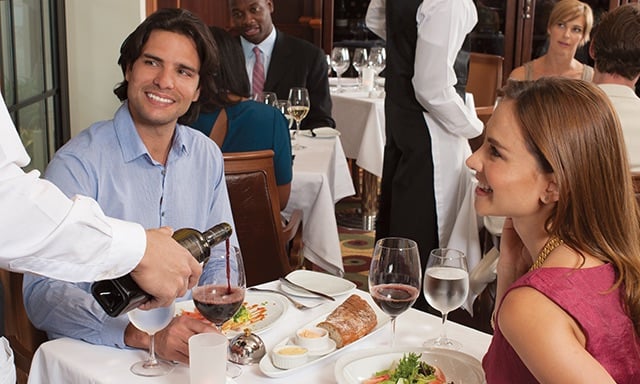 Yes, you can wear nice jeans (no holes) as long as it's not formal or elegant night. On those nights, jeans are not allowed in the main dining rooms on most ships.
Can you eat whenever you want on a cruise?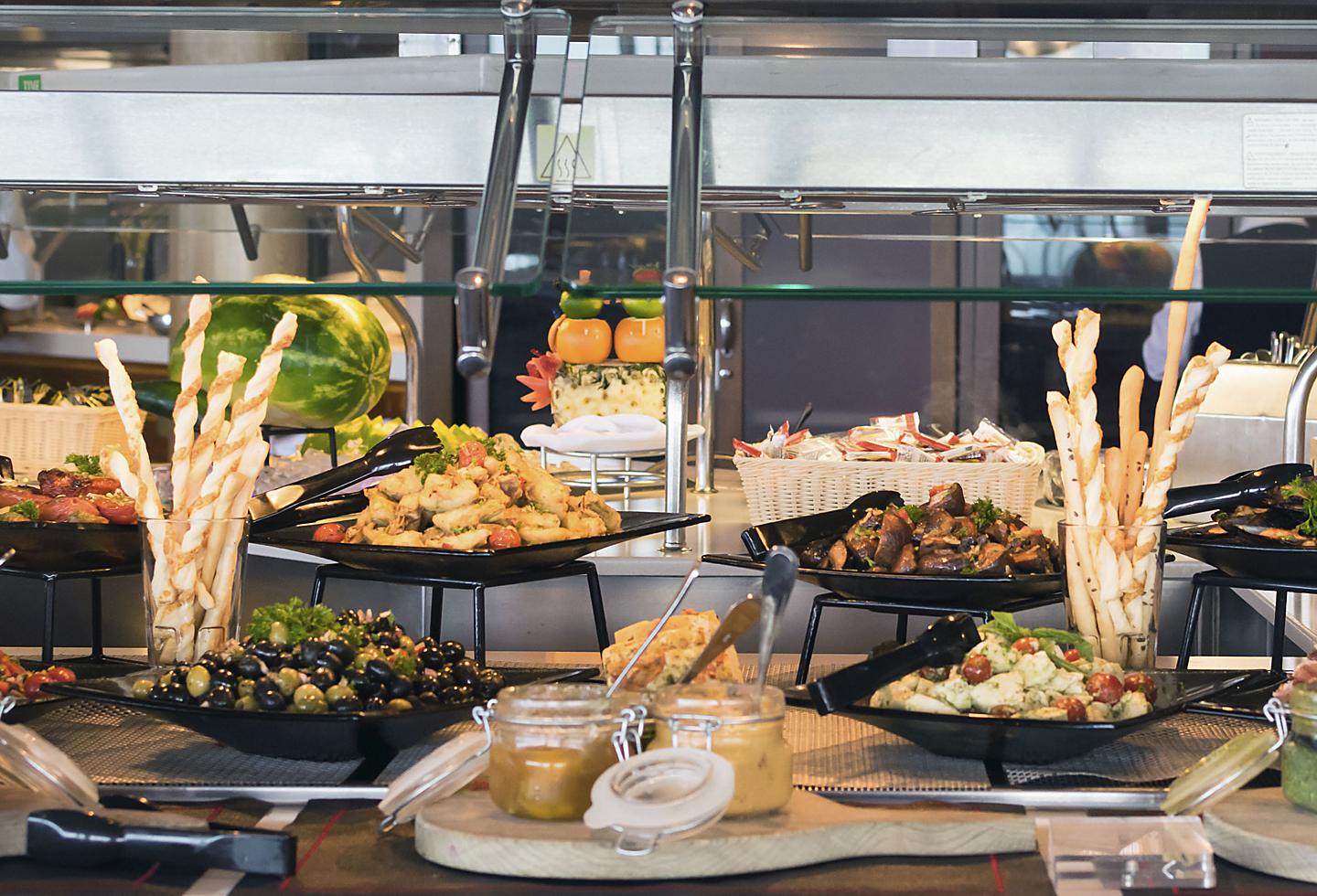 For the most part, food is available around the clock on most ships. Even in the middle of the night, you can order room service (for a fee) or pick up free late-night nibbles at the buffet or from the 24-hour pizza shops found on many vessels.
With the number of alternative restaurants available onboard and readily available cafe baked goods and soft-serve ice cream machines, there's almost always something to help you feel less peckish between meals.
For dinner, you'll be assigned to a specific time if you select set seating and choose to eat in the main dining room. Otherwise, you can make reservations at alternative restaurants for times that best suit you or roll up to the buffet or poolside barbecue whenever you'd like (during their hours of operation, of course).
Read more: How to eat healthy while on a Royal Caribbean cruise
What happens to leftover food on cruise ships?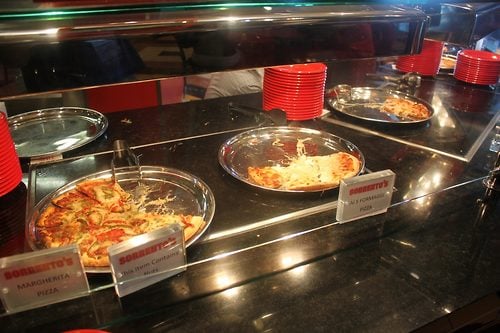 The people responsible for provisioning cruise ships have the logistics down to a science, so there's little waste.
Ships are equipped with extensive below-deck areas for dry storage, as well as freezers and refrigerators that keep everything at the appropriate temperatures so nothing spoils. Food ingredients left over from one sailing are simply used on the next one.
Leftover prepared food is disposed of in several ways, which include incineration, offloading in port as compost or fertilizer, and grinding it until it's liquefied enough to be released into the ocean (far away from land) as fish food.
Are drinks free on a cruise?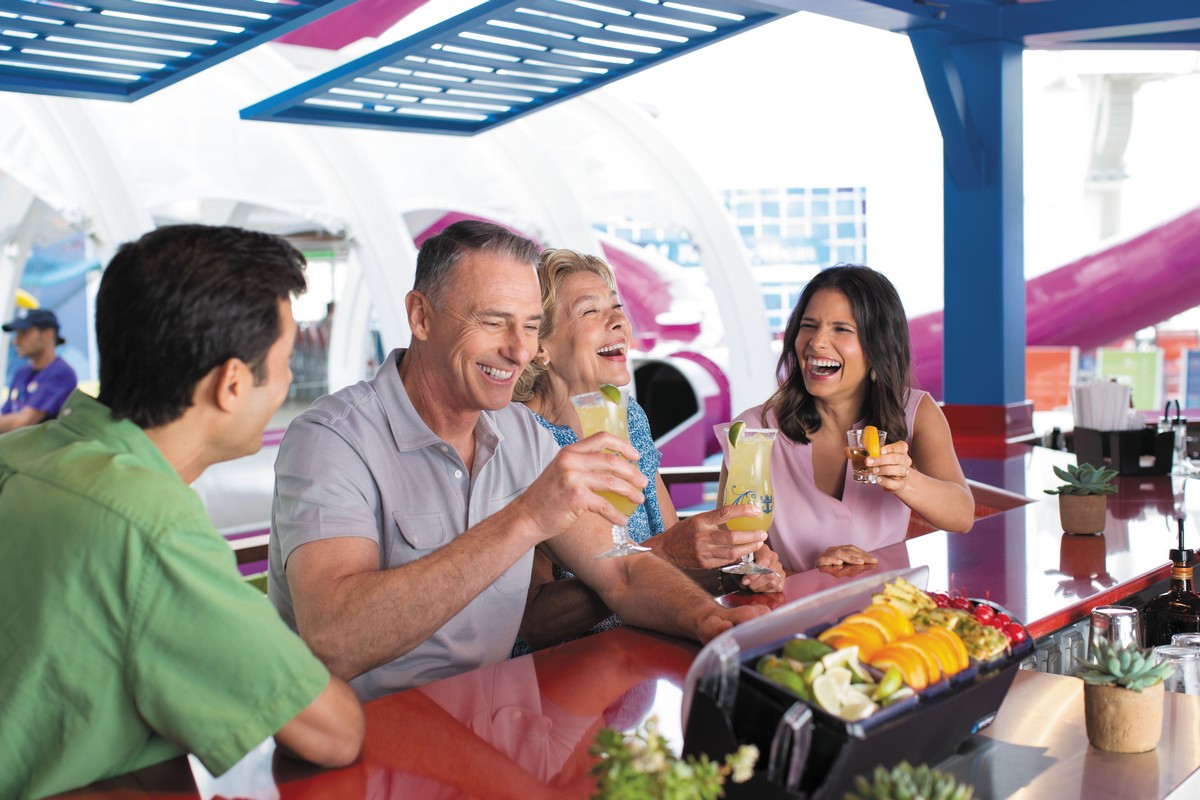 Basic beverages -- tap water, iced and hot tea, drip coffee, lemonade and some juices (with breakfast) -- are included in the price of your cruise.
Soda, bottled water, specialty coffees, smoothies, milkshakes, most juices, energy drinks and alcohol cost extra. If you plan to drink a lot of these, cruise lines sell beverage packages for a set per-person daily charge that can offer a cost savings if you drink enough.
You'll have to do the math to determine whether purchasing a package would be worth the money.
Read more: What drinks are included with your Royal Caribbean cruise?
Do cruises have room service?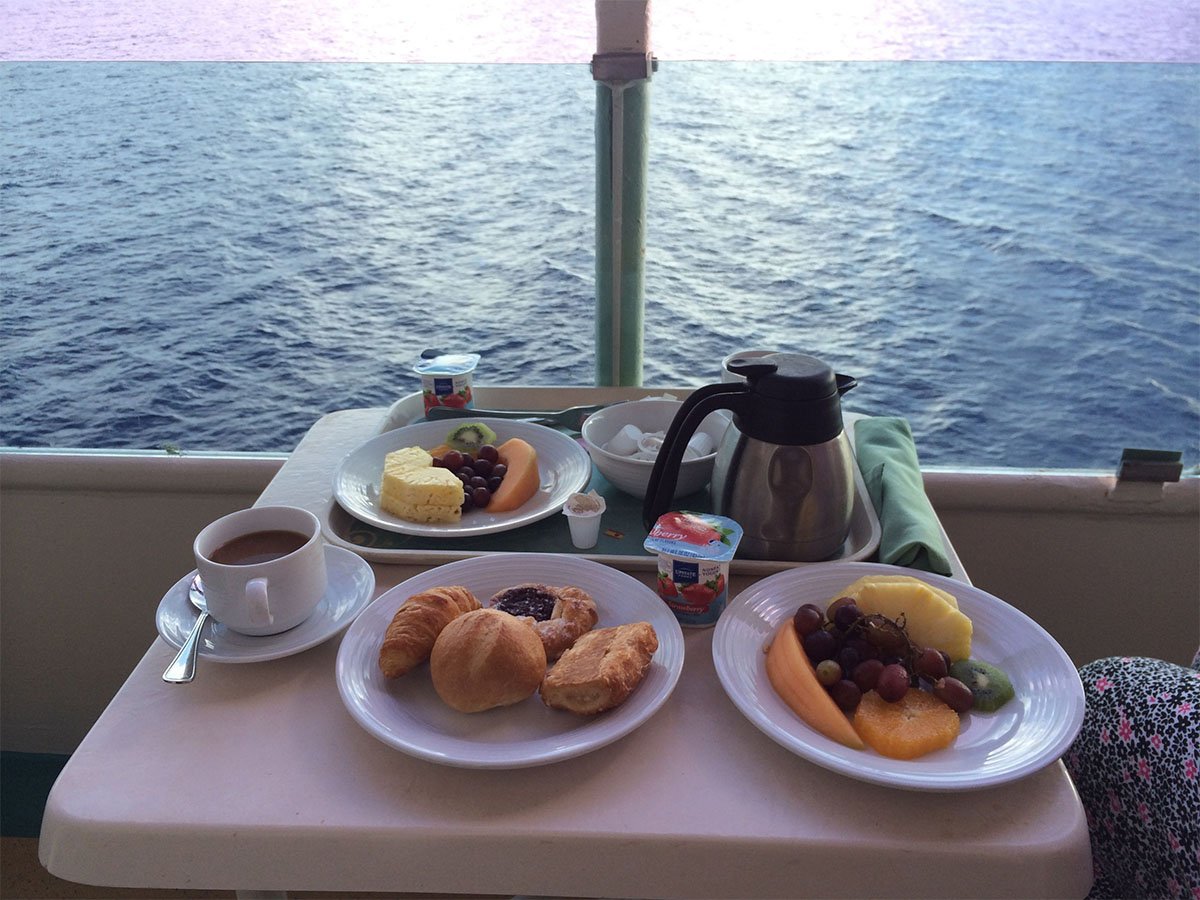 Yes, all mainstream oceangoing cruise lines feature some sort of room service. Most offer basic breakfast items for free, but you might have to pay extra for fare from the expanded breakfast and all-day menus. Most late-night orders also incur nominal fees.
Although not required, it's polite (and appreciated) to tip a dollar or two to the person who delivers your order.
Read more: 25 must-read Royal Caribbean dining secrets