In:
If you are going on a Royal Caribbean cruise, you might be wondering what aspects of the cruise experience are included in the cruise fare that you paid.  After all, there is a lot of components to any cruise vacation and not all of it is included.
We think Royal Caribbean does include a lot of activities, food, entertainment and things to do in your cruise fare.  A cruise remains a really good vacation value, especially when you factor in meals and entertainment.  Over the years, Royal Caribbean has realized some of its guests prefer to add onto the core experience, and began offering more options to tack onto their vacation.  As a result, it may be a bit overwhelming for someone new to Royal Caribbean to know exactly what is included and what carries a fee.
If you have been wondering what is included with your Royal Caribbean fare and what is extra, this breakdown should help clear it all up.
Accommodations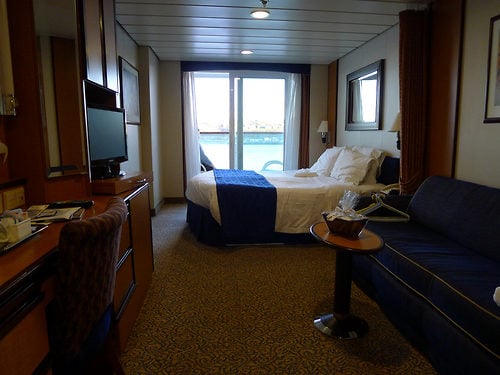 We will begin with something simple, where are you staying on your cruise.  Your cruise fare gets you a stateroom exclusively for your use.  This means you have a room and private bathroom to use throughout the cruise.
Depending on which type of stateroom you book, the exact size, amenities and layout of the room will vary.  But at the very least, you should know that your cruise fare assures you of a room just for you (and any friends or family you invited to stay with you).
Gratuities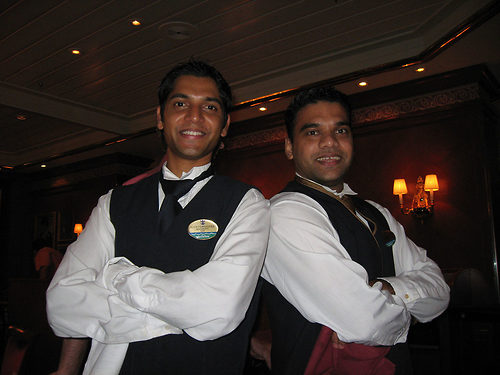 Guests sailing on Royal Caribbean have two choices when it comes to gratuities to the dining room wait staff and stateroom attendants that provide services to them.  They may elect to pre-pay gratuities prior to the cruise, or have gratuities automatically charged on a daily basis to the SeaPass account.  Cruise fares in some countries, such as Australia, include the gratuities with your cruise fare.
As of January 2, 2018, guests will pay a $14.50 per guest per day service charge on a daily basis. For guests in a Grand Suite or above, the amount is $17.50.
Purchases and services rendered onboard a Royal Caribbean ship will have gratuities added at the time of purchase.  If you buy a drink, get a massage at the spa, eat at a specialty restaurant, etc, you will be charged an 18% gratuity automatically.  Your receipt will display the cost breakdown.
Drink packages and specialty dining packages will be charged an automatic gratuity upon purchase of the package, which means no additional gratuity is required when taking advantage of the package benefits (i.e. ordering a drink at the bar with a drink package).
In addition to the gratuities listed earlier, there are opportunities to give crew members an additional tip for excellent service.  Even crew members who receive an automatic gratuity can receive additional gratuities if you feel it is warranted.
Meals & Snacks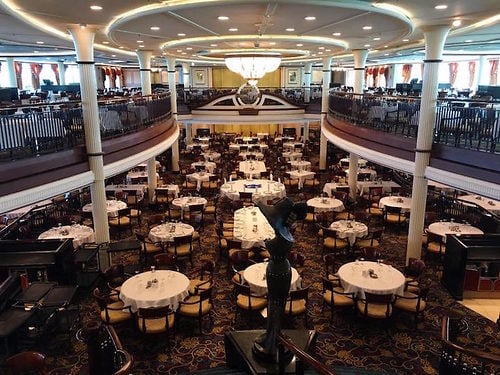 All Royal Caribbean cruise fares include most meals and snacks onboard your ship, and any private destination you visit (such as Labadee or CocoCay).  This means there will be ample opportunity to enjoy breakfast, lunch, dinner and snacks inbetween without additional cost.
The exact venues included with your cruise fare will depend on the ship you sail on, but here are some common ones that pretty much every ship has:
Main dining room
Windjammer buffet
Grab and go spots for food, such as Cafe Promenade, Cafe Latte-tudes, Sorrento's, Boardwalk Dog House, Park Cafe, etc.
Johnny Rockets (for breakfast on Oasis Class ships only)
While this list may seem short, you will find on your exact ship more options.  Moreover, it is quite easy to have plenty to eat at any of the complimentary dining locations onboard.
You may find a few for-fee items on the main dining room menu, such as a filet or lobster.  Steak and lobster are offered on other evenings of the cruise for no fee, but this is an option for those that want those dishes at other times.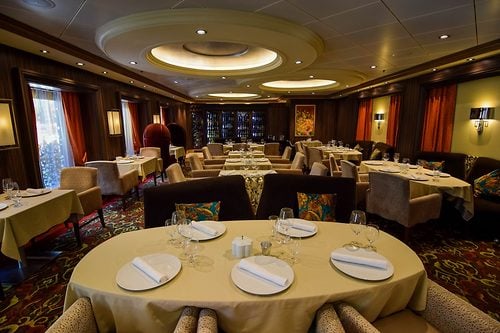 Royal Caribbean does offer in addition alternative specialty restaurants, where you can opt to pay extra for food/meal.  Most specialty restaurants have a simple cover charge that includes most of the food on the menu, although there are a couple of specialty restaurants that forgo the cover charge and simply charge you for what you order.
Here is a list of the specialty restaurants across the fleet.  Depending on the ship you sail on, these restaurants may or may not be available.
Johnny Rockets (lunch and dinner. A la carte pricing on Quantum class ships)
Chops Grille
Giovanni's Table
Sabor Modern Mexican
Izumi (a la carte)
Jamie's Italian
Wonderland
Rita's Cantina (a la carte)
Chef's Table
150 Central Park
Specialty restaurants offer cuisine options not otherwise available onboard your ship, as well as an opportunity to indulge in meals that you may prefer to enjoy at your own pace.  In addition, the ambiance is usually enhanced at these locations and the prices charged are usually not exorbitant.  As stated earlier, you should look at specialty restaurants as a way to enhance or splurge on your cruise, as dining at the complimentary venues is quite satisfying.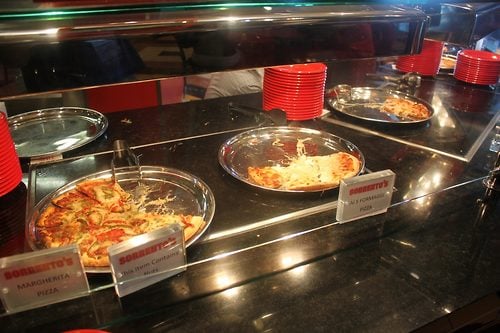 Royal Caribbean offers its guests pizza at some of its restaurants and buffets, as well as at Sorrentos on the larger ships.  Pizza here at these locations are included in your cruise fare.
Ice cream can be found at a self-service machine near the pool deck and is in operation for most of the day.  To be specific, it is actually frozen yogurt, but kids do not mind.  The Windjammer and main dining room will also offer their own selection of hand scooped ice cream.  Some Royal Caribbean ships offer Ben & Jerry's ice cream, which does have an additional cost to it.
Drinks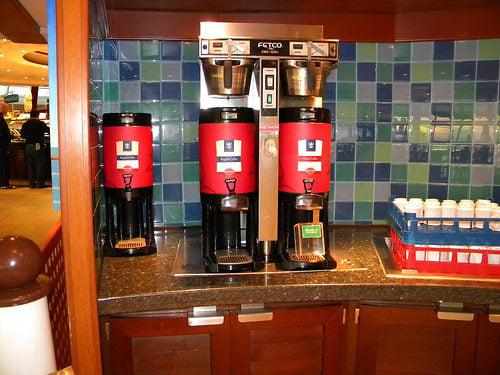 Royal Caribbean provides all its guests on all its cruise ships a few different drinks throughout the day that are included in your cruise fare.  These drinks are available at any time, and include:
tap water
milk
tea
coffee (regular and decaf)
lemonade
iced tea
flavored waters
juices (at breakfast and not fresh squeezed)
Hot chocolate (via instant packets)
These drinks are available throughout your cruise at a number of locations, so there will always be somewhere to get something to drink for free. And if you are wondering, it is very safe to drink the tap water onboard, as it is of high quality.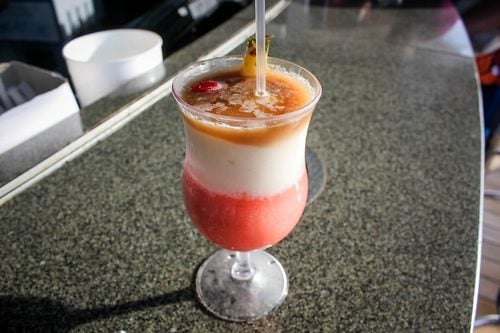 Alternatively, if you want alcohol, soda, juices, virgin cocktails and pretty much anything else not listed above, you can purchase them individually for an additional cost during the cruise.
soda
beer
wine
liquor
cocktails
premium coffee and tea, such as Starbucks
bottled water (still or sparkling)
fresh squeezed juice
For all of these drinks, you may purchase each drink individually or purchase a Royal Caribbean beverage package that will give you either a set allotment of beverages or unlimited access onboard to them.
Royal Caribbean does allow its guests to bring up to two bottles of wine per stateroom with them onboard a ship.  It must be brought onboard on embarkation day, and it is subject to a corkage fee if opened in a public venue.
Room service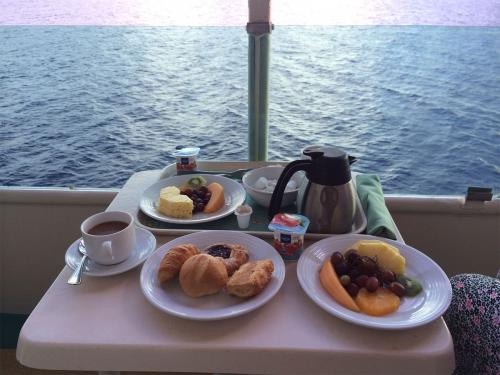 Room service on Royal Caribbean is available 24 hours per day, but there is a $7.95 per order fee.  
A continental breakfast option is complimentary and does not have an order fee.
Child programming and care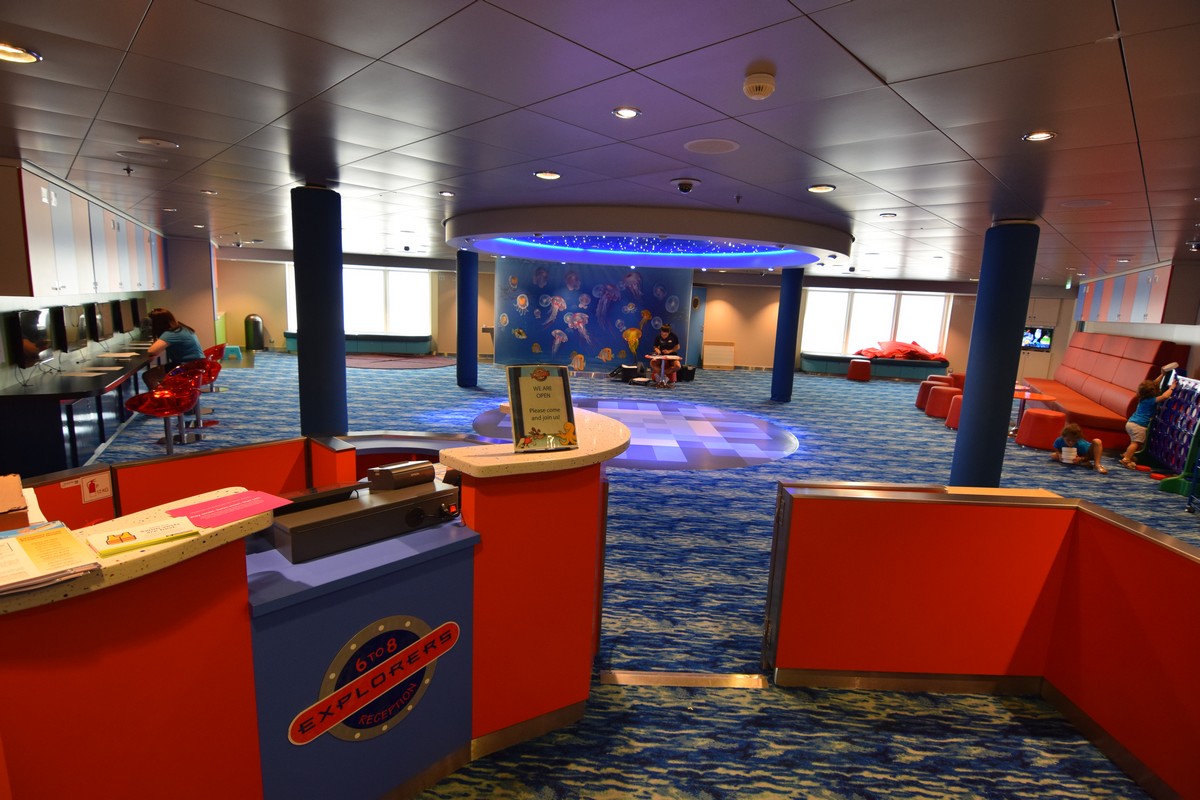 Royal Caribbean's Adventure Ocean program offers children between the ages of 3 and 17 years old, complimentary supervised programming during the day and part of the evening. From when Adventure Ocean opens until 10pm, there is no additional cost to use Adventure Ocean. From 10pm to 2am, Royal Caribbean offers an after hour ($7 per hour) option that has an hourly cost for parents that want to let kids stay a bit later.
While in Adventure Ocean, kids take part  in activities lead by the Adventure Ocean staff. There's a lot for kids to do here and the programs specialize for each age group. It's a mix of learning, play time and socializing.
Children between the ages of six months and 36 months old can participate in the Royal Babies and Royal Tots program. Most Royal Caribbean ships offer a nursery, where parents can drop children off throughout the day and evening. Use of the nursery comes at an hourly charge.
In addition to the Nursery, there is often a open play area set up during the day for parents to bring their young children to and play that has no additional cost. This is unsupervised play time, but does provide an opportunity every day for parents with toddlers to have space to crawl, play, and have some fun.
Activities and Shows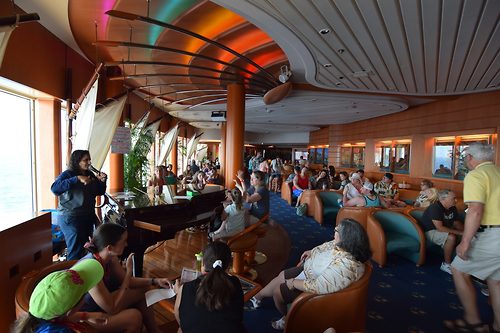 A vast majority of cruise activities are included with your cruise fare.  Your daily Cruise Compass will list a schedule of activities offered onboard, and most have no charge for them. These are the sort of activities you might expect to find on a cruise ship (as well as some that may surprise you).  Cooking demonstrations, pool games, movies, trivia, dance classes, and scavenger hunts are regularly offered on Royal Caribbean and have no additional charge.
There are some activities offered that have an additional fee, such as some fitness classes, bingo, casino tournaments (and pretty much anything in the casino), drink seminars, spa services and more.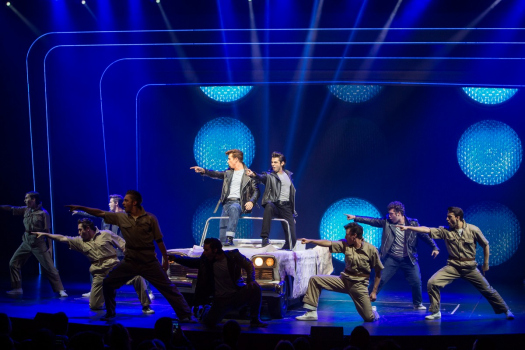 The performances in the Royal Theater, as well as the Aquatheater and Two70) are included in your cruise fare.  Likewise, comedy shows, magic shows, live music, audience participation shows and more are included as well.  Even the Broadway shows on Royal Caribbean ships are included in your cruise fare.
There will be shows each evening, along with additional performances during the day on sea days.  Live music is a staple of Royal Caribbean's entertainment and is offered throughout the day at multiple locations.
Signature activities and Games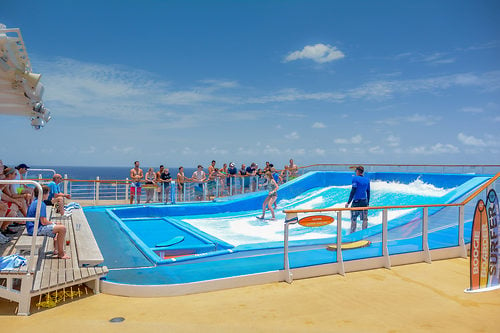 Royal Caribbean has built a reputation for itself with some of the signature activities offered onboard.  Watch any Royal Caribbean cruise commercial, and inevitably you will see people tackling the FlowRider, rock climbing wall, North Star and more.
Here is a breakdown of Royal Caribbean's top activities and any additional costs.
FlowRider surf simulator

No cost to use (first come, first served), although private and group lessons are available to book for an additional fee. 

Rock climbing wall

No cost to use (first come, first served), although private and group lessons are available to book for an additional fee. 

Mini golf
Zip line
Water slides & Ultimate Abyss
Aqua parks (H2O Zone & Splashaway Bay)
Sports Court/SeaPlex

Multi-purpose venues that offer basketball, tennis, volleyball, dodge ball, soccer and more.
No cost to use.

Ice skating
RipCord by iFly

Guests on Anthem of the Seas and Ovation of the Seas are able to reserve a complimentary session via the Cruise Planner during their cruise.

North Star

Guests on Anthem of the Seas and Ovation of the Seas are able to reserve a complimentary ride via the Cruise Planner during their cruise.
Fitness and Spa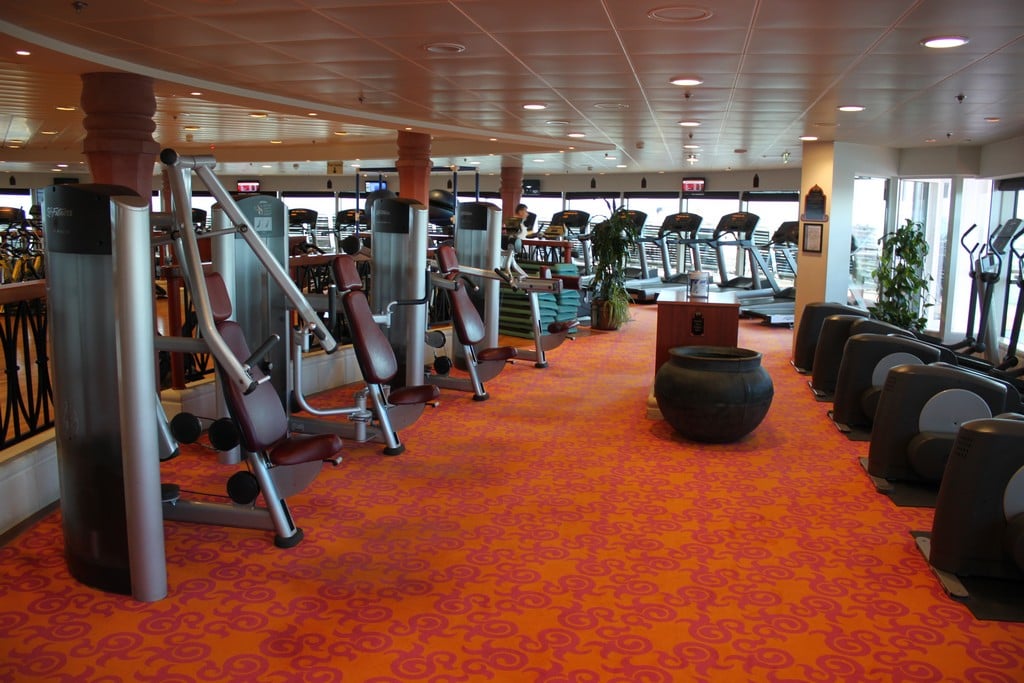 Every Royal Caribbean ship has a fitness center that offers cardio machines, weight lifting machines, weights and more for no additional cost.  There are also some (but not all) fitness classes included in your cruise fare, such as stretch and abs workouts.
Each Royal Caribbean ship has a jogging track, which is available to use throughout the day and at no additional cost.
The sports courts (referred to as the SeaPlex on Quantum Class ships) also offer complimentary use of the facilities, with organized games often held throughout the sailing.
The fitness center will offer fitness classes for an additional fee, such as spinning, yoga, Pilates and more. The fitness center also offers personalized training and other services for an additional fee.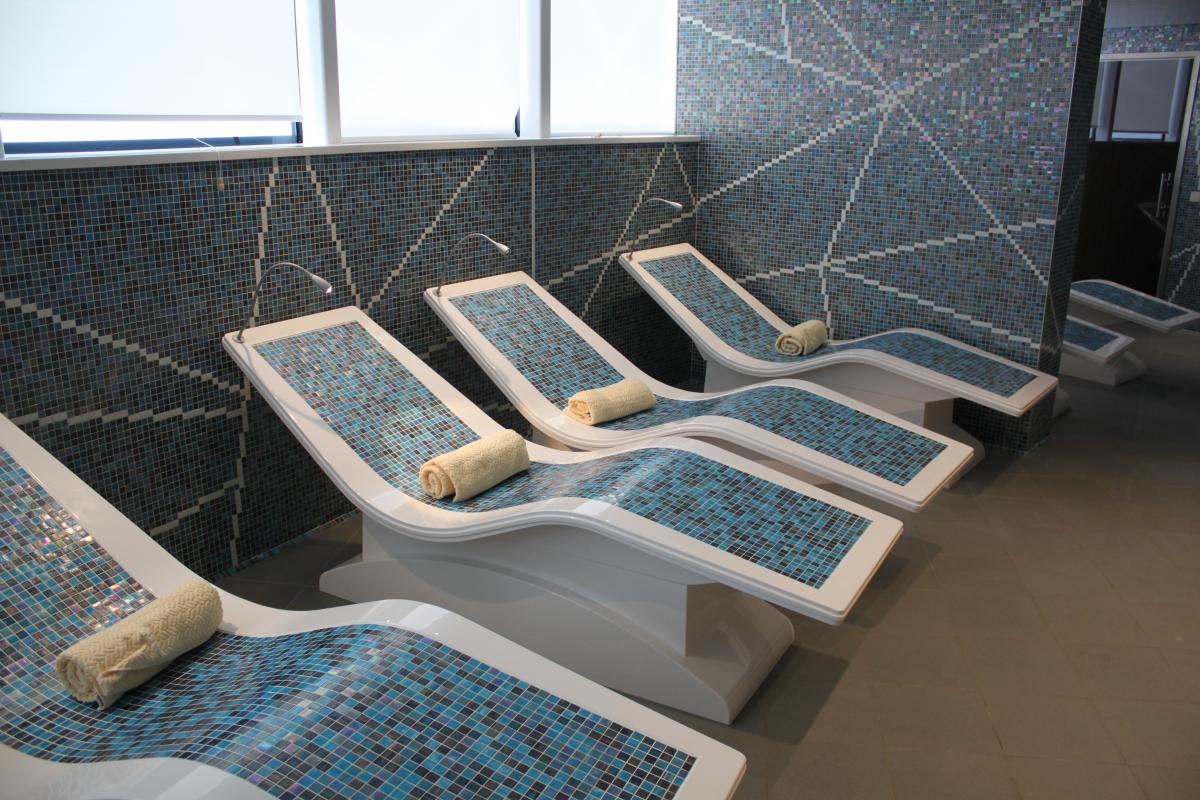 The spa is nearly available exclusively at an additional cost.  Spa treatments, salon services and day passes all come with an additional cost.
Some Royal Caribbean ships will have a sauna, hot tub and/or steam room available for no additional cost.
Tours of the spa are available at any time during your cruise and have no additional cost or obligation.  In fact, these tours are a great way to learn about what the spa offers.
Pool and sun decks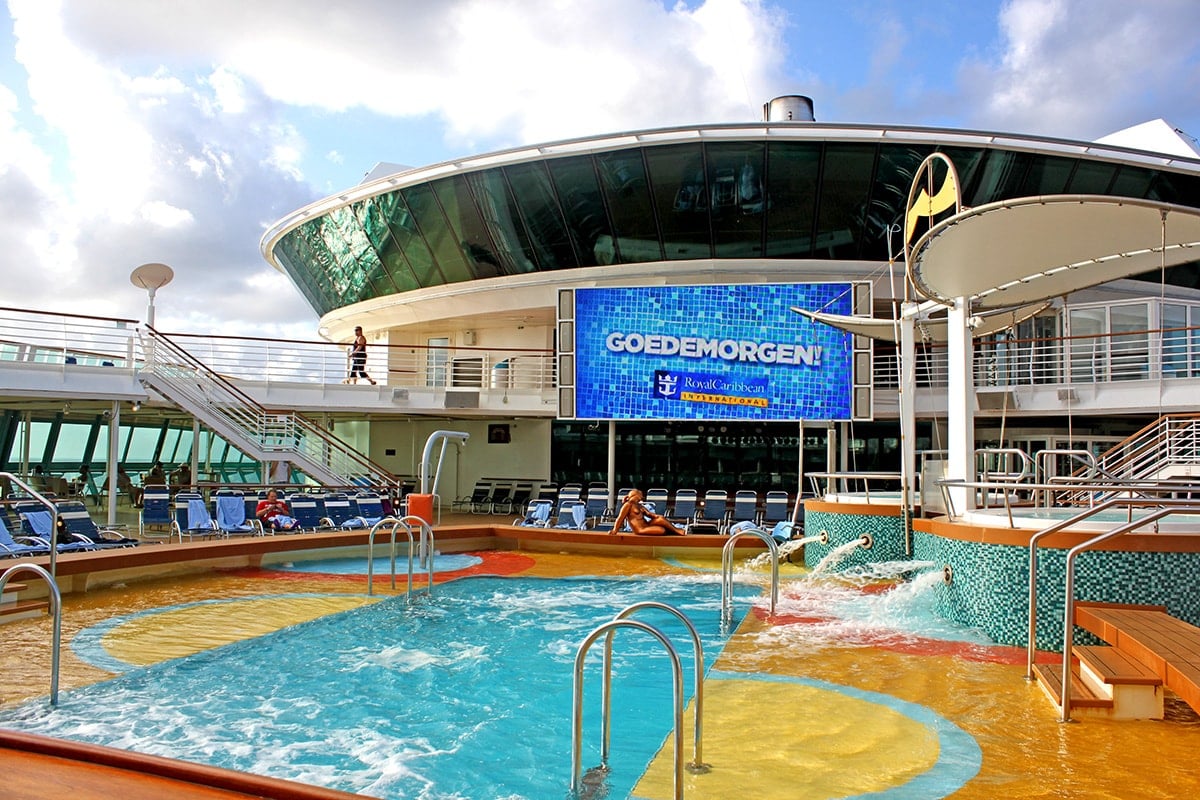 Access to Royal Caribbean's pools are included in your cruise fare, including the lounge chairs, hot tubs, water slides, aqua parks and more. The Solarium area has no additional cost, but is limited to adults only.
Some areas of the pool deck are reserved for suite guests only.  If you are a suite guest (Grand Suite and above), you will have complimentary access to these areas.  Depending on the ship you are sailing on, the suites-only areas can be reserved loungers or an entire deck area.
Miscellaneous services
If not mentioned in the post, here are a few more services that are not included in the cruise fare
Gambling (Including Bingo)
Art Auction
Any purchases made in the gift shops onboard
Shore excursions
Photographs
Video Arcade
Medical Services
Internet Access
Transfers (Unless guest has purchased our air/sea package)
Laundry and Dry Cleaning Services
Ship to Shore Telephone calls