In:
A Royal Caribbean cruise is a great family vacation choice, where both they and you can enjoy plenty of fun at sea and on shore.
Royal Caribbean welcomes children of all ages, and you will find plenty of other families on all Royal Caribbean sailings.  In fact, Royal Caribbean offers a variety of activities and programming for children and their families to ensure there is plenty to do onboard.  Royal Caribbean has dedicated facilities for children, where trained crew members supervise the children and guide them through different daily offerings.
What's available for kids on a Royal Caribbean cruise?
Royal Caribbean's Adventure Ocean offers programming for children as young as six months old, all the way through the teenage years.
Infants and babies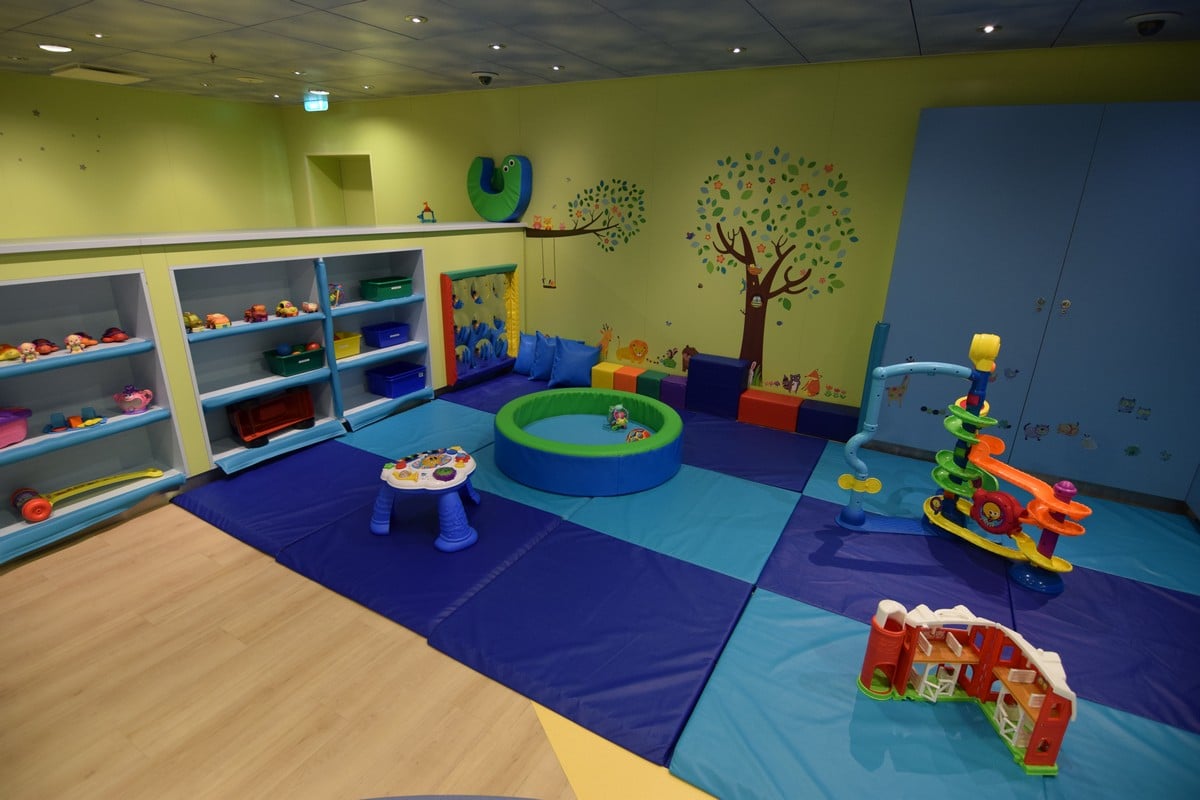 For most cruises, infants sailing on a cruise must be at least 6 months old as of the first day of the cruise. For transatlantic, transpacific, Hawaii, select South American and other selected cruises, the infant must be at least 12 months old as of the first day of the cruise. Moreover, any cruise that has 3 or more days consecutive at sea will require infants to be 12 months old on the first day of the cruise.
Children between the ages of six months and 36 months old can participate in the Royal Babies and Royal Tots (6-36 months) program.  Most Royal Caribbean ships offer a nursery, where parents can drop children off throughout the day and evening. Use of the nursery comes at an hourly charge. Young children can enjoy soft play areas and age-appropriate toys, as well as cribs and cots for napping or sleeping.
If you have children under the age of three, be sure to book a Royal Caribbean cruise that offers a nursery.  For child and parent alike, the nursery is a wonderful resource.
In addition to the Nursery, there is often a open play area set up during the day for parents to bring their young children to and play.  This is unsupervised play time, but does provide an opportunity every day for parents with toddlers to have space to crawl, play, and have some fun.
Children 3 years and older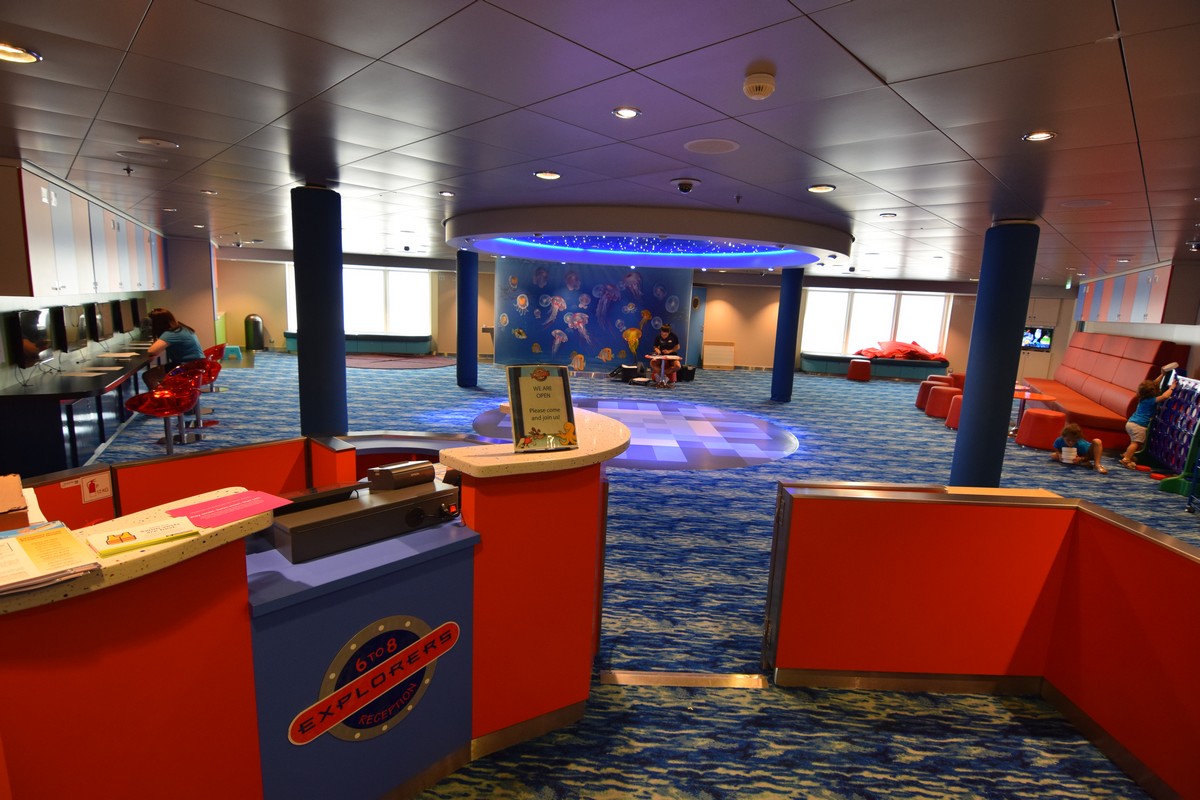 Royal Caribbean's primary program for kids is Adventure Ocean and is offered in three segments
Aquanauts (3-5 years old)
Explorers (6-8 years old)
Voyagers (9-11 years old)
Adventure Ocean is complimentary and is offered for most of your day onboard your ship, whether the cruise is in port or at sea.  From when Adventure Ocean opens until 10pm, there is no additional cost to use Adventure Ocean. From 10pm to 2am, Royal Caribbean offers an after hour option that has an hourly cost for parents that want to let kids stay a bit later.
There's a lot for kids to do here and the programs specialize for each age group.  It's a mix of learning, play time and socializing.  
Kids are checked in and out by parents and it's fully supervised by Royal Caribbean staff. The requirement for children to participate is to be at least 3 years old and be fully potty trained.  There are after hours programs offered as well in Adventure Ocean for an hourly fee if parents want their kids to have supervision later into the evening.
On sea days, Adventure Ocean is typically open
9am - noon
2pm - 5pm
7pm - 10pm
On port days, Adventure Ocean is open for the entire duration your Royal Caribbean ship is in port.  Once the ship leaves port, it resumes the normal schedule described in sea days.
In addition, Royal Caribbean will open Adventure Ocean early enough for guests booked on Royal Caribbean shore excursions to drop children off.  Check with the staff on exact times.
Tweens and Teens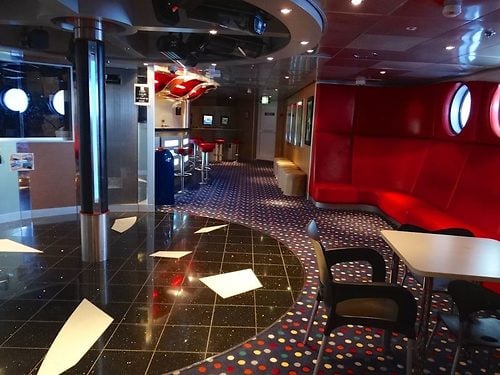 Tweens and teens have their own programming on Royal Caribbean ships. Just like the younger children, there is crew member supervision, but the activities are designed to be more open and less restrictive to the kids. Royal Caribbean built the teen programs to be about empowering teens to do their own thing but still offer activities and fun events to help introduce everyone.
There are teen-only spots onboard the ship where they can come and go as they please. Each day there are teen only events planned in the Cruise Planner, where teens can have dedicated time to enjoy special activities. Royal Caribbean ships are known for their amazing features, like ice skating rinks, surf simulators, bumper cars, and more, so teens will have opportunities to enjoy these activities exclusively.
Sample Activities by Age Group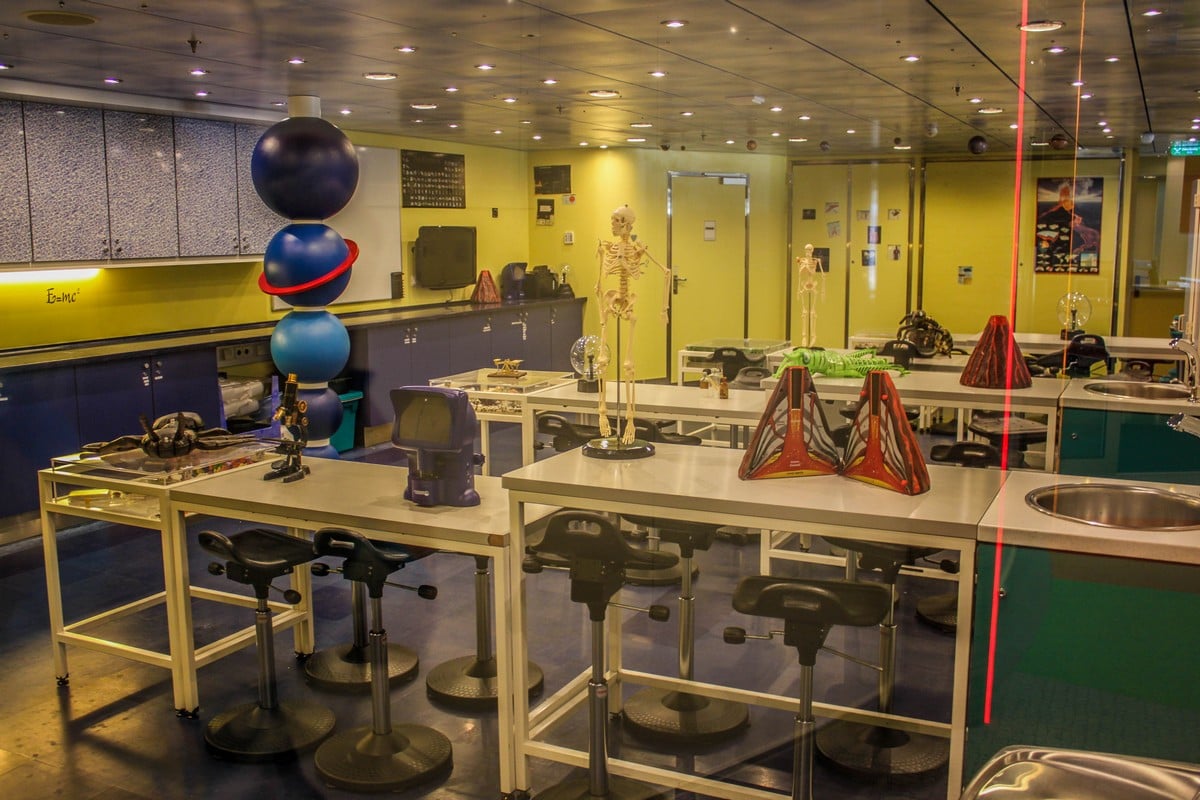 If you want to get an idea of the kind of activities offered by Adventure Ocean, here is a sampling from previous cruises.  This list is not indicative of everything offered by Royal Caribbean, nor is it a guarantee that it will be offered on your sailing.  It is merely an example of the sort of programming available in the past.
Aquanauts (3 - 5 years)
Finger Painting
Camp Aquanaut
Building Blocks
Play dough sculptures
Music Activities
Dot Dancing
Games – animal, color and shape BINGO 
Explorers (6 - 8 years)
Pirate Night
Backstage Tour
Nutty Nicknames
Carnival Night
Sports Tournaments
Wide World of Sports Night
Autograph Hunts 
Voyagers (9 - 11 years)
Karaoke
Sports Tournaments
Adventure Challenge
GaGa Ball
H20 Thunder Races
List-o-Rama
The Art Walk 
Navigators (12 - 14 years)
Sports Tournaments
Pool Parties
College Night
Challenge Series
Scavenger Hunts
Karaoke
Disco Dancing
Video Games 
Teens (15 - 17 years)
Dancing
Pool Parties
DJ Training
Battle of the Sexes
Karaoke
Coffee Talk
Talent Show
Formal Night
Survivor Series 
Cruise pricing for kids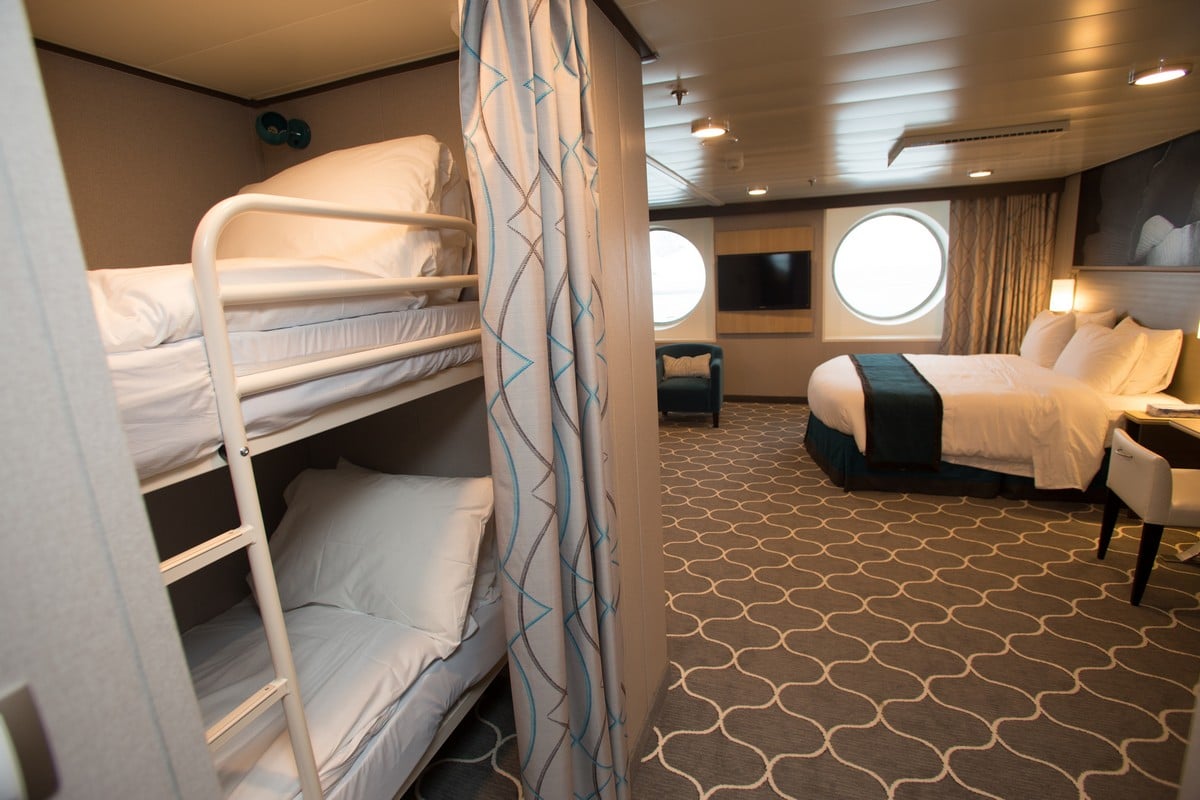 A common question is if kids are charged the same as adults on Royal Caribbean, or if there is a cost to bring infants onboard.  
Like most of the cruise industry, Royal Caribbean charges all of its guests the same regardless of age. Cruise line pricing is based on double occupancy in a stateroom, and this has to do with the pricing model the cruise industry relies on to be profitable.
If your children will be the third or fourth (or more) passengers in the same room as two adults, their cruise fare is usually far less than the first two adults.  Occasionally, Royal Caribbean offers discounts on third and fourth passengers, as well as Kids Sail Free deals.  Be sure to consult your travel agent for guidance on taking advantage of these deals when they are available.
Staterooms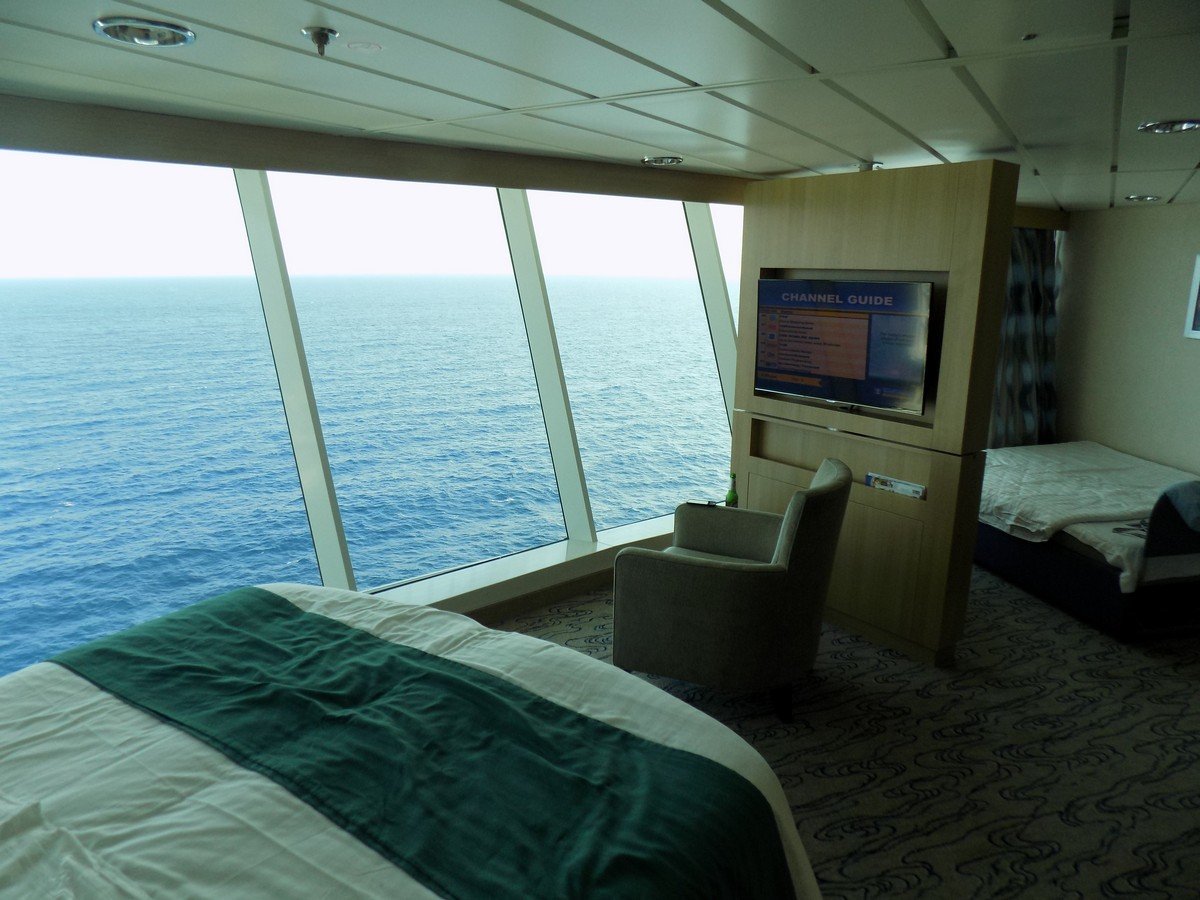 Most families book a single stateroom for their family during the cruise.  Royal Caribbean has staterooms that can accommodate three and four passengers easily, along with some stateroom configurations that can handle even more guests.
In recent years, Royal Caribbean has begun offering family staterooms, which provide extra space and are designed to handle families of five or six passengers.  If you need more space, some suites can handle even more guests.
Depending on your family size, age of your children, and your comfort level, booking multiple staterooms can often be the same or cheaper than booking a large room.  Multiple rooms provides not only additional living space, but extra restrooms and separation from parents and children. Royal Caribbean does offer some rooms with a connecting inside door between rooms.  
If you need a crib, Royal Caribbean can provide a pack 'n play upon request.  You can request this prior to your cruise by contacting Royal Caribbean or your travel agent, however, you can still get one once onboard the ship.
Speaking of toddlers and young children, you will need to bring your own supply of diapers, bottles, and other supplies.  Royal Caribbean provides milk to all guests without an additional charge (skim or regular).  Some parents prefer to bring their own kid-friendly snacks and food, which is permissible by Royal Caribbean. Refer to our Taking an Infant on a Royal Caribbean cruise article for more information.
Kids activities on Royal Caribbean beyond Adventure Ocean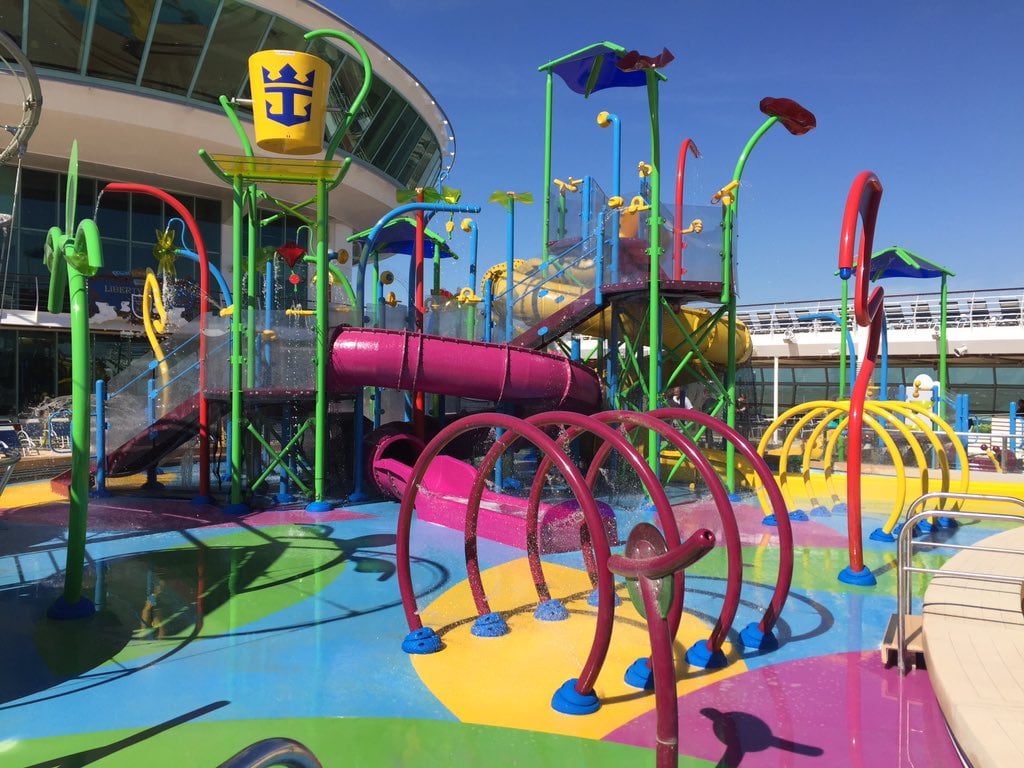 There's lots going on onboard a Royal Caribbean cruise regardless of if your kids are in the kids club or not.  There are pools and even dedicated pool and splash areas on select ships.  Known as the H2O Zone or Splashaway Bay, these areas offer water spouts, slides, colorful decorations and lots of areas to get soaked and the perfect place for kids to run around.
Speaking of fun in the water, Royal Caribbean has begun offering water slides on some of its cruise ships.  Water slides are open to all guests, provided they are tall enough to enjoy the slides safely. We do not have to describe the virtues of water slides, but families with older children may want to ensure they book a cruise that offers water slides.
Oasis, Quantum, and select Freedom and Voyager Class cruise ships offer the DreamWorks Experience, which incorporates the DreamWorks film characters into meet-n-greets, parades and character breakfasts.
Each day of your cruise, the Cruise Director's staff offers many family-friendly activities in the Cruise Compass. Families can join in trivia, scavenger hunts, tournaments on the sports deck, pool games and more. 
The signature activities on many Royal Caribbean ships is also open to children, such as mini-golf, the FlowRider, the rock climbing wall, ice skating and more.
Eating with kids on Royal Caribbean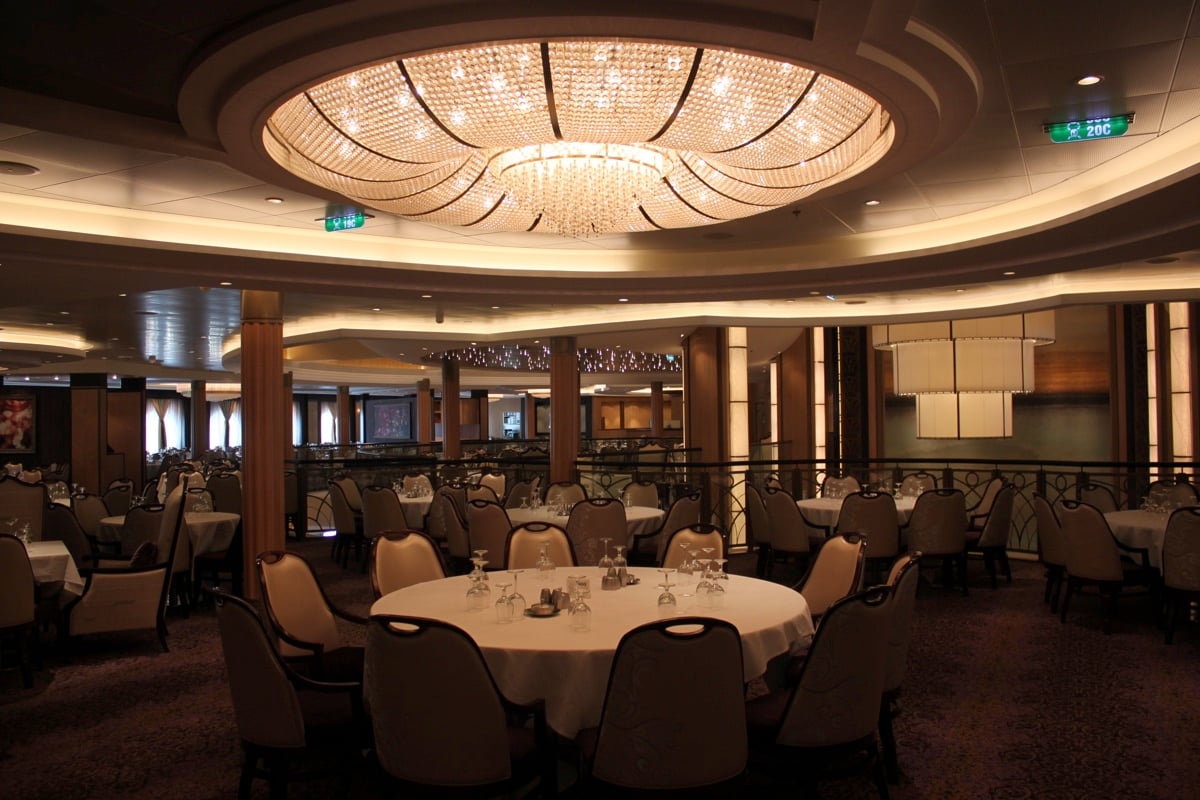 Every parent knows that dining out with their kids is an adventure that can never be predicted.  Luckily, Royal Caribbean offers a variety of culinary choices that are sure to appeal to all palates.  Whether your child is a pizza and chicken fingers kind of kid, or enjoys the finer foods in life, there is lots available.
The main dining room has a special menu just for kids (adults can order off of it too), which has plenty of kid-friendly fare.  This includes pasta, hot dogs, burgers, mac and cheese, and more.  Of course, kids are free to order off the regular menu too. 
The dining room staff is usually very accommodating to families, and can work with parents to find something that their child will eat.  On past cruises, we have had instances where the waiters went to other restaurants onboard the ship to bring our kids a food not offered in the dining room.  That level of service is what makes dining (and cruising) with kids on Royal Caribbean such a pleasure.
My Family Time Dining
There is a special dinner option in the main dining room known as My Family Time Dining, which is offered for the first seating time in the main dining room, for children ages three to 11.
Here is how it works
You arrive at the dining room with the kids and let your server know that the kids will be headed to Adventure Ocean as part of the My Family Time Dining program.
The kids order and are served right away so that they can finish their meal within the first 40 minutes.
After about 45 minutes, the Adventure Ocean staff arrive in the dining room lobby to sign in and hand off the kids.Parents will need to escort their children to the designated Main Dining room entrance doors at 6:45 pm to check their child in with the Adventure Ocean counselors. Once checked­in, the Adventure Ocean counselors will then escort their children to Adventure Ocean for ongoing evening activities.
Adults return to their table to enjoy the rest of their meal at a more leisurely place.
Prior to the cruise, you can can contact Royal Caribbean or travel agent to book it. Alternatively, guests can sign up onboard in the Adventure Ocean area. Pre­-cruise reservations are encouraged.
Windjammer
The holy grail of kid friendly dining is the Windjammer, which is Royal Caribbean's buffet style restaurant.  Open for breakfast, lunch, dinner and snacks, it offers the greatest variety of food that includes many different types of food.  
Most importantly, there is lots of ice cream available on Royal Caribbean! In fact, there is usually a self-serve ice cream station conveniently located near the pool for anyone to enjoy throughout the day.
Specialty Dining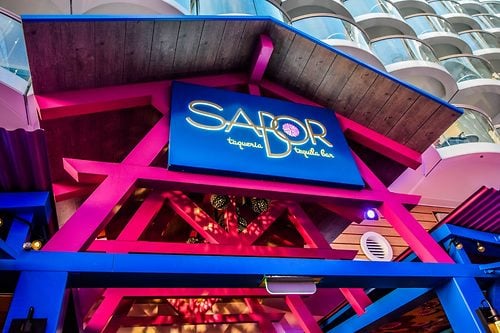 If you want to take your children with you to a specialty restaurant, they are more than welcome to eat there as well.  Kids ages 6-12 can dine at specialty restaurants for a $10 cover charge. Kids 5 years old and under eat free.
Kids 5-12 have a modified adult menu,which is a round-up of kid-friendly favorites from the regular menu. Kids under 5 are free and have a kiddies menu similar to the kids menu in the main dining room. Some restaurants do not have kids menus and so kids order off the regular menu.
Royal Caribbean specifies restaurants such as Wonderland Imaginative Cuisine, 150 Central Park, and Chef's Table do not have kids menus, as those experiences are better suited for guests age 13 and older.
More cruising with kids info
You may have additional questions about cruising with kids on Royal Caribbean, or simply would like to learn more tips and advice.  Here are some good resources to consider:
Your thoughts
Now that you have read over our guide to taking kids on Royal Caribbean, let's hear from other parents. What tips do you parents think are most important? Which advice we shared do you agree with? Where do you disagree? Share your thoughts in the comments!