In:
Going on a Royal Caribbean cruise with young children has its own set of challenges, so we have a look at the most important things you should know about cruising with babies on Royal Caribbean.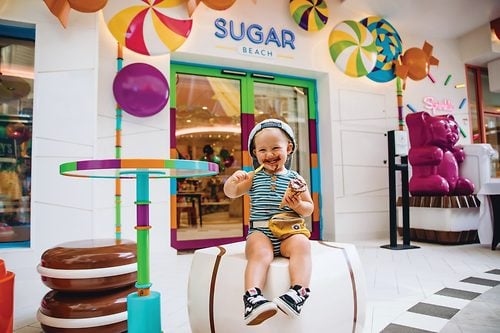 Just like teens, adults and senior citizens, everyone cruises differently, so there is not a "one approach for everyone" I can provide. However, there are some helpful tips most families can take advantage of prior to their cruise.
1. Book a ship that has a nursery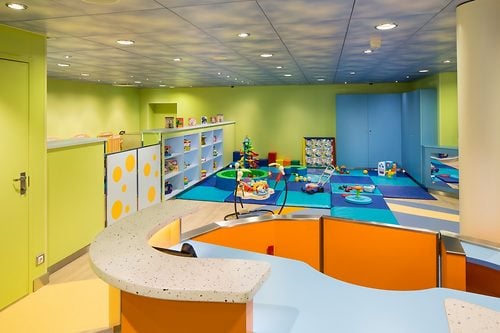 These days, most Royal Caribbean ships have a nursery onboard, but there are still a few that do not.
If you are cruising with a child that is under the age of three, I highly recommend you avoid any ships that do not have a nursery yet. 
Children between the ages of six months and 36 months old can participate in the Royal Babies and Royal Tots (6-36 months) program. 
The advantages of a ship with a nursery are numerous, and it provides the best possible experience. As a parent of two kids, Royal Caribbean's nursery has proven to be a critical and super-helpful option.
If you are wondering, Royal Caribbean no longer offers in-room babysitting, so a nursery is a must-have.
2. Pack at least 25% more baby supplies than you need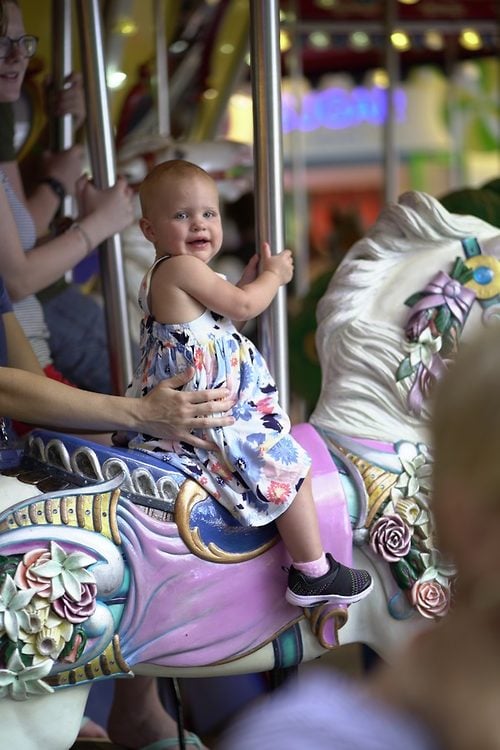 When you are packing diapers, formula, wipes, medicine and anything else your baby needs, be sure to pack much more than you could ever think you would need.
On a cruise, it seems like you will go through many more supplies than at home, especially on shore excursions. The last thing you want to do is run out of supplies.
Royal Caribbean stocks a limited amount of baby supplies, and you may find super market offerings in the islands you are visiting vastly different from the brands you know at home.
Over pack the baby supplies to avoid a problem later.
3. Request a pack-n-play for your room
After you put a deposit on a cruise, make sure your travel agent notes in the reservation you need a pack-n-play for in your room.
Royal Caribbean will provide pack-n-plays, but there is a limited amount of them, so reserving it in advance is very important. Moreover, if the pack-n-play is in your room when you arrive, it means your baby can take a much needed nap.
Something else to know is that even if you note this in your reservation, there is no guarantee the pack-n-play will be waiting right when you arrive. There is sometimes a delay in it being delivered, so be sure to call housekeeping immediately upon entry to the room.
Something else that was important for our kids is to pack some sort of a padded sheet for the bottom of the pack-n-play.  Some babies will sleep better if there is slightly more cushioning, so consider bringing one just in case.
4. Register with the nursery on the first day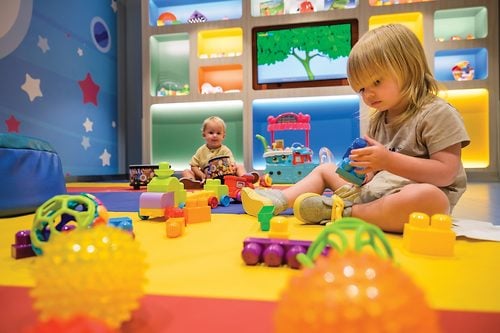 In the early afternoon of the first day of your cruise, you will want to stop by the Royal Babies & Tots open house.
This is an important opportunity to meet the staff, register your child and (most importantly) sign up for nursery hours.
Meeting the staff and allowing your child to explore a bit is helpful for everyone, and your best bet is to do this sooner than later. All staff also has at least three to five years qualified experience in working with children ages six months to 17 years. Nursery staff must have the same above qualifications as well attend a 30 hour Nursery Training where the curriculum and hands on experience is in line with Florida State Standards of care.
In most cases, the nursery open hours begin in the early afternoon, with the first session opening up later that evening.
Keep in mind the nursery does have an additional cost, with a different rate for the daytime versus evening. As a parent, I can tell you it is worth every penny, so budget your vacation costs accordingly.
5. How to maximize nursery hours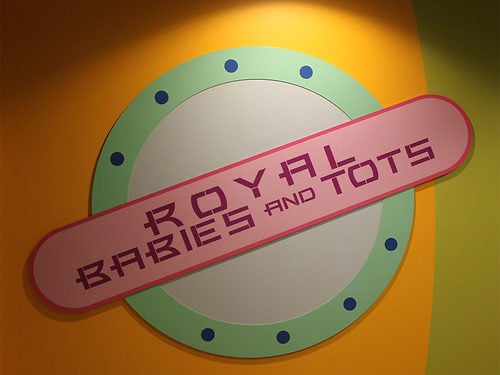 At the start of the cruise, Royal Caribbean usually restricts how many hours you can pre-book at the nursery.  This is because the nursery can only accomodate a few children at a time, and they want to be able to offer everyone equal opportunity.
On a seven night cruise, the nursery's policy is usually to allow up to 16 hours bookable per child, until the third or fourth day of the cruise. After that point, nursery hours open up and are unlimited on a first come, first served basis.
My advice is if you want to ensure you child is able to get into the nursery on most (if not all nights), then maximize your hours with this strategy:
Register your child on the first day for best selection of times
Spread your hours out early. Having a reservation for even a couple hours is better than no reservation at all. 

I would usually book 2-3 hours an evening so my wife and I could eat and see a show without the baby.

You can always ask to extend times at drop-off. 

If you booked two hours, but really need another hour or so, do not hesitate to ask for more. The staff will try their best to accommodate you.
6. Don't be afraid to call the nursery on a whim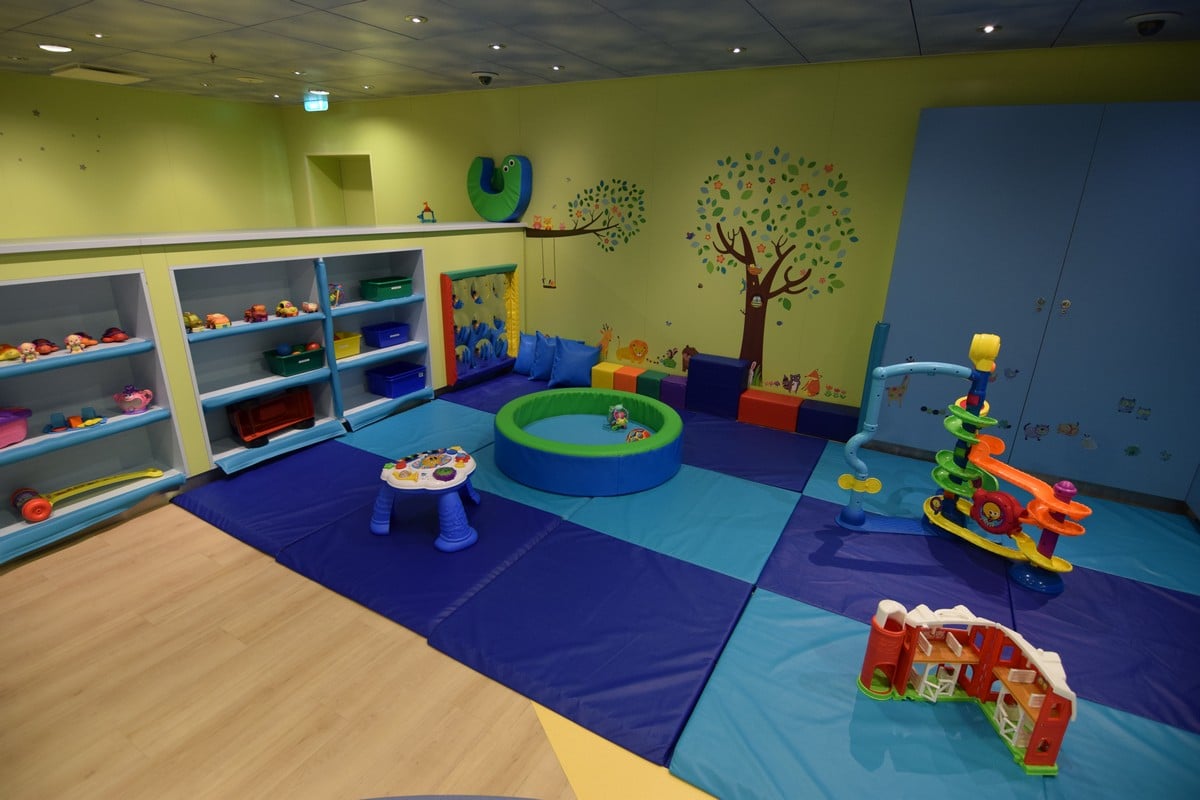 While the nursery may be busier at night when parents are off to see a show or eat dinner, during the daytime there is far less demand.
Another favorite nursery strategy is to call the nursery if you need a break and see if there is availability. If it looks like your baby is ready for a nap, call the nursery and see if they can take him/her.  Bring a bottle so the staff can feed him/her, and then put him/her down for a nap. 
The nursery staff is some of the nicest, hardest working crew members you will meet and I have found them to be extremely helpful when they have extra space.
7. Cruise at their pace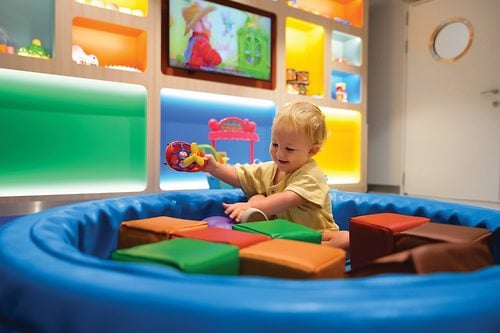 One of the biggest adjustments I had as a parent while on a cruise was slowing things down and cruising at my baby's pace.
If you have cruised without kids, you may be used to a different style of cruising, but cruising with young kids means taking things slower and doing your best to maintain their schedule.
This means taking time to let the baby expel energy, with time for them to crawl/stumble/walk and play with toys. In addition, nap time is helpful as well as ensuring they are getting enough to eat throughout the day.
8. You can bring baby food and formula
While Royal Caribbean has rules about soft drinks and alcohol you can or cannot bring onboard, baby food and formula is unregulated, so bring as much as you can.
For children that are not quite yet at the eating solid food stage, this is very important, so do not hold back on what you bring to ensure you child eats what they love the most.
9. Look for open play areas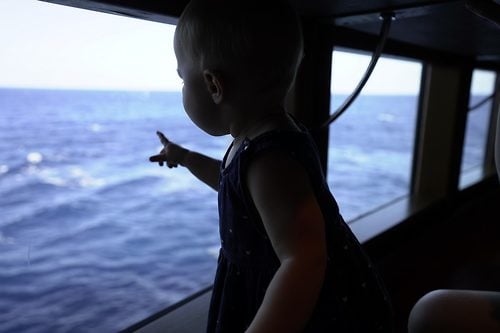 In addition to the Nursery, there is often a open play area set up during the day for parents to bring their young children to and play.  
This is unsupervised play time, but does provide an opportunity every day for parents with toddlers to have space to crawl, play, and have some fun.
Ask the nursery staff about this option. In my experience, it has usually been held in the Teens Club during the day.
10. Swimming on a cruise with a baby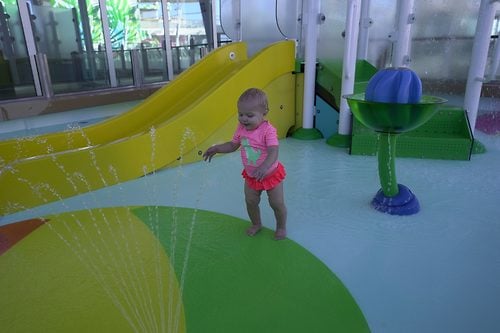 On select Royal Caribbean ships, guests will find a special pool just for little ones that are still wearing diapers.
The splash pad (also known as the baby pool ) is an ankle deep pool, where infants and toddlers can crawl around and splash to their heart's content.  
Parents can sit on the pool's edge or with their child in the pool as the kids enjoy cooling off, just like the big kids. This area is restricted to only children wearing diapers, and is common on ships that have Splashaway Bay.
Keep in mind there are no restrictions on kids with swim diapers at Perfect Day at CocoCay or Labadee.
11. Download favorite movies or tv shows before the cruise
At home, it is easy enough to let your child stream their favorite YouTube clip or TV show, but WiFi on Royal Caribbean is not that responsive.
Instead, download a couple of shows or movies to your device so there is instant access if your child needs it.
12. Nap at all costs
Of all the tips I can share, maintaining the nap schedule is among the most important to your baby's enjoyment and subsequently, yours too.
Babies need naps, and on a cruise it seems like skipping a nap would not be a big deal, but it can have dire consequences later.
Whether onboard the ship or on an excursion, try your very best to allow for naps to occur because the rest of the day relies on it. Skipping a nap can result in a super cranky child, and a far less enjoyable day for you. 
This tip goes back to an earlier suggestion of cruising at your child's pace. On some cruises, my wife and I thought we could "power through" a nap, and each time it was a mistake.
13. Stockpile milk in the day
Milk is available for all guests, but in the evening it becomes harder to find. 
Your best bet is to grab a carton or two extra every morning, and put it in your cabin's mini-fridge.  The fridge will not keep milk cold indefinitely, but for use later in the day it will suffice.
Speaking of milk, if you forget to grab some earlier, you can always ask the nursery for a carton or two.  In addition, Cafe Promenade usually has some.
14. The nursery can feed children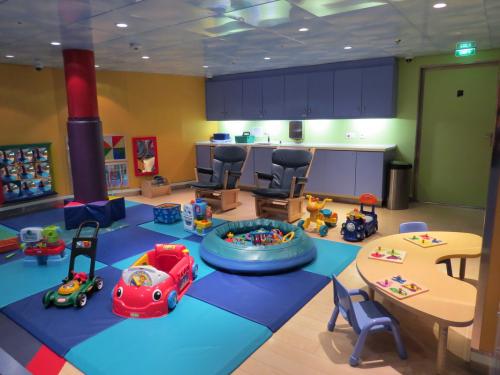 Speaking of milk, unlike Adventure Ocean for children who are at least 3 years old, the Royal Babies & Tots nursery can feed your child while they are there.
When you drop off your kids at the nursery, part of the check-in routine is to indicate if the baby should be fed. There is an assortment of options available, including if you have your own bottle to provide.
If you have formula, be sure to bring that along too for the staff to use later.
15. Pack a couple of toys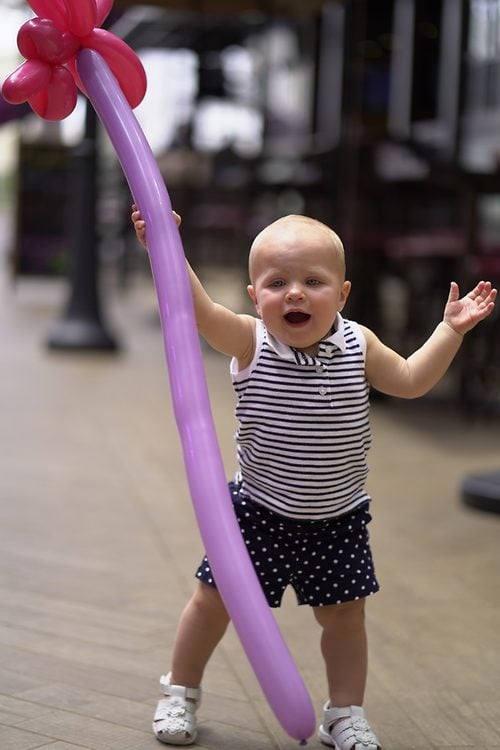 While you can borrow toys from the nursery, I would recommend packing a couple of favorite toys to bring along and have in the room.
In times when you are lounging around the room, getting dressed or otherwise being in the room, having a toy or two for your child to play with is quite helpful.
Plan to pack smaller toys that are easier to pack.