In:
Going on a cruise with kids means finding the right cruise ship for your family that offers plenty to keep children entertained, engaged and having a great time.  It also means not compromising on the adult experience as well.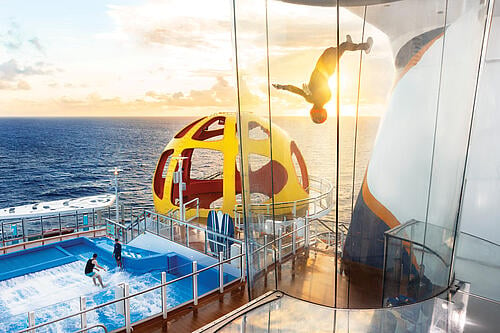 Cruising with kids is a great family vacation option, and Royal Caribbean offers some wonderful choices for kids, parents, aunts, grandparents, cousins and anyone else who joins in the fun!
When it comes to picking the best cruise for kids, Royal Caribbean's newest and recently refurbished ships tend to be the best choices. Royal Caribbean's newest cruise ships offer the most dedicated space to kids programming, as well as the most onboard activities that kids (and their parents) will enjoy.  This includes rock climbing walls, ice skating, water slides and more.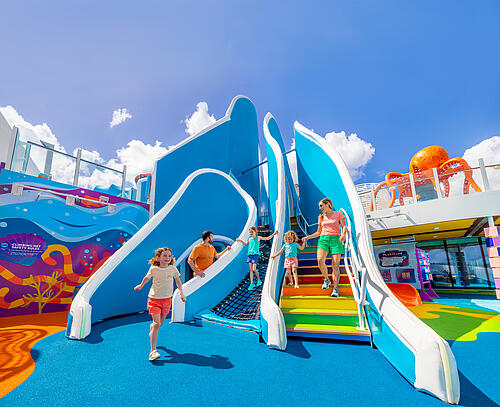 If you have ever seen a Royal Caribbean television commercial, then you likely know that these cruise ships are designed to wow its customers, and that includes kids.
Royal Caribbean offers a ton for kids to do on its ships, from family-friendly aerial, ice, stage and aqua entertainment, to racing water slides and even spa programs for the youngsters.  Kids can splash at one of the aqua parks and fire the water cannons, dodge geysers and avoid (or maybe aim for) getting drenched by the giant bucket of water.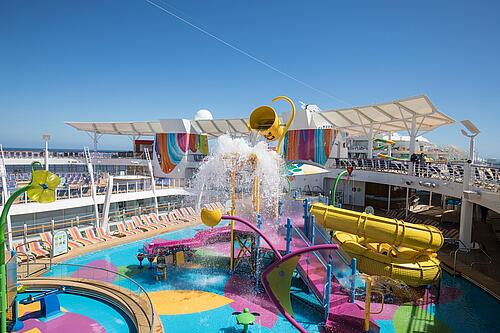 Royal Caribbean is well-known for the incredible adventures offered on its ships.  There is the Ultimate Abyss—the tallest slide at sea (available on select ships); FlowRider surf simulator; SeaPlex indoor venue that offers roller skating, basketball, bumper cars, bites and music from a floating DJ booth suspended overhead; or try one of our other can't-miss onboard activities like laser tag and ice skating.
Related: 8 cool things for kids to do on your Royal Caribbean cruise
If all of this sounds wonderful, here are our picks for the best cruises for kids when it comes to sailing on Royal Caribbean.
Best cruises for kids of all ages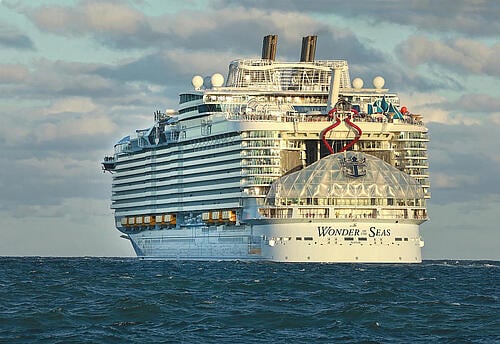 Ships: Wonder of the Seas, Symphony of the Seas, Harmony of the Seas, Allure of the Seas, Oasis of the Seas, Odyssey of the Seas, Spectrum of the Seas, Ovation of the Seas, Anthem of the Seas, Quantum of the Seas
The newest Royal Caribbean ships offer the latest and greatest from Royal Caribbean, and they also dedicate the most space toward kids programming.  These ships are filled to the brim with the coolest new things onboard, such as water slides, laser tag, escape room, zip line, and Broadway shows, just to name a few.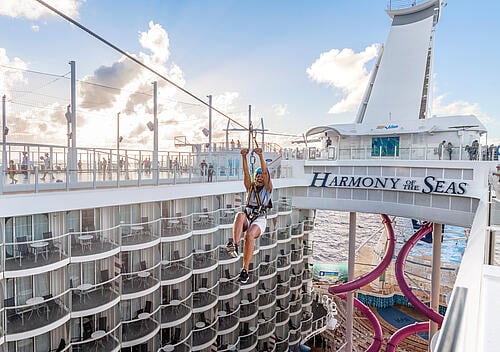 We believe the Oasis Class ships are an ideal choice for families of all ages for the sheer amount of things to do onboard that cater to guests of all ages. It is incredible to see how much fun Royal Caribbean has packed into these ships, with numerous pools, ice skating rink, zip line, dual FlowRider surf simulators, and water slides.
Looking for more? How about escape room games, a boardwalk carousel, rock climbing wall, and video arcades.
Equally impressive in their own way are the Quantum Class ships. While Oasis Class ships garner a lot of the attention, Quantum Class ships offer some fabulous things to do that are not replicated elsewhere in the fleet.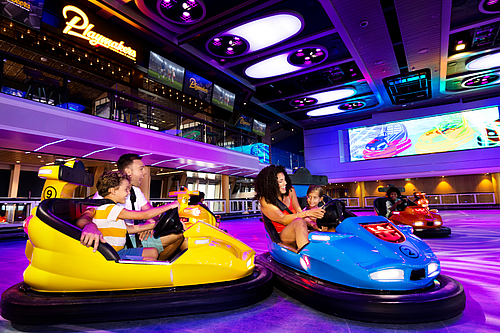 Your kids will likely never want to leave the SeaPlex, which is an indoor entertainment center.  Bumper cars, XBox gaming, basketball, dodge ball, ping pong and roller skating are just a few of what is offered in the SeaPlex. Then there is the North Star observational pod that takes you 300 feet above sea level, Ripcord by iFly sky diving simulator, FlowRider surf simulator and a lot more.
Best Royal Caribbean cruise ships for teens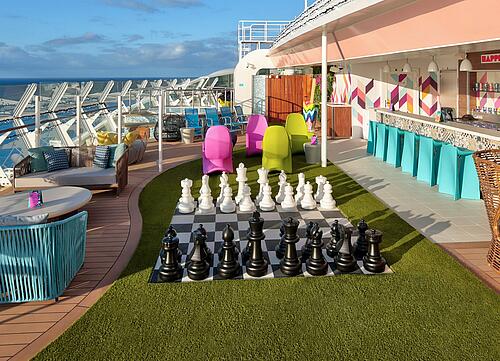 Teens aged 12-17 onboard Royal Caribbean cruise ships have access to the teen center. Depending on the ship, there will be one or two teens-only areas onboard where teenagers can make friends and hang out without parental supervision (although there is staff supervision, of course!)
Select Royal Caribbean ships have an outdoor teens-only patio onboard, which offers a hip hang out space away from other guests. Ships with an outdoor teen patio include:
Oasis of the Seas
Wonder of the Seas
Odyssey of the Seas
Navigator of the Seas
Freedom of the Seas
Independence of the Seas
The patio on Wonder of the Seas even has its own non-alcoholic bar and jacuzzi available exclusively for teens.
Best value cruises for kids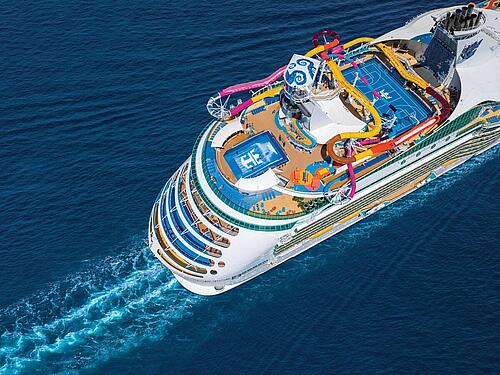 Ships: Liberty of the Seas, Mariner of the Seas, Independence of the Seas, Navigator of the Seas, Freedom of the Seas
While we love Royal Caribbean's newer ships, those ships also come with a premium price tag, and going on a family vacation does not mean you have to spend a lot to have a great time. Royal Caribbean has spent millions of dollars upgrading and enhancing its existing fleet, and the fruits of its labor make for great cruises for kids that will leave extra money in the vacation budget. This means some really fun cruise ships that offer a great bang for the buck.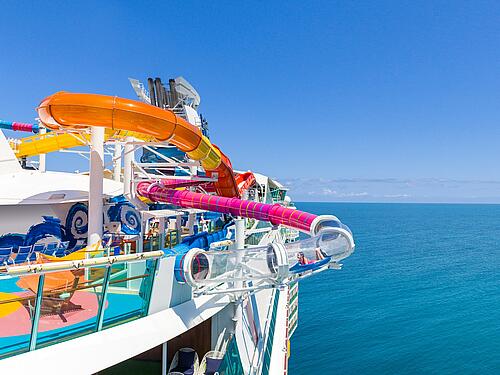 Independence of the Seas, Mariner of the Seas, Freedom of the Seas, and Navigator of the Seas all recently completed multi-million dollar refurbishments and they are aimed precisely at the family cruising market.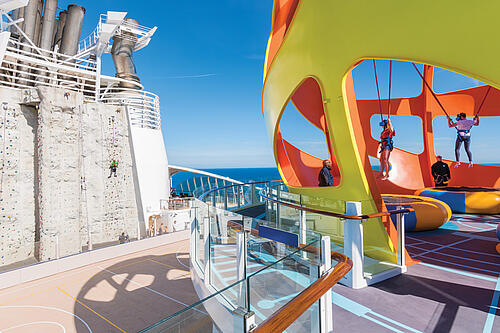 Both Independence and Mariner offer the virtual reality bungee trampoline experience, known as Sky Pad.  They also offer a pair of three-story-high racer water slides, glow-in-the-dark laser tag, FlowRider and escape room challenge.
Navigator of the Seas, which was refurbished in 2019, is home to the longest waterslide at sea and Polynesian-themed tiki bar. Like Mariner and Independence, Navigator also features laser tag, the FlowRider, and an escape room.
Liberty of the Seas has her own array of fun activities onboard.  She is the only ship to offer the Tidal Wave slide, which is a boomerang style slide, along with a pair of really fun racer water slides.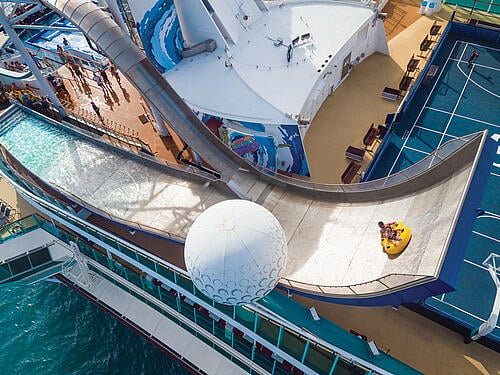 Liberty of the Seas and Independence of the Seas offer Broadway shows as well, with Saturday Night Fever on Liberty and Grease on Independence.  All ships have an adults-only Solarium pool area, lots of great dining and evening entertainment.
Freedom of the Seas makes a great ship option for shorter sailings, as she offers 3 and 4-night cruises from Miami to the Bahamas. With a Caribbean resort-style pool deck, laser tag, rock climbing, a FlowRider, waterslides, and more, there's plenty to keep kids busy onboard Freedom of the Seas.
Adventure Ocean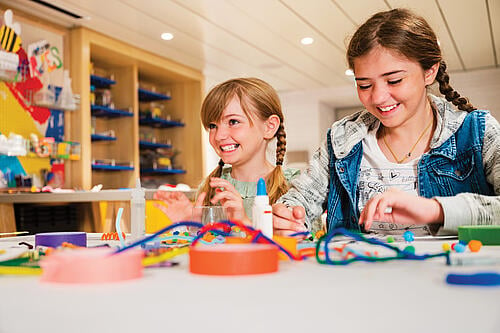 At the heart of the Royal Caribbean cruise experience for kids is Adventure Ocean.  Adventure Ocean is a supervised programming option that all kids that are 3 - 17 years old may participate in.  There is no additional charge for Adventure Ocean (unless you leave them for late night sessions), and it offers things to do in a camp style environment throughout the day.
Royal Caribbean breaks up Adventure Ocean by ages to ensure the programming is age appropriate and will hold their interest.  Younger kids may do more activities that incorporate music, crafts, creative arts and dinosaurs, where older kids get to enjoy scavenger hunts, video game competitions, talent shows and science experiments.
Adventure Ocean is available on every Royal Caribbean cruise ship, so no matter which ship you pick for a cruise vacation, fun-filled childcare activities will be available at no extra cost. Even the smallest of ships will provide plenty to do for kids of all ages, offering them the ability to make friends and participate in organized programming.
Are small Royal Caribbean cruise ships bad for kids?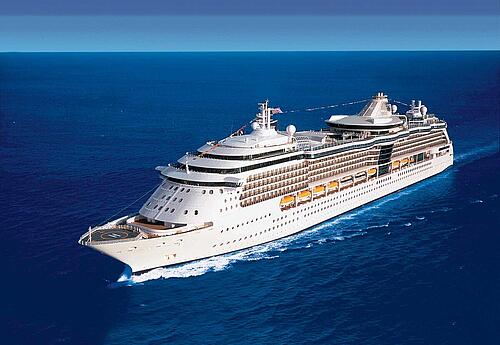 While most Royal Caribbean marketing is targeted toward the newest and biggest cruise ships, smaller, non-amplified ships still offer plenty to keep kids and teens busy during a cruise vacation.
Smaller ships often sail port-intensive itineraries, meaning you'll be spending most days in port, whether at the beach, sightseeing in a city, or participating in adrenaline-filled activities like zip lining or snorkeling.
Once back onboard in the evening, kids can enjoy the ship's pool, mini golf, rock climbing wall, arcade, or Adventure Ocean programming. While there may not be water slides and laser tag on Royal Caribbean's older ships, there are still plenty of ways for kids to have fun onboard.
More cruising with kids articles