In:
Kids get just as excited for a Royal Caribbean cruise vacation as their parents, because of all the fun activities for them to do onboard. Cruising with kids is an exercise in energetic adventures, big smiles and hopefully a nap in-between. In our many Royal Caribbean cruises, we have discovered certain aspects of the cruise that are real winners with our children and wanted to share them with you.
Consider some, or all, of the following fun things for your kids to do on your upcoming Royal Caribbean cruise!
Play in Splashaway Bay
Splashaway Bay is Royal Caribbean's new generation of aqua park that combines slides, water cannons, drenching buckets, geysers and more into a kid-approved playground.
Royal Caribbean is slowly adding Splashaway Bay to many of its ships (including Perfect Day at CocoCay) and it represents a fresh look at what kids enjoy about splashing around for hours by the pool.
Movie night in the pool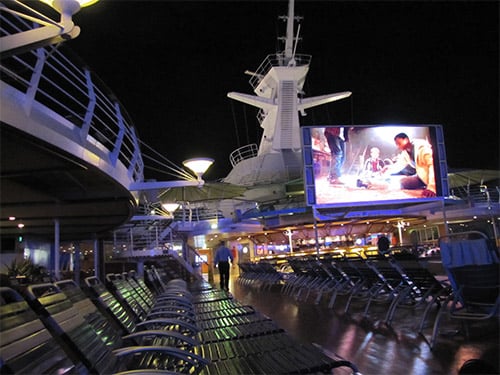 If there are two things kids love, it is swimming and watching movies.  On Royal Caribbean ships, you will regularly find popular feature films shown on the big screen near the pool each evening.  After dinner, you and the kids can hop in the pool and splash away while enjoying a great flick!
Royal Caribbean shows all sorts of films, from recent releases to classics, and adding in the ambiance of a night swim is always a fun treat as well.  Plus, the pools and hot tubs are much less busy at night, so that means more opportunity for your kids to act like kids and enjoy time in the pool while everyone in the family gets to enjoy a great flick.
Climb the rock wall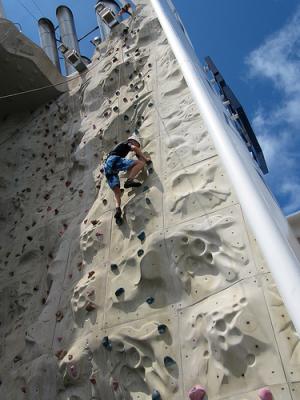 A signature Royal Caribbean activity is the rock climbing wall. The 30-foot rock wall offers different tracks for various experience levels and is open for most of the day.  
It's open to kids and adults and Royal Caribbean provides all the safety equipment that you will need, including helmets, harnesses and shoes.  You just need to bring a pair of socks.
What makes the rock climbing wall so much fun is that it is an exhilarating challenge to try and climb up all the way to the top and ring that bell to let everyone around know you conquered it.
There are different paths on the rock wall to allow beginner climbers and advanced climbers alike have a go at it.  Once you conquer one side, try the next side!
Ride the carousel
If you are going on an Oasis class cruise ship (Oasis of the Seas, Allure of the Seas, Harmony of the Seas or Symphony of the Seas), then your family must go on a carousel ride in the Boardwalk neighborhood.
Royal Caribbean commissioned for each ship a hand-crafted carousel that is inspired by turn-of-the-century carousels. These carousels are as pretty look at, as they are fun to ride.  Plus, rides on the carousel are included in your cruise fare.
Be sure to also get some nighttime carousel rides in too, because the carousel and the entire Boardwalk neighborhood are lit up beautifully once the sun goes down.
Eat frozen yogurt by the pool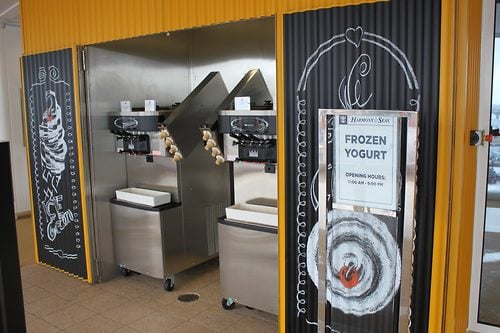 Near the pools, you will find free frozen yogurt that is available most times of the day and there is as much of as you want. I do not think there needs to be any more elaborating.
Decorate your stateroom door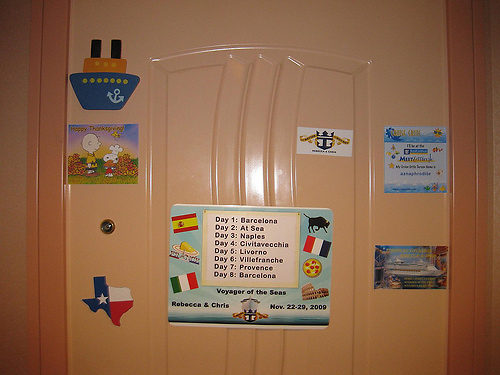 Your Royal Caribbean stateroom door is made of metal, which means it is magnetic and a great family project prior to the cruise to create the decorations.  It can be a fun family activity to come up with different ways to personalize your door to share with everyone how excited you are for the cruise.
Often you will find other doors decorated with pictures, magnets of various sizes and shapes, leis, and more.  Your kids could draw something to put on the door, or you could help them create name tags to decorate and then put on the door with magnets.
Keep in mind that you will need to supply your own magnets to affix anything to the stateroom door.  Tape is not allowed.
For those less artistically inclined, Royal Caribbean does offer stateroom decorations for purchase that can be delivered and set up for you.  This can be a great way to celebrate a special occasion, or just plain surprise the children.
Slide down the Ultimate Abyss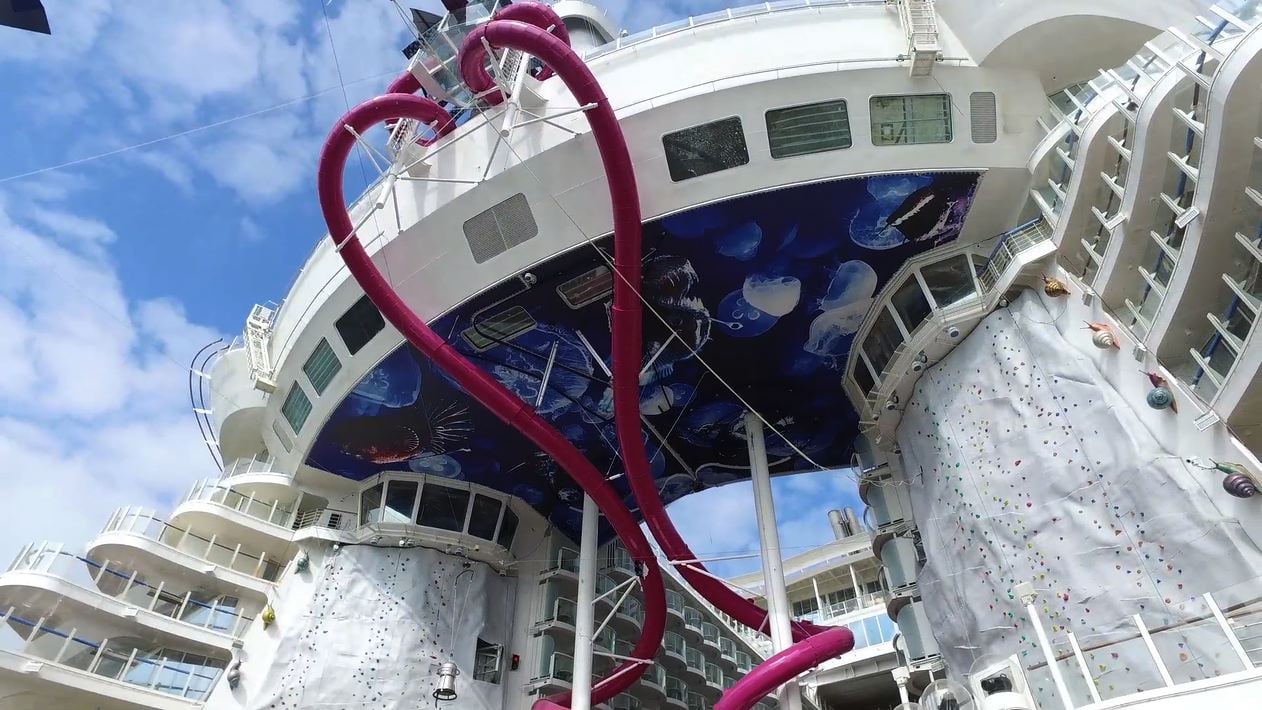 If your kids want more of a thrill, they need to check out the Ultimate Abyss on Harmony or Symphony of the Seas. The Ultimate Abyss is a 10-story dry slide on the rear of the ship that is advertised as the tallest slide at sea.
The Ultimate Abyss is more than 150 feet above sea level and offers side-by-side slides that send guests down 10 decks at a rate of 9 miles per hour. 
To ride the Ultimate Abyss, kids can climb the steps into the mouth of a fearsome sea predator, the anglerfish, enjoy the unobstructed ocean views, grab a mat, and then launch themselves down 216 feet of twisting tunnels against the background of whizzing lights, sound effects and pumping music.