In:
Royal Caribbean has made a name for itself by offering fun things to do onboard its ships, especially things that are unique and new to the cruise industry.  When Oasis of the Seas was built, among the many innovations that WOW'ed guests, was something elegant and simple: a carousel.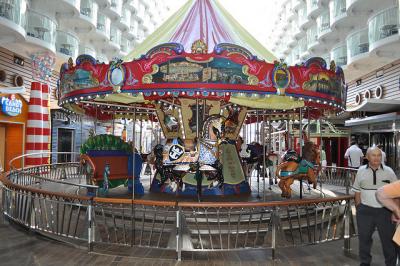 Located in the Boardwalk neighborhood on Oasis of the Seas and Allure of the Seas, is the first ever carousel-at-sea. Hand-crafted and especially designed by Carousel Works for Royal Caribbean International, this full-sized, traditional carousel is truly one-of-a-kind.
Given that the Boardwalk area is inspired by the nostalgic seaside boardwalks of the past, it's a modern tribute to a time gone by. The carousel uses turn-of-the-century carousel designs as its basis down to the very last detail.  Even the original artwork scenery panels located on the carousel's eight Rounding Boards feature custom painted scenes to highlight the wistfulness of life on the historic boardwalks.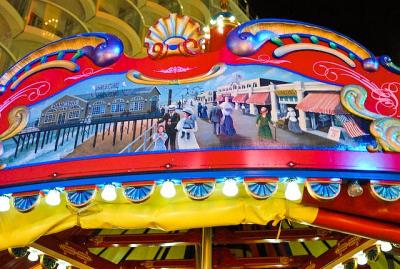 In addition to the great history, the carousel is just plain fun for kids and adults. Eighteen figures are suspended from stainless steel poles along with one ADA accessible chariot that were created from poplar wood populate the carousel.  There are eleven carousel horses that follow a tradition carousel design, including one intricately designed Royal Caribbean lead armored horse, that even features the crown and anchor logo.  Designers also included other animals such as a zebra, giraffe, jaguar elephant, lion and even a crowned frog prince. The stationary chariot on Oasis of the Seas is an elegant peacock, while the stationary chariot on Allure of the Seas is an elegantly adorned traditional carriage.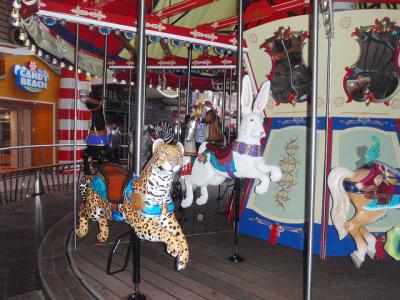 Be sure to also check out the carousel at night because like the fairs of the past, nighttime is when these rides really shine when they are all lit up.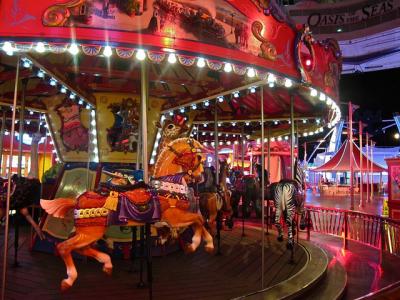 No cruise on an Oasis-class ship is complete without at least one ride on the carousel, with perhaps an ice cream cone to compliment it.  Handlebar moustache and flapper skirt optional.