In:
There are so many great things to do on a Royal Caribbean cruise, and I have narrowed down the list to 50 things you have to do at least once.
Whether it is check out a signature activity, eat at your favorite restaurant onboard, or lay out in the sun, there are so many choices of what you can do on a cruise, but odds are you have not done everything yet.
A cruise is what you make of it, and while you can nap and sit by the pool for the entire cruise, here are the top picks of the 50 best things to do on a cruise.
Visit Perfect Day at CocoCay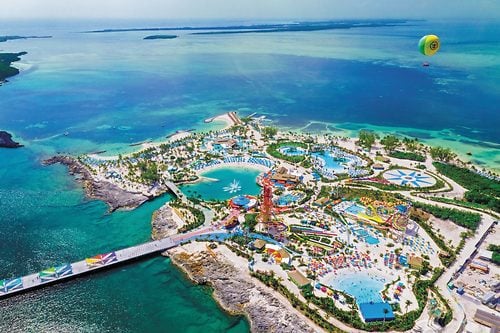 Royal Caribbean's private island in the Bahamas is so impressive that you need to take a cruise that brings you to Perfect Day at CocoCay.
There is a ton to do, including spending the day at the beach, pool, water park and more.
It is a big hit with families, and a must-visit port that never gets old.
Order breakfast in bed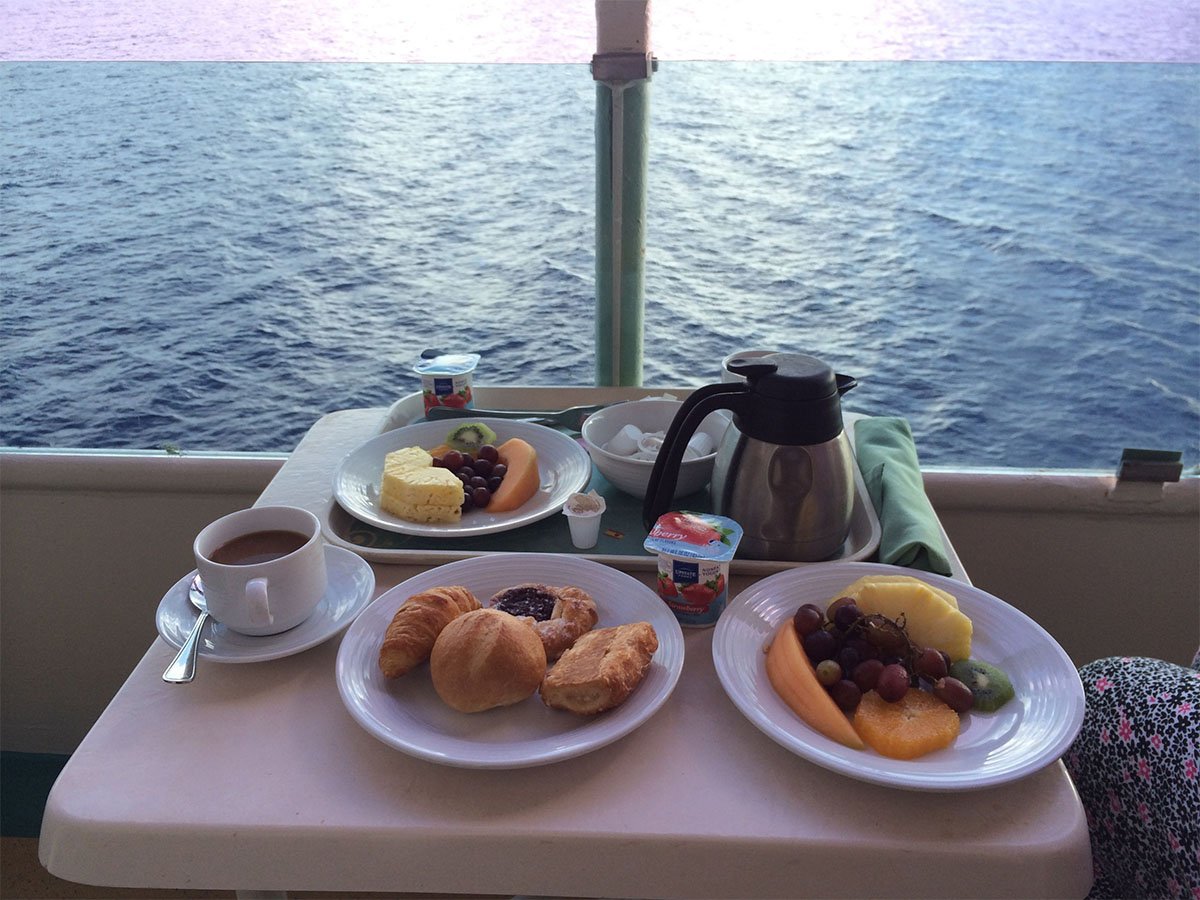 Room service is available on all cruise ships for a modest fee, so one morning arrange to have breakfast delivered to your room.
Whether you choose to eat it on your balcony or in your bed, it is a fun way to start your day!
Ride the Ultimate Abyss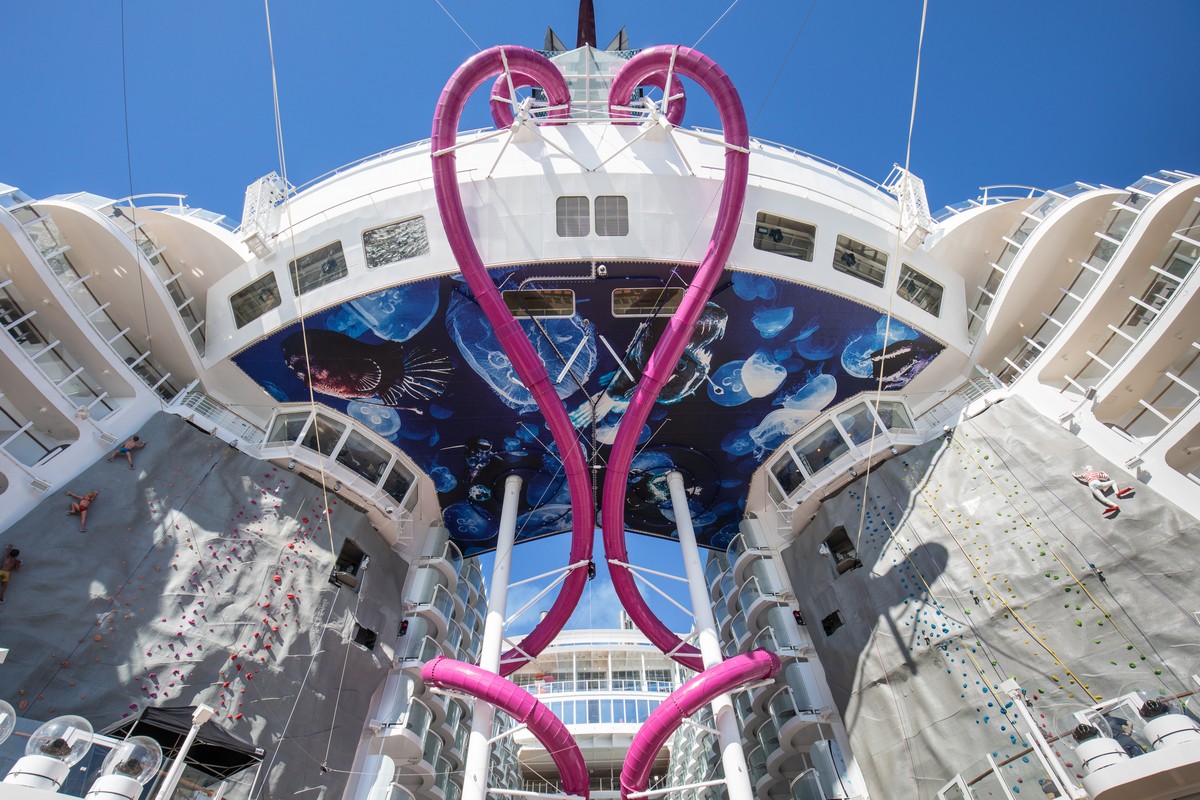 The Ultimate Abyss is more than 150 feet above sea level and offers side-by-side slides that send guests down 10 decks at a rate of 9 miles per hour. Launching onto the ride from a glass platform, guests can take one last look at the Boardwalk 10 decks below before climbing onto a customized mat and taking the plunge into the depths of the daunting slides.
Rides on the Ultimate Abyss are included with your cruise fare, so you will have plenty of opportunity to scream down the slide, over and over again.
Take a zip line ride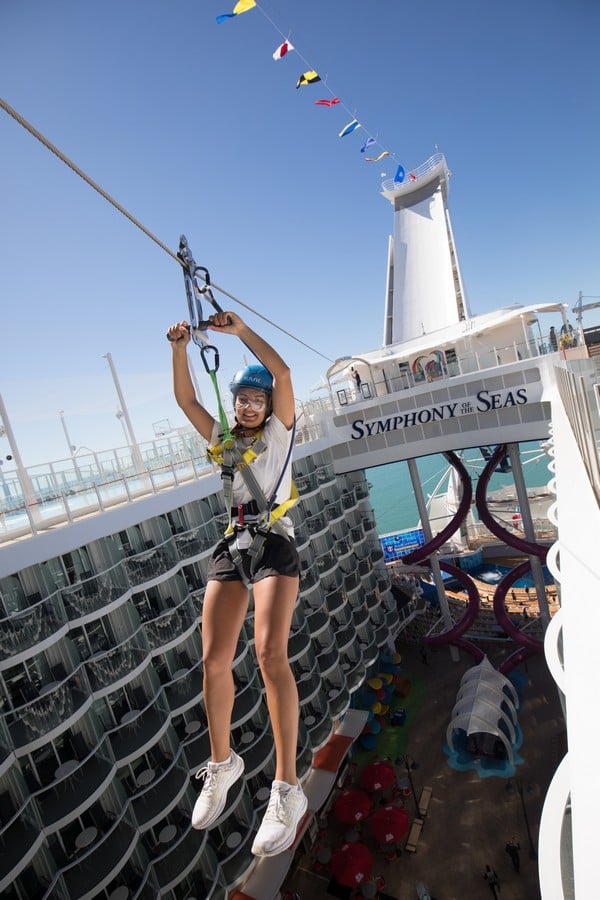 On Oasis Class ships, you can zip line 9 decks above the Boardwalk on a path that measures 82 feet from start to finish.
It is a really experience and completely free!
Challenge the family to mini-golf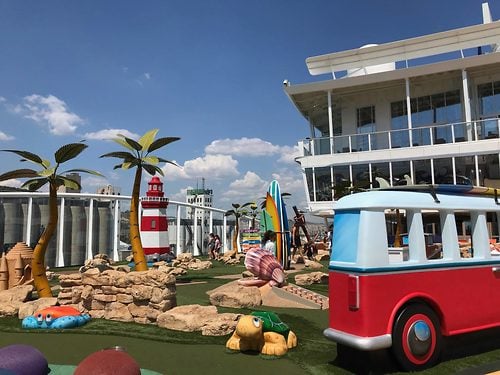 Another fantastic complimentary activity is mini-golf, which is available on a lot of Royal Caribbean cruise ships.
You can play on the green as often as you like, while enjoying some beautiful views of the ocean that surrounds you.  No reservations are required, just show up and grab a putter and ball. 
Be sure to try out night time mini golf one evening to mix things up.
Enjoy a spa treatment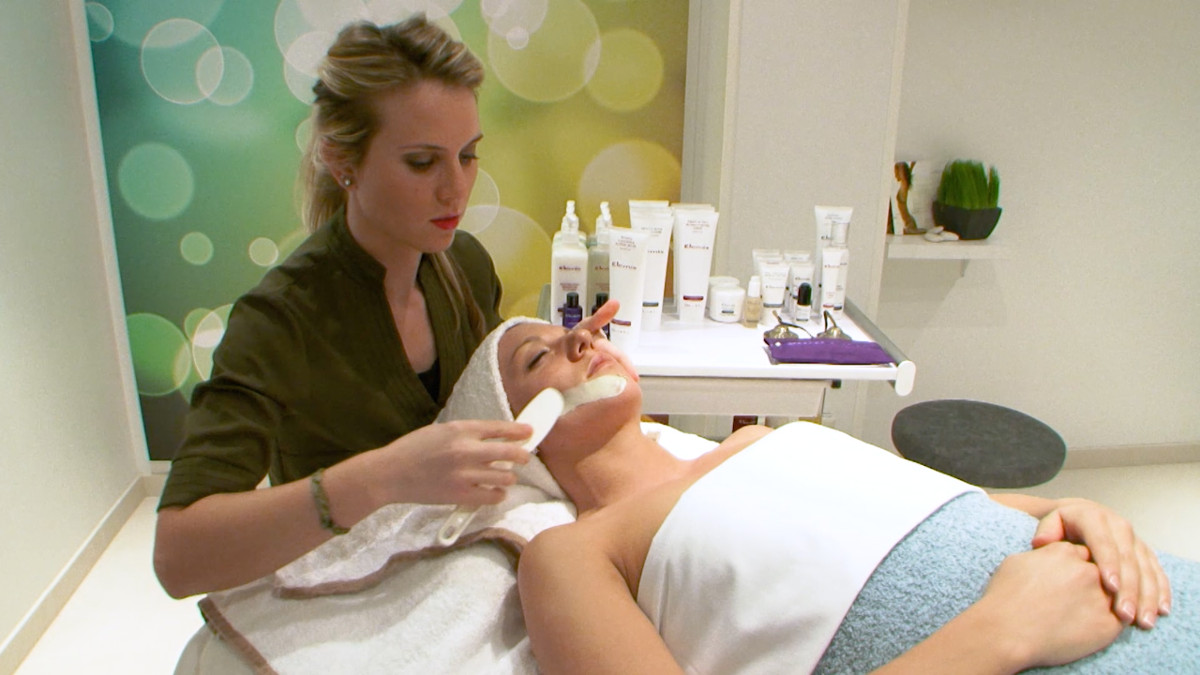 Sometimes you just have to treat yourself, and a treatment at the Vitality Spa is the perfect splurge.
Massages, facials, and even acupuncture are available to purchase and a great way to take your relaxation to the next level.
Spa treatments have an additional cost, but it is something you should try at least once.
See a show in the AquaTheater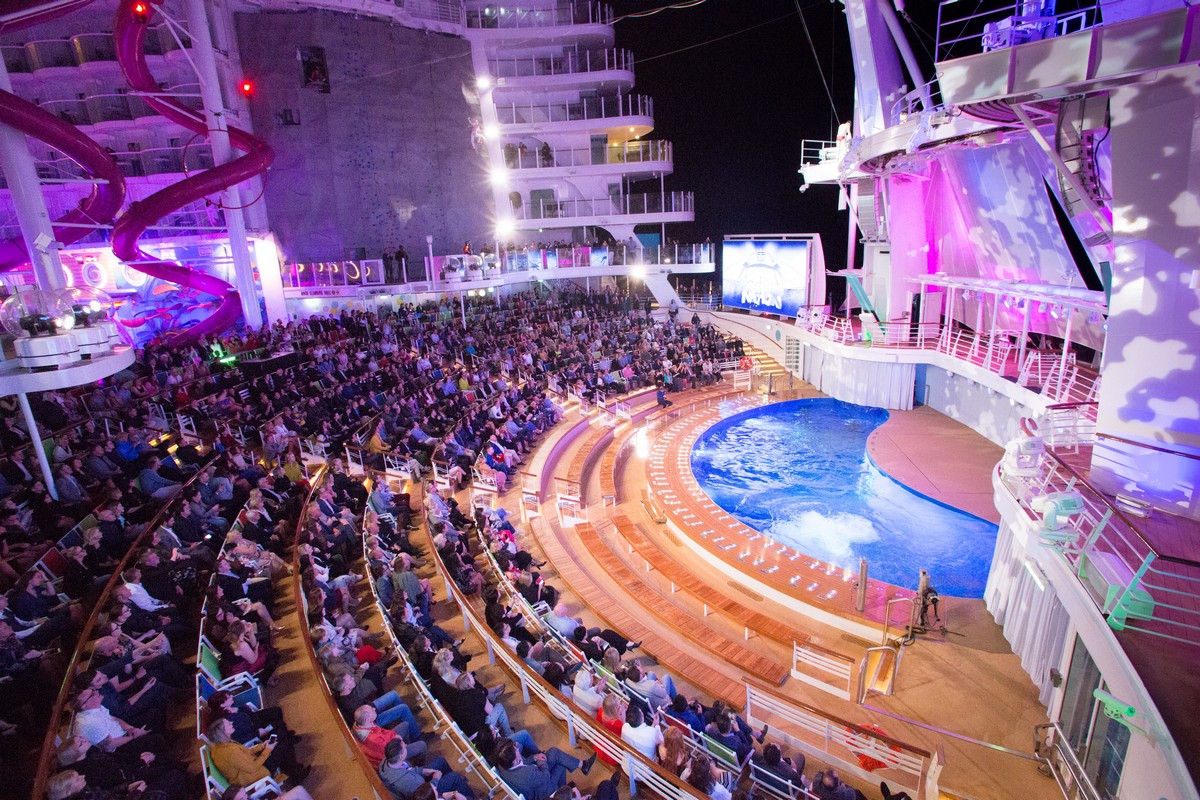 The AquaTheater is arguably one of the top entertainment venues on any Royal Caribbean ship, because it offers some of the very best shows the cruise has developed.
The AquaTheater features two 10-meter high platforms and the hydraulic-floored pool, the largest and deepest freshwater pool at sea, below serves as podiums for high-diving, hair-raising aerobatics that AquaTheater audiences have come to love.
Available on the Oasis Class ships, there is a different show on each vessel. Regardless of which ship you sail on, this is an experience unlike anything else at sea.
Watch a Broadway show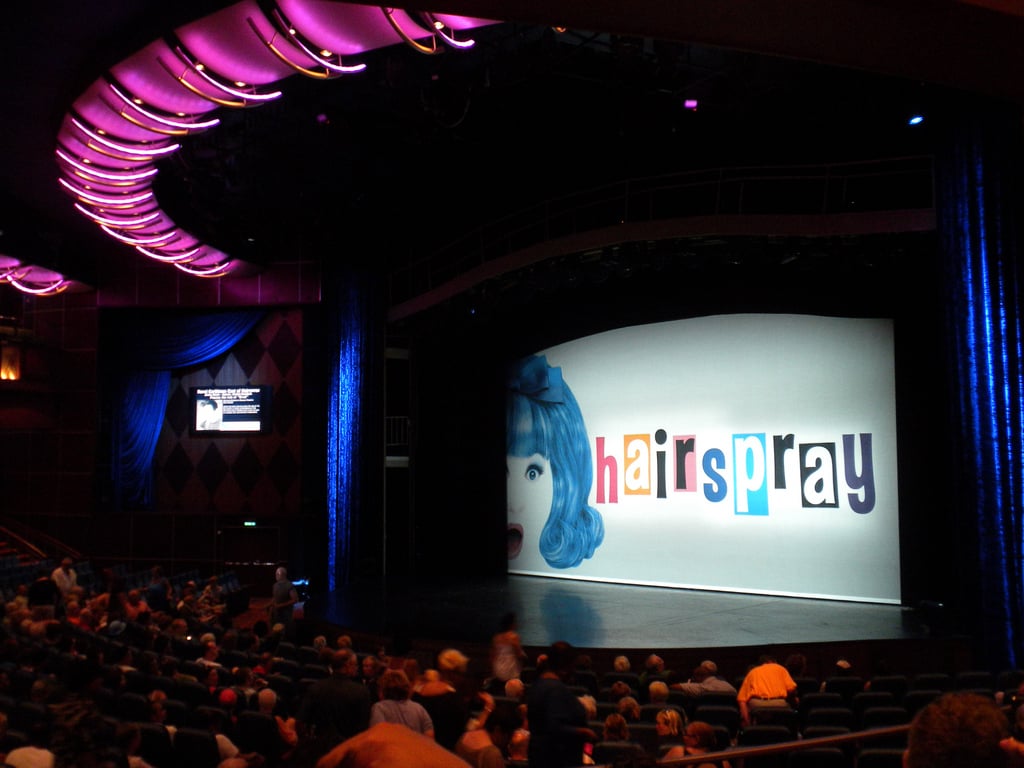 Speaking of fantastic entertainment, Royal Caribbean offers full Broadway shows on select cruise ships that cost absolutely nothing extra to see!
Select Royal Caribbean ships offer Tony Award-winning shows that are the exact show you would have seen on The Great White Way.
See the ship from the North Star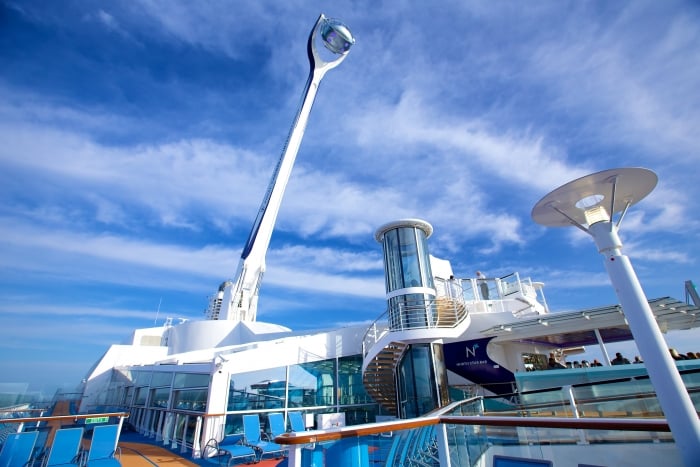 Royal Caribbean has been pushing the envelope for years in terms of what a cruise ship can include and North Star is another example of "they can put that on a cruise ship?".
North Star is an observation pod that is attached to a giant arm on top of Quantum and Quantum Ultra Class ships.  North Star will allow passengers to go up in the sky above the cruise ship 300 feet above the sea.
Climb the rock wall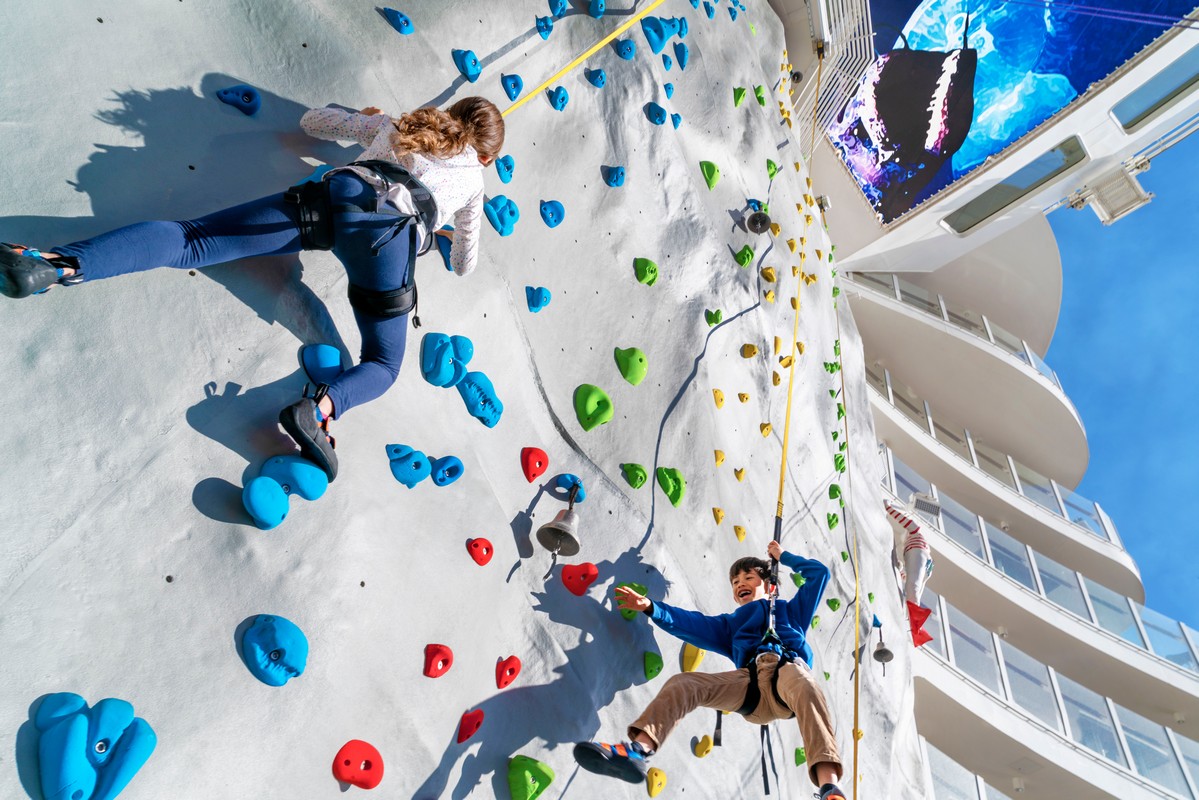 Perhaps no other onboard activity put Royal Caribbean "on the map" quite as much as the rock climbing wall did. When Royal Caribbean introduced the first rock climbing wall, the guest feedback was so positive that rock climbing walls were added to other ships in the fleet and have become a staple of any Royal Caribbean ship going forward.
The rock climbing walls come in different sizes, but they all offer different tracks that allow for different experience levels.  It is usually open most of the day for kids and adults to enjoy.  Royal Caribbean provides all the safety equipment that you will need, including helmets, harnesses and shoes.  You just need to bring a pair of socks.
Win a game of trivia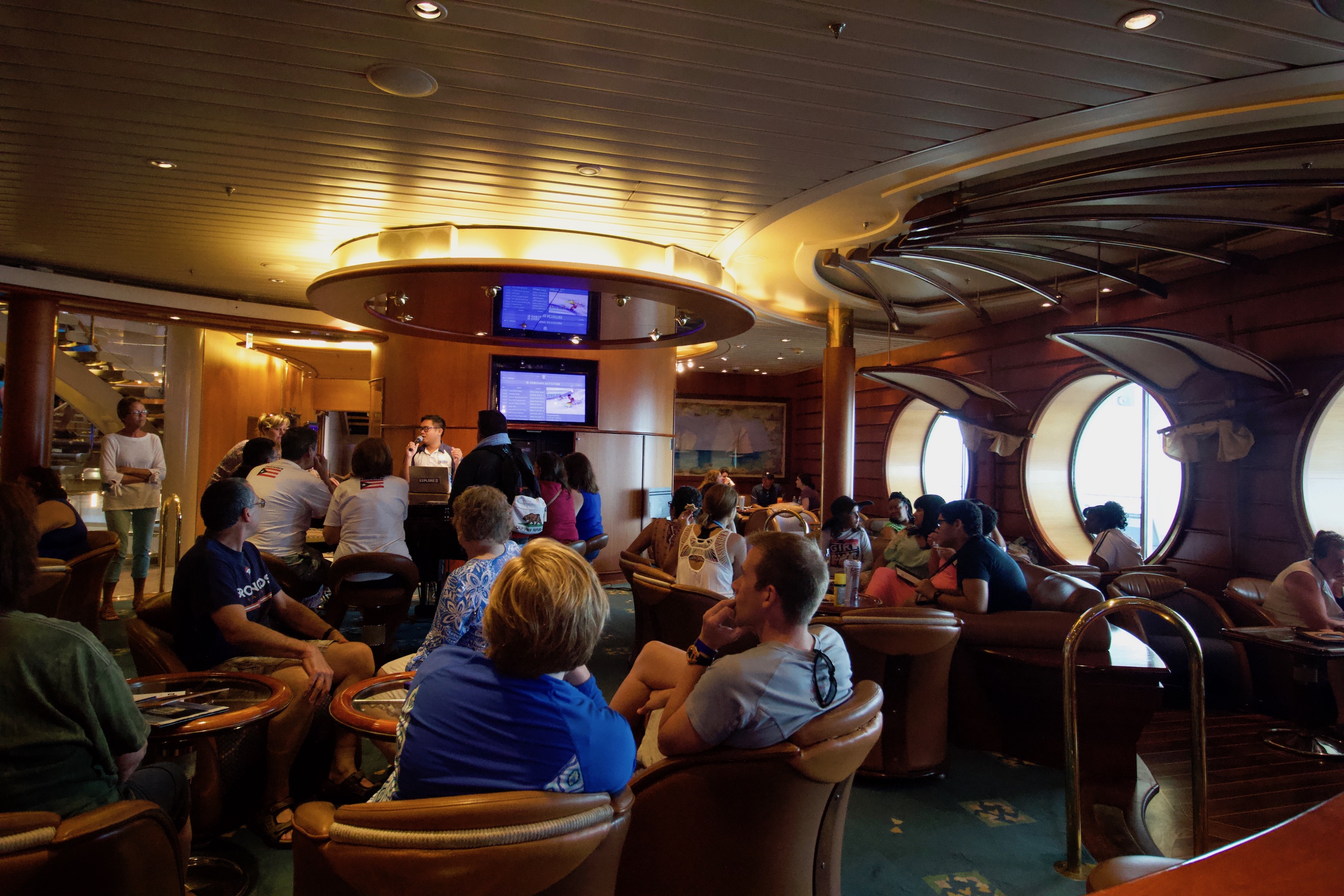 One of my favorite sea day activities is to play trivia on a Royal Caribbean cruise ship, and the feeling you get when you finally win a game is a terrific thrill.
There are usually a few different trivia games offered each day of the cruise, and the topics range from general trivia to music, sports, visual or movie trivia.
There is no cost to participate, and the satisfaction of winning is worth the challenge.
Ride the carousel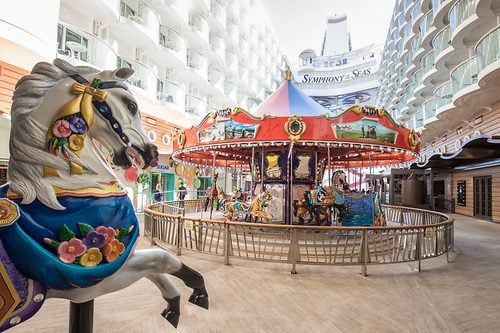 In the Boardwalk neighborhood, guests young and old can enjoy a ride on a classic carousel that is sure to bring a smile to anyone's face. The carousel on Symphony of the Seas is hand-crafted and especially designed by Carousel Works for Royal Caribbean and is one-of-a-kind.
Inspired by turn-of-the-century carousels that were found in the northeastern United States, Symphony of the Seas' carousel is a classic attraction that is as beautiful in design as it is enjoyable to ride.
Have a drink in the Viking Crown Lounge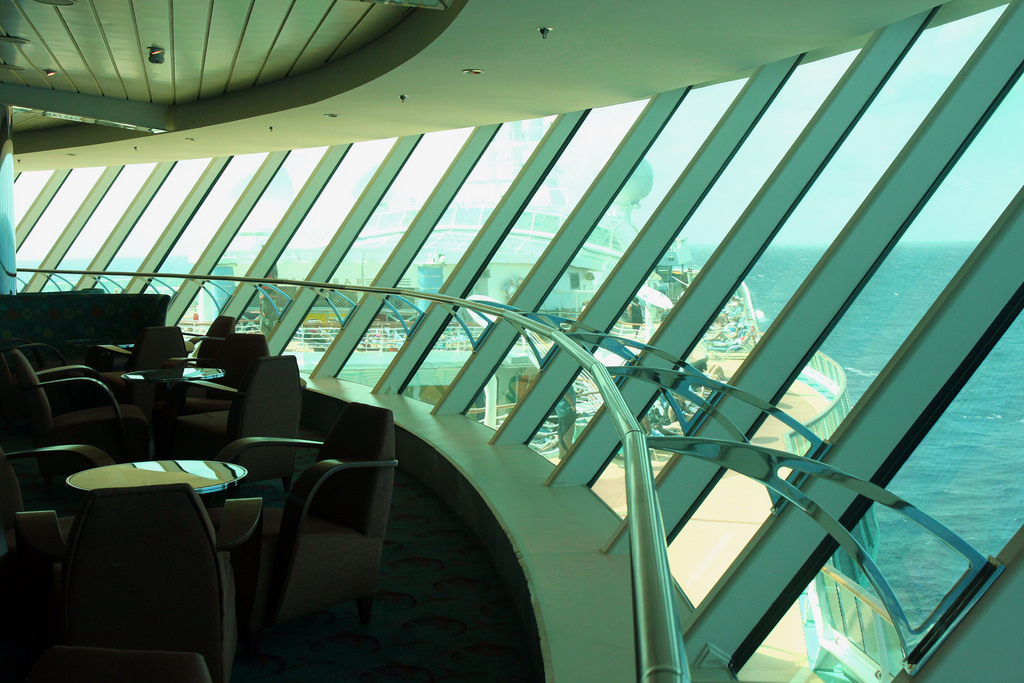 The Viking Crown Lounge is a signature location on any Royal Caribbean cruise ship, and you must enjoy at least one beverage while taking in the view.
Whether in day or night, the views of the pool deck and surrounding area are always worth the elevator ride up to see it.
Dine at the Chef's Table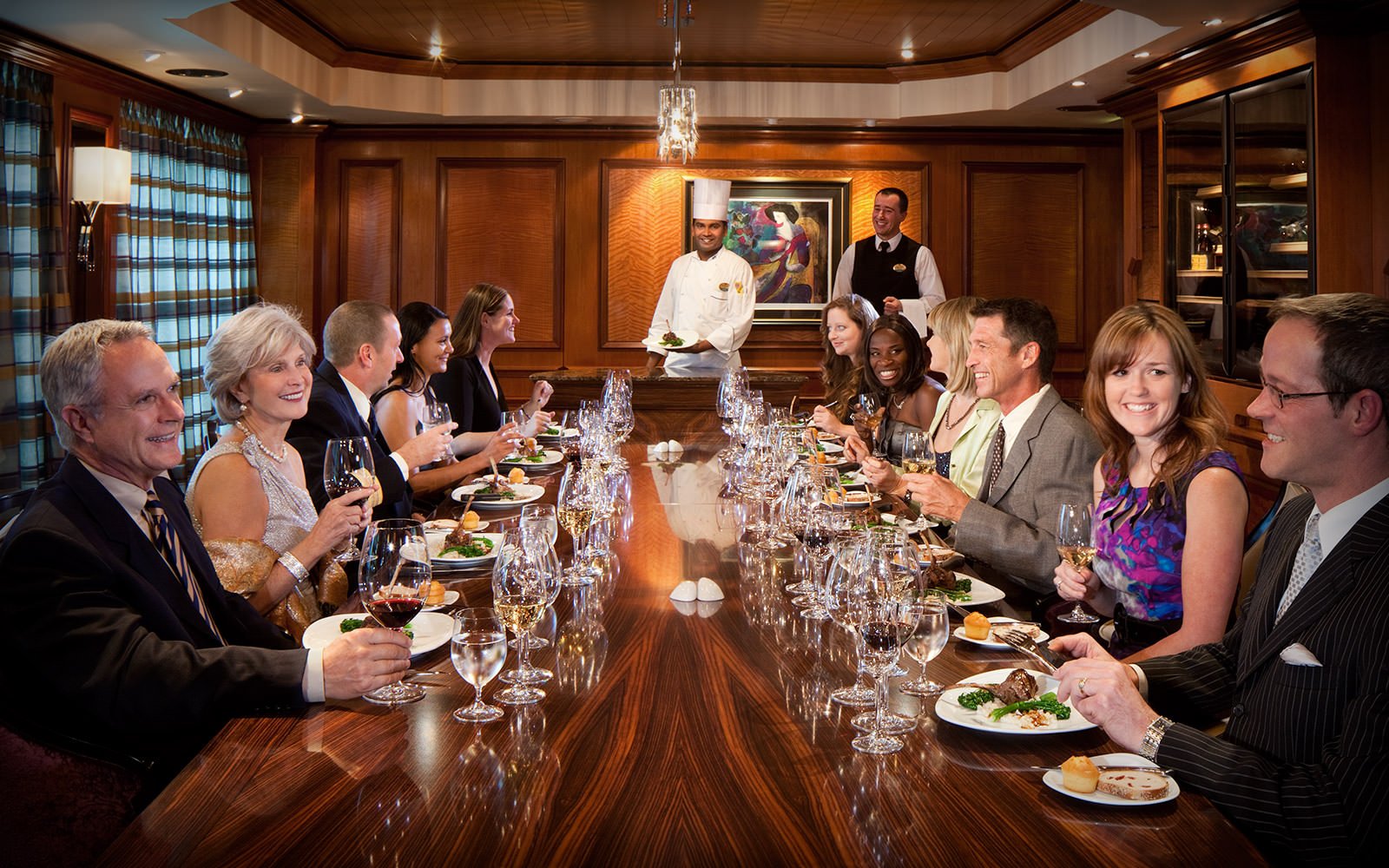 Chef's Table offers a guided private Epicurean five-course experience with an upgraded menu and wine tasting to a limited number of guests. 
It is one of Royal Caribbean's most well-respected offerings and a must-do for any foodie.
Try to surf on the FlowRider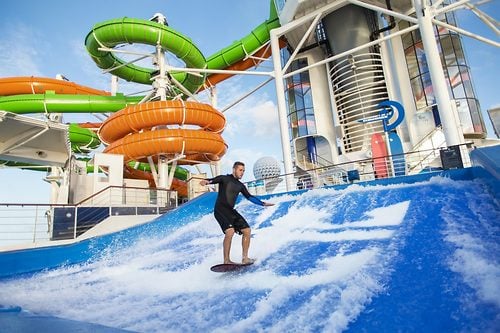 If you ever wanted to learn to surf, Mariner of the Seas has a Flowrider surf simulator on the back of the ship you can try. The FlowRider is a simulator that sends water a very high speed across a small area that mimics what it is like to surf on the ocean.
Guests can surf until they fall off the board, but the staff is pretty good at challenging the talented guests in an effort to improve their skills and increase the likelihood of falling off.
Wander around Central Park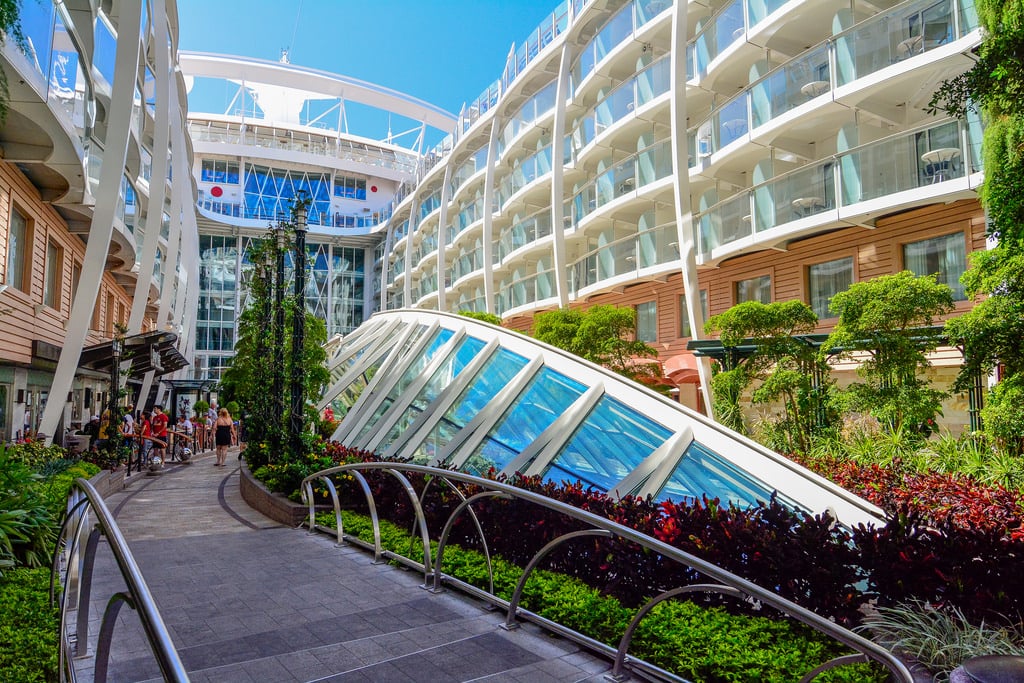 Central Park is one of the prettiest and impressive areas on an Oasis class ship, and you must take the time to explore it.
It is an immense area in the middle of the ship that offers a lush park for guests to enjoy with tropical plants, trees and walkways.
Central Park is the perfect quiet place onboard to "get away" and just relax as the world goes by.
Have a drink on the Rising Tide Bar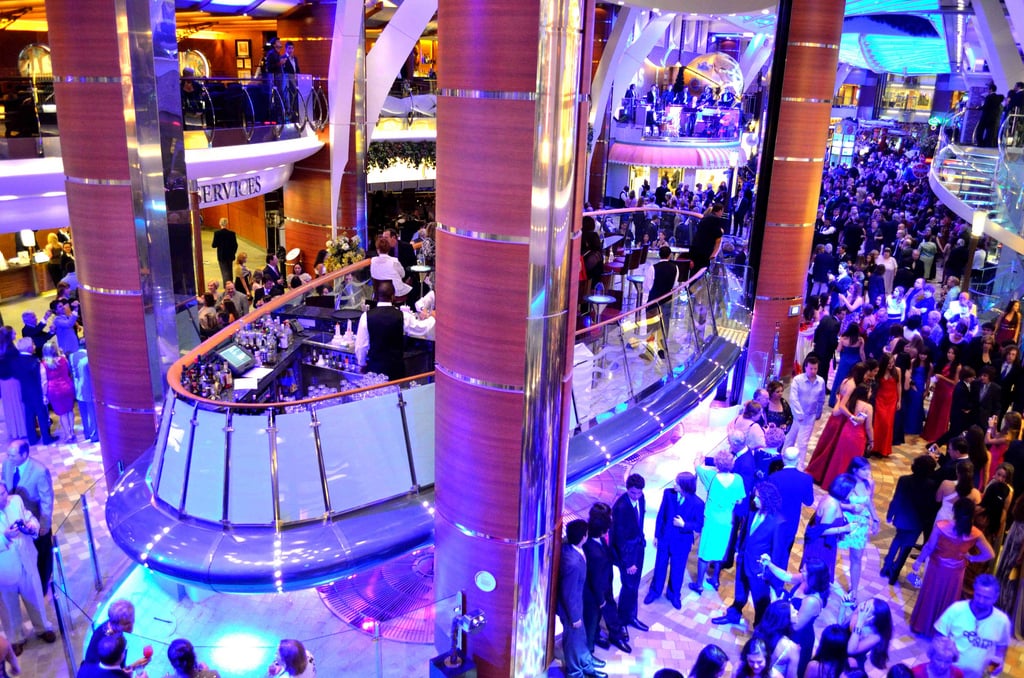 There is something undeniably cool about a bar that moves between decks, and on Oasis class ships, the Rising Tide bar does just that.
The Rising Tide Bar continuously moves between the Royal Promenade and Central Park, offering some great views while you enjoy your favorite cocktail.
There's just something very cool about being on a bar that moves through the air and with a drink in hand, it's a great place to watch all those people that are watching you.
Chill out by the pool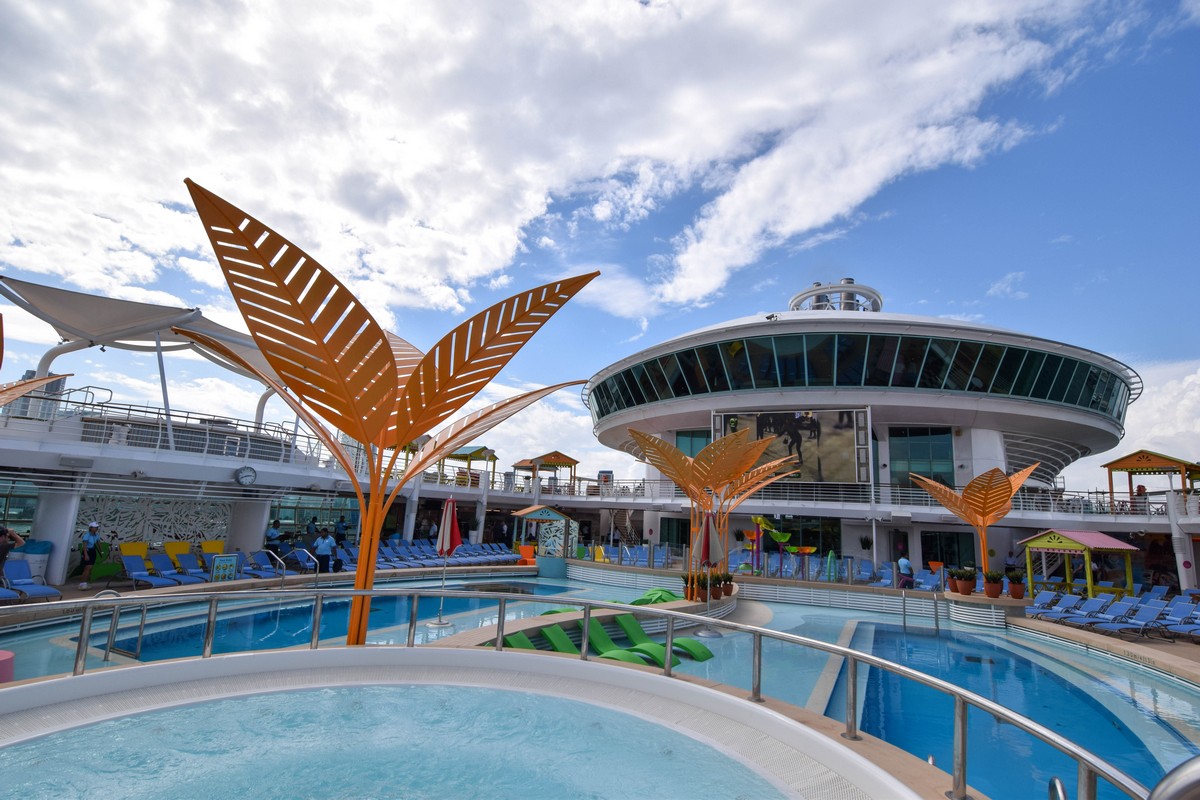 There might not be any more classic cruise experience than spending your day at the pool on a cruise ship.
Royal Caribbean designed their pools to be fun, relaxing and most of all refreshing experiences.  Whether you are there for the ambiance, the cooling effect or the activities, time at the pool is a great idea.
In addition to splashing and lounging, you will find various events, such as the belly flop competition or crew vs. guests pool games.
Race down the water slides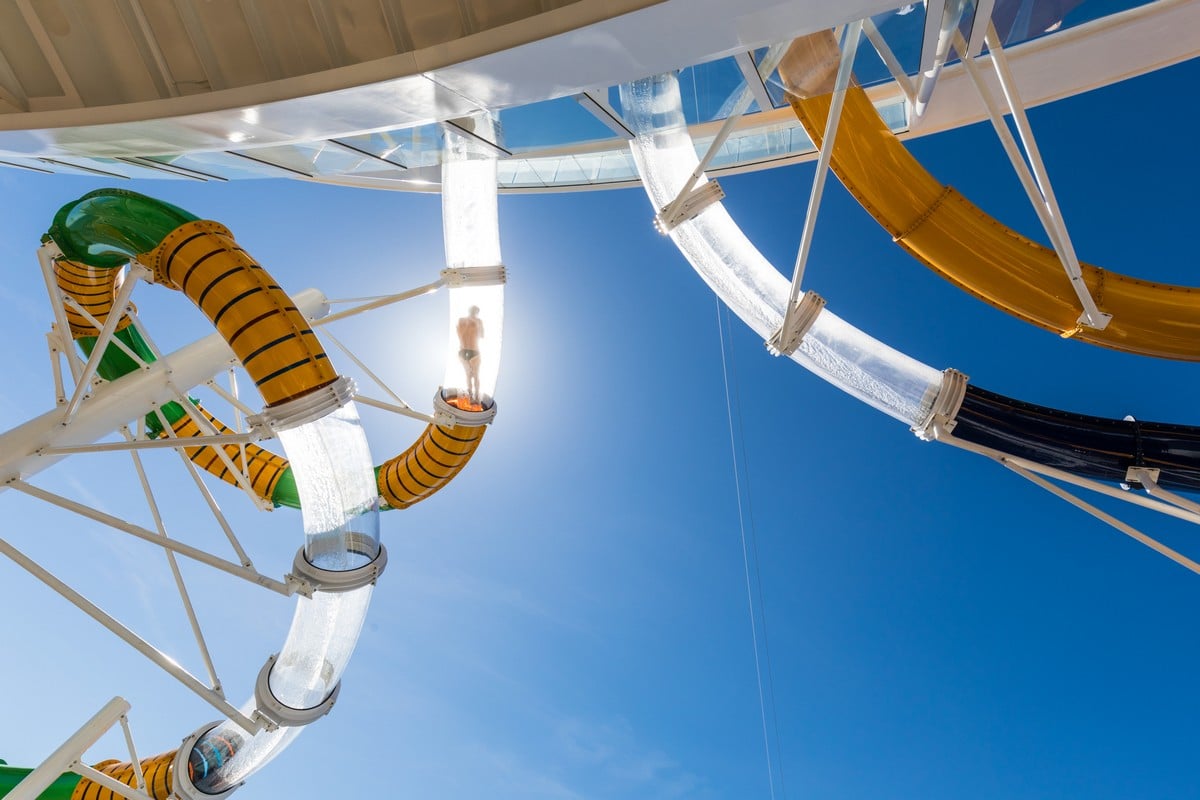 Water slides are something guests of all ages can enjoy, and Royal Caribbean has steadily been adding water slides to new and existing ships.
The Perfect Storm water slides are included in your cruise fare, and a very fun family activity.  As you slide down any of the slides, you will twist and turn three decks into a splashy finish.
Watch a movie by the pool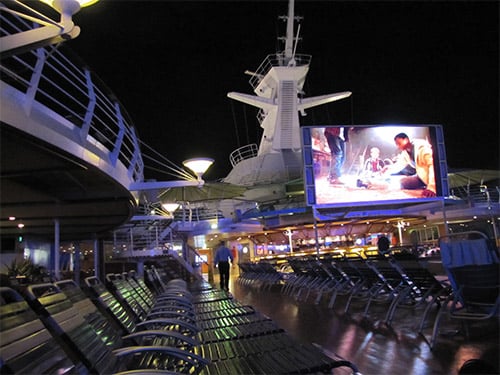 Royal Caribbean regularly shows movies on the pool movie screen during the day and evening.
These movies are a combination of classics and new releases, and come with no cost.  You can opt to pull up a chair, or hop in the pool or hot tub to enjoy the movie.
Eat at Izumi Hibachi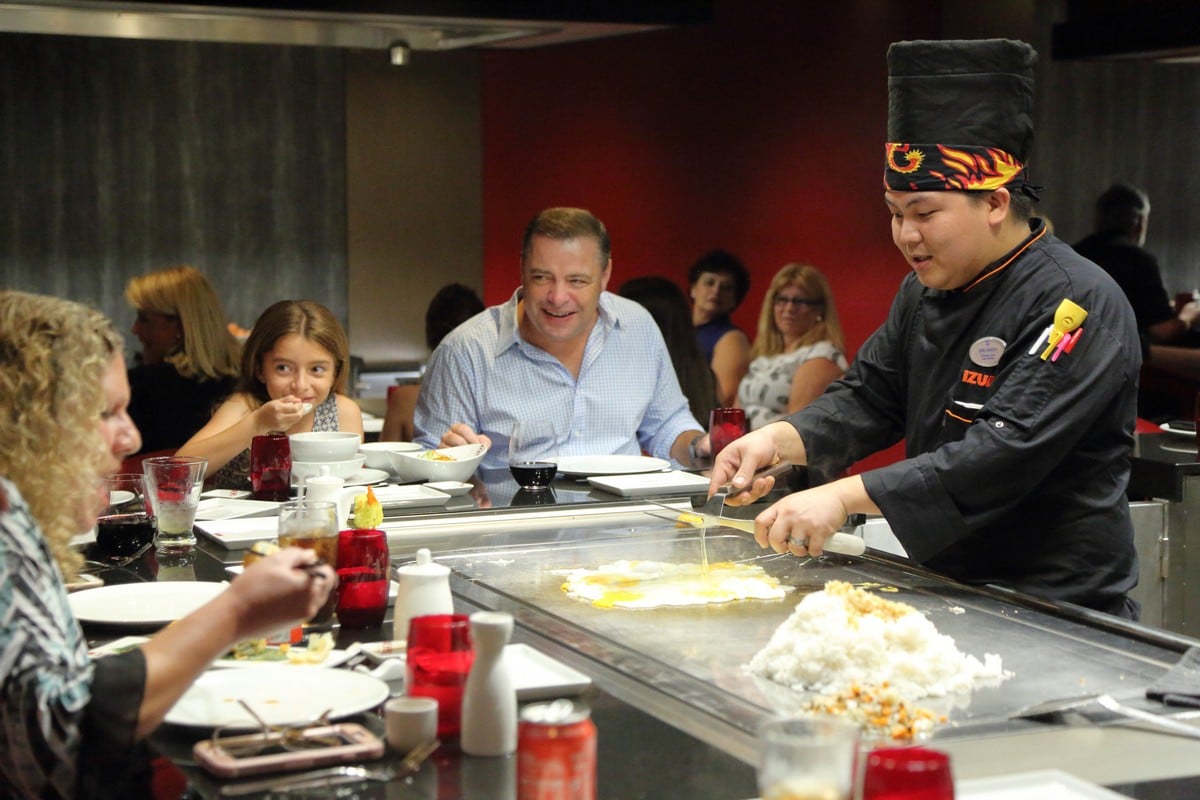 Specialty dining is a great way to "plus" your cruise, and my favorite is Izumi Hibachi.
On ships that offer hibachi, you get to experience fun for the whole family that include authentic flavors, the freshest ingredients and impeccable presentation.
If you choose to eat at one specialty restaurant, Izumi is a solid choice.
Challenge yourself to the Escape Room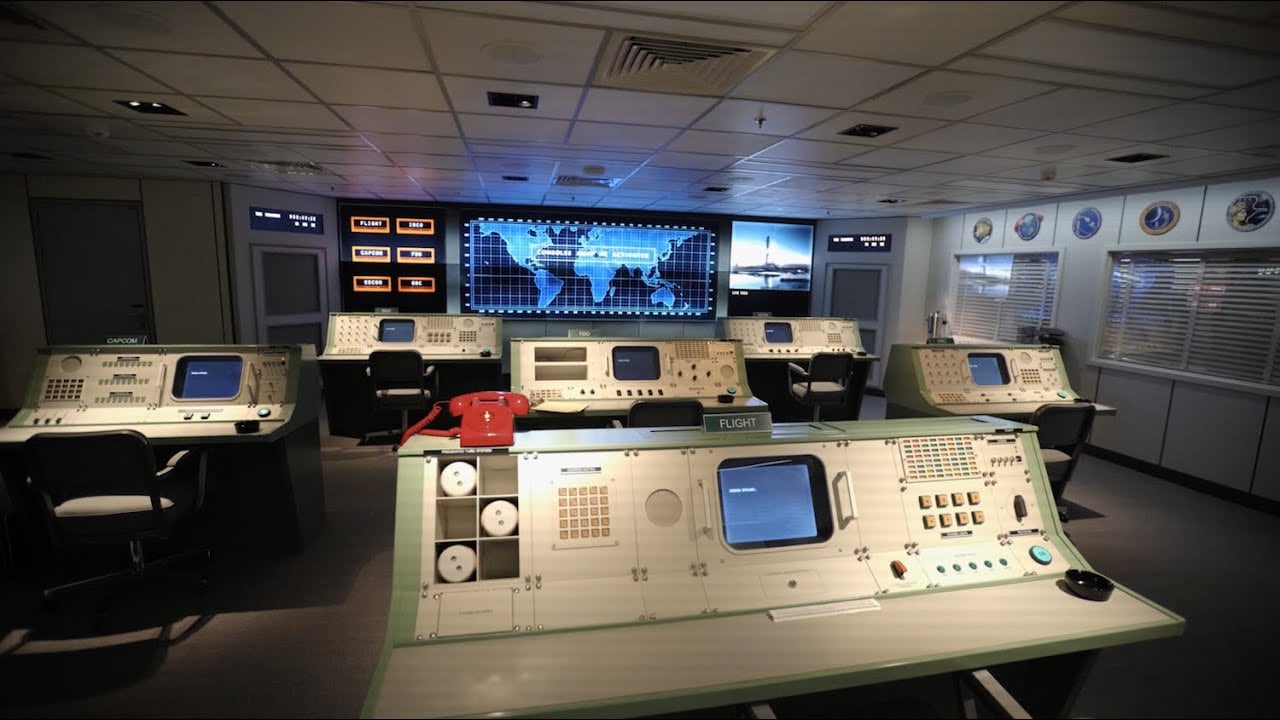 If I am on a Royal Caribbean ship with an escape room that I have not tried yet, then it becomes a must-do activity.
Escape rooms challenge your brain and teamwork skills by attempting to solve the clues and escape before time on the clock runs out.
Whether you are already a fan of the escape room trend or just eager to try this challenge for the first time, I think you will enjoy the thrill of trying to beat the escape room on select Royal Caribbean ships.
Watch the game from Playmakers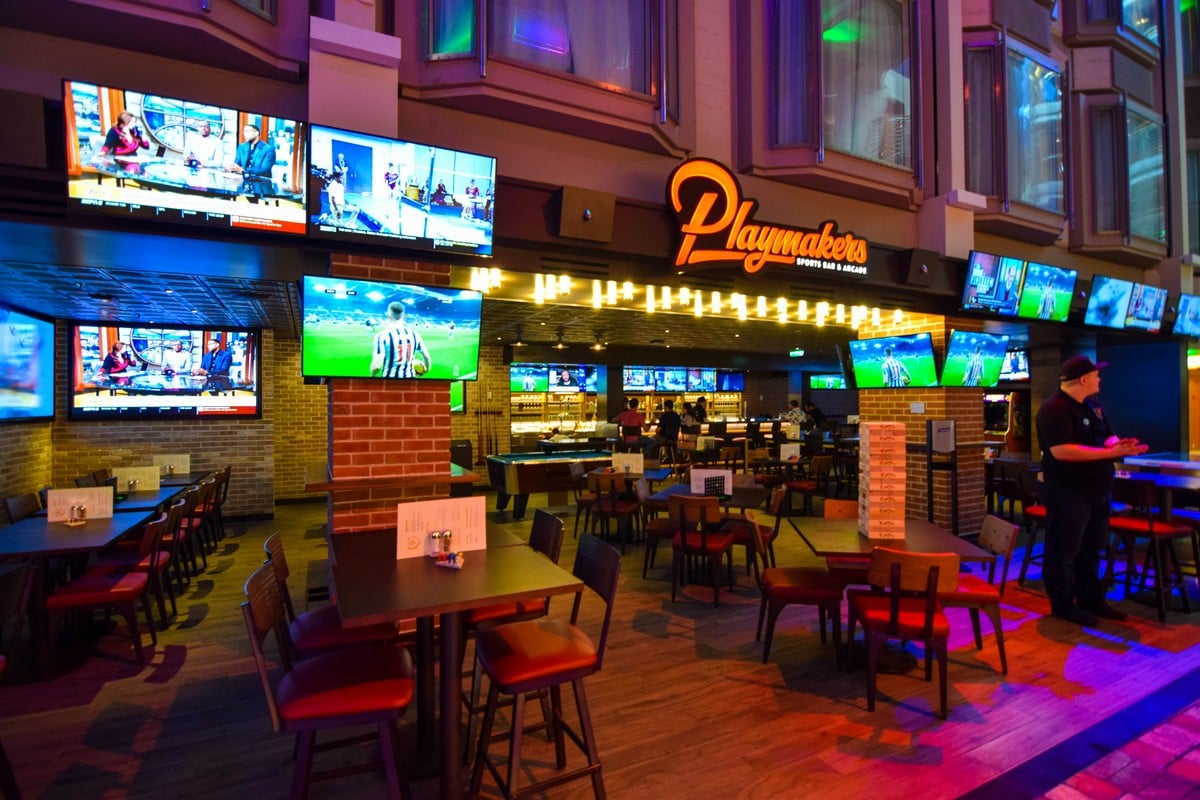 While Playmakers Sports Bar costs money to order food or drink, watching a game on one of their many television screens is totally complimentary.
Sports fans will love catching their favorite team playing on game day from the comfort of a table at Playmakers. Heck, you can play a round or two of Jenga or Connect Four in-between innings!
Try a few cocktails at the Bamboo Room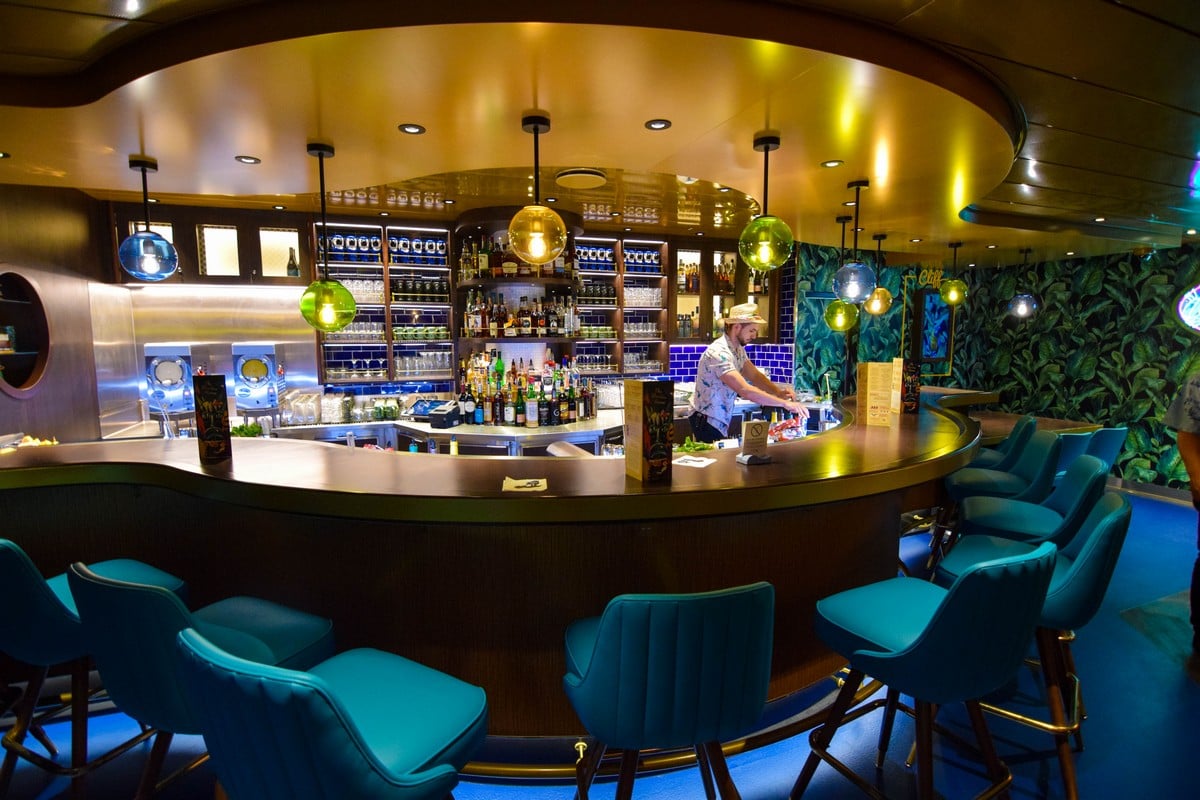 Royal Caribbean calls the Bamboo Room a "laid back Polynesian watering hole with a throwback vibe and kitschy-cool craft cocktails". 
Some of the most creative and unique drinks you will find on any Royal Caribbean cruise ship are available at the Bamboo Room, making it totally worth a visit.
Find the stowaway piano player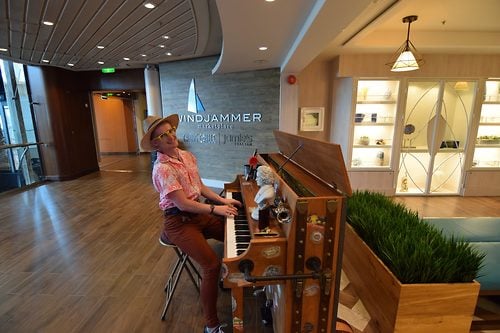 One of the best not-so-well-known entertainment options that Royal Caribbean has recently added is the "stowaway" piano player.
The idea is there is a piano player with a far-out piano that will move around the ship and perform for guests but encouraging guests to not report him.  
The piano is no ordinary piano.  It has hidden compartments and functions and can dispense various things, such as lollipops for kids or appear to overheat because of "intense" piano playing.
Try the food at Wonderland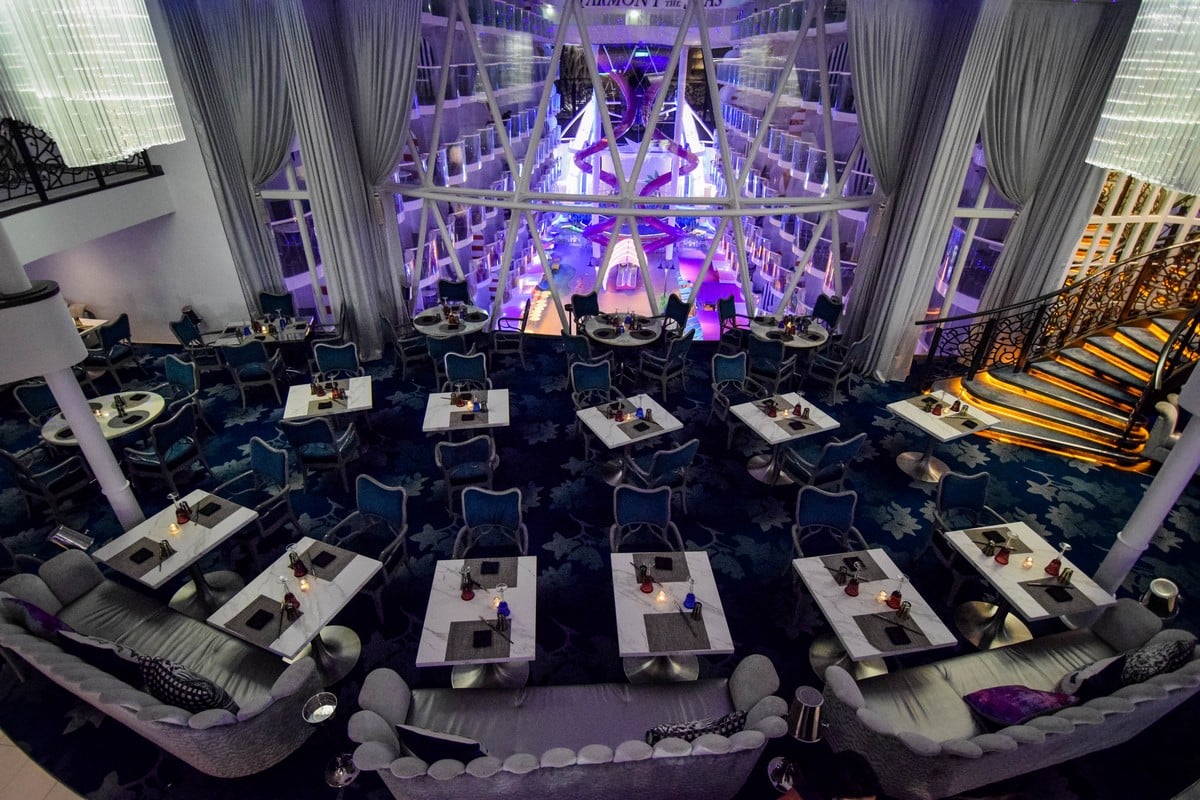 Some guests may be quick to group all of Royal Caribbean's specialty restaurants together as offering similar experiences, but there is one restaurant that breaks the mold.
Wonderland was introduced on Royal Caribbean's Quantum class ships and has quickly become a favorite for its whimsical, over-the-top experience it offers alongside some really good food.
For guests looking to try something different and bring a bit of "show" into their meals, Wonderland is a superb choice and it promises to be a dining experience you will be talking about for a while.
The Quest
For the adults only, make plans to watch the Crazy Quest on your cruise.  Assuming you have a good sense of humor, the Crazy Quest is an adult scavenger hunt that involves guests going to great lengths to complete a number of physical challenges.
Having seen the Quest many times, it is safe to say no two Crazy Quest shows are the same and there is no telling exactly what you will witness.  It is wild, intense and provides some great late-night entertainment.
Sing along at the Schooner Bar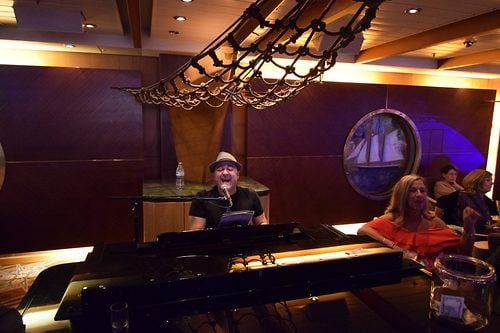 I would wager to say that the Schooner Bar is a staple of any Royal Caribbean experience because there is always something going on here.
Whether you pronounce it "shooner" or "skooner", we can all agree the Schooner Bar is home to fun trivia, live music and great people.
Get there early, because seats go quickly for the fun evening piano sing-alongs.
Have lunch in the main dining room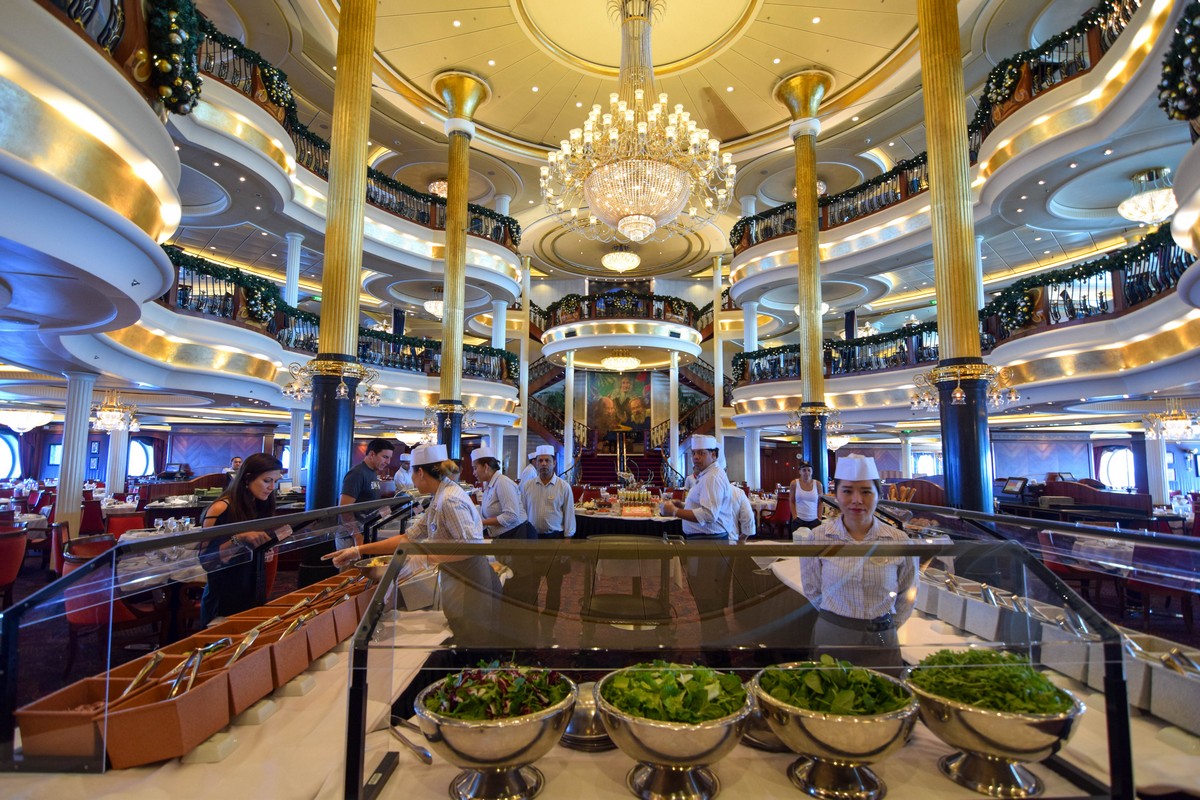 On sea days, Royal Caribbean opens the main dining room for lunch and offers a combination of seated waiter service along with a fantastic salad bar.
The lunch menu changes every day that it is open, so keep an eye on it for a great alternative to the buffet for lunch.
Rent a cabana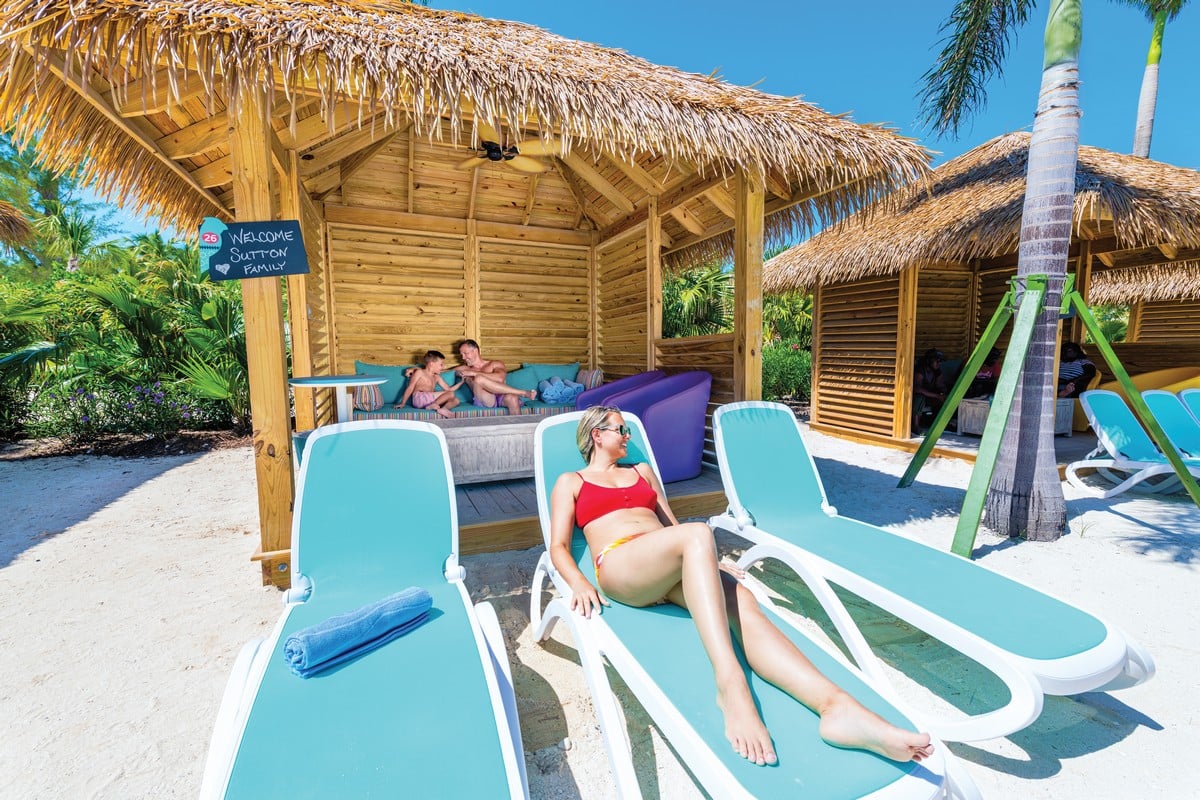 If your cruise visits Perfect Day at CocoCay or Labadee, my favorite splurge is to rent a cabana.
Getting a cabana means you get to enjoy a mix of privacy, luxury and excellent service. 
Try a cooking class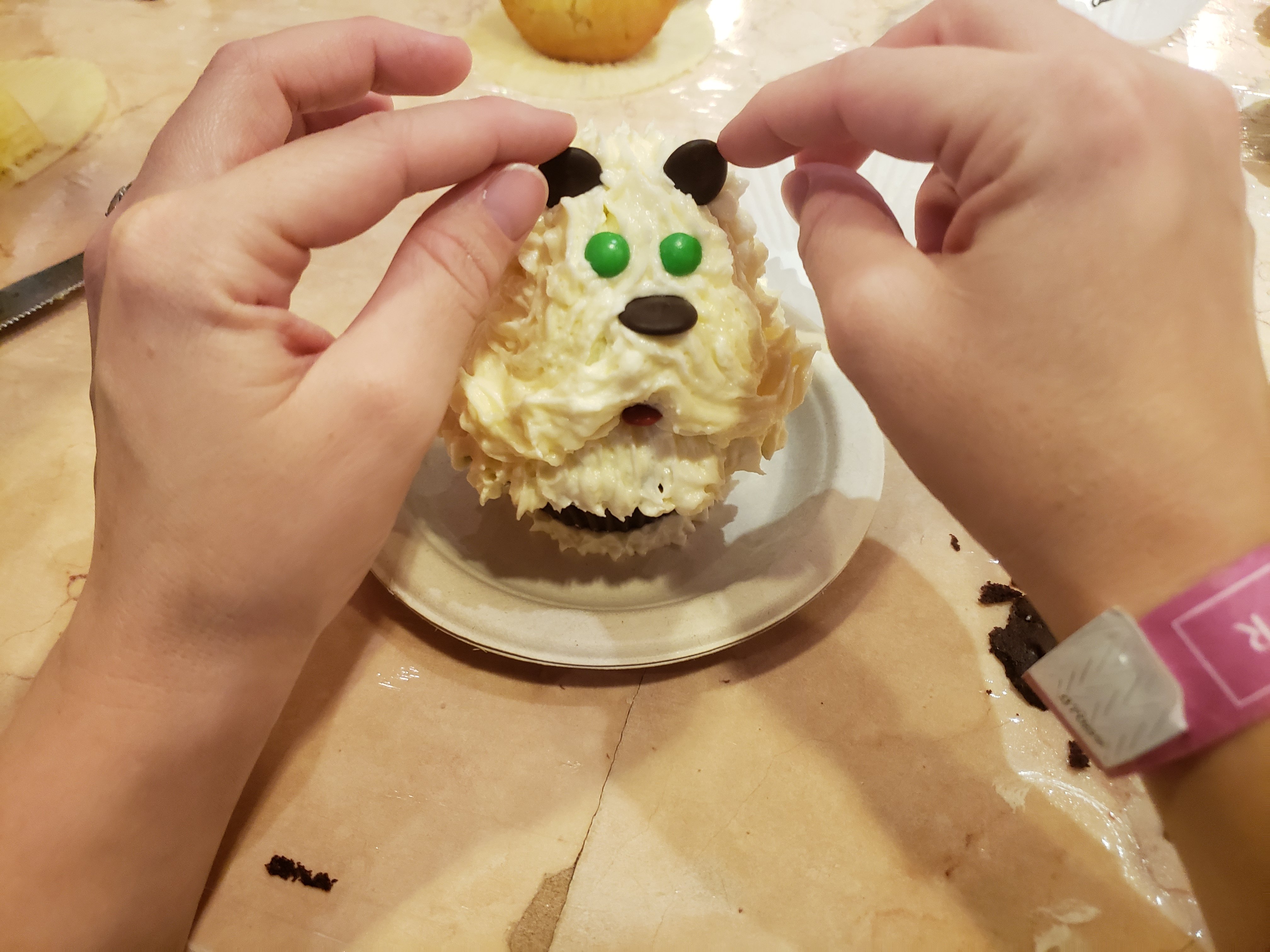 Sushi making, cupcake decorating, or guacamole making classes are a lot of fun and taste great too!
Watch the sunset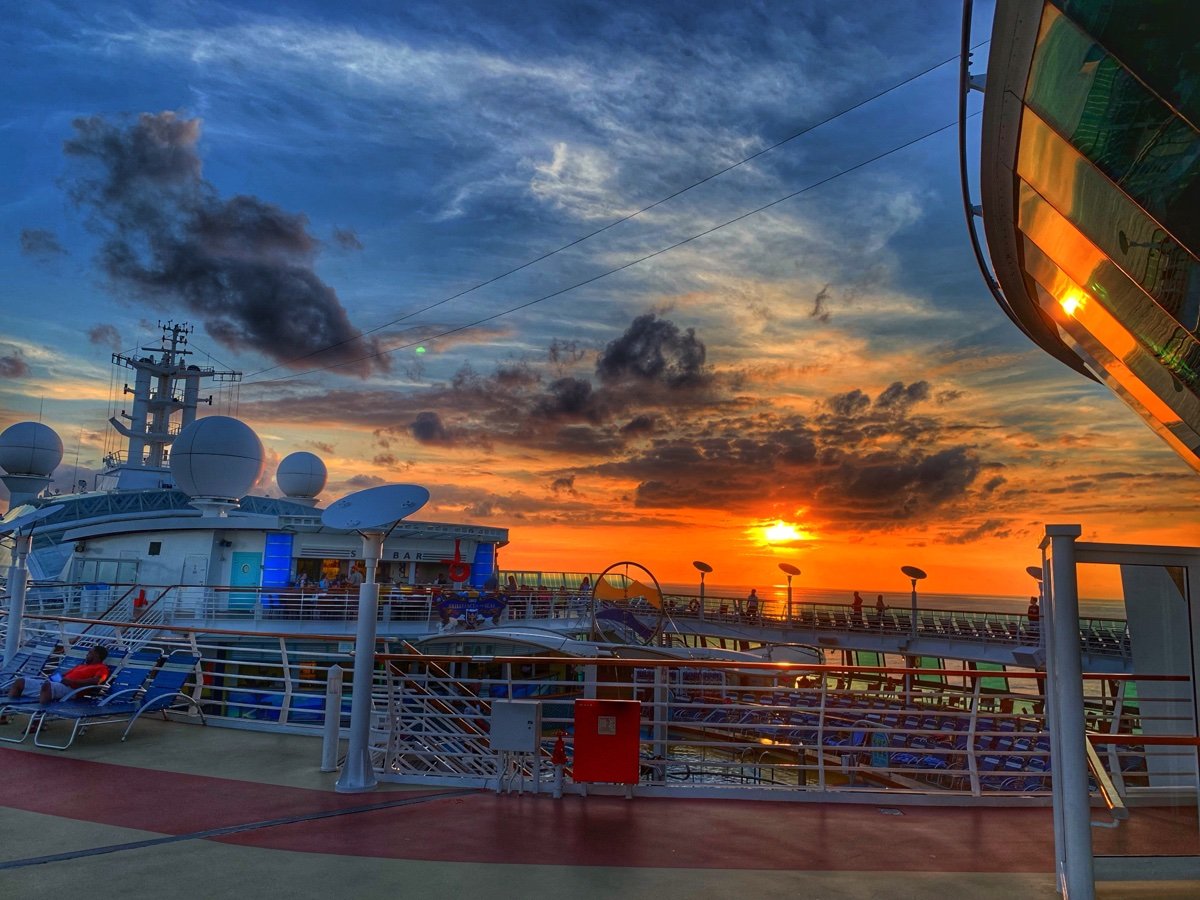 Being out in the ocean, catching a sunset is a gorgeous event that should be done every cruise, but definitely at least once.
The spectacle of the sun setting is amazing, with the many colors in the sky and reflections in the ocean. Be sure to bring a camera to try to capture the splendor of it all
See the Love & Marriage game show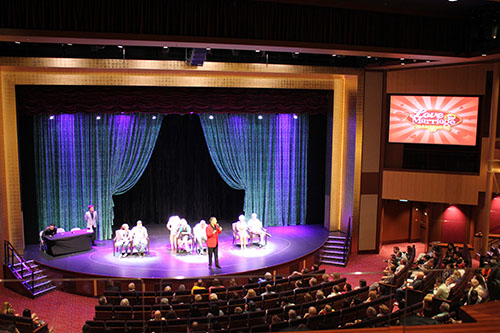 Royal Caribbean has some very fun shows onboard its ships, and one of my favorite shows has to be the Love and Marriage game show.  
Most Royal Caribbean cruise directors that I have heard talk about the show, describe it as being similar to the The Newlywed Game television show.
Based loosely on "The Newly Wed game," Royal Caribbean's version involves three couples trying to prove they know their spouse the best.  It is a quiz of memory and how well one spouse thinks they know the other.
What makes the show fun is when one spouse is very wrong or a spouse reveals something embarrassing about themselves.  The cruise director certainly plays a part in encouraging the couples to be honest and then poking fun at the answers. 
Take a nap in the Solarium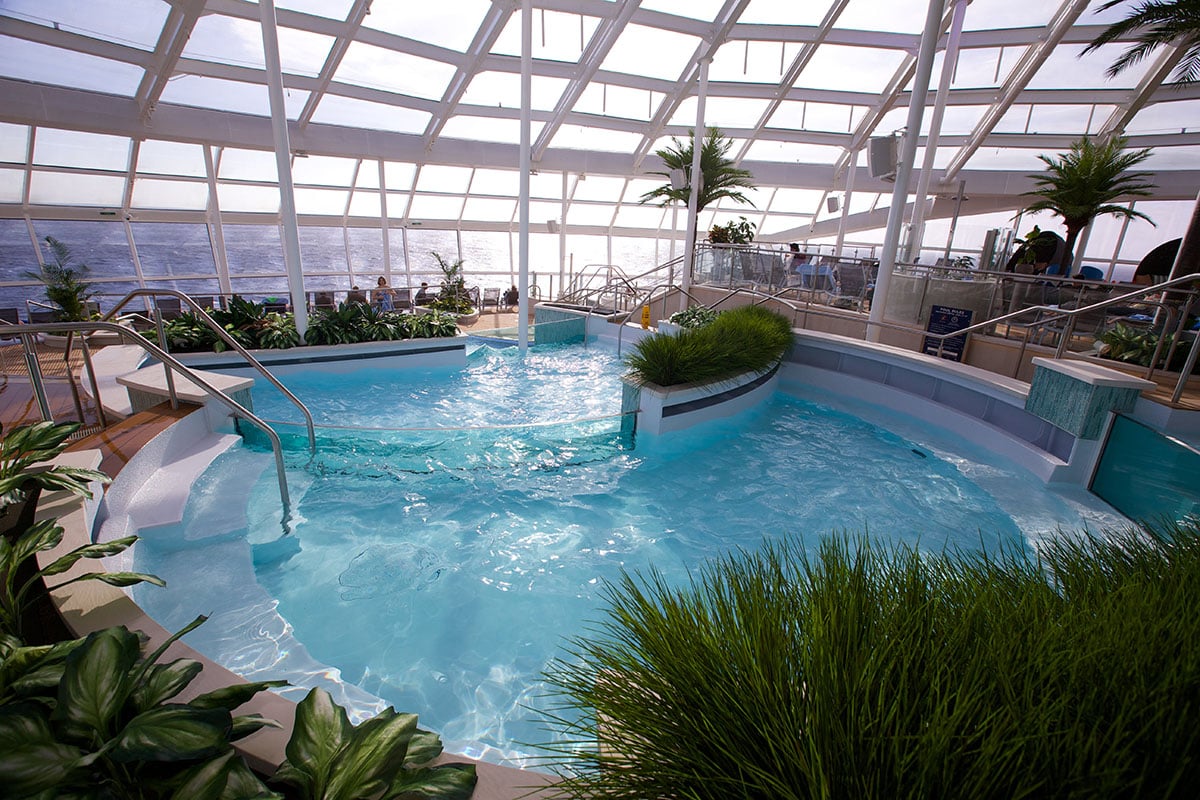 The only thing better than spending time in the adults-only pool area is to take a nap there!
The Solarium is one of the most relaxing areas of the cruise ship, and it tends to be somewhat (if not fully) enclosed.  In addition, it has padded lounge chairs that are just perfect for an afternoon nap.
Go for a night swim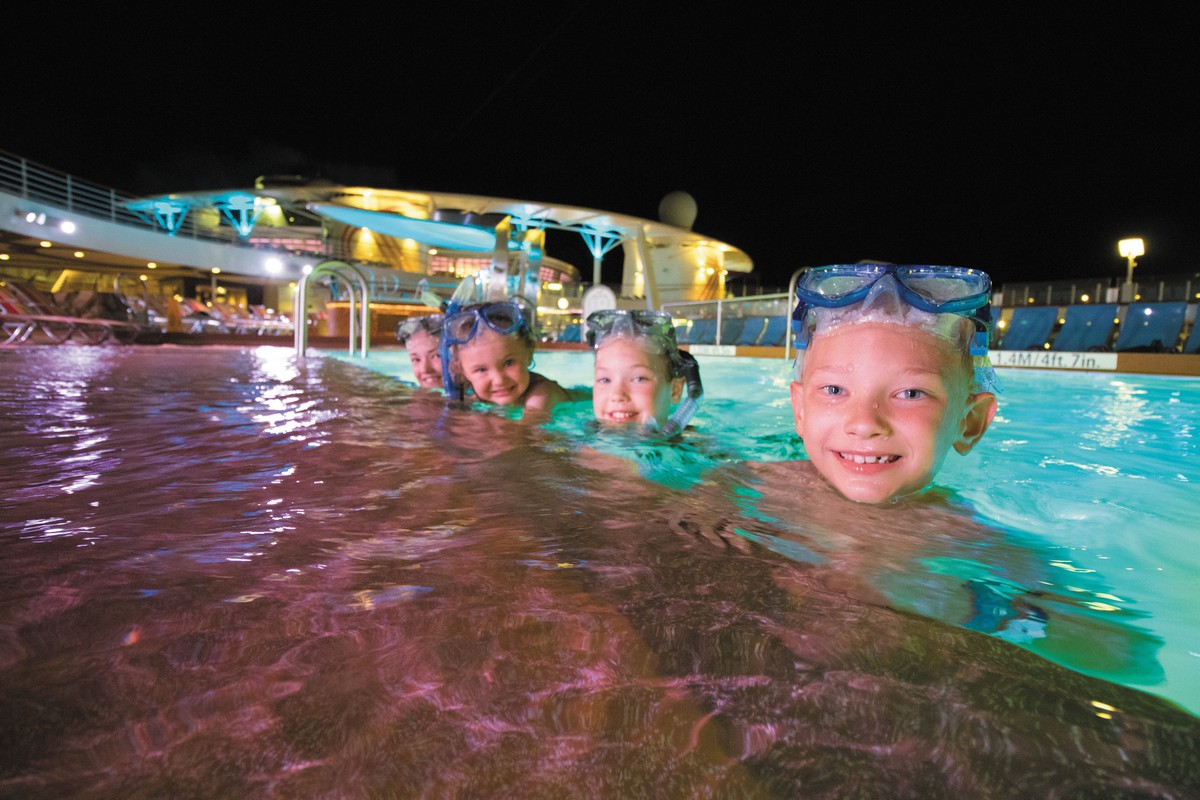 Anyone can swim during the day but on a Royal Caribbean cruise, but I love to put on my bathing suit late after the sun goes down and hop in the pool.  
Night swims are a great experience and with the new giant movie screens near the pools on most Royal Caribbean ships, it's fun to take in a classic film while being in the water.  It is a great family activity and the perfect way to end a fun day.
Catch a performance in the Pub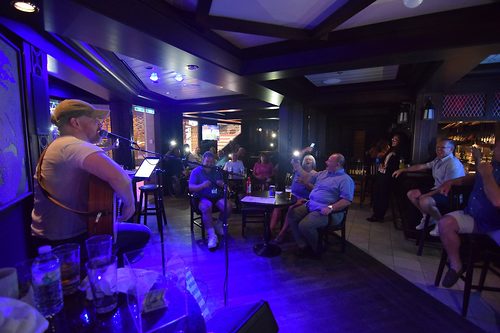 Almost every evening, the British pub is home to a talented singer who plays the kind of bar songs we have all come to enjoy over the years.
Pubs are available on most ships (Radiance Class and larger), and I love the type of music played.  The tunes in the pub will range from oldies, to '90s, and to decades in-between. Basically, these are songs you likely know all the words to and likely have heard in many bars before.
Go ice skating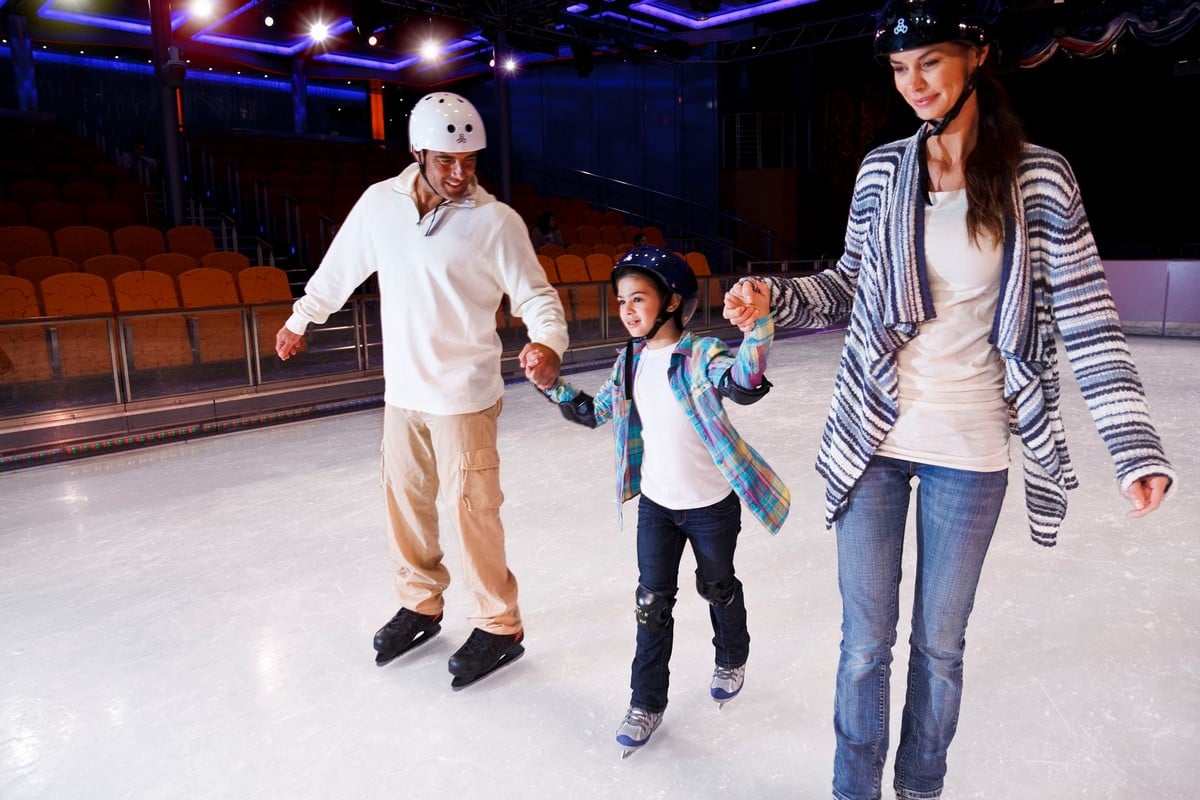 Cruise ships that have an ice skating rink in Studio B allow guests to put on a pair of ice skates and hit the ice rink during their cruise
Check the Cruise Compass for open skate sessions during your sailing.  Royal Caribbean will provide you with complimentary ice skate and safety equipment rentals.  Just be sure to pack long pants and socks.
Ice cream on the pool deck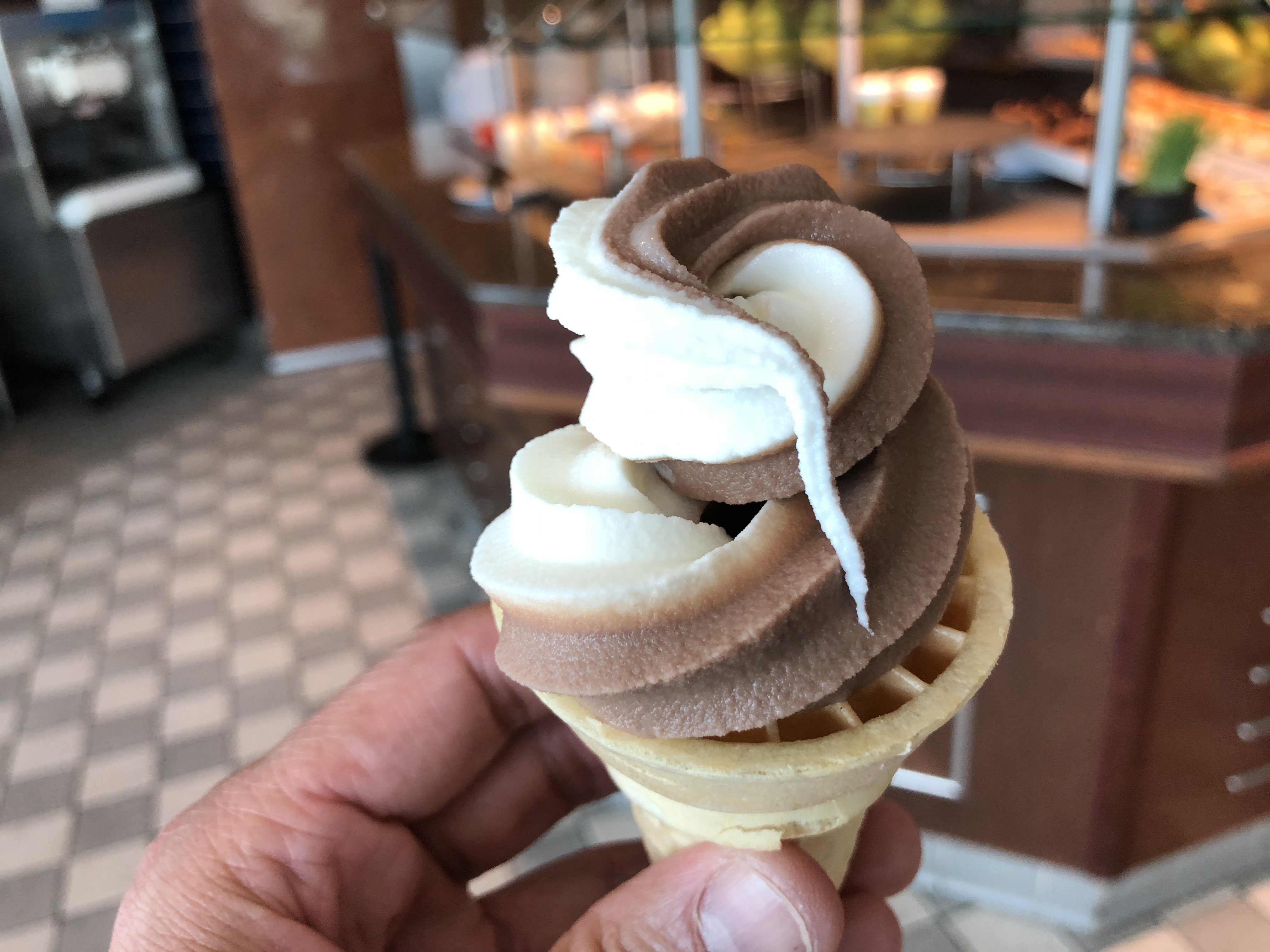 Did you know there is a self-serve ice cream station at the pool deck with unlimited soft serve ice cream? Grab a cone at your leisure, because very likely you will be having quite a few of these on your cruise.
Dance in a party on the Promenade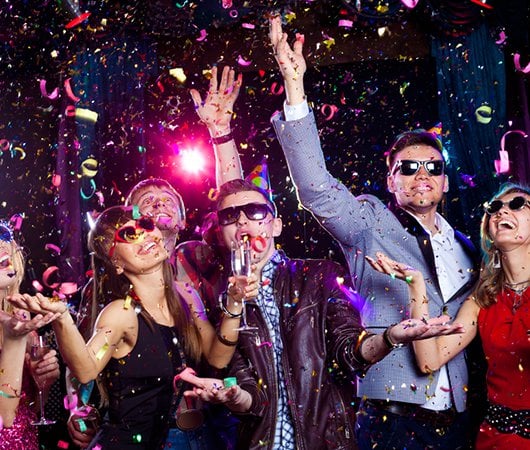 You will find deck parties galore on Royal Caribbean cruise ships.  From the 70's Dancing in the Street Party, to the Hush! Silent Party, to the sail away parties, there are many opportunities to dance the night away.
Watch the belly flop competition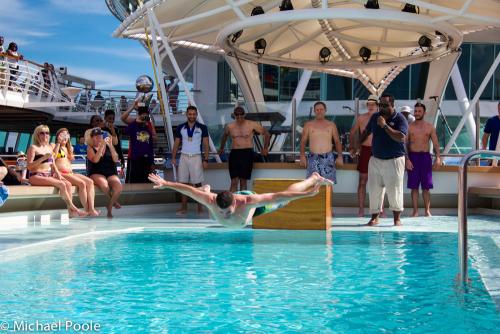 In terms of spectacles, you cannot top the belly flop competition in the main pool.
As the name implies, it is a competition of wills, determination and iron guts.  You might cringe, laugh or applaud, but it is the kind of show that everyone needs to see once.
Let the kids run wild in Splashaway Bay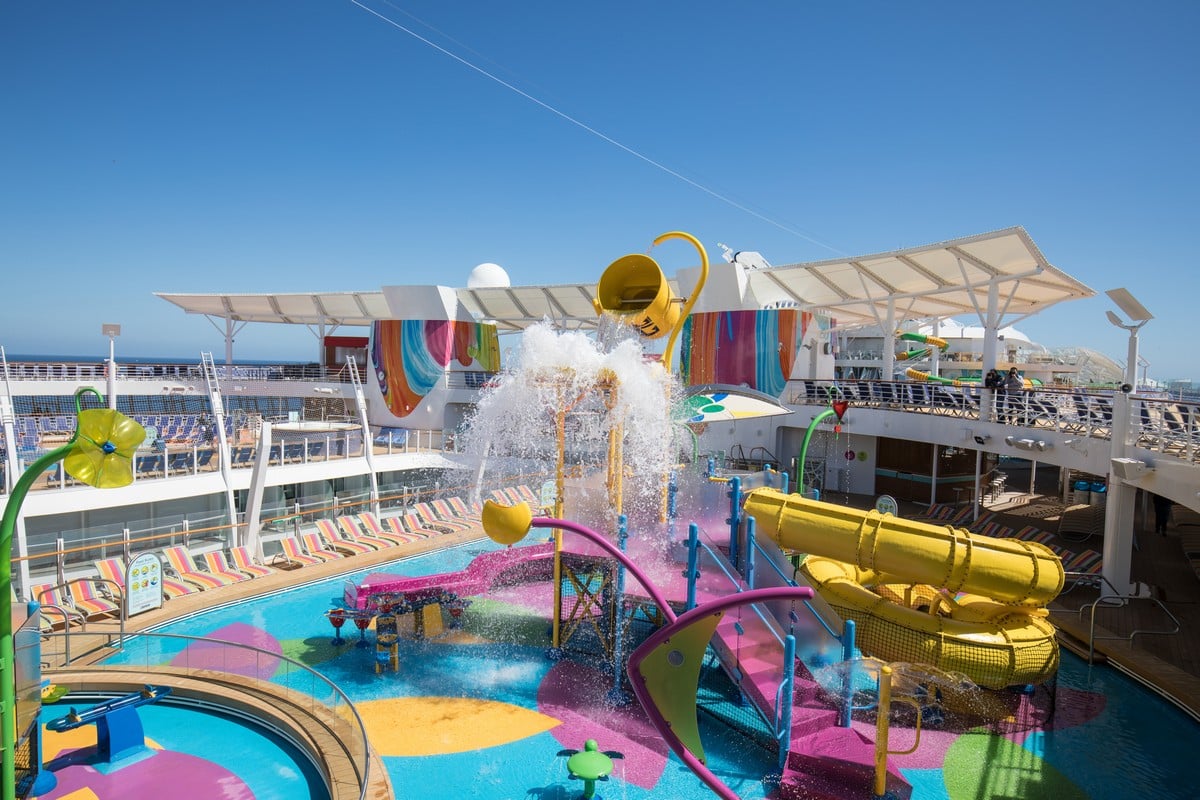 Got kids? If so, expect them to want to spend a lot of time at Splashaway Bay aquatic adventure park.
Splashway Bay has plenty of splashing, with fountains, buckets, sprays and even slides for kids to enjoy to their heart's content.  Splashaway Bay was built to be a focal point of the pool area, and offer yet another improvement on what the cruise line has been known for in the past.
Like all the pool deck fun, Splashaway Bay has no cost to use, and is certain to be a very popular spot with your kids.
Free breakfast in Johnny Rockets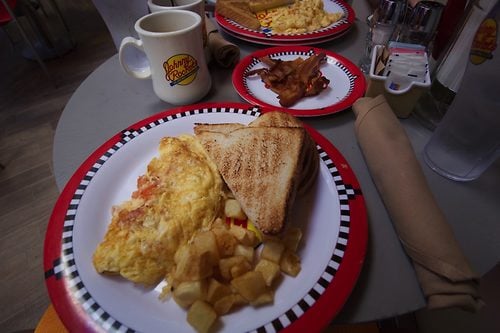 On Oasis class ships, Johnny Rockets is open for breakfast and it is included in your cruise fare. During breakfast, you will find classic American fare (just like the other meals), including pancakes, breakfast sandwiches, eggs, French toast and more.
Besides the price tag, Johnny Rockets is often a less crowded spot for breakfast, so if you need a break from breakfast in the Windjammer, head over to the Boardwalk and start your morning there.
Watch the ship's wake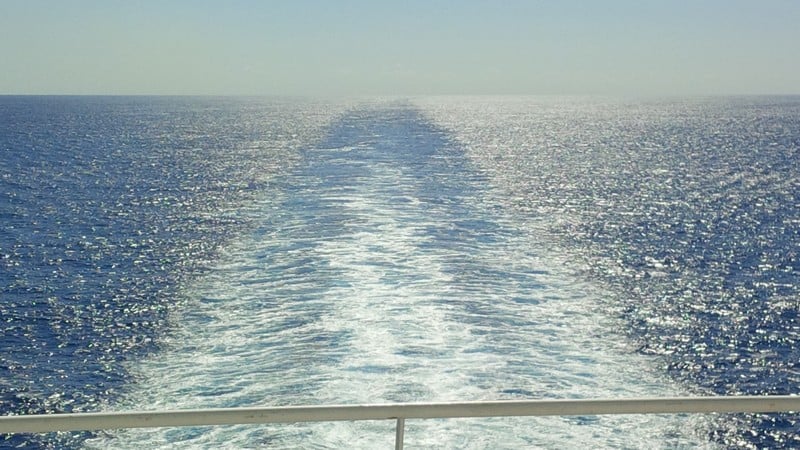 Taking a cruise is such a relaxing and wonderful way to enjoy a vacation, and regardless of which ship you happen to be on, take a walk on the outside promenade deck at least once to enjoy the view of the ship's wake from the aft of the ship.
This vantage point is quite beautiful and calming, and you might find yourself spending more time here than you thought. Since most guests do not make it over here, it is one of the more secluded spots on a Royal Caribbean ship.
On Oasis-class ships, Royal Caribbean even added chairs for guests to enjoy and watch the wake as their ship moves to the next adventure.
Try the escargot (seriously)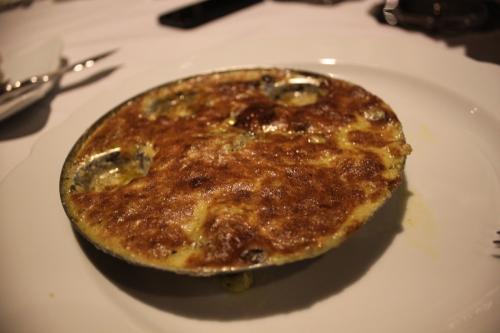 In case you did not know, escargot are cooked snails and they are a delicacy and available each evening in the main dining room.  And yes, most people probably make a face when they first read about it, but it has become a cruising classic and you ought to give it a whirl at least once.
Most fans of escargot will tell you that it is not nearly as bad as you think, and the fact they are cooked in plenty of garlic and butter means you can barely taste them.  Eat it with bread and you may not even recognize the former terrestrial pulmonate gastropod molluscs.
Wake up for sunrise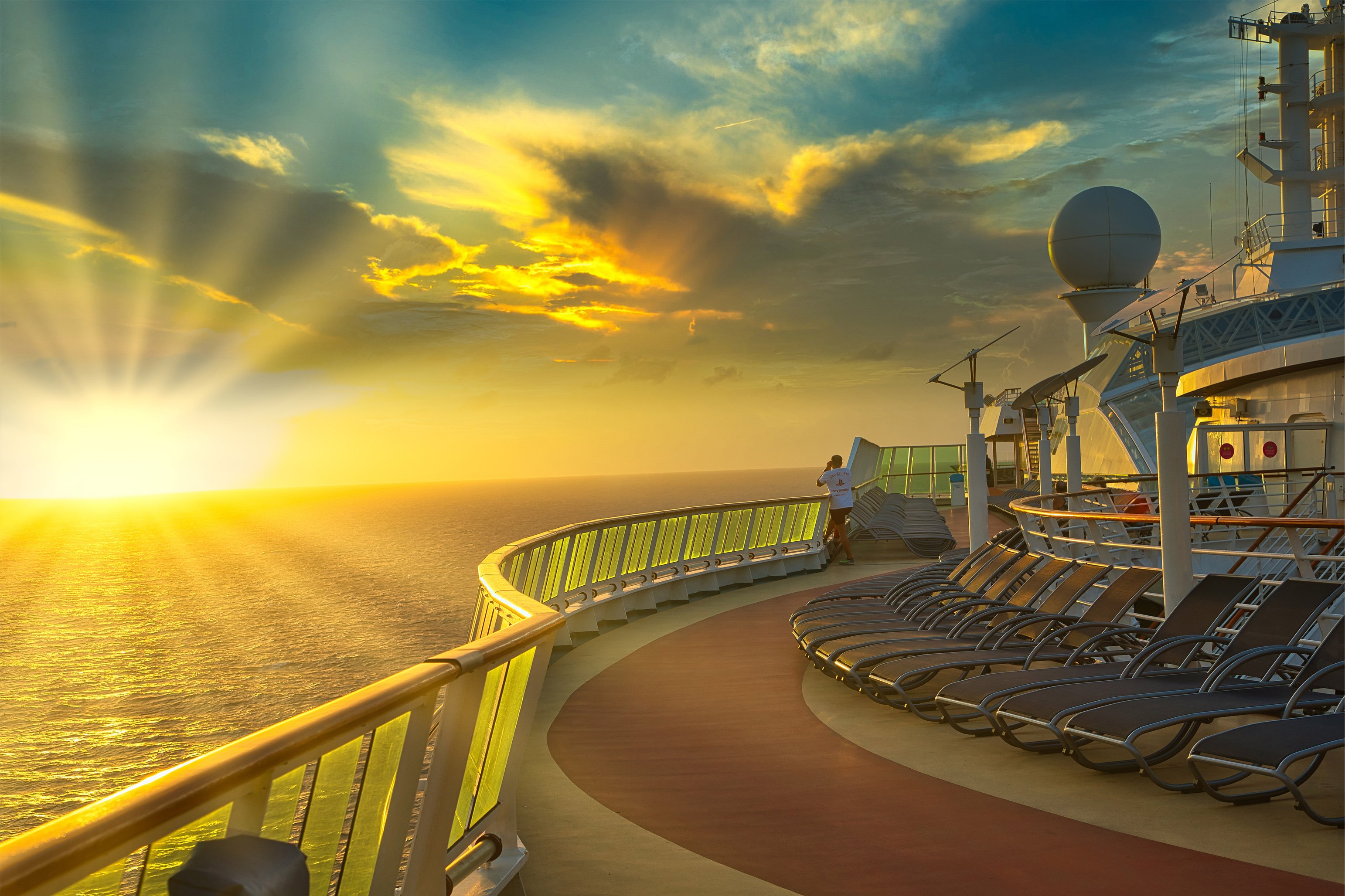 If you have a balcony room booked, be sure to muster the strength to wake up one morning and watch the sunrise from the comfort of your balcony.
Make a point to grab a cup of coffee and try for a sunrise.
Join in the sailaway party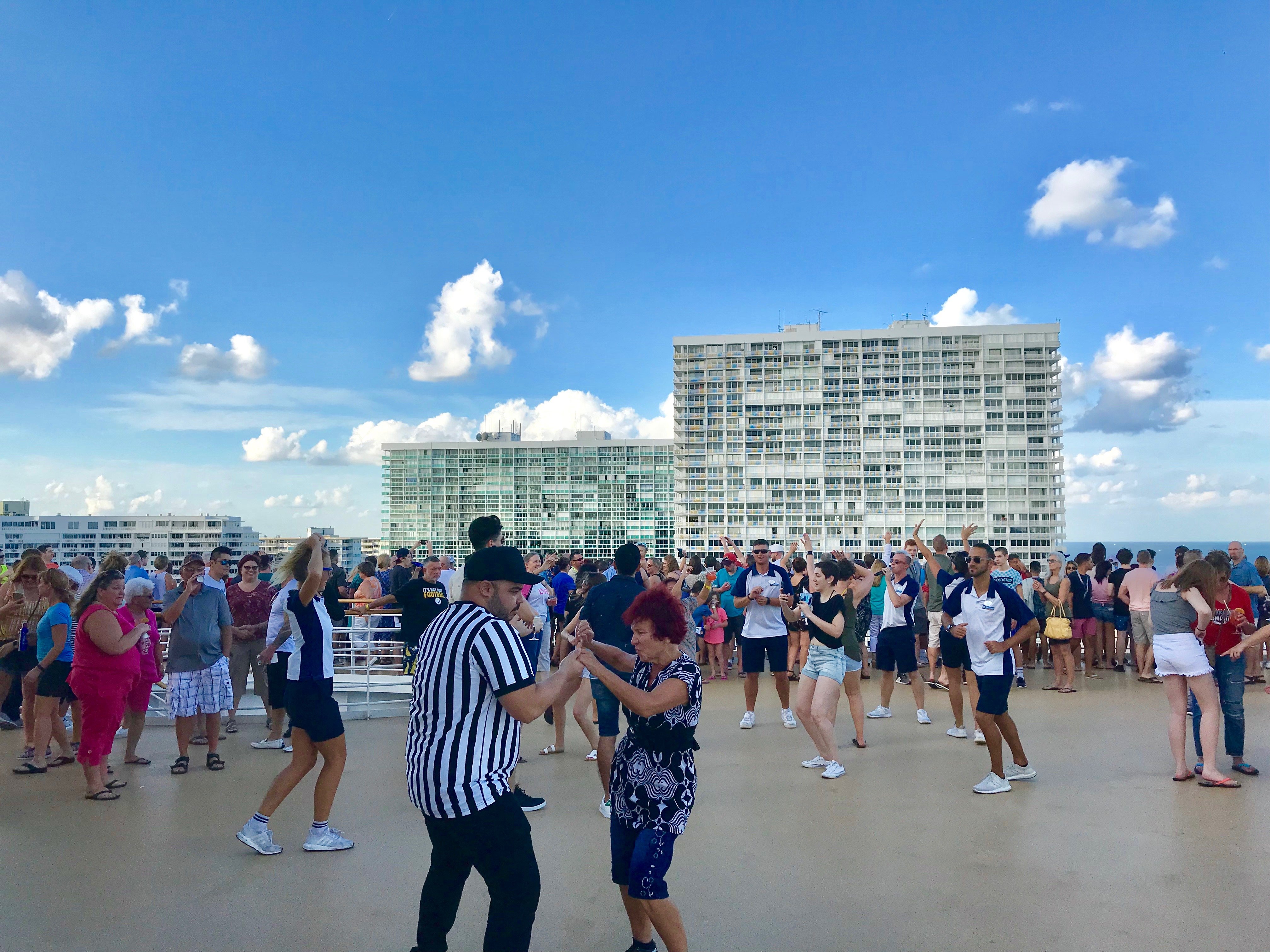 Your Royal Caribbean cruise really begins when the muster drill is over and the ship drops its lines and leaves port to head to the first stop.  To celebrate this moment, Royal Caribbean offers a sailaway party at the pool deck and invites all guests to join.
The sailaway party involves dancing, music and drinks and is something worth trying at least once.
Take a behind-the-scenes tour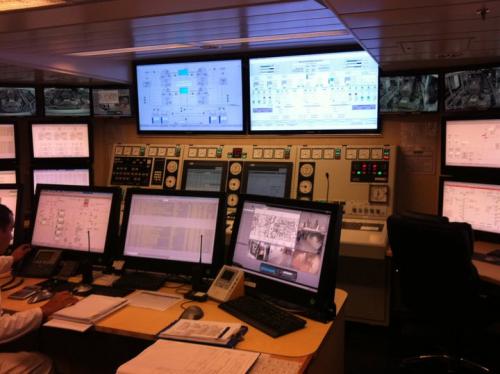 Royal Caribbean offers an all access tour for guests to join, where they can peek behind the proverbial curtain and see how their massive and impressive cruise ships function.
Guests are escorted through a number of critical areas of the ship, including the galley, bridge and engine room.  It is a fun way to take a glimpse of what it takes to keep a ship functioning, and even get those nagging questions you have always wondered about finally answered.
The All Access Tour is available to purchase through the Cruise Planner prior to the cruise.
Have a Kummelweck sandwich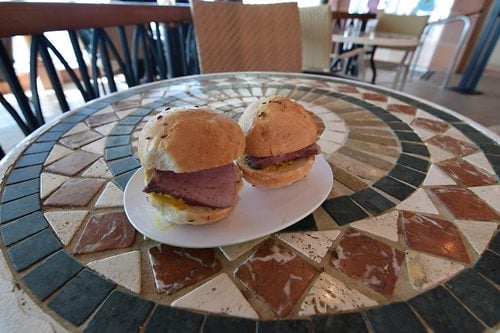 On cruise ships that have a Park Cafe location, be sure to stop in and try their Kummelweck roast beef sandwich
These sandwiches are just amazing and no trip to Central Park is complete without one of these tasty (and complimentary) snacks.
Enjoy live music by the pool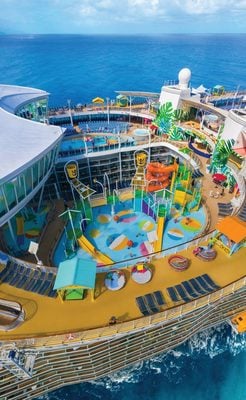 Imagine this: the sun is shinning, with a cloud or two passing by as the warm Caribbean breeze brushes past your cheek.  You have a colorful cocktail in your hand, as the band is playing "Red Red Wine" close your eyes.  That epitomizes the perfect moment on a Royal Caribbean cruise!
The live music on a Royal Caribbean cruise is among the best hidden secrets.  Royal Caribbean's dedication to live music has become something I always look forward to and enjoying the live band at the pool is just the icing on an incredible cake.
Spend a holiday on a cruise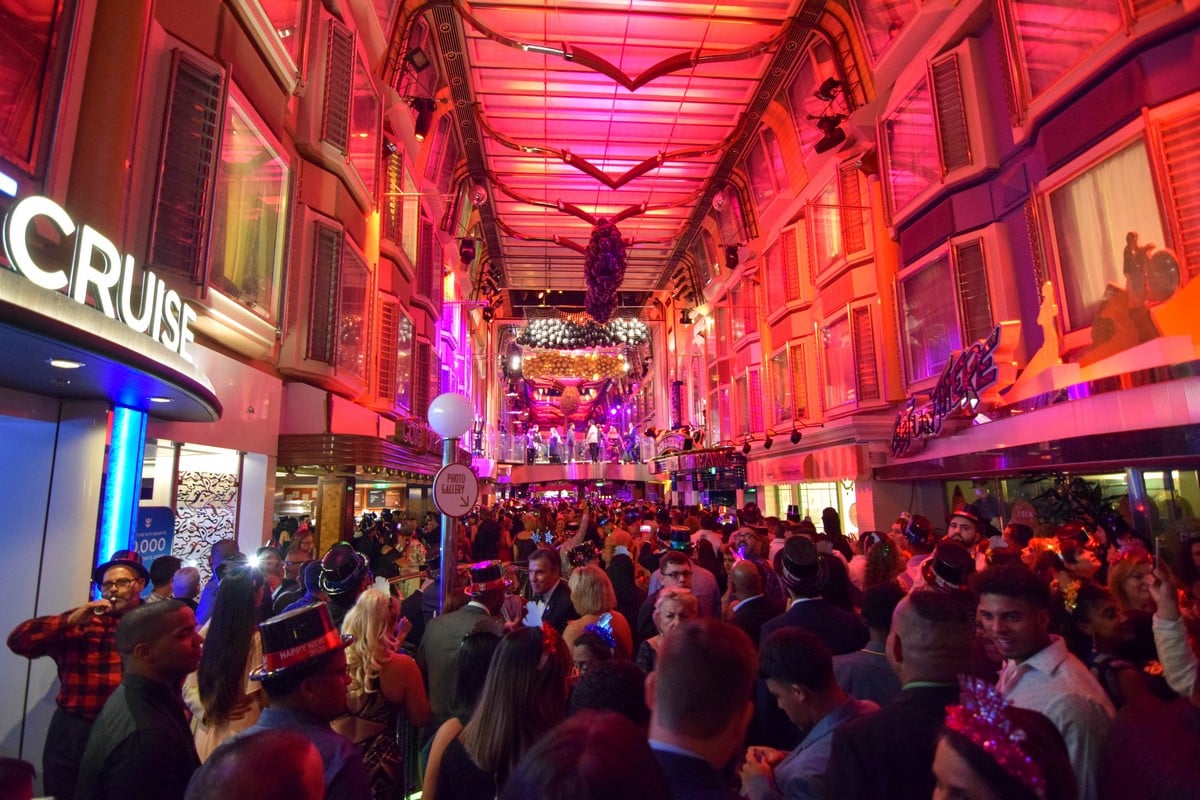 Lastly, you should try to book a cruise over a major holiday, such as July 4th, New Years Eve or Thanksgiving.
Celebrating a holiday on a cruise is a great way not only to have a lot of fun, but change up what you usually do to celebrate.
Royal Caribbean gets into the spirit of the major holidays, and you will not be short-changed by the fact you are on a cruise ship.
The top three holidays to try on a cruise at least once are Halloween, Thanksgiving and New Years Eve. Each is a lot of fun onboard!