In:
Among the many fun activities you can do on a cruise ship, water slides are a fan favorite.  So which ships offer a wet plummet onboard?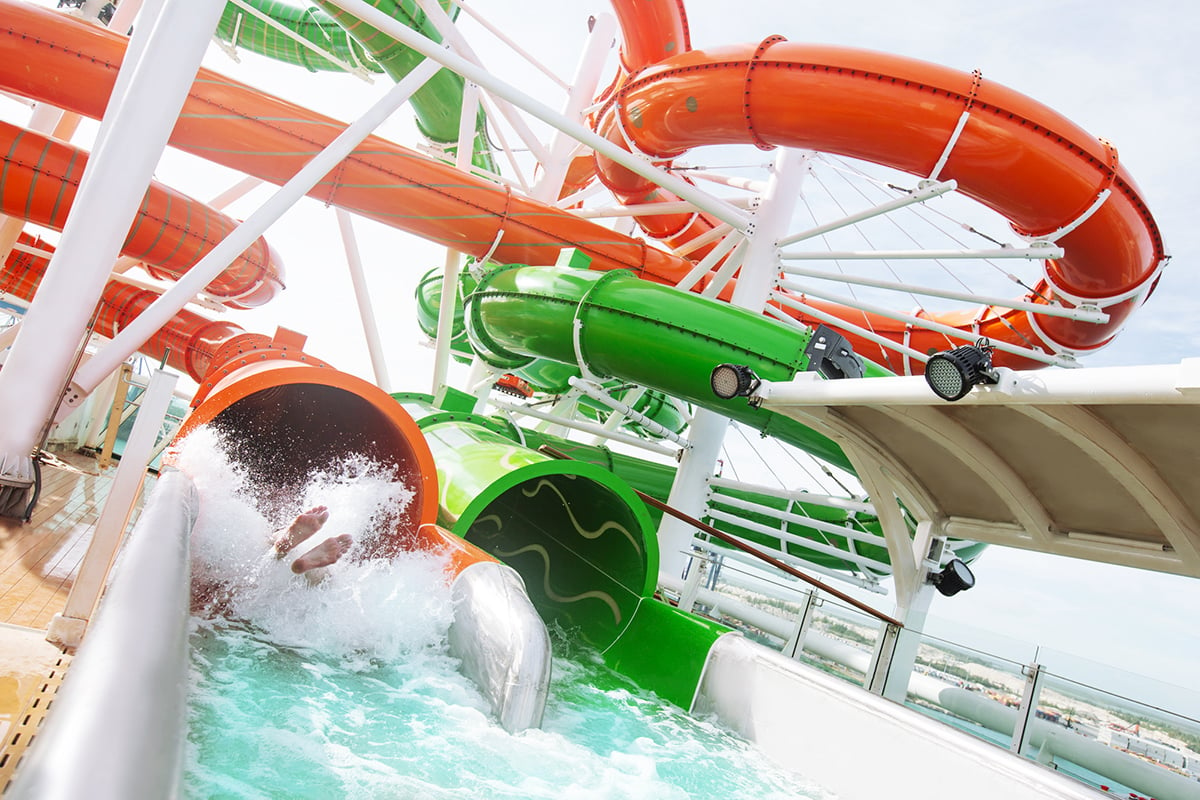 Until recently, Royal Caribbean did not offer water slides, but they have been adding water slides to their ships steadily.
If having a water slide on your cruise is important to you, here is a guide to which ships offer slides.
Types of water slides
Royal Caribbean offers a few different types of water slides across its fleet.
Over the years, Royal Caribbean has experimented with new slides in addition to rolling out tried and true favorites.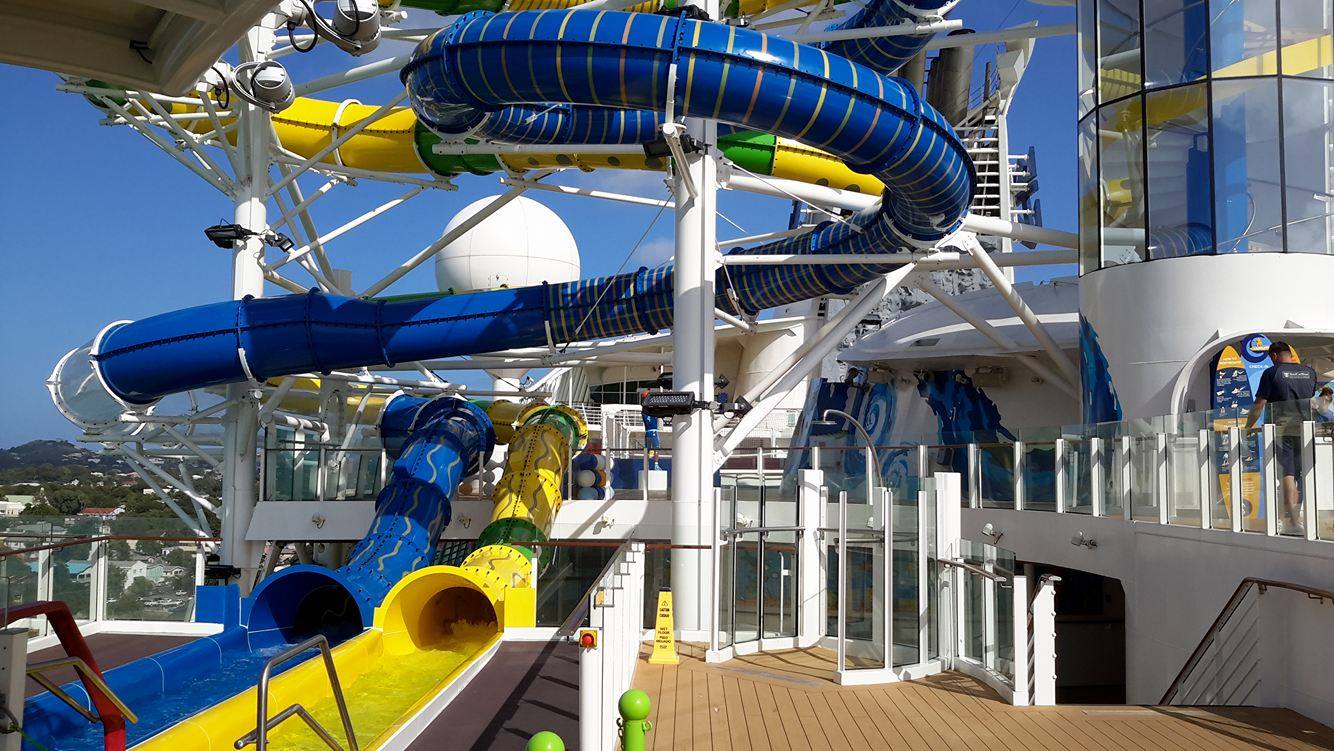 The Perfect Storm
The most common combination of water slides on any Royal Caribbean ship is what the cruise line calls The Perfect Storm.
Two racer slides, Cyclone and Typhoon, offer a fast ride side-by-side to a water splash down.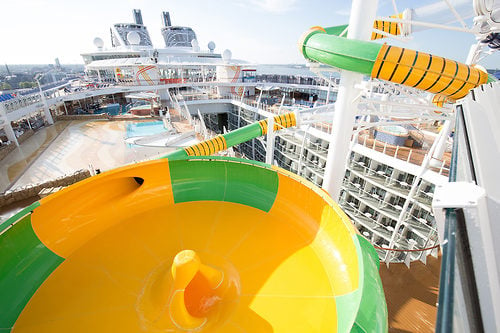 Supercell is the name of the large bowl shaped slide, where you enter large saucer section to see how many times you can go around before exiting down to the end.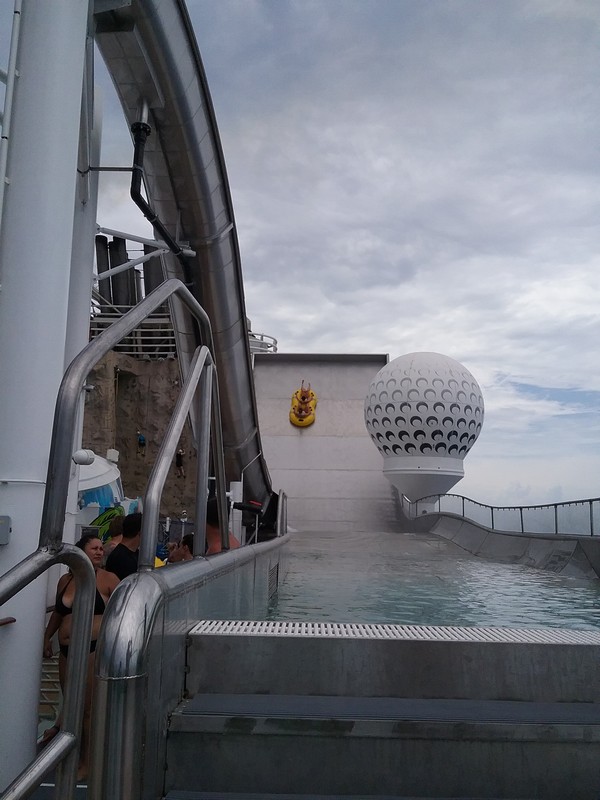 Tidal Wave
Tidal Wave is the first boomerang-style slide, and allows you to go on a raft up a near vertical wall to achieve a feeling of near weightlessness, before sliding back down for a giant splash.
Blaster
Royal Caribbean's first aqua coaster, The Blaster, is the longest water slide at sea.  
You ride in a raft down more than 800 feet of dips, turns and straightaways, with some portions even extending over the side of the ship.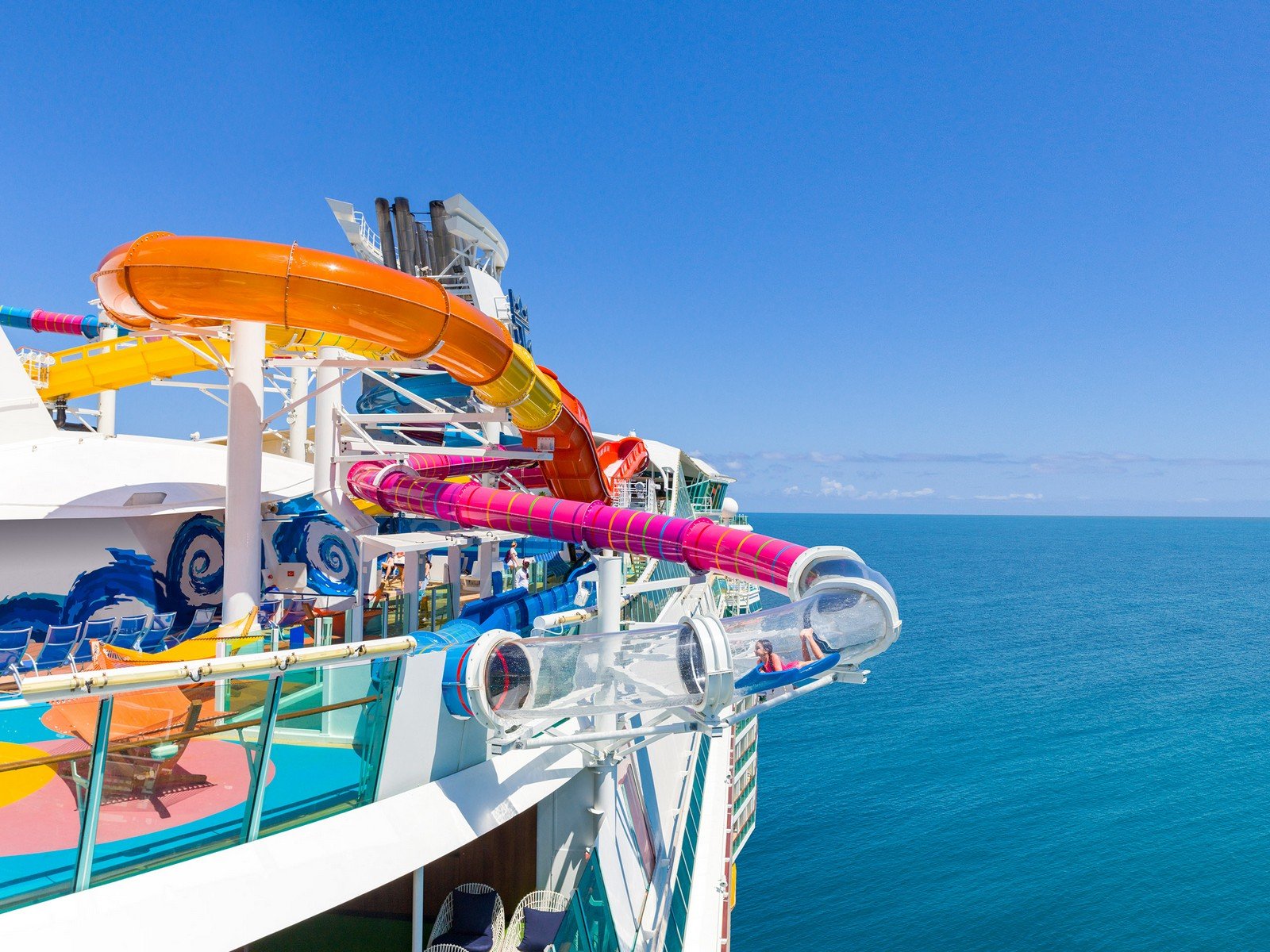 Riptide
A headfirst mat slide, Riptide takes you on an exhilarating journey down translucent tubes with views (if you can keep your eyes open).
Kids slides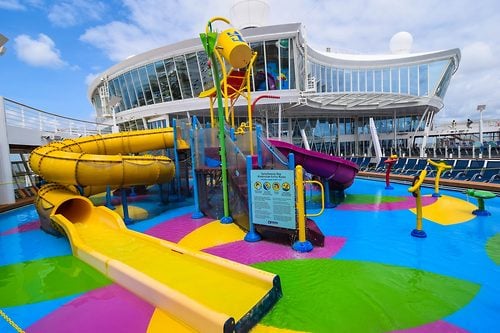 There are a few different types of water slides specifically for younger children available on some Royal Caribbean ships.
Splashaway Bay is Royal Caribbean's aqua park, and offers usually two kids of water slides for kids.
One is a short slide that goes directly down, and the other is an enclosed tube slide that swirls around a couple times.
On Royal Caribbean's Radiance Class ships, there is a single water slide for children on the back of the ship. This is an open air slide that swirls around before the exit.
Royal Caribbean ships with water slides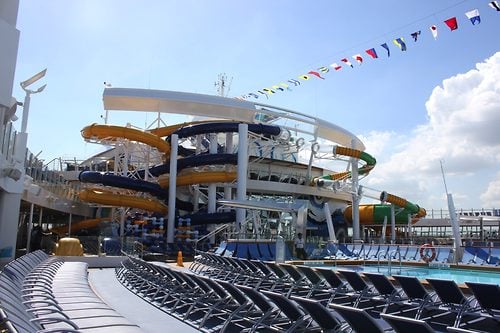 All water slides on Royal Caribbean's cruise ships are complimentary to use when they are open.
Water slides have set hours published in the Cruise Compass, and are usually open during most of the day.
Adventure of the Seas
Perfect Storm (Cyclone and Typhoon)
Splashaway Bay
Brilliance of the Seas
Freedom of the Seas
Perfect Storm (Cyclone and Typhoon)
Splashaway Bay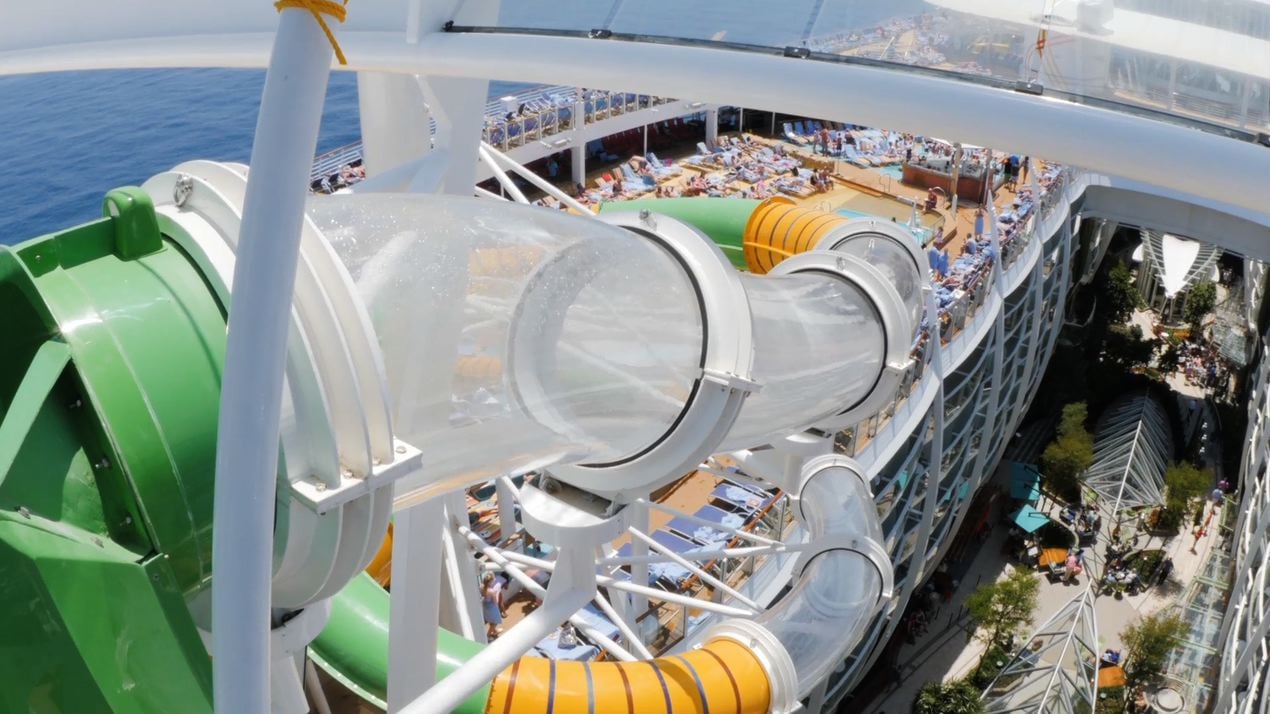 Harmony of the Seas
Perfect Storm (Cyclone, Typhoon & Supercell)
Splashaway Bay
Independence of the Seas
Perfect Storm (Cyclone and Typhoon)
Splashaway Bay
Jewel of the Seas
Liberty of the Seas
Perfect Storm (Cyclone and Typhoon)
Tidal Wave
Splashaway Bay
Mariner of the Seas
Perfect Storm (Cyclone and Typhoon)
Navigator of the Seas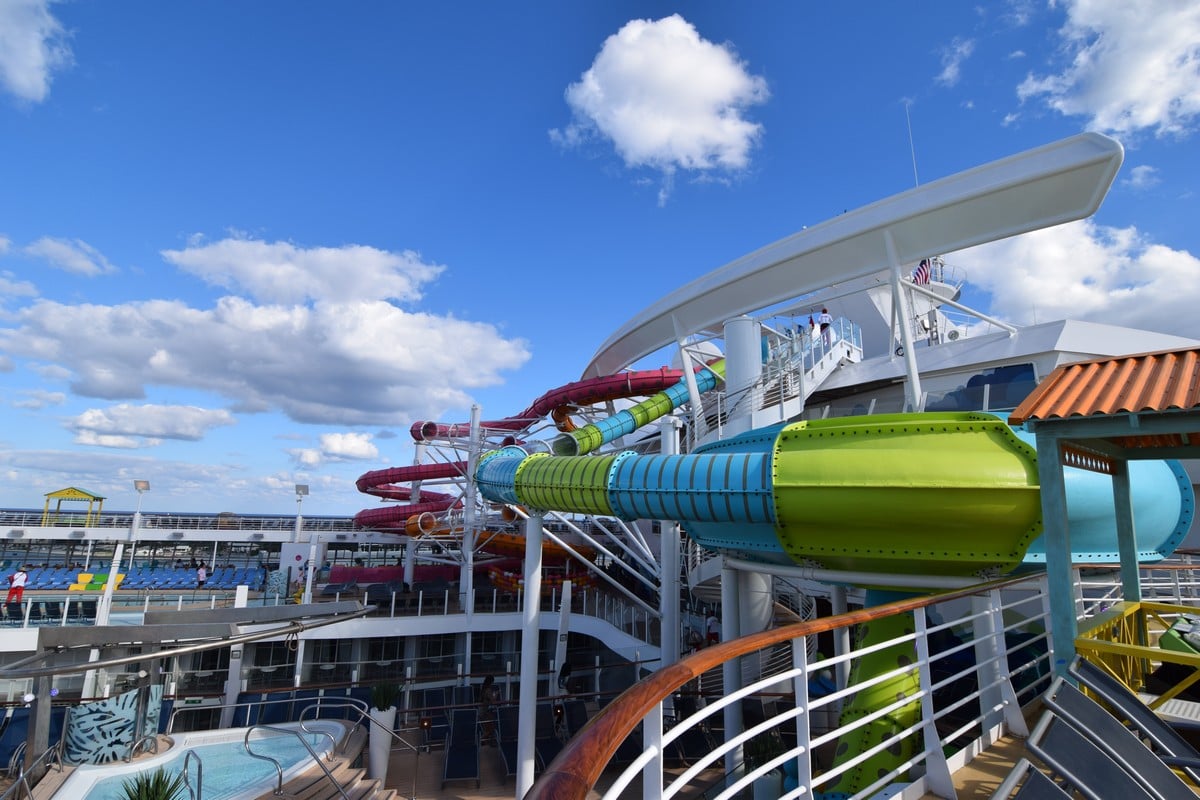 Oasis of the Seas
Perfect Storm (Cyclone, Typhoon & Supercell)
Splashaway Bay
Radiance of the Seas
Serenade of the Seas
Symphony of the Seas
Perfect Storm (Cyclone, Typhoon & Supercell)
Splashaway Bay
Perfect Day at Cococay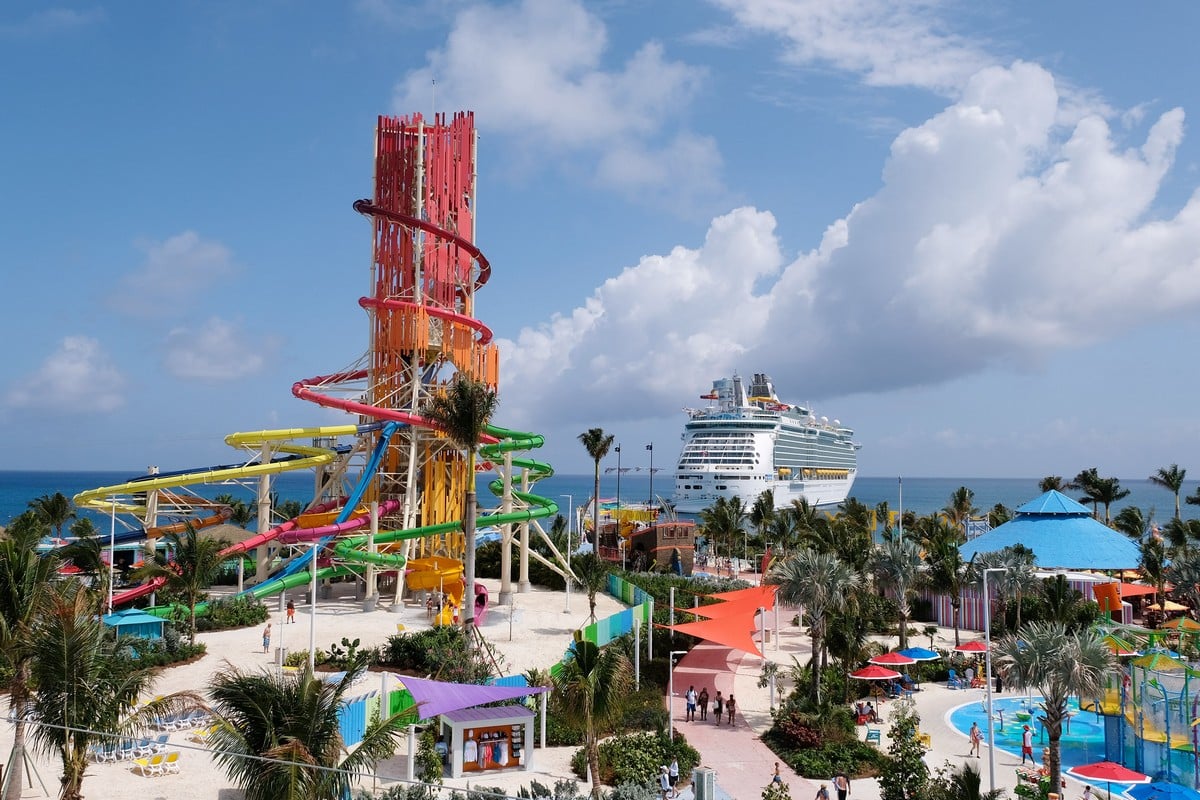 Royal Caribbean's private island in The Bahamas offers a few different water slide options to enjoy.
At CocoCay, you will find complimentary water slides that anyone can enjoy, as well as water slides that cost extra.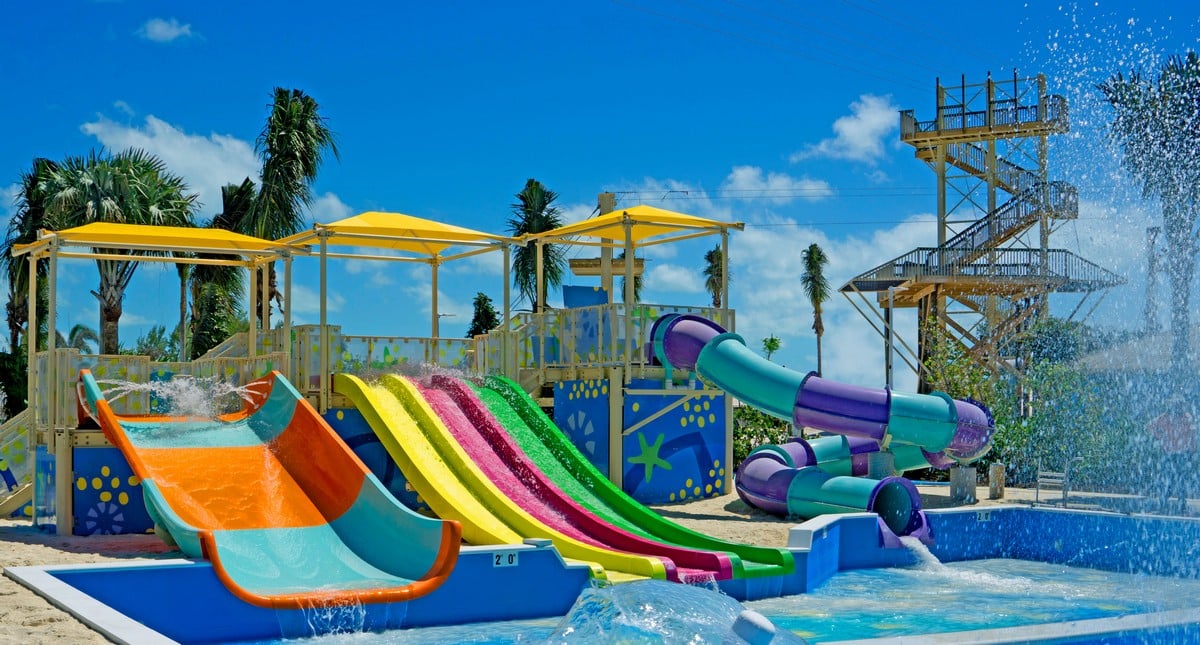 Complimentary slides
There are two areas where kids can enjoy water slides for no additional cost at Perfect Day at CocoCay.
Splashaway Bay and Captain Jill's Galleon both have small slides that are suitable for most ages.
These slides are generally best for younger children.  
Thrill Waterpark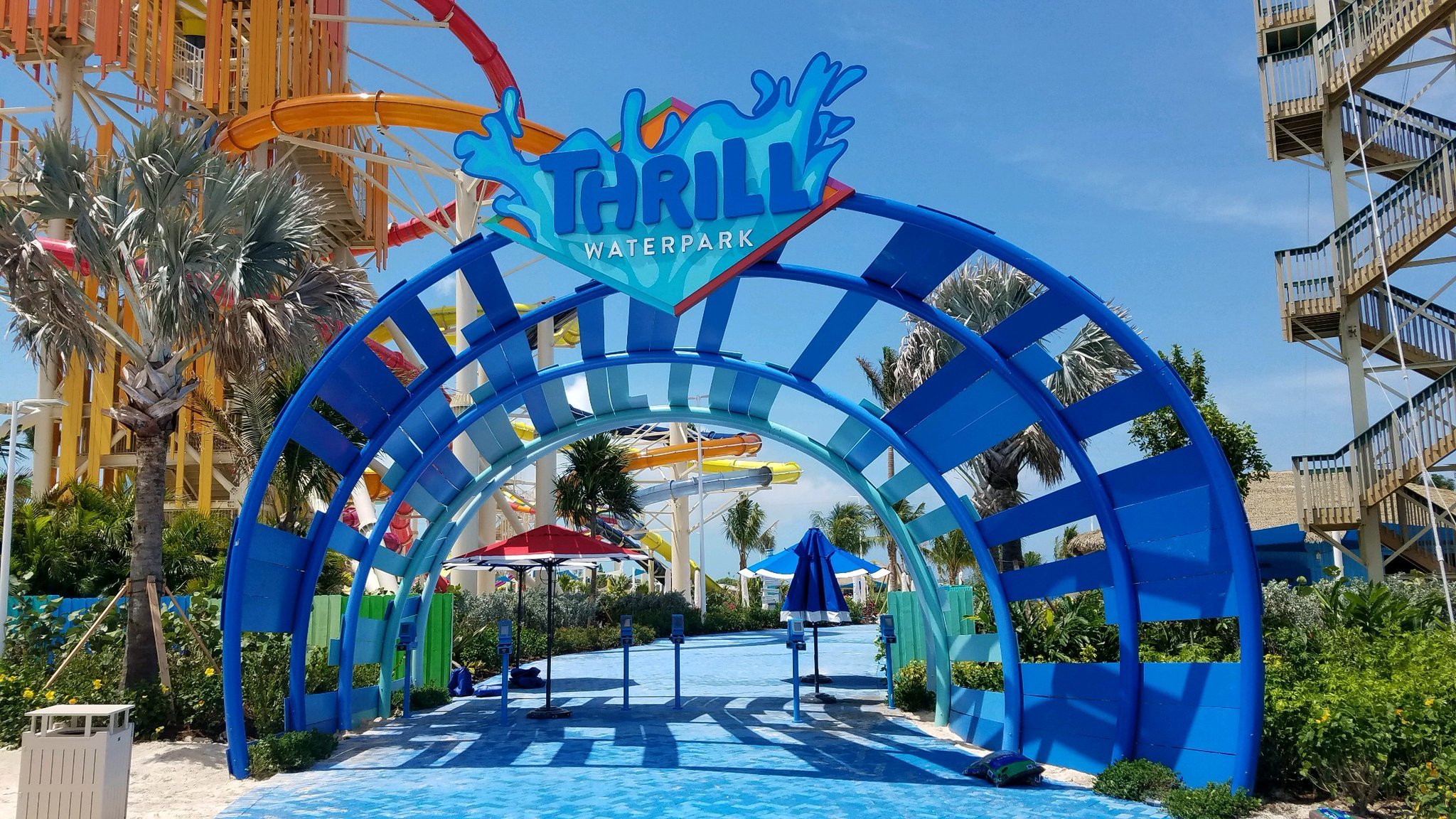 The water slides that will get your attention quickly are all located in Thrill Waterpark.
Thrill Waterpark has a per-person cost for access to all the slides throughout the day. Royal Caribbean sells day passes for access to the water park. Only full day passes are available, with no half day passes offered any longer.
The exact cost of admission to Thrill Waterpark varies from sailing to sailing, so you will need to consult the Cruise Planner website for exact pricing.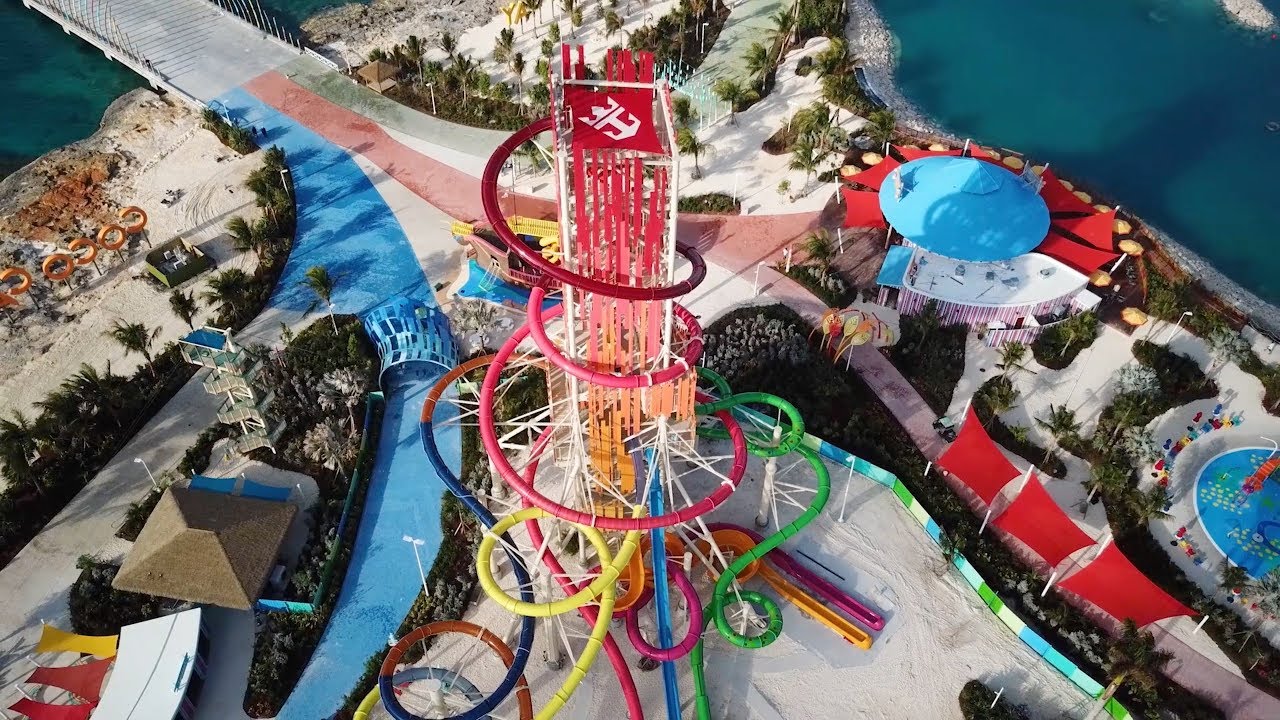 Daredevil's Tower 
The big thrills are at Daredevil's Tower, where you will find seven slides to choose from, including twin Dueling Demons drop slides and the duo of Manta Raycers; the high-speed, fully vertical Screeching Serpent; the coiling Green Mamba; and the 135-foot-tall Daredevil's Peak – the tallest waterslide in North America.
There are also a few smaller slides as well.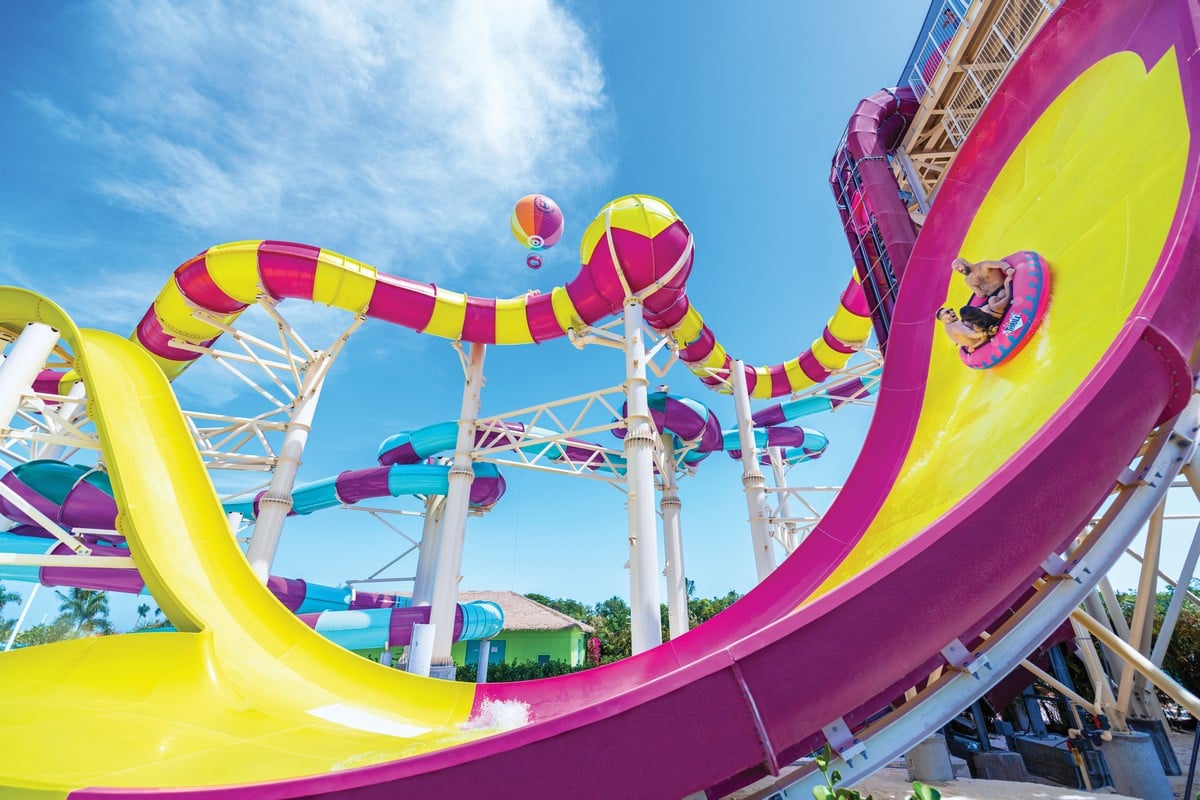 Family Tower
If you want to experience slides together, the Family Tower offers slides perfect to be shared.
Six multi-rider slides area available, including The Twister, a winding tube slide for two sharing a raft; The Slingshot, a zero-gravity slide for four; and the four-lane Splash Speedway racing slides.
Adventure Pool
For younger kids, Adventure Pool offers an obstacle course of lily pads, a rock-climbing wall and swing ropes to bounce, climb and swing to their heart's content.
Labadee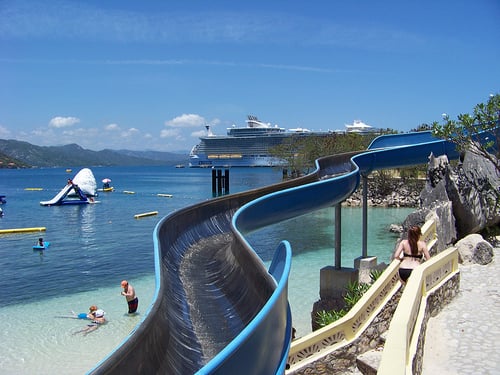 Labadee, Royal Caribbean's private destination in Haiti, does not have a water park, but does have a single slide you can purchase rides on to enjoy during your day.
The Dragon's Splash Waterslide is an almost 300-foot slide that drops you into an 18-foot splash zone.  
The cost is $24 for one ride.
Water slides tips & advice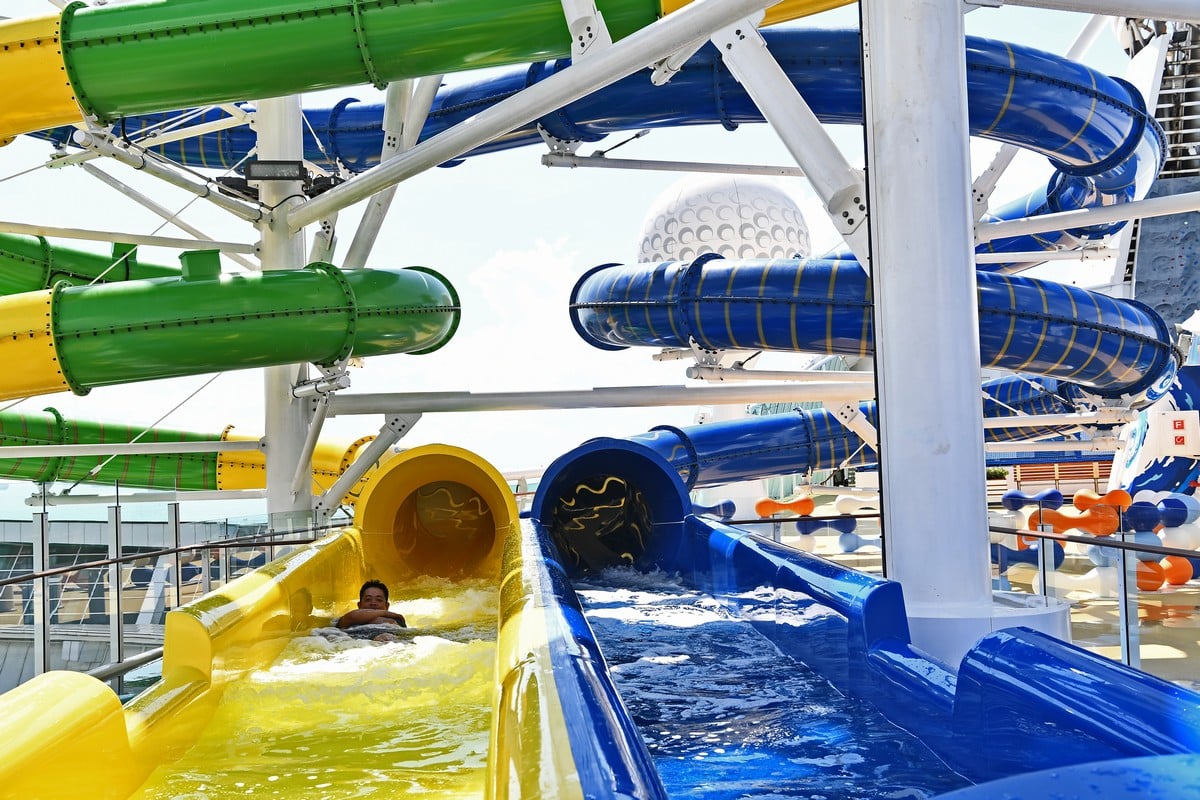 Water slides are open on embarkation day, so bring your bathing suit in your carry-on luggage so you can take advantage of lower lines.
Want to go faster on any of these slides? Bating suit materials and rash guards slow you down, so the less material in contact with the slide, the faster you will go.
At Perfect Day at CocoCay, life guards will ask you to remove rash guards when going down slides on Daredevil's Peak.
When your ship is in port is a great time to enjoy the water slides with less of a wait.
Many times there are multiple lines for slides, but guests can stand together blocking the way. Politely ask to move past them if you do not see the end of your line.