In:
Following more than $100 million in upgrades to Mariner of the Seas, Royal Caribbean has packed a ton of activities for families to enjoy onboard this revamped cruise ship.  From dining, things to do, experiences and more, Mariner of the Seas offers plenty across fifteen decks.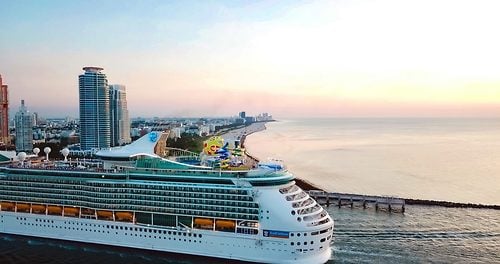 Here is a look at some great things to try onboard Mariner of the Seas that are fun and totally free to enjoy.  That means a great vacation that saves you money! Hopefully, you can enjoy all 15 of these activities on your Mariner of the Seas cruise.
1. Go ice skating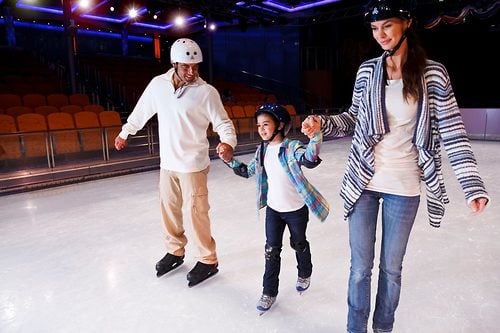 Mariner of the Seas has an ice skating rink in Studio B where one of the ship's best shows is performed during your cruise (more on that later), but guests can also don a pair of ice skates and hit the ice rink too!
Check the Cruise Compass for open skate sessions during your sailing.  Royal Caribbean will provide you with complimentary ice skate and safety equipment rentals.  Just be sure to pack long pants and socks.
2. Bounce on the Sky Pad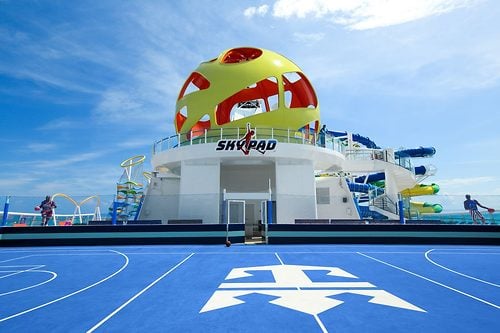 Guests can hit up the Sky pad, which is a virtual bungee trampoline experience.  After being hooked up to bungee chords, you put on a virtual reality visor and explore a virtual world while bouncing up and down on a giant trampoline!
There are three different games to try, including being transported to another time and planet to bounce over moon craters or compete in intergalactic games. The out-of-this-world experience is for guests of all ages, and also can be enjoyed without virtual reality headsets, for those who prefer to look out over the ocean as they leap toward the sky.
3. Plunge down the water slides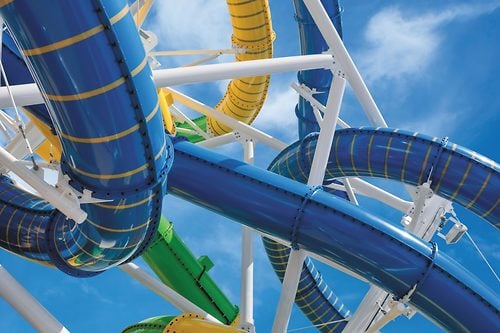 The Perfect Storm is a duo of racing water slides called Cyclone and Typhoon that are a very popular option for many to enjoy high-speed thrills. 
4. Watch the Crazy Quest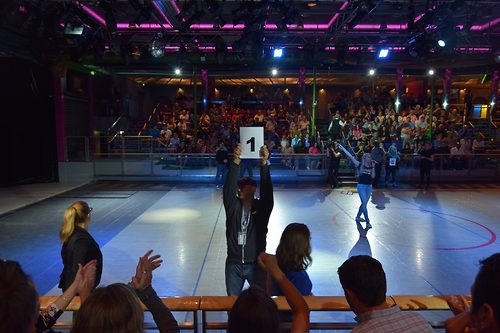 For the adults only, make plans to watch the Crazy Quest on your cruise.  Assuming you have a good sense of humor, the Crazy Quest is an adult scavenger hunt that involves guests going to great lengths to complete a number of physical challenges.
Having seen the Quest many times, it is safe to say no two Crazy Quest shows are the same and there is no telling exactly what you will witness.  It is wild, intense and provides some great late-night entertainment.
5. Go surfing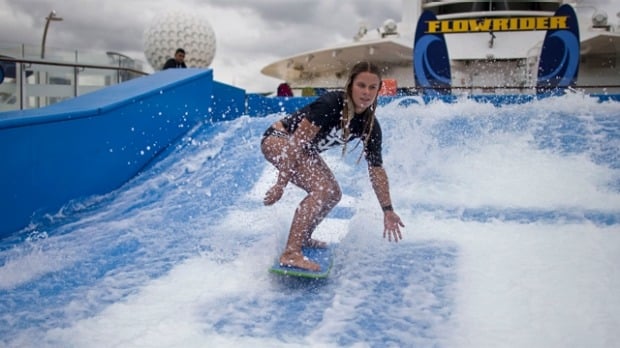 If you ever wanted to learn to surf, Mariner of the Seas has a Flowrider surf simulator on the back of the ship you can try. The FlowRider is a simulator that sends water a very high speed across a small area that mimics what it is like to surf on the ocean.
Guests can surf until they fall off the board, but the staff is pretty good at challenging the talented guests in an effort to improve their skills and increase the likelihood of falling off.
6. Challenge your friends to laser tag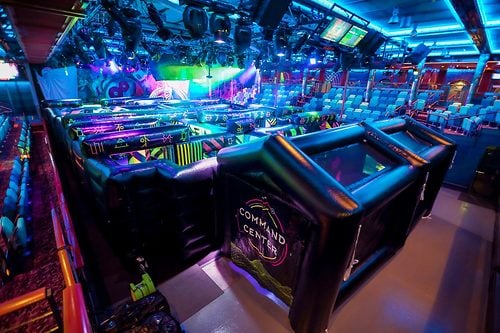 A recent addition to Mariner of the Seas is a glow-in-the-dark laser tag experience in Studio B, where friends and family can team up to play "Battle for Planet Z."
7. Climb to the top of the wall
A signature Royal Caribbean activity is the rock climbing wall. Located at the back of the ship, you can try climbing to the top of the wall and ringing a bell before rappelling down.
This is a great personal challenge that also has the added benefit of providing some fantastic views of the ocean from 200 feet above the ocean. Don't worry about safety, because you are harnessed in at all times.
8. Hit the mini-golf course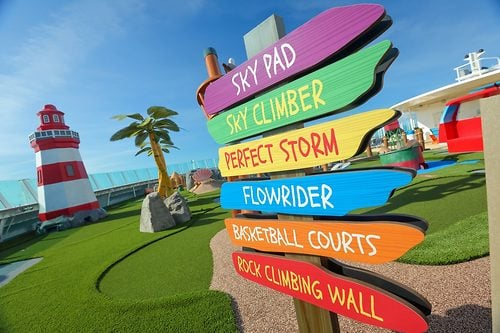 Families will love the updated mini-golf course at the front of the ship. Mariner Dunes on Deck 13 allows for as many rounds of complimentary golf as you like.
It is a creative course, with plenty of obstacles and even faux water hazards!
9. Eat ice cream!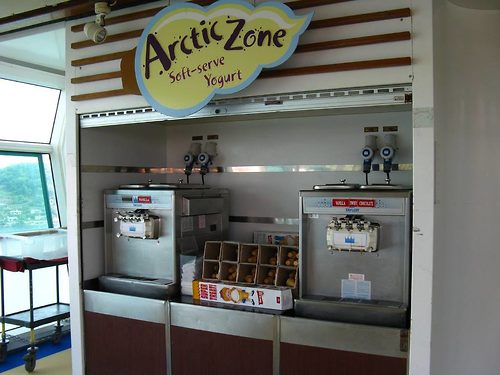 Did you know there is a self-serve ice cream station at the pool deck with unlimited soft serve ice cream? Grab a cone at your leisure, because very likely you will be having quite a few of these on your cruise.
10. Check out the ice skating show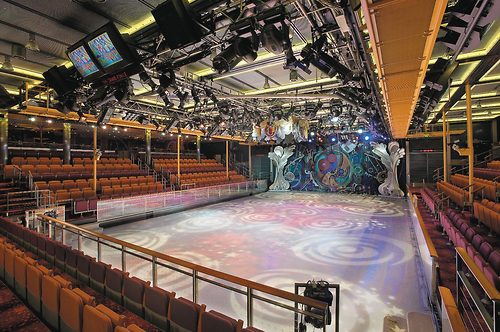 Studio B is home to one of the production shows on Mariner of the Seas, "Ice Under The Big Top" and is a must-see show.
This ice skating performance combines acrobatics, skill and finesse to bring guests an engaging show. Ice skating shows on Royal Caribbean are well-worth seeing, so be sure to arrive to Studio B at least 15-20 minutes early to grab a seat.
11. Catch a game at Playmakers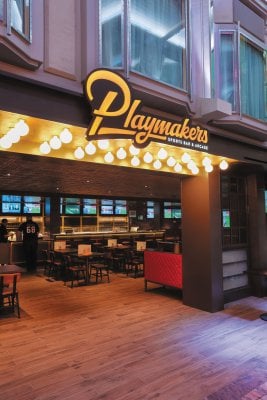 While Playmakers Sports Bar costs money to order food or drink, watching a game on one of their many television screens is totally complimentary.
Sports fans will love catching their favorite team playing on game day from the comfort of a table at Playmakers. Heck, you can play a round or two of Jenga or Connect Four in-between innings!
12. Join the party!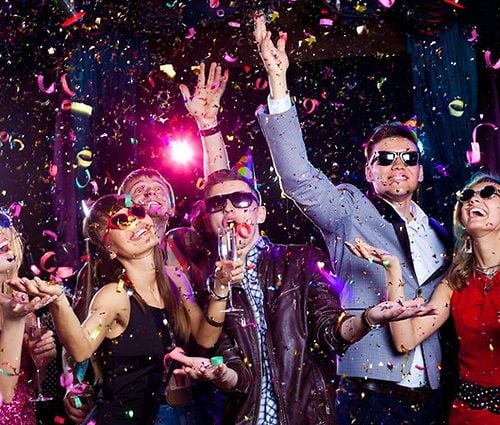 You will find deck parties galore on Mariner of the Seas.  From the 70's Dancing in the Street Party, to the Hush! Silent Party, to the sail away parties, there are many opportunities to dance the night away.
13. Catch a movie by the pool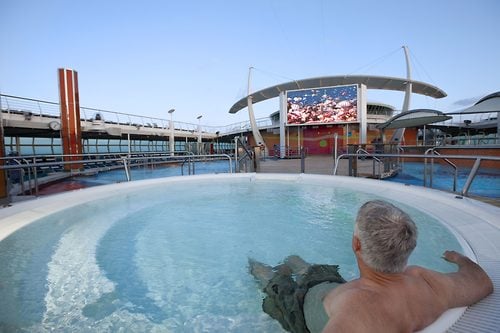 What is better than seeing a recent blockbuster film? How about while swimming in a pool!
A 220-square foot movie screen is located at the pool deck, and there are movies each night to enjoy either from in a pool or hot tub, or just from one of the lounge chairs nearby.
14. Play in a game show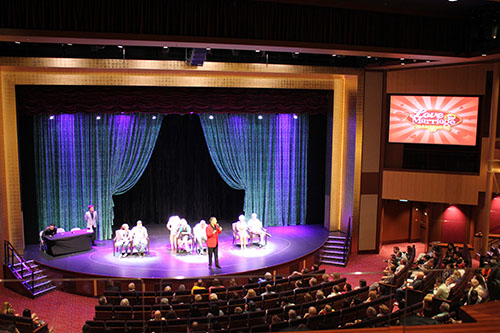 If you are the competitive type, or just enjoy watching others try their best, then catch one of the many games shows onboard.
Finish That Lyric game show: Guests listen to a bit of a popular song and then must fill in the lyrics that come next once the music stops.
X versus Y game show: It is the battle of the sexes type game show, which pits men versus women in an adult-oriented contest.
Love and Marriage game show: See which married couple knows their spouse best in a test of memory and compatibility.
15. Belly Flop Competition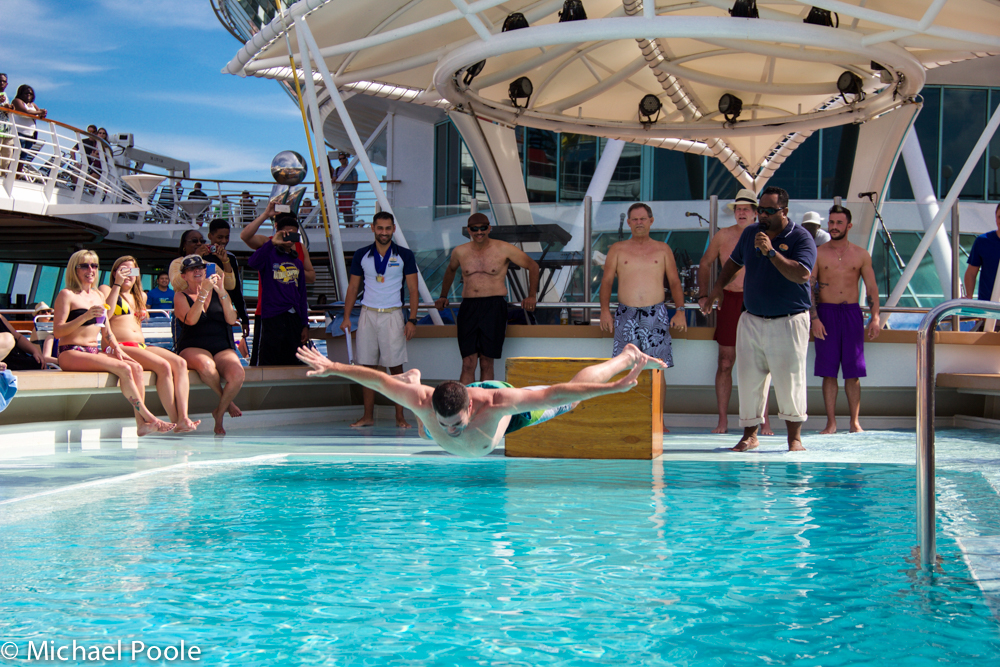 Humans naturally drawn to see who is the best at anything, including who can make the biggest splash in the pool.  This popular contest is something you have to see to believe.
What is your favorite thing to do on Mariner of the Seas? Have you sailed and tried one of these? Share with us your top picks in the comments below!