In:
Mariner of the Seas has quickly become one of Royal Caribbean's most popular cruise ships, thanks to a $120 million refurbishment in 2018 that amped the ship up with new thrills, restaurants, staterooms and entertainment.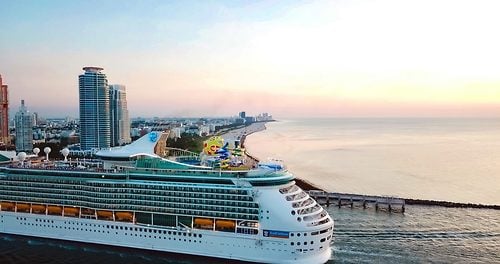 There is a lot to love about this ship, and we are sharing out top must-do tips for going on a Mariner of the Seas cruise.
Don't miss the signature activities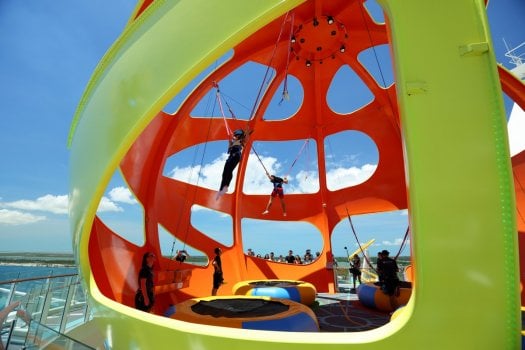 A big component of the ship's refurbishment was to add new thrills and activities onboard the ship, and you have to make time to check them all out on your sailing.
We begin with the Sky Pad, a gravity-defying bungee trampoline experience amped up with virtual reality.  Royal Caribbean took the idea of a bungee trampoline, and infused it with a few different augmented reality options to offer guests a really fun experience.
The FlowRider surf simulator has become a staple of fun on many Royal Caribbean ships. and Mariner of the Seas now offers one as well. The 40-foot-long surf simulator allows guests to try their hand at surfing or boogie boarding.  Or you can take a seat in the bleachers and watch other guests give it a shot.
Families are sure to love the new Perfect Storm water slides on Mariner of the Seas. A thrilling pair of three-story-high racer water slides called Cyclone and Typhoon beckon to be ridden again and again and again.
Get a drink in the Bamboo Room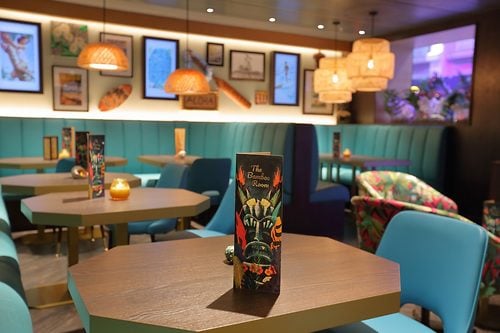 Lounges are not new to Royal Caribbean, but the cruise line hit a homerun with the Bamboo Room lounge.  It is the first in Royal Caribbean's fleet and offers a laidback Polynesian throwback vibe, featuring kitschy-cool craft cocktails like the Island Old Fashioned and Tiki Tea.
What makes the Bamboo Room so darn cool is the combination of decor, great menu, and fun times.  When you are looking for a spot to grab a few drinks, the Bamboo Room is a must-visit place.
Book a panoramic stateroom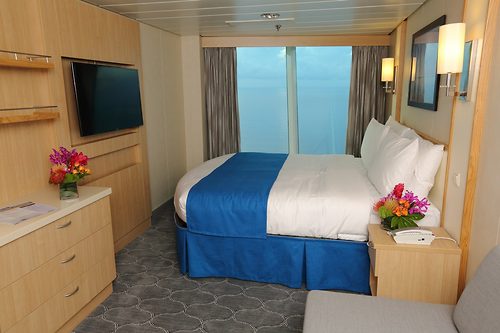 If you are eyeing going on Mariner of the Seas, be sure to price out one of the newly added Panoramic staterooms. 
The Panoramic Ocean View Stateroom gives much more of a view than a traditional oceanview room, with a floor to ceiling wrap around panoramic window that is 76 inches high by 103-321 inches wide.  That is a big window.
As you might imagine, the reason to book a stateroom like this is for the amazing views without the balcony view price.  
Perfect Day at CocoCay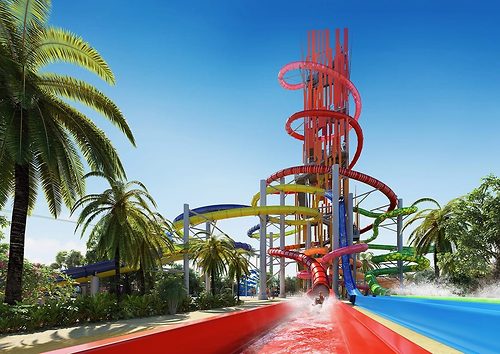 Royal Caribbean moved Mariner of the Seas back to the United States in 2018 to offer short 3- and 4-night sailings, and that means every cruise visits the cruise line's private destination of CocoCay.
Beginning May 2019, Mariner will sail to the new Perfect Day at CocoCay, the first destination in Royal Caribbean's recently announced collection of private island experiences around the world. This means CocoCay will offer a new water park, pool, zipline, private enclaves, new dining opportunities and more.  Perfect Day at CocoCay is sure to be a hit with families, and Mariner of the Seas can take you there on every sailing.
Try a specialty restaurant (or two)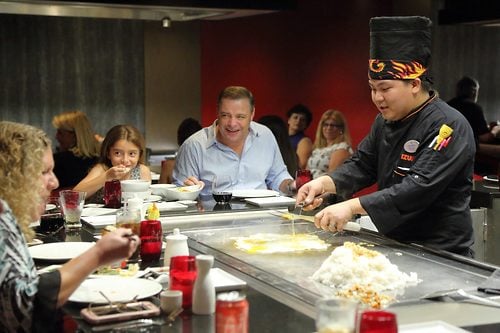 In addition to the new thrills added to Mariner of the Seas, the ship offers some terrific specialty dining venues that should not be missed.
One of our favorite specialty dining options on any ship is Izumi Hibachi and Sushi, which is Asian-inspired dining featuring hibachi, sushi and sashimi and more.  A hibachi meal is fun for the whole family, and offers authentic flavors, the freshest ingredients and impeccable presentation.
Jamie's Italian serves fresh, handmade and rustic Italian fare by Chef Jamie Oliver, one of Britain's most famous chefs. Jamie's Italian was created by Jamie Oliver because of all the types of food to choose from, he loves Italian the most. In terms of this restaurant's theory, Jamie designed the menu to strip food down to its essence, working with simple, quality ingredients with no pretense or ego.
Chops Grille has become a staple of Royal Caribbean dining and it is a restaurant guests come back to time and time again because they really enjoy everything about the experience. Steak cooked to order, along with an array of complimentary side dishes and excellent appetizers make for a truly compelling choice for dinner any night of the cruise.
Your thoughts
What is your favorite thing about Mariner of the Seas?  Is it on our list or do you have something you think is worth the cruise fare alone? Tell us about in this blog post's comments!