In:
Royal Caribbean has begun notifying guests sailing on upcoming Mariner of the Seas sailings that their cruise will make use of the brand new cruise terminal the cruise has built in PortMiami.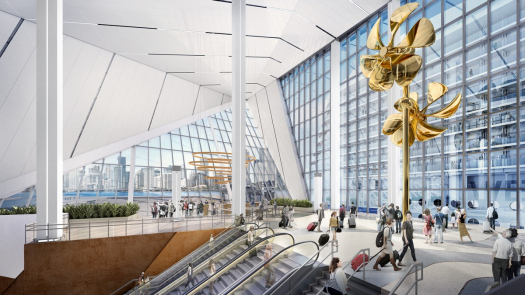 Terminal A is a brand new, state-of-the-art cruise terminal and the October 26, 2018 Mariner of the Seas sailing will make use of the port when she returns to Miami. The cruise will begin from Terminal G, but return to Terminal A.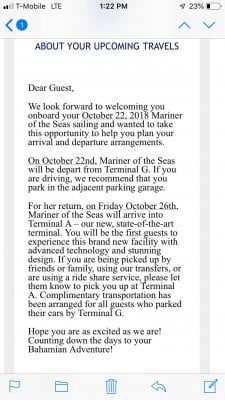 Thanks to Nancy Ritter for sharing this screenshot.
The terminal will feature stunning architecture, a new boarding experience, and an impressive gold propellor that is 15,000 lbs. and 56 ft. tall. Terminal A was designed to accommodate the passengers of two of the world's largest ships, the new Symphony of the Seas and her sister, Allure of the Seas. 
Guests sailing on other Mariner of the Seas sailings received emails informing them that they too will be cruising to and from the new terminal.

Thanks to Frank for providing this email
A grand opening ceremony is scheduled for November 2nd, 2018 that will formally open the the new terminal to the public.