In:
In recent years, Royal Caribbean has begun offering water slides on select Royal Caribbean ships and that has a lot of families excited to race down them.
If you are wondering which Royal Caribbean ships offer water slides and what types of slides are offered, here is an overview of everything you need to know.
Which ships have water slides?
While Royal Caribbean has been adding water slides to existing and new new ships, much of the fleet still does not have them yet.  Here is a list of which Royal Caribbean ships do offer water slides onboard.
Liberty of the Seas
Adventure of the Seas
Harmony of the Seas
Symphony of the Seas
Independence of the Seas
Mariner of the Seas
Navigator of the Seas
Oasis of the Seas
Freedom of the Seas
Royal Caribbean's Radiance Class ships offer a single water slide for children on the back of the ship that is meant for younger kids. This includes
Radiance of the Seas
Serenade of the Seas
Brilliance of the Seas
Jewel of the Seas
Majesty of the Seas does not have a full water slide, but its Splashaway Bay area (children's aquatic park) has a small water slide for kids to enjoy.
Types of water slides on Royal Caribbean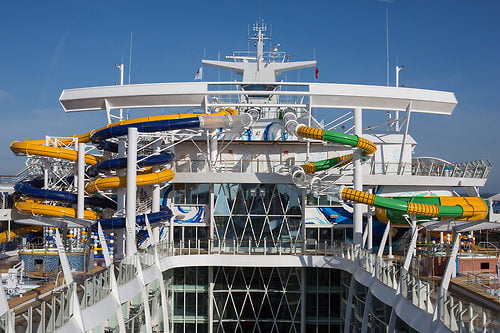 The most common type of water slide is something Royal Caribbean refers to as The Perfect Storm slides.  This is typically two racer water slides that intertwine and offer a fast-paced plunge down.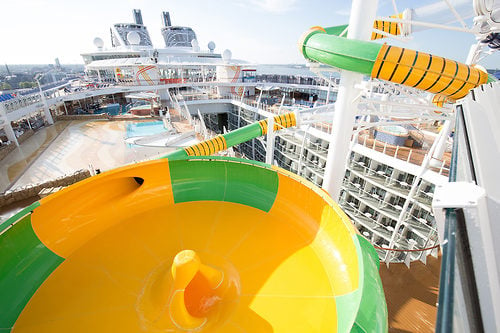 In addition to the racer slides, Harmony of the Seas and Symphony of the Seas offer a champagne bowl slide known as "Supercell".  This slide starts off as a typical water slide, but guests enter a large bowl area, where they can loop around a few times before exiting the slide.
Liberty of the Seas is the only ship in the fleet to offer the Tidal Wave slide, which is a boomerang style raft slide.
Navigator of the Seas also has a unique assortment of water slides.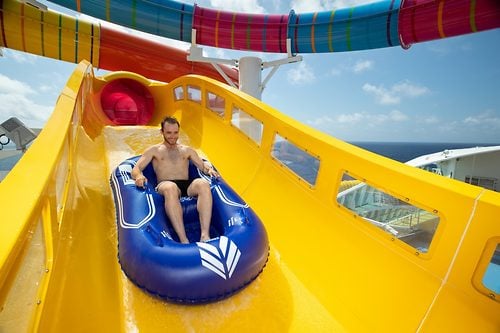 The Blaster, the cruise line's first-ever aqua coaster and the longest waterslide at sea, is a two-person raft that propels riders through more than 800 feet of hills, drops and straightaways, which includes extending over the side of the ship for a rush of ocean air.
Riptide offers a headfirst plunge down the industry's only headfirst mat racer and reach an exhilarating finish through a translucent tube with endless ocean views.
As mentioned earlier, Radiance Class ships offer a small water slide for younger children that includes a small splash area at the end.
Water slide restrictions
In order to ride any of Royal Caribbean's water slides, there are a few restrictions you should be aware of to ensure you can ride.
The Tidal Wave slide on Liberty of the Seas has a max per passenger weight of 250 pounds, and a combined raft weight of 450 pounds.  Guests need to be at least 100 pounds and 52 inches tall to ride.
The Perfect Storm water slides require guests to be 48 inches tall to ride.  There are weight maximums as well, which seem to vary depending on the ship.  On Liberty of the Seas, guests may weigh a maximum of 300 pounds. On Adventure of the Seas, guests may not weigh more than 250 and 220 pounds (depending on the slide).
Splashaway Bay's water slides require kids to be at least 42 inches to ride.
On Radiance Class ships, children under the height 46 inches must be accompanied by an adult.
Royal Caribbean water slide cost
Guests may enjoy all of the water slides across Royal Caribbean's fleet of ships without any additional cost.
Labadee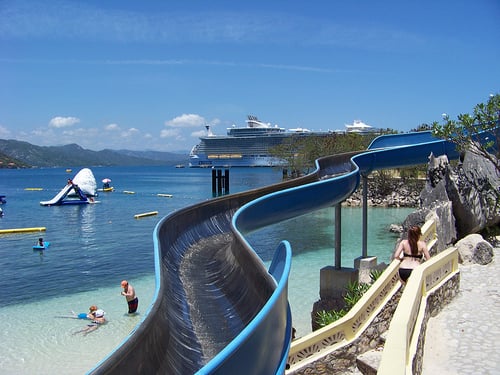 Labadee, Royal Caribbean's private destination in Haiti, offers guests the opportunity to race down the Dragon's Splash Waterslide.  It features a 300-foot slide that drops you into a 18-foot splash zone.
This slide has an additional cost to it, where you can purchase a single ride down the slide or an all day pass.
Perfect Day at CocoCay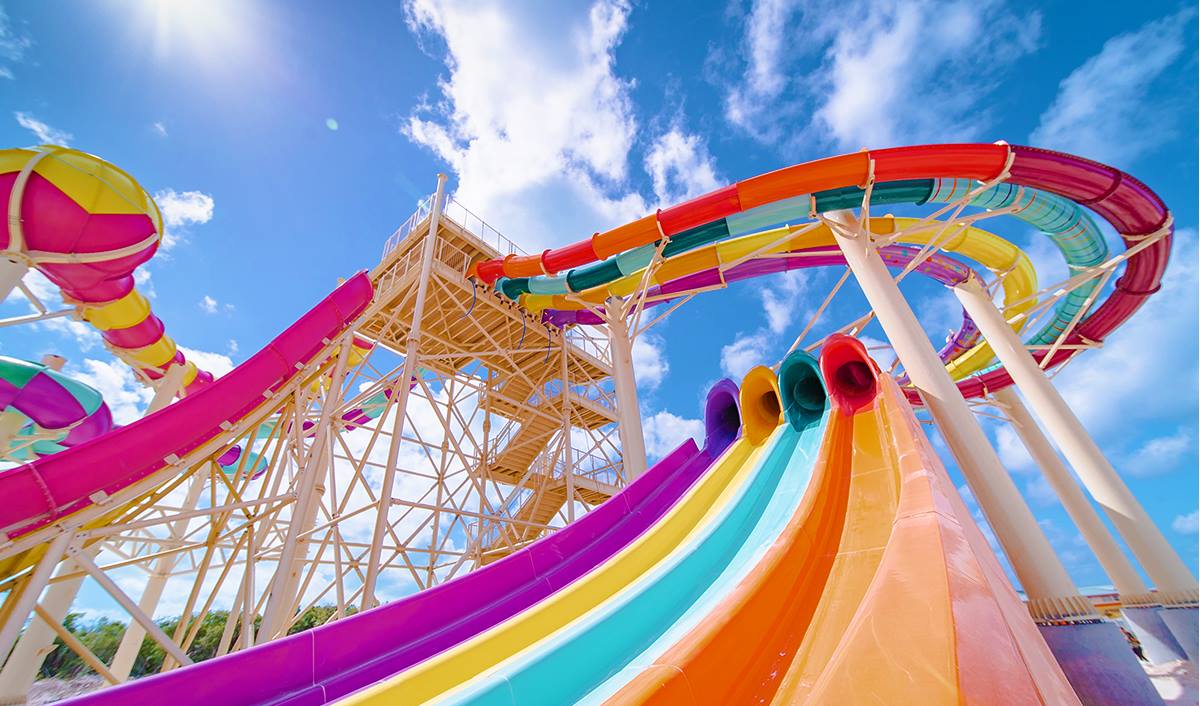 Royal Caribbean's Perfect Day at CocoCay includes Thrill Waterpark, where for an additional fee, guests can enjoy a wide variety of water slides.
There are 13 slides in total (with five kid-size water slides), which is the most slides found in any waterpark in the Caribbean.
Key features of the Thrill Waterpark include:
Daredevil's Tower – Guests will push their limits on seven exhilarating slides, including twin Dueling Demons drop slides and the duo of Manta Raycers; the high-speed, fully vertical Screeching Serpent; the coiling Green Mamba; and the 135-foot-tall Daredevil's Peak – the tallest waterslide in North America.
Family Tower – Adventurous squads will share the thrill with six multi-rider slides, including The Twister, a winding tube slide for two sharing a raft; The Slingshot, a zero-gravity slide for four; and the four-lane Splash Speedway racing slides.
Water slides tips and tricks
Try to ride them in the morning or evening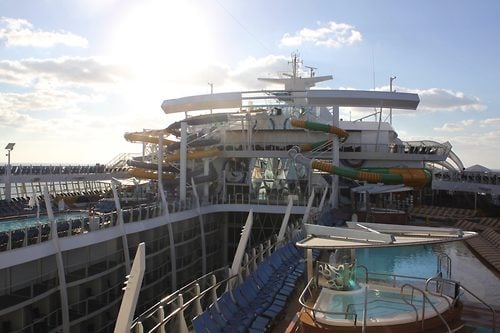 Lines for the water slides are to be expected, but you can beat the crowds if you are flexible in your time. Check the Cruise Compass for exact times of operation, but try to ride the water slides in the morning when they first open and/or in the evening when many guests are having dinner.
Both of these times will result in much shorter lines.  The late-morning and afternoon are the peak times for the water slides, so expect a longer wait if you want to ride during those times.
How to go fast(er)
On the racer slides, if you have a need for speed, here is how to go down the fastest.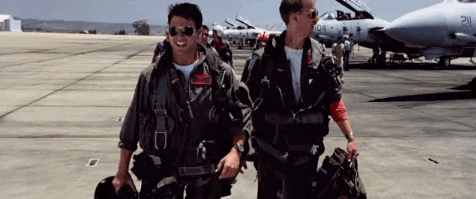 The secret to going down the racer slides the fastest is to wear as little clothing as possible. Clothing means friction between you and the slide. Rash guards, t-shirts and "ornate" bathing suits are all the kind of swim wear that will slow you down.
Regardless of what you may think of them, Speedo swimsuits for men are the ideal bathing suit for attaining top speed on the racer water slides.
Of course, be sure to cross your arms and and legs to get maximum velocity.