In:
I can't think of any restaurant openings on a Royal Caribbean ship I was looking forward to more than Wonderland.  Ever since I saw a preview of it at the Quantum of the Seas dining reveal earlier in the year, the concept fascinated me.
When the opportunity to check out this new restaurant on Quantum of the Seas came to me, I jumped at the chance with great enthusiasm.
Part of the Dynamic Dining endeavor, Wonderland is open for dinner and here's my first hand look through the looking glass at this new dining concept.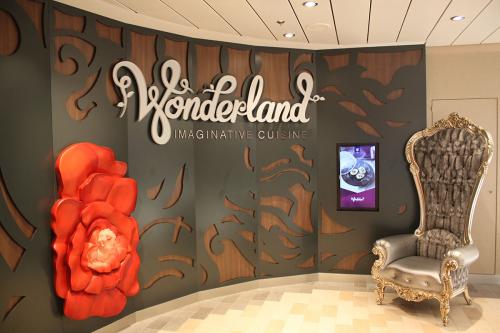 Atmosphere
Wonderland is a brand new specialty restaurant on Royal Caribbean's Quantum of the Seas that hass loosely based its decor and atmosphere after the Alice in Wonderland tales.
Located on deck 5 on the upper deck of the Royal Esplanade, Wonderland is hard to miss given its location and over-the-top decor.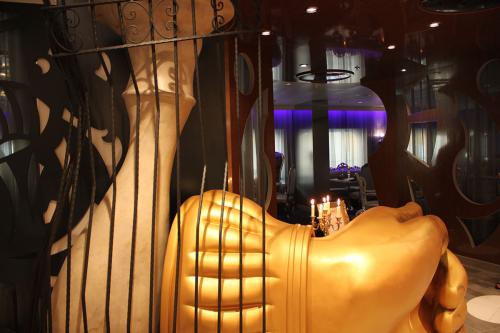 Outside you will find odd props and statues that look like they are fresh off a movie set.   Inside, you will find an intimate space filled with chairs that don't match any other chair at the table, chandeliers, candelabras and glasses and cups that are so bizzare if you saw it in a store, you'd wonder who would actually buy that.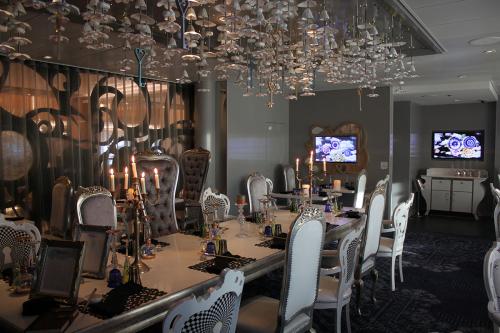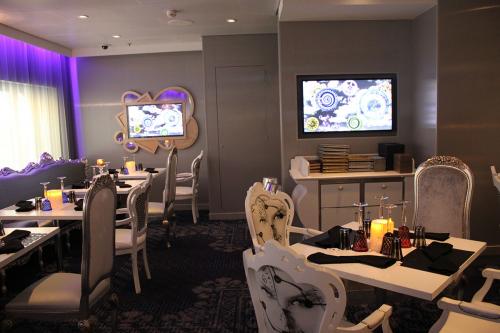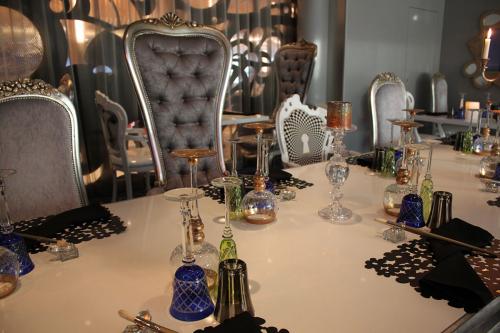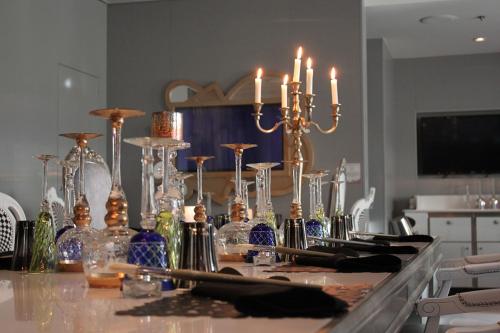 The restaurant feels like it's straight out of the scene from the 1951 Disney film, where the Mad Hatter invites Alice to tea.  Essentially, the restaurant is purposefully designed to evoke a "I don't know what to expect" reaction from its guests.
The servers in the restaurant all dress the part too, with velvet jackets and multi-colored outfits.  
Eats
The slogan for Wonderland is, "imaginative cuisine" and you will quickly discover why when you dine here.
As you are seated, each person is given an easel with a blank menu and a paintbrush.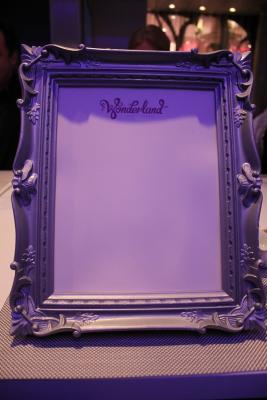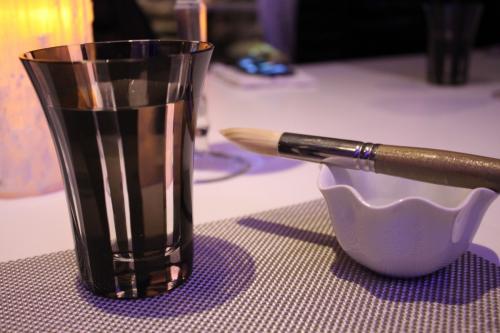 The waiter instructs you to dip the paintbrush in water and then paint the canvas with your brush to reveal your menu.  As you paint, the menu appears magically and you can see what's offered.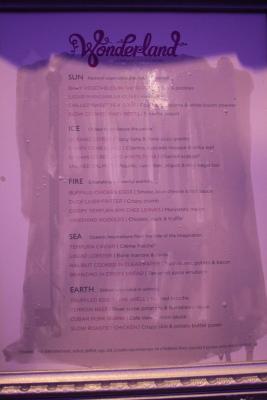 The menu isn't conventional either.  You will find the menu divided up by elements (sun, ice, fire, sea and earth) and pretty much everything on the menu is not something you would ever have seen on a menu at home.  
Most of the menu items are what I'd consider appropriate for adventurous eaters.  As you will see later, the food served isn't crazy by any means but it's not burgers and pasta either.
We dined in a group of nine and the waiter suggested ordering for us and we agreed.  Looking at the menu, it was tough to really know what we were ordering so why not just try a little of everything?
Appetizers came out first and each appetizer was served with a different pizzazz than the last.  Buffalo chicken eggs, slow cooked baby beets, liquid manzanilla olives are just a few of what we ate and I can't say any are my favorite new dishes but seeing them and then trying them was an adventure in of itself.
The two appetizers that surprised me were the beets and hard boiled eggs. If asked, I'd say I don't care for either but at Wonderland they were impressive and tasty.  
The entrees did not disappoint either.  Most of the servings are on the small side, so you should order multiple entrees and appetizers per person to be safe.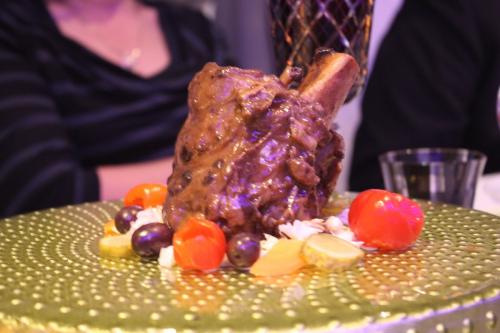 My favorite was the terroir beef, which I believe was one of the best slow-cooked beef dishes I've ever had (sorry mom)!  The halibut was quite good too and everyone else at the table really liked the Cuban pork shank.
Wonderland's desserts were truly wonderful and we all sampled a little of everything.  The yogurt pops and baked Alaska were the kind of desserts I'd have if the Earth was about to explode and I didn't care about gaining weight.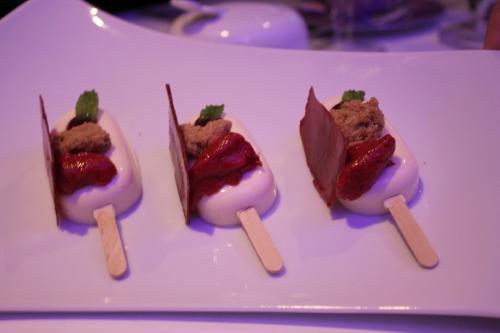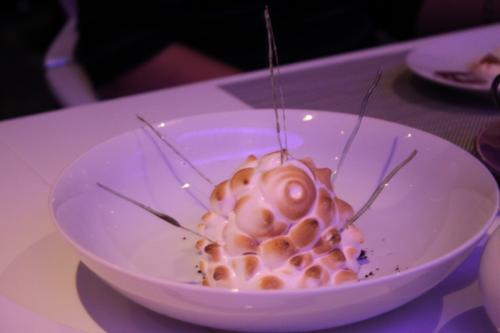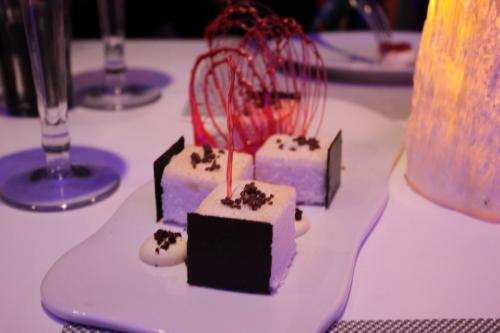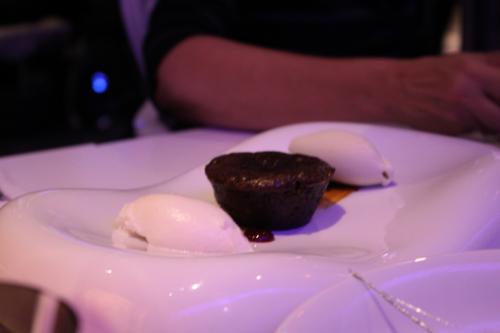 Overall
Eating at Wonderland was a great experience because of how odd the place is from a decor and presentation standpoint.  The food was good, maybe not the best I've ever eaten on a Royal Caribbean cruise, but definitely met my expectations.
I think Wonderland is the kind of restaurant you have to experience for yourself at least once.  I'm not sure it will become the kind of restaurant like Chops Grill or Izumi, where I'd want to dine there multiple times per sailing.  
I love the concept of Wonderland and I think it will resonate with cruisers who want to try something different.  If you are cruising in a group, this is definitely the place to go and I'd advise sharing everything to sample it all.  I can definitely say it's a one-of-a-kind experience.
Wonderland is open for dinner and we reviewed Wonderland aboard Quantum of the Seas.