Restaurant Review: Silk on Quantum of the Seas
In:
Dining aboard Royal Caribbean's Quantum of the Seas, you will likely have an evening at the ship's Pan-Asian complimentary restaurant Silk.
I dined at Silk last year during the ship's inaugural events and was disappointed in the food overall but in the months since then, Royal Caribbean has updated the menu (and the service) and we decided to give it another try.
Atmosphere
You will find Silk on deck 4 of Quantum of the Seas in the aft section.  Entering the restaurant, it has perhaps the most interesting decor of the complimentary restaurants available on Quantum of the Seas.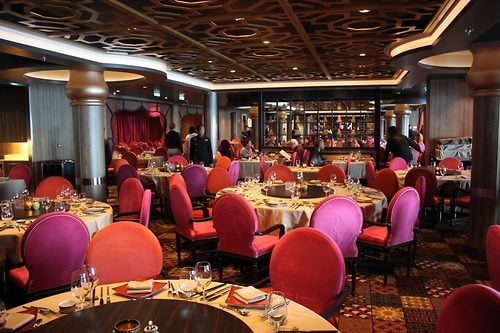 Instantly, you will get the sense this restaurant has Asian inspirations and it certainly feels the part.
Inside Silk, you will find elaborate arches, patterns and colors that all look like they could be out of Bangkok, Delhi or Shanghai.  In terms of the theming you will find in any of the complimentary restaurants, I really enjoy Silk's decor the most.
The layout of the restaurant is similar to the other complimentary restaurants, with a large room in the center with various alcoves of tables surrounding the main room.  There's also windows that look out to the ocean on one side of the restaurant.
Eats
Silk's new menu offers a lot more choices than the original menu and it's once again a mixture of dishes from Vietnam Thailand, India and China primarily. 
The menu also offers a few generic dishes that you will find at all the complimentary restaurants, such as grilled chicken breast, pasta primavera and salmon.  None of these are Asian, they are just the "fallback" menu choices that are always available every night, similar to the main dining room menu on other Royal Caribbean ships.
There's no breads to start off with so you can jump right into appetizers.  Most tables in Silk offer a lazy susan serving table that encourage guests to share dishes between your table mates.  Our table near the window did not have one of these but odds are your appetizers will be served on the lazy susan.
To start off, I went with the spring rolls.  Simple, yet the kind of food that is perfect for an Asian meal.  They were a lot like any other spring roll I've ever had, so neither bad nor great.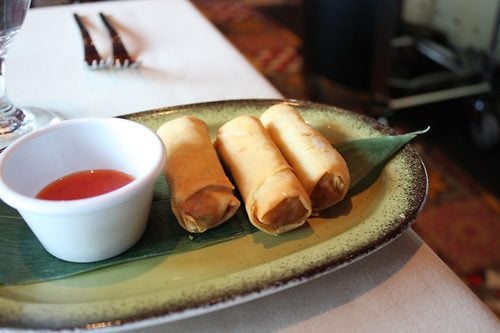 There are a lot of appetizers to choose from but I was looking for a light meal today so I saved my stretchy pants functionality for the entrees.
For dinner I doubled down on Indian food, which is my favorite cuisine.  I ordered the chicken tikka masala and the vegetable curry.  
The chicken tikka masala was the same dish I ordered last year and it's still the same dish now.  A few chunks of white chicken meat in an orange sauce, served with jasmine rice.  
The chicken was good but nothing special.  Moreover, it lacked any spice that is typical of Indian dishes.
The vegetable curry came next and once again, it lacked any spice or distinguishing flavor.  I'm guessing Royal Caribbean wants to avoid spicy dishes for fear no one will order them (most Americans seem not to enjoy spicy ethnic foods).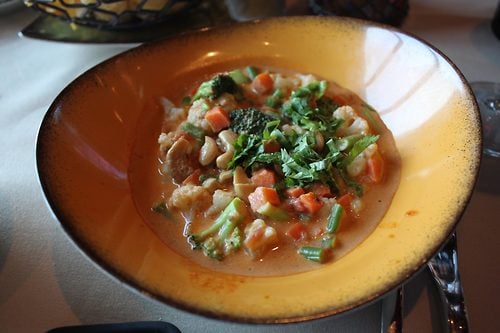 My table mates opted to go with Chinese and Thai dishes and they reported their food had better reviews than what I ordered. 
For dessert, I went with plain old strawberry ice cream. No disappointment here!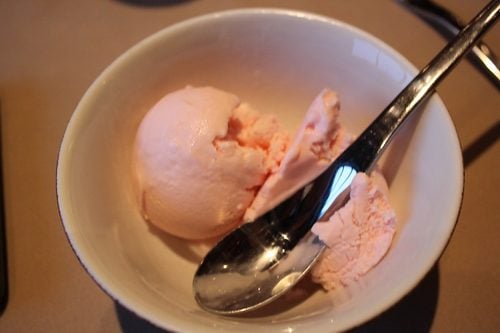 Overall
Unfortunately, I had another disappointing meal at Silk but I would say it was only disappointing because I ordered poorly.  
The people I dined with and others on the ship that ordered other dishes seemed to enjoy their Silk experience more than I did, which is encouraging.  If I were to go back to Silk again, I would skip the Indian dishes and go with the Chinese or Thai choices.
I get the sense the menu update has made Silk a better restaurant but its menu still has some pitfalls.  Since you can order as much as you like at Silk, I would recommend ordered one of everything for the table and sampling to see what you like best. 
Next time, I will stick with the Indian food in the Windjammer (which is quite delicious) and go a little further east for my dining choices.