In:
It is time to talk about a specialty restaurant that we have never reviewed before, Rita's Cantina on Royal Caribbean's Brilliance of the Seas.
Rita's Cantina is a Tex-Mex inspired restaurant that first launched on Allure of the Seas when she debuted and has since spread to a number of Royal Caribbean ships.
Before ever stepping foot into Rita's, I had read quite a number of reviews online and most guests seemed to have a negative view of Rita's, especially compared to Sabor Modern Mexican.
I try not to judge anything based purely on what I may read or hear about it, but I will admit I did lower my expectations considerably.  I assumed a meal at Rita's would not be similar to my amazing meals at Sabor, but I wanted to keep as open a mind as possible.
Once on Brilliance of the Seas, I made a point to stop in for lunch on one of our sea days.  Will it be a hit or miss? Time to find out!
Atmosphere
On Royal Caribbean's Brilliance of the Seas, Rita's Cantina is located on deck 11 behind the Windjammer on the port side of the ship.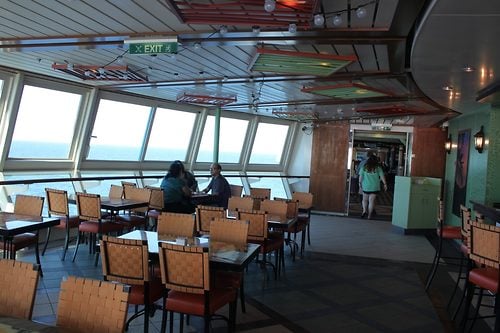 Rita's is a half open air restaurant, with covered seating and tables out in the open.  If you have eaten at Johnny Rockets on a Voyager or Freedom class ship, the seating arrangement is somewhat similar in that there is indoor and outdoor seating. 
On Brilliance of the Seas, although there is covered seating, there is no air conditioning (or heat) for the indoor portion, so you are still somewhat at the mercy of the weather conditions outdoors.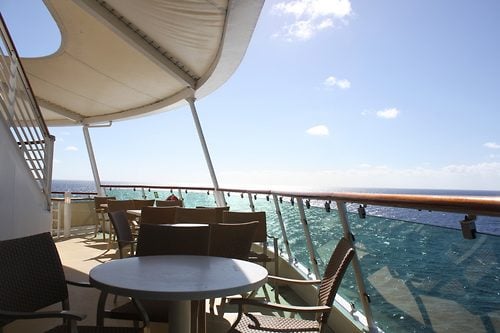 Regardless of if you are seating inside or outside, there are views of the ocean from everywhere, except the bar (although you could simply turn around to see the ocean).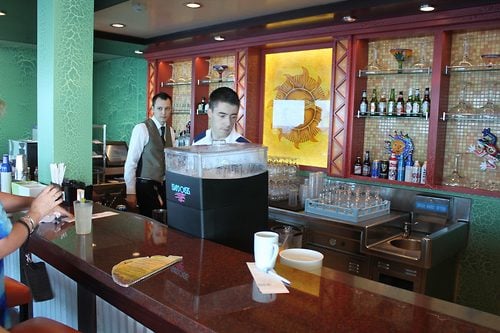 To describe the decor of Rita's Cantina, I would have to say there are hints of a Southwestern USA/Mexico motif with teals, dark reds and oranges.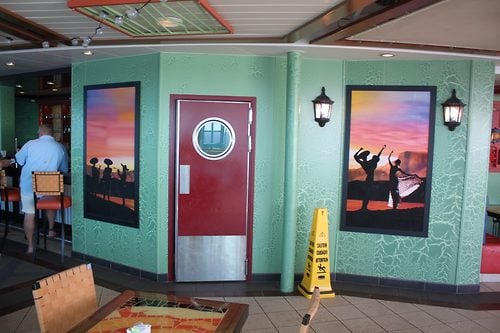 Much of the restaurant, however, is not very well themed and feels more like a table at the Windjammer than a typical Royal Caribbean specialty restaurant.
After I scoped out the restaurant for a bit, it was time to dig into lunch.  Let's check out the menus!
Eats
For my meal at Rita's Cantina, I wanted to sample a little of everything that I could to get a sense of what Rita's really offers.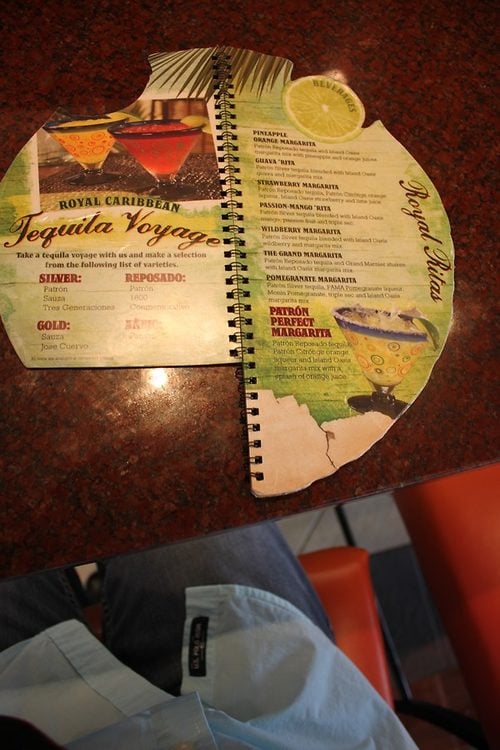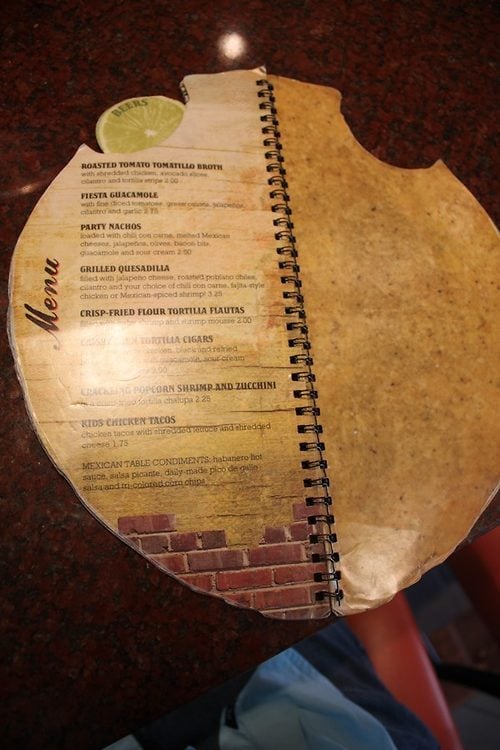 The first thing I noticed about the menu at Rita's Cantina is that while you could have a meal here, the menu really leans more towards being a restaurant that offers a lot of drinks and some snacks and light fare to go along with the drinks.
There is quite a selection of margaritas available, served on the rocks or frozen.
If mixed drinks or beer are your thing, then there is plenty to choose from as well.  Certainly. no one can complain about there not being a good selection of alcohol at Rita's Cantina.
The food menu is fairly limited, with just eight items listed.
The one thing I did notice immediately about Rita's Cantina menu are the prices.  Everything is incredibly inexpensive.  Most items are about $2-3 each.  That is dirt cheap.
I asked my waiter for a recommendation for a margarita and he pointed me towards the Pineapple Orange Margarita.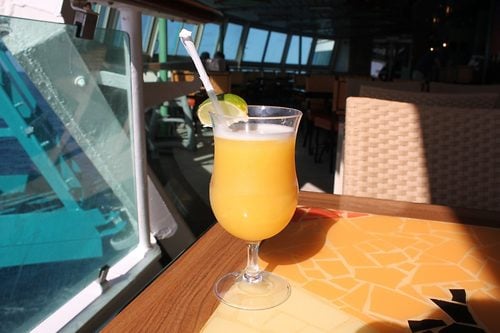 I opted for frozen and it was served in a rather large cup.
The margarita was fine, neither the best I have ever had nor the worst.  I prefer my margaritas to have more tequila than what I was served, but not the end of the world.
For my food, I ordered the roasted tomatillo broth, fiesta guacamole, chips & salsa and a grilled Quesadilla.  I figured that would be a good assortment of food to consider.
Service was a bit slower than I expected, but not because of my waiter.  The restaurant was not that busy, so at least I could tell the food was not just sitting around.
First up was the chips and salsa.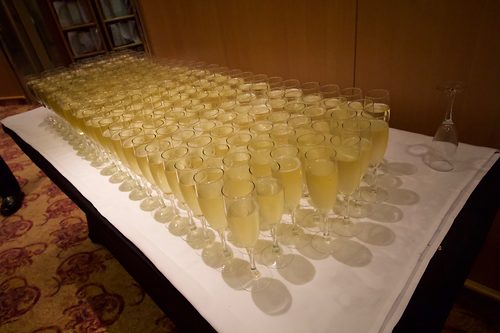 The salsa was more of a pico de gallo, and I really enjoyed it.  We had just been in Cozumel, Mexico the day before, so I had a pretty good idea of what good salsa is and this was freshly made.  I could snack on this any day.  The chips were certainly out of a bag.
Next came the guacamole.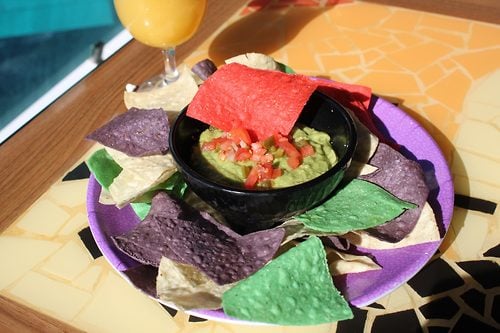 This guacamole was, well, awful.  The consistency was too watery and it was really bland.  I hate to say it, but I have had far better guacamole out of a jar from my local supermarket.  
Luckily, the tomatillo soup came out next and it was a welcome distraction from the guacamole.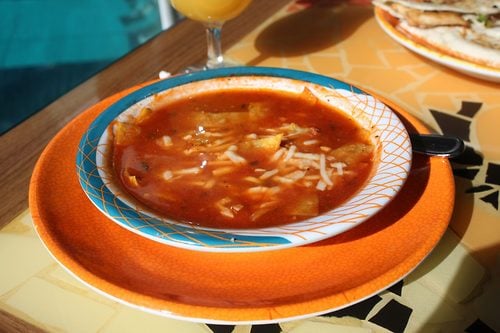 The soup was more of a tortilla soup than anything else and it was above average.  I certainly ate much more of the soup than I did the guacamole.
Last out was the chicken Quesadilla, which was served with sour cream and more guacamole.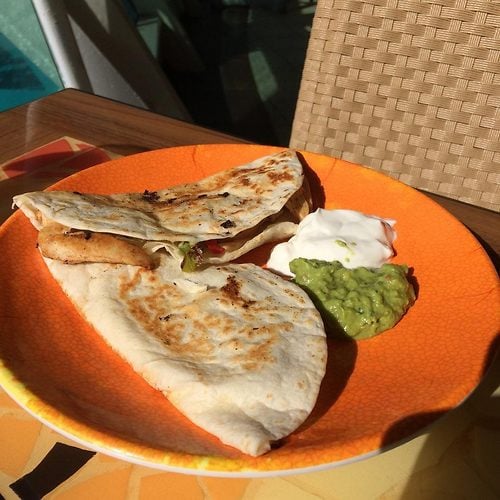 I sampled the guacamole that came with the Quesadilla to see if perhaps my first guac serving was a bad batch, but this too was inedible.
The Quesadilla itself was okay and lent itself to the comparison that most Quesadilla are just Mexican grilled cheese's.  I ate a good amount of it, but the Quesadilla was just okay.  
Overall
After hearing mixed reviews of Rita's Cantina for years, I did not know what to expect but after eating at Rita's Cantina, I now know why it has the reputation it has.
I have two takeaways from RIta's Cantina on Brilliance of the Seas:
The food is nothing special and tends to be more lackluster than anything else
The food is really, really inexpensive
I freely admit the food is not going to impress many, but when you consider the low prices (I spent about $8 for all my food), perhaps Rita's Cantina is not an awful value.
I see Rita's Cantina as not a restaurant for a meal, but rather a snack with a few drinks.  If you purchase one of the unlimited alcohol packages, I could easily see Rita's Cantina being a great spot to enjoy the benefits of the drink package with a plate of nachos and salsa.
The bottom line is Rita's Cantina will not be at the top of many guests' favorite restaurant lists, but I do like the low prices and ample selection of drinks available.
Have you dined at Rita's Cantina? What's your favorite dish on the menu?