In:
One of the stand out restaurants that are available on Royal Caribbean's Quantum of the Seas has to be Jamie's Italian.  This simple yet tasty take on Italian food by British celebrity chef Jamie Oliver brings a whole different Italian restaurant experience to Royal Caribbean.  
We're excited to share with you what Jamie's Italian offers and if you should give it a try on your cruise as well.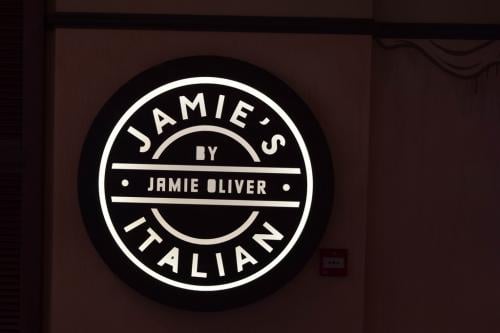 Atmosphere
Jamie's Italian is located in the Via section of the Royal Esplanade, close to Two70.  As you walk towards the restaurant, you will find an open air eatery that reminds you of a city sidewalk restaurant.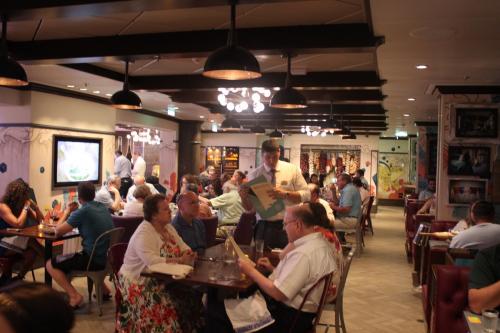 Once inside Jamie's Italian, you will find a restaurant that is simple in its look.  There's no traditional red and white checkerboard, Lady and the Tramp style tables either.  There's also not a hint of the formal look you may find in other Royal Caribbean specialty restaurants like Chops Grille or Portofino.
The tables and chairs are an assortment of different styles that almost look like the host called all of their friends to bring tables and chairs because the host did not have enough.  I'm not celebrity chef expert, but I do know that Jamie Oliver, the restaurant's namesake, purposefully makes his restaurants and food simple.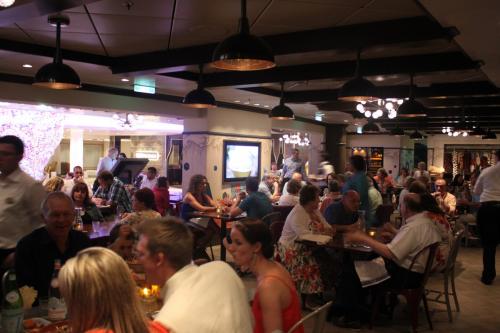 After a few minutes looking around, Jamie's Italian feels like you're eating in someone's (very large) kitchen.  Tables are located all around the restaurant and the waiters are wearing simple white shirts with jeans.  There are also televisions on the walls showing Jamie Oliver cooking his food and there's an eclectic mix of popular music that we are told Jamie himself listens to.
Sitting down, you will find the restaurant feels very different than most other specialty restaurants.  If not for Wonderland, Jamie's Italian would certainly be the most unconventional specialty restaurant I've ever dined at on a Royal Caribbean ship.
Eats
The food at Jamie's Italian is quite obviously Italian but like the decor, it's not just spaghetti, pizza and other traditional fare.  
One of the neat things Jamie's Italian does is it makes all of its pasta by hand, each day.  When our waiter told us that, I immediately reconsidered what I was going to order because hand-made pasta makes a big difference compared to the boxed stuff.
When you walk into the restaurant, you will likely see many other tables enjoying food served off of a giant wooden plank and there's a good reason for it.  Citing the famous cliche, when in Rome, do as the Romans do, we also ordered the plank.  There are two to choose from: cured meats and seasonal vegetables.
Regardless of which plank you order, the waiter will ask you how many people will be enjoying the plank.  We told him two people and we wanted the cured meats plank.  Soon thereafter, he came out with a generous sampling of meats and cheeses.  There's fennel salami, pistachio mortadella, prosciutto & schiacciata picante.  If antipasti is your thing, this will be heaven for you.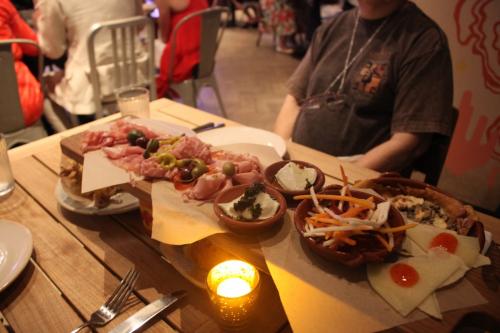 I also sampled the arincini margherita, which are tomato & mozzarella risotto rice balls with arrabbiata sauce & Parmesan.  Of all the appetizers I sampled, this was my favorite.  I loved the texture and the sauce it was served on top of had a bit of kick to it.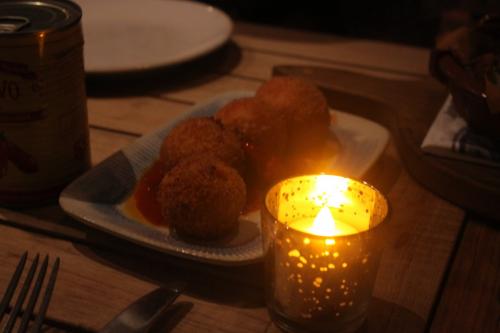 My table mates really liked the mushroom flatbread, which was definitely not pizza.  A mixture of fresh mushrooms and sprinkled cheese on top of a thin breading made for a great choice.  We realized about now that the appetizers alone were really, really good.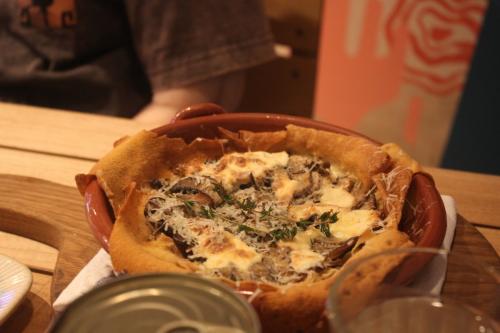 The crispy squid was exactly as the name implies.  My friend was the squid fan and reported it was quite good and definitely not chewy.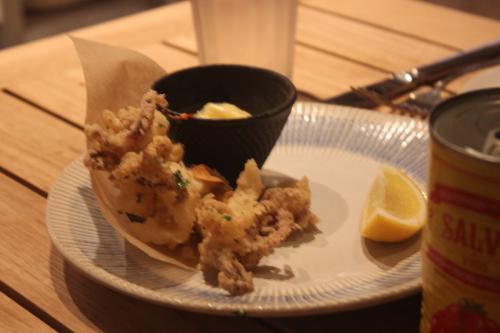 Perhaps the only disappointment of the meal was the Tuscan bean & single estate Italian olive oil bruschetta.  Ordinarilly, I love bruschetta but this was quite different than any bruschetta I've ever had.  It was cheesy (and not in a good way) and after one bite each, we all went back to our favorites.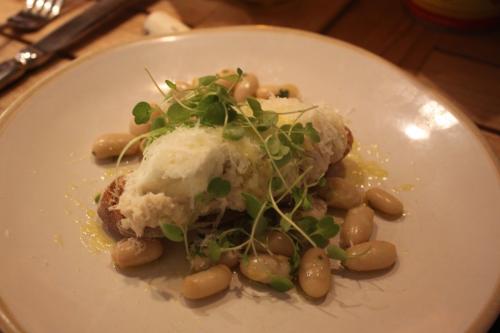 A quick side note, I noticed on other tables in the restaurant there were View Finders and asked our waiter why we did not get one.  He informed me it was for children to see what the food they are going to order looks like.  I kindly requested I too get a chance to see our food in faux 3D, 1980's glory and I recommend asking for one too just for the fun of it!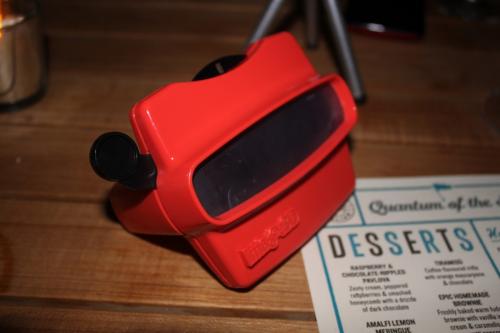 Moving onto the entrees, once I figured out what aubergine meant (it's another name for eggplant), I ordered the aubergine parmigana. It's essentially a stack of baked eggplant slices in a warm pool of tomato sauce topped with cheese.  
Eggplant parmigana is an Italian food classic and I enjoyed it quite a bit. Was it better than the eggplant parm from Giovanni's Table? I'm not ready to go that far.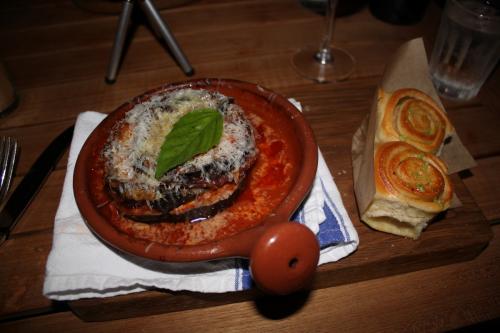 It is worth noting the freshly baked twisted garlic bread is really, really good and I recommend ordering an entire order of these just for your table to enjoy (or hoard them for yourself while giggling how good they are).
Earlier I had honed in on the fact their pasta was hand-made, so I ordered the penne pomodoro.  To most people, this is penne in a red sauce but again, the fresh pasta makes even a simple dish like this stand out.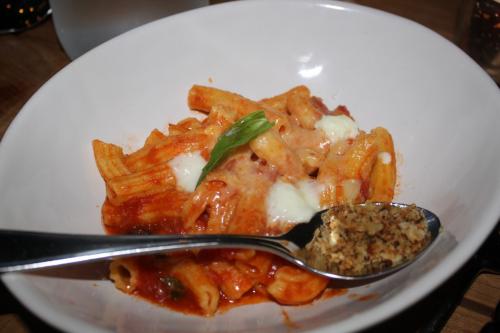 The baked lasagna was a real treat as well, with the blend of fresh pasta (notice a trend yet?), mozzarella and Parmesan cheeses and beef and pork.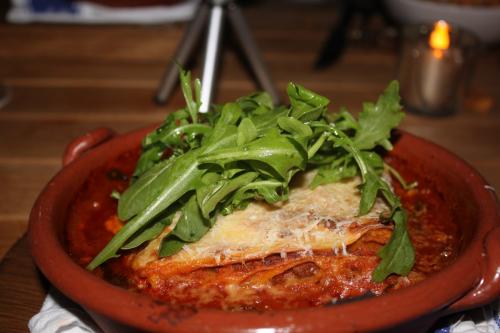 I'm no connoisseur of lamb but the lamb chops were also quite good.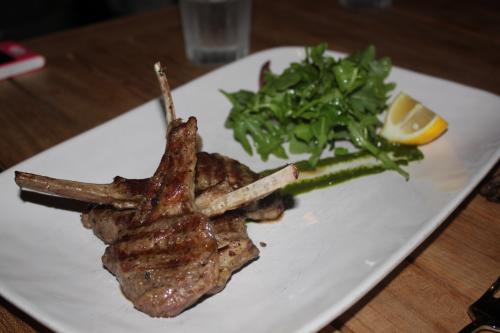 By now, we had been through a food war but our waiter insisted we try the desert.  Who am I to argue with a man in jeans?
There's a number of intriguing selections on the dessert menu but the one that caught my eye was the epic homemade brownie.  I mean, who can resist that kind of a title?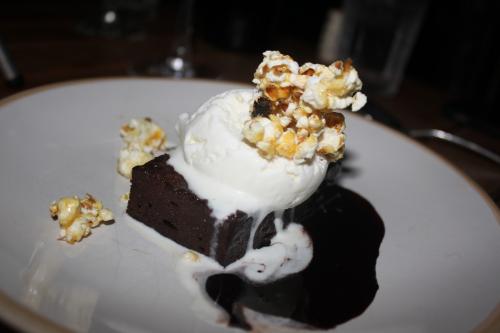 I can report that there is no case of false advertising here.  The epic homemade brownie was terrific.  What makes it epic?  There's a freshly baked warm fudgy brownie with vanilla ice cream and caramelized amartetti popcorn on top.  Yup, epic.
Overall
We had eaten at Jamie's Italian towards the end of my cruise and all throughout the voyage, other passengers had always mentioned how good Jamie's Italian was whenever the topic of dinners came up and now I know why.
Jamie's Italian offers a great selection of Italian food that differentiates itself from most other food available on Quantum of the Seas. It's an interesting "reboot" of what we think about when it comes to Italian food.
Nearly everything we offered was very good.  In fact, I think of all the restaurants onboard Quantum of the Seas, Jamie's Italian had the best ratio of hits to misses, in terms of good food to bad food picks.  
I was lucky to have dined with a group of friends because the food here is perfect for sharing and it gives everyone a chance to sample a little of everything.  
Like most Royal Caribbean restaurants, I found the portion sizes to be on the small size, which makes ordering multiple entrees (and appetizers earlier) an easier decision.