In:
The collaboration between Royal Caribbean and celebrity chef Jamie Oliver created Jamie's Italian, which is one of the more popular specialty restaurants on Anthem of the Seas.
It seems like Jamie's Italian has become quite popular with many Royal Caribbean guests for the tasty, original creations by the famous chef. And yet, I have to admit it never resonated much with me on my previous visits.
It is not to say I disliked Jamie's Italian by any means, rather, I just preferred other specialty restaurants. To be honest, I felt like I was missing something by not being a bigger fan of the restaurant because so many others seemed to enjoy it. Perhaps I had previously dined there on an off-night, or what I ordered was not indicative of what makes Jamie's so popular.
When I went back on Anthem of the Seas for a recent cruise, I wanted to start over again and pretend like I had never been there in the first place. Perhaps starting fresh from the beginning would be the right approach.
Atmosphere
Jamie's Italian is located on deck 5 in an area of Anthem of the Seas known as The Via. It is essentially the middle ground between the Royal Esplanade and Two70. I doubt anyone ever utters the words, "oh, that is located in The Via," but it is important to be specific.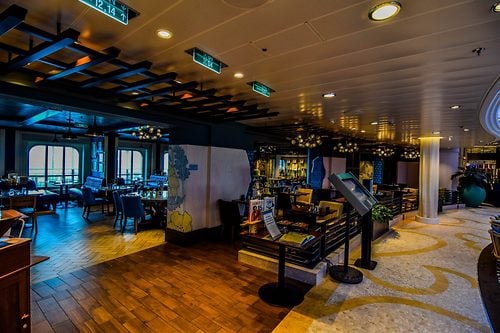 Royal Caribbean carved out a lot of space for Jamie's Italian, although it does not necessarily look that from merely passing by. The cruise line designed the restaurant to evoke a street cafe motif to guests passing by, with no real wall separating the restaurant from the walkway. Anyone walking by can easily peer into the restaurant and see other guests dining there, and perhaps more importantly, smell the foods being served.
Unlike a traditional Italian restaurant, there is no red and white checkerboard tablecloth, no Dean Martin songs playing in the background, and no old photos of Italy. Instead, you have a design created by Jamie Oliver that focuses on the simple, yet refined approach Oliver takes in every aspect of the dining experience.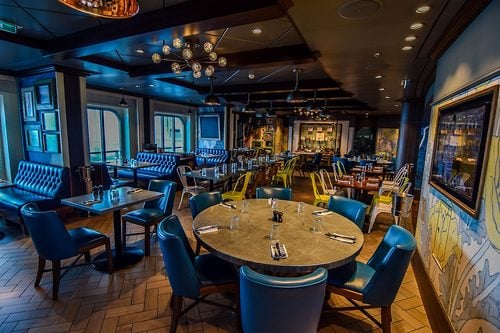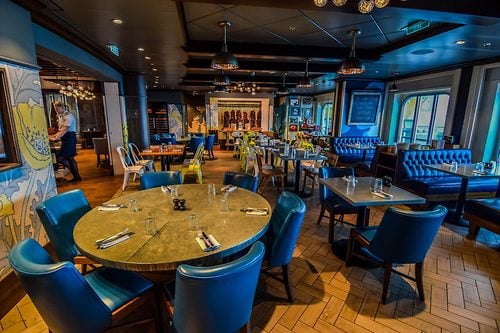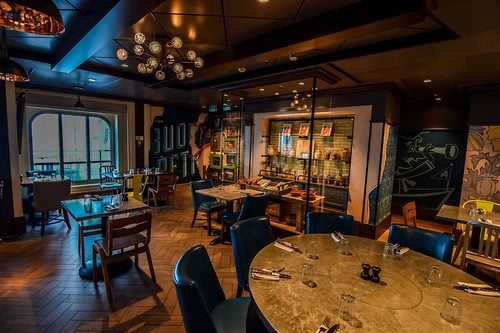 Looking around Jamie's Italian, one will quickly notice there is no unified design style. Rather, there are metal chairs, wooden chairs and nylon chairs mixed together across booths and tables made out of metal, granite and wood. It reminds me of someone hitting up the clearance area in IKEA, finding great deals on lots of lovely furniture that does not match. Nonetheless, Oliver's design style somehow works across the breadth of the eatery, and the restaurant maintains its own distinct feel.
Eats
Getting past the décor, I really wanted to give Jamie's Italian a solid second try by picking some winning dishes. Jamie's Italian menu is anything but petite, with lots of choices. I mean, there is a lot one can order between the appetizers, small plates, soups, pastas and entrées.
Without a doubt, there is one type of dish Jamie's Italian is best known for and that is the planks. There are two plank varieties: meat and vegetable. Both come with an array of cheeses that compliment the meaty/vegetarian goodness.
Arguably, the planks could easily be a meal in and of themselves, but our waiter suggested we order a combo plank, that offered the best of each option. We thought it was a great choice, not only because we would be able to sample the best of the best, but because we would not load up too much, too early.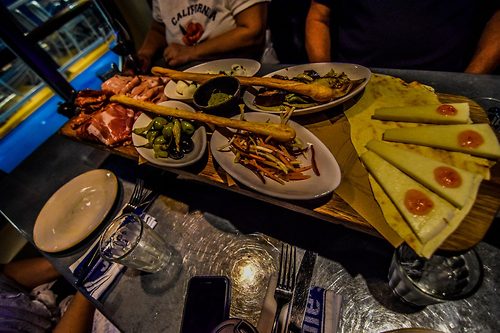 Without a doubt, the plank lives up to its reputation for being a must-order. This antipasto serving is not just a great starter, it sets the tone for the meal to come. Ample servings of salami, prosciutto, mozzarella, olives and more are yours for the picking. We picked that plank to the wood surface extremely quickly.
We also tried the ultimate garlic bread from the starters.  At first, we did not realize the bread served to our table was this dish, but what they lack in presentation, they make up for in flavor.  Without a doubt, there is a good amount of garlic provided in these bad boys.
Choosing among the entrées is where I believe the greatest difficulty arises. In short, there is a lot to choose from and many dishes sounds really good.
It is worth noting that Jamie's Italian prides itself on the fact it creates handmade pasta everyday at the restaurant. That is a giant indication that you should probably order something with pasta. I certainly felt I could not leave Jamie's Italian without trying something of a noodle variety.
On the other hand, I am an absolute sucker for eggplant Parmesan (or pretty much any Parmesan dish). It is one of those dishes that I can never get enough of, and it is my Italian food staple. Much like when my kids are complaining about the other having something they do not, I just decided to get both the eggplant and a pasta dish. I mean, I would totally walk off those calories skipping the elevators, rights?
The eggplant Parmesan was terrific, and not overloaded with cheese or deep fried to the point any hint of eggplant is removed.  
The texture of the homemade pasta was wonderful, and I think everyone at our table remarked they could absolutely tell the difference between this freshly made pasta, and the boxed stuff.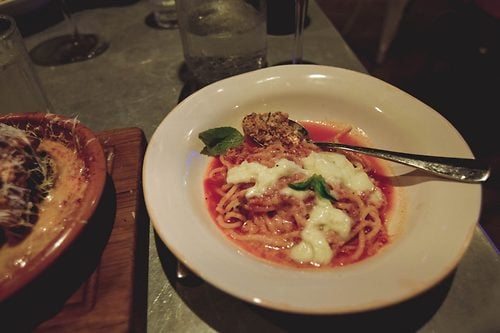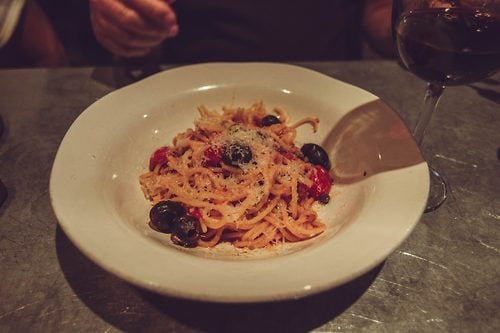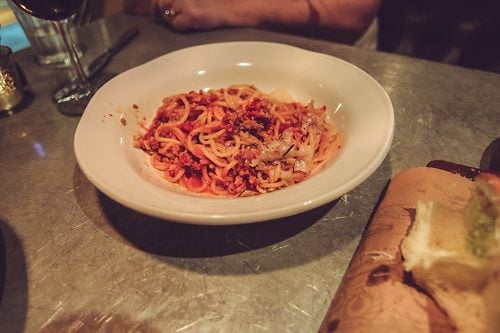 My wife opted for the truffle tagliatelle, with the simple logic that anything with black truffles must be amazing.  Indeed, that logic holds up at Jamie's Italian as well.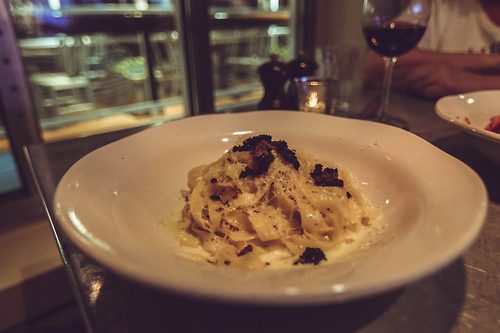 If you manage to leave room for dessert, the epic homemade brownie is always a great choice.  
My wife also reported the Italian limoncello is superb, although she consumed it before I could even snap a photo of it.  So you will have to take that as proof that it is quite good.
Overall
After eating at Jamie's Italian on Anthem of the Seas, I am completely onboard the bandwagon of fans that enjoy the restaurant.  The freshness of everything here really stands out, even more than Jamie Oliver's excellent recipes.
If you choose to dine at Jamie's Italian, there is no question you need to order at least one of the planks and something with pasta.  It is without a doubt, the dishes the restaurant does the best.
Cost: The price of Jamie's Italian on Anthem of the Seas is $30 per guest for dinner and $25 per guest for lunch.