In:
There will be a new Royal Caribbean cruise ship sailing from Singapore in 2025.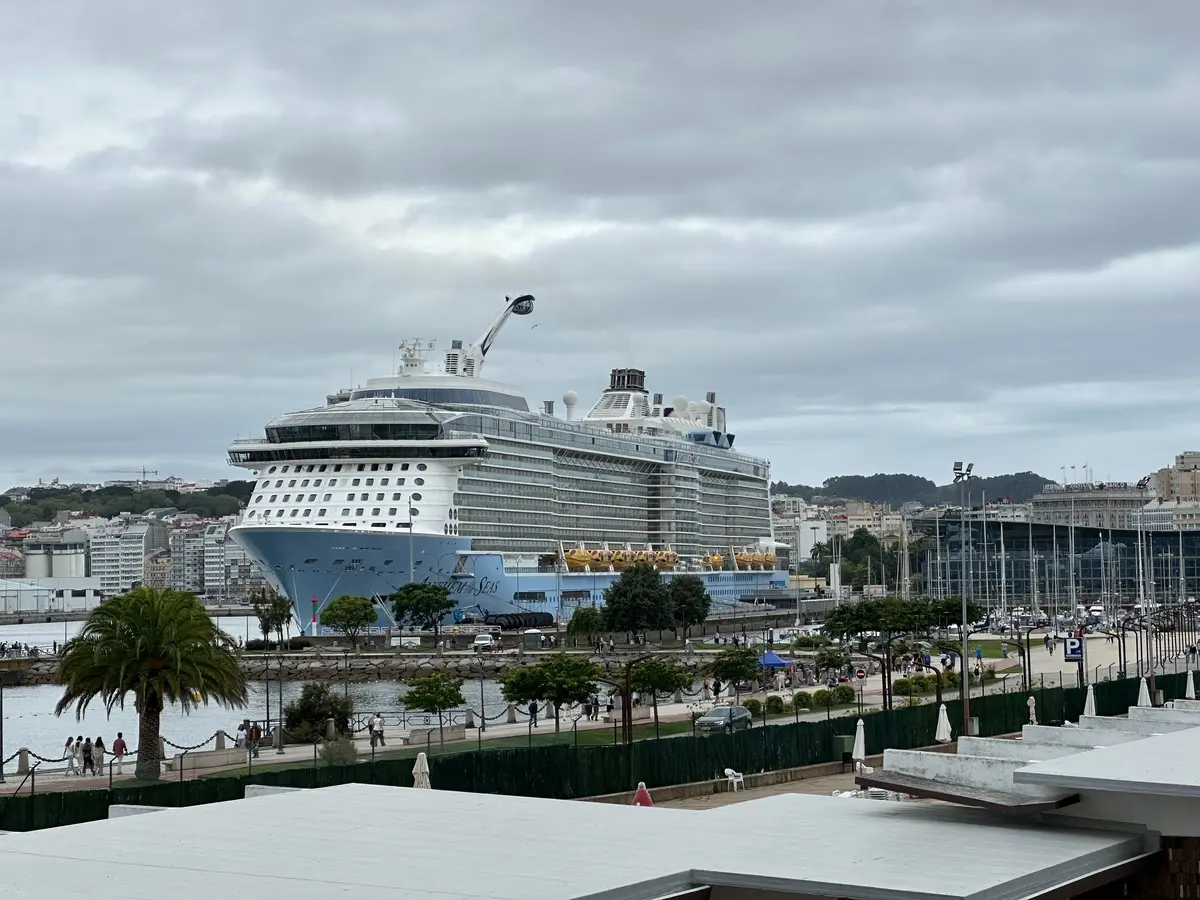 One of the last pieces of the 2024-2025 cruise deployment has fallen into place with Royal Caribbean's announcement that Anthem of the Seas will sail from Asia for the first time ever.
Anthem of the Seas will begin sailing from Singapore in October 2024, replacing Spectrum of the Seas.
Singapore has been a stronghold for Royal Caribbean, having been the first homeport to allow cruises to restart in late 2020.
Since then, Spectrum of the Seas has sailed short 3- and 4-night cruises primarily from Singapore.
Spectrum of the Seas will shift to China, where she will sail from Shanghai and re-open China and Far East cruises for Royal Caribbean.
Spectrum will begin sailing from Shanghai, China in April 2024.
Spectrum of the Seas, sailing from Shanghai, will offer 4- and 5-night cruises visiting popular destinations in Japan. Spectrum will also offer eight sailings from Hong Kong starting in December 2024, to places in Japan, China and Vietnam.
Royal Caribbean will open bookings from July.
"This is the moment we – along with Chinese holidaymakers – have been waiting for. Our return to China is an exciting milestone that could only be marked with Spectrum of the Seas, which became a household name with Chinese families and travellers alike when it debuted in Shanghai as the latest and greatest Royal Caribbean ship in 2019," said Bert Hernandez, senior vice president, International, Royal Caribbean International.
"We thank the government of China for establishing a pathway forward and continue to be committed to expanding the cruise industry in a region we have sailed from for more than a decade. This has also opened up a world of opportunities to expand the variety of holidays in Asia, as another award-winning ship sets sail in the region with the introduction of Anthem of the Seas in Singapore."
Best features of Anthem of the Seas
Anthem of the Seas is one of the Quantum Class ships in Royal Caribbean's fleet, and she was the second Quantum Class ship to be launched.
Royal Caribbean's Anthem of the Seas is considered a great cruise ship to book for several reasons:
Innovative Features: The ship boasts innovative and exciting features like the North Star observation capsule, where guests can enjoy panoramic views, and the Ripcord by iFly indoor skydiving simulator.
Variety of Activities: Anthem of the Seas offers a wide array of activities to suit different interests and ages. From bumper cars and roller skating at the SeaPlex to surfing on the FlowRider, there are plenty of options to keep guests entertained throughout their cruise.
Entertainment Options: The ship offers Broadway-caliber shows, such as "We Will Rock You" and "The Gift," providing high-quality performances that rival those found on land.
Guests can also enjoy live music, comedy acts, and various themed parties onboard.
Dining Experiences: Anthem of the Seas provides a diverse range of dining options, including specialty restaurants such as Jamie's Italian, Wonderland, and Chops Grille. The ship also offers complimentary dining venues and casual eateries.
Family-Friendly Amenities: The ship caters to families with children, offering dedicated spaces like the H2O Zone water park and the Adventure Ocean youth program, which provides age-appropriate activities for kids and teens. 
Relaxation and Wellness: Anthem of the Seas features a tranquil Solarium, an adults-only retreat with pools and whirlpools, as well as a luxurious spa and fitness center. Guests can unwind and rejuvenate while enjoying ocean views and indulging in spa treatments.
Modern Accommodations: Anthem of the Seas offers comfortable and modern staterooms, including spacious suites, balconies, and virtual balconies. These well-appointed accommodations provide a relaxing and enjoyable environment for guests to retreat to.
Best features of Spectrum of the Seas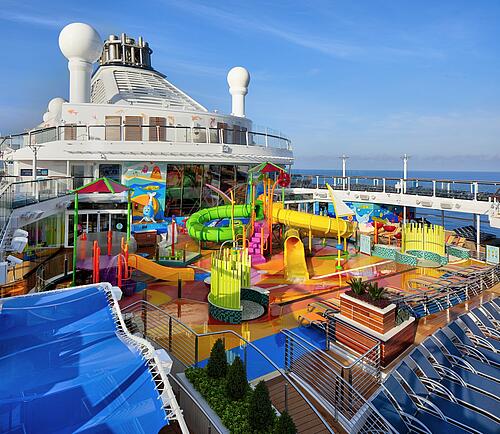 Spectrum of the Seas was designed for the Asian cruise market, and has a few special offerings. 
Suite Enclave – Royal Caribbean's first and exclusive space for the exquisite Royal Suite Class Star, Sky and Sea accommodations in a private area, featuring exclusive floor access, an elevator, private restaurants and a dedicated lounge area.
Two70 – Boasting stunning 270-degree ocean views by day and transforming into a multidimensional theatre by night, this transformative space flaunts six agile Roboscreens, breathtaking live performers and mind-bending aerialists to create unimaginable visuals.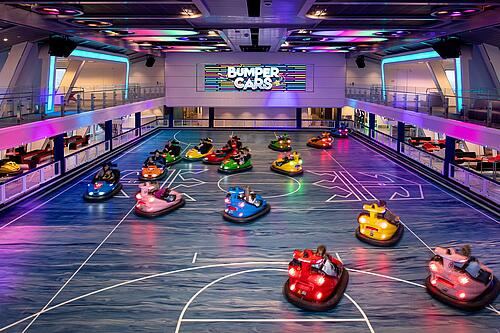 SeaPlex – The largest indoor active space at sea, featuring bumper cars, laser tag, fencing, archery and more.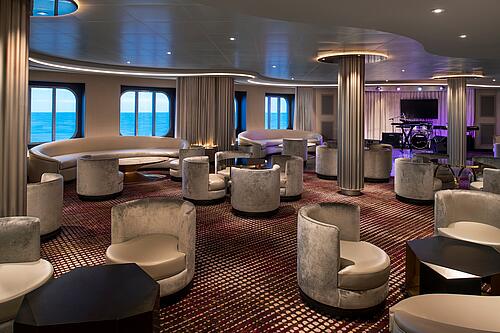 Star Moment – A lively and energetic karaoke venue where family and friends come together to belt out and sing like stars.
Family Friendly Accommodations – From exterior balcony staterooms to interconnected rooms, to the signature two-level Ultimate Family Suite, an expansive, multiroom retreat complete with its own slide and cinema that also doubles as a karaoke stage, there's an array of staterooms designed for the whole family.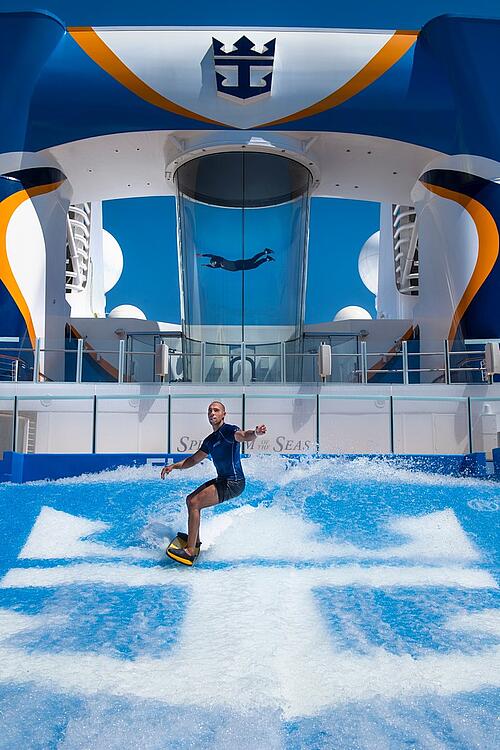 Signature Experiences – A bold lineup of guest favourites are on deck, including the FlowRider surf simulator, the North Star, an all-glass observation capsule which ascends 300 feet above the ocean to deliver incomparable 360-degree views; and RipCord by iFly, the first sky diving experience at sea.
A World of Flavours – There are 19 dining options that serve up a variety of cuisines, including Hot Pot, an authentic Chinese dining experience; Teppanyaki, a celebration of Far East flavours cooked in Japan's traditional teppanyaki style; and Sichuan Red, a new specialty dining experience tailored just for Spectrum, where diners can savour a bold tapestry of spices and Sichuan flavours. Signature classics include imaginative cuisine at Wonderland, American steakhouse Chops Grille and authentic rustic fare and handmade pasta at Jamie's Italian.