In:
Did you get Royal Caribbean onboard credit on your next cruise, but now sure how to spend it?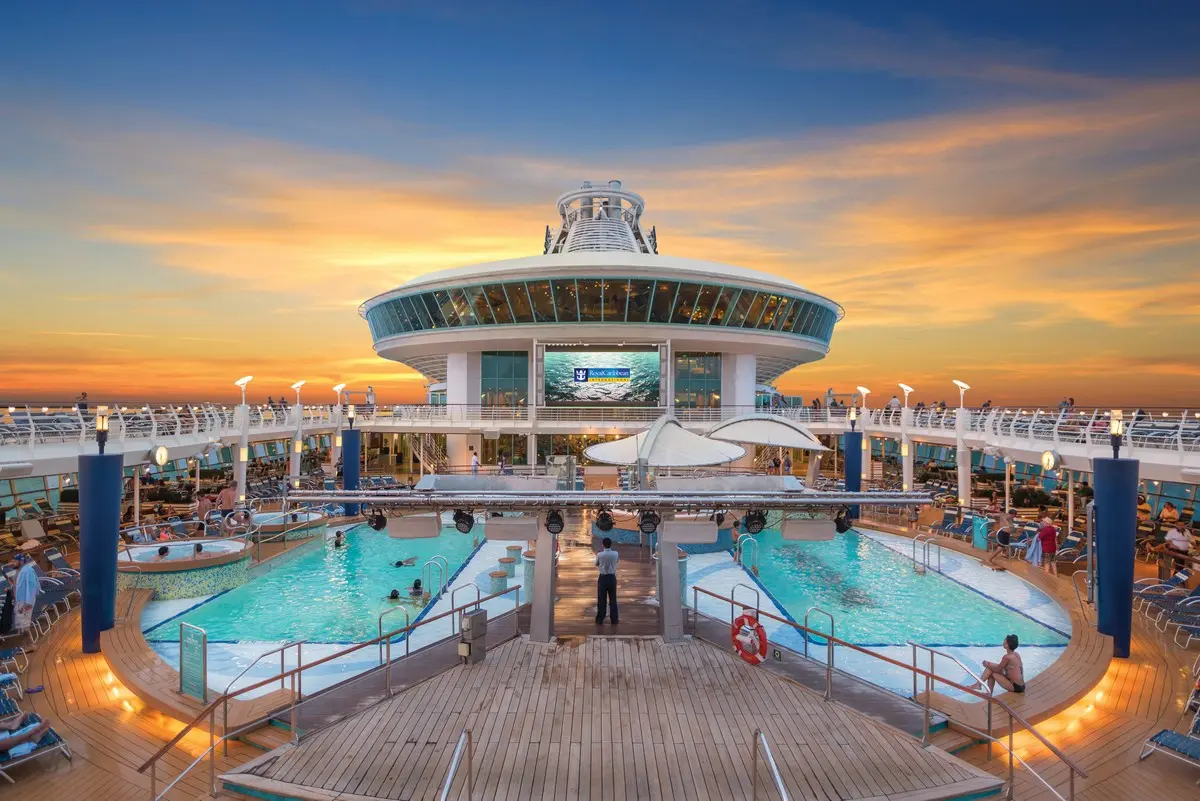 Onboard credit is essentially free "cruise cash", but there was not only restrictions on how you can use it, but a few ways to make your credits go further.
Spending it wisely is a good idea to ensure it helps maximize your vacation experience, especially if you have a lot of it.
How does onboard credit work?
Think of onboard credit as free money you get to spend while on your cruise.
Royal Caribbean's ships are cashless, which means all your transactions occur via your SeaPass account. When you buy something onboard, you scan your SeaPass card and the cost is debited against your account.
Onboard credit is money the cruise line places in your account that goes against any purchases you make during the cruise.  
When a guest receives onboard credit, their SeaPass account is credited with that amount of money to offset any onboard purchases, such as shore excursions, specialty restaurants, spa treatments, drink purchases and anything else you can charge to your SeaPass account.
Once onboard your Royal Caribbean cruise, a guest's SeaPass account will receive a credit that corresponds to the onboard credit value they were promised.
A common misconception is you can take onboard credit and apply it towards a specific purchase.  Your onboard credit is applied against any and all onboard purchases you make in general. So there is no need to worry about ensuring you use it for one purchase or another.
How to get Royal Caribbean Onboard Credit (OBC)
There are a lot of ways to get onboard credit, but you may not have access to all means of getting onboard credit. Regardless, it is important to understand all the possible manners available.
The simplest answer on how to get onboard credit is you have to be given onboard credit from someone else, either Royal Caribbean or another entity.  
Let us explore the possibilities.
Booking promotion
The most common way guests receive onboard credit is to receive it from Royal Caribbean as part of a deal to book a cruise.
Royal Caribbean regularly offers onboard credit as an incentive to get guests to book a cruise.
These are typically periodic promotions, where the amount of onboard credit you receive is tied to the stateroom category you book, as well as the exact promotion offered. Some promotions will offer more onboard credit than others.
The amount of onboard credit will vary from promotion to promotion and it is important to read the deal's rules and conditions. There can be hundreds of dollars of onboard credit offered, including up to $500 per cabin.
This may not be the most lucrative source of onboard credit, but it is regularly the simplest way of getting some.
Booking onboard
If you happen to be on a Royal Caribbean cruise and cannot wait to reserve space on another sailing, then take advantage of Royal Caribbean's onboard booking bonus.
Royal Caribbean incentives its guests to re-book another cruise while still onboard by offering them extra onboard credit on top of whatever promotion is currently running.
Guests can visit the NextCruise office and get up to $500 in onboard credit to spend on their current sailing or defer it to an upcoming sailing.
The onboard credit you get at the NextCruise office is free money, because Royal Caribbean is rewarding you for reserving another sailing and is one of the best, and most lucrative means of getting a lot  of onboard credit.
Book with a travel agent
We love using travel agents to book our Royal Caribbean cruises for the wonderful value they provide in terms of service, but travel agents are also a great source of onboard credit.
In general, many travel agents offer their own booking bonus for working with them.
The amount of onboard credit a travel agent can give you on top of whatever Royal Caribbean is offering will vary greatly, and depends on the agency size and the stateroom category you book.
Onboard credit is one way travel agents differentiate themselves from one another and take steps to earn business.
Royal Caribbean Visa credit card
Royal Caribbean has its own branded Visa credit card, which allows guests to earn points that can be redeemed for onboard credit on future cruises (as well as other rewards too).
Each purchase you make with the card earns you points, and as you save those points, you can redeem them for onboard credit.
As an example, the Royal Caribbean card will net a guest $100 in onboard credit for 10,000 points.
Price drops
Sometimes Royal Caribbean will give onboard credit if the price you paid for a cruise is now cheaper than when you paid.
Royal Caribbean Group shareholder
If you own at least 100 shares of Royal Caribbean Group stock at the time of sailing, you can get onboard credit.
The benefit is only available for the stateroom in which the shareholder (with a minimum of 100 shares) is sailing. 
$250 Onboard Credit per Stateroom on Sailings of 14 or more nights
$100 Onboard Credit per Stateroom on Sailings of 6 to 13 nights
$50 Onboard Credit per Stateroom on Sailings of 5 nights or less
There is no limit on how many times you may take advantage of this discount, but it is one benefit per sailing.
Active or retired military members
From time to time, Royal Caribbean offers active and retired military personnel onboard credits.
It usually applies to those who are active or retired from the United States Army, Navy, Air Force, Marines, Coast Guard, National Guard, Reserves or Canadian National Defense.
A Royal Caribbean mistake
No one is perfect, certainly not Royal Caribbean, and while you probably will not like the mistake itself, the silver lining is often Royal Caribbean offers guests onboard credit as a means of making it up to them.
Incidents like poor service, billing inaccuracies and other frustrations are often handled with onboard credit (in addition to remedying the situation as best they can).
The exact amount of onboard credit will depend on the nature of the incident.
Cancelled cruise
In a lot of cases, Royal Caribbean will try to make up for a cancelled cruise with onboard credit.
Hurricanes, a health crisis, maintenance issues and a variety of other possibilities can lead to Royal Caribbean cancelling a cruise.
In order to smooth things over with guests, the cruise line may offer onboard credit for a new sailing in order to make up for the disappointment of having to cancel the original sailing.
Royal Caribbean gift certificate
It's not well-known, but Royal Caribbean sells gift certificates and the value gets applied as an onboard credit.
Before you run out and buy one, I don't recommend buying them because of the complicated redemption rules. They don't work as easily as traditional gift cards.
However, gift certificates are truly the only way to give someone else onboard credit without being a travel agent.
How is onboard credit different from a future cruise credit?
While onboard credit and future cruise credits might sound the same, they apply to different aspects of your cruise booking.
An onboard credit is for spending on purchases made on your cruise while you're actually sailing, whereas a future cruise credit is for booking another cruise.
The two are not interchangeable, and you cannot use future cruise credits as spending money on a cruise as you would onboard credit. Moreover, you cannot convert Future Cruise Credit into Onboard Credit.
What happens if I don't spend all my onboard credit?
If you have unused non-refundable onboard credit because you didn't spend it all, you lose it. Nearly all onboard credit is non-refundable because it's a gift from the cruise line or a travel agent in a "use it or lose it" scenario.
You cannot roll over the onboard credit to another cruise.
Sometimes guests will get refundable onboard credit, usually as the result of cancelling a purchase while onboard a cruise (i.e. shore excursion). In this scenario, unused onboard credit will be refunded back to your credit card.
It's a good idea to check with guest services while still onboard your cruise for which type you have. Never assume it's refundable.
What are the best ways to spend your Royal Caribbean onboard credit?
Spa
Bookable: Pre-cruise and onboard
Splurge and treat yourself with a spa treatment!
Royal Caribbean's Vitality Spa isn't cheap, but onboard credit is a great way to use your free money on something that you can instantly enjoy.  
For a lot of cruisers, going to the spa is an essential way to relax and enjoy time away from work, school, and the daily routine.
Shore excursions
Bookable: Pre-cruise and onboard
Your ship will many ports of call during your cruise, so onboard credit might be the ticket to a fun day on shore.
There's usually a multitude of tours you can consider, and onboard credit can be spent before the cruise or once onboard. My advice is to book shore excursions before your cruise because many tend to sell out.
Gratuities
Bookable: Onboard only
Gratuity on a Royal Caribbean cruise is compulsory and you'll either pay it before your cruise or automatically every day of the sailing.
The automatic daily gratuity charge is $16.00 per day, per person in standard cabins (Junior Suites and below) and $18.50 per day per person for suites.
These gratuities cover your stateroom attendant, and dining room staff, and it's important way to thank their hard work.
If you elect for the automatic gratuity, each night of your cruise there will be an automatic charge on your SeaPass account per person. Your onboard credit will be offset against your total spending onboard, including the gratuities.
Specialty dining
Bookable: Pre-cruise and onboard
Royal Caribbean's specialty restaurants are a great way to enjoy top-notch dining, but they come with an extra cost.
The cost of a specialty restaurant differs depending on the restaurant.  Most have a cover charge, but there are a few a la carte restaurants.
As an example, Giovanni's Table for lunch comes in at $25 per person, whereas Chef's Table dinner is about $100 per person.
Another way to use your onboard credit is to buy a specialty dining package, which includes a set amount of specialty restaurant meals for a fixed price.
If you're planning to eat at more than 2 specialty restaurants, a dining package makes a lot of sense to buy instead.
Extra cost onboard activities
Bookable: Pre-cruise and onboard
Not every fun thing to do on your Royal Caribbean cruise is included in your cruise fare.
North Star:  $25
iFly skydiving simulator: $55
Behind the scenes ship tour: $49 to $129
Escape room: $20
Private Flowrider lessons: $69 to $500
Fitness classes:$12
Cooking classes: $35 to $70
Video games in arcade: $1 to $3 per game
Laundry
Bookable: Onboard only
You're going to amass a pile of dirty laundry during the cruise, so why not get some or all of it cleaned for you?
Royal Caribbean offers full-service laundry options for an additional cost:
Wash & Press
Pressing only
Steaming only
Dry Clean & Press
Souvenirs
Bookable: Pre-cruise and onboard
Whether you want a Royal Caribbean brand shirt or a pair of designer sunglasses, you can find a great array of choices onboard to buy.
Some souvenirs are cheap, while others can be hundreds of dollars.  The Royal Caribbean branded items tend to be much less expensive than the designer items.
There's also lots of toys and kid-focused items you can purchase, and when your kids start begging for a must-have gift, this could be the perfect time to use your onboard credit.
Look for sales advertised in the Cruise Compass as ways to possibly save money on something to bring home later.
Drinks
Bookable: Onboard only
Individual drinks can be ordered at any bar, lounge, and restaurant.  After all, few things are as synonymous with being on vacation as a fruity drink!
Royal Caribbean includes some drinks in your cruise, such as water, tea, coffee, juices, and milk. But anything with alcohol will cost extra.
Instead of paying for each drink individually, you could use your onboard credit towards a Royal Caribbean drink package. They have a large up-front cost, but if you can drink enough during your cruise, a drink package can save you a lot of money.
Adventure Ocean after hours care
Bookable: Onboard only
Adventure Ocean is complimentary until 10pm, at which point there is an hourly charge.
As a parent, I find the cost worth every penny so that I can enjoy more time without the kids!
If you have a toddler or infant, the nursey has an hourly charge anytime of $6 during the day and $8 at night. 
Wifi
Bookable: Pre-cruise and onboard
Staying connected for pleasure or work (or both) is a necessity for many, and you have to buy an internet package if you want access to the full internet.
You don't need an internet package to use the Royal Caribbean app or the chat feature in the app, but anything else will need a wifi package.
Royal Caribbean sells a few different internet packages, both before the cruise and while onboard.  Keep in mind that a wifi package will be cheaper if you pre-purchase before the sailing on the Cruise Planner site.
Photos
Bookable: Pre-cruise and onboard
Every evening there will be photo opportunities to get professional photos taken, and the price of a single photo starts at $19.99.
Photo packages allow guests to take home a select amount of photos taken onboard their Royal Caribbean ship. One photo package covers all guests in your stateroom.
Whether you buy a single photo or an entire package, your onboard credit can be used towards it.
Casino
Bookable: Onboard only
You can't directly apply onboard credit to a game in the casino, but you can charge your SeaPass account. Those charges can, in turn, be offset against your onboard credit.
How do I know if I have a Royal Caribbean onboard credit?
Prior to the cruise, you may see onboard credit listed in your account that you can use on Cruise Planner purchases. Keep in mind not all onboard credit is spendable before the cruise.
A good way to get a sense of how much onboard credit you should be getting is to ask your travel agent.  Royal Caribbean will list onboard credits you are entitled to in the invoice for the cruise when you book.
On the ship, your onboard credit will automatically appear on your account, typically two or three days into your sailing.
If all else fails, once you get onboard your cruise ship, you can go to Guest Services and inquire how much you have.
Can you cash out onboard credit?
Yes, but it's kind of a cruise hack.
Guest services will not issue your onboard credit back to you as cash, but the casino will.
You can go to the casino cashier and get a cash advance against your SeaPass account, which is a charge like anything else you buy onboard.  That charge will be rectified against your onboard credit. Keep in mind the casino charges you 5% on every cash advance you make (unless you are Prime or higher in Casino Royale).
There is a workaround, where any money you take out as a cash advance from a slot machine does not accrue the 5% charge for some reason.
Ask the casino cashier for instructions on how to make a cash advance from the slot machines.
Can you pay gratuities with onboard credit Royal Caribbean?
If you go with the automatic gratuities that get charged each evening of your cruise, yes, your onboard credits will be deducted against the gratuities you are assessed (and anything else you charge).
It's a common misconception you can apply your onboard credit directly towards gratuities.  The automatic gratuity is a charge like anything else you buy, so if you spend nothing else on your cruise, then your onboard credit will be applied towards your total expenses.
Can you use onboard credit in the casino?
You cannot directly access the onboard credit, but you can get a cash advance from your SeaPass account.
This charge will be an expense on your final bill, which any onboard credits you have will be deducted against.
The casino will charge you a 5% fee (unless you are Prime or higher in Casino Royale), unless you make the charge at a slot machine. Slot machines do not have a fee when withdrawing money from your SeaPass account.
How to use onboard credit in the Cruise Planner
When you add any pre-cruise purchase in the Cruise Planner to your shopping cart, there is an option to redeem onboard credit.
Remember, not all types of onboard credit may be available for use in the Cruise Planner. Onboard credits offered by a travel agent are not usually available until you get on the ship.
When you checkout, in addition to entering your credit card information, you have the option to apply some or all of your onboard credit to the purchase.
Don't worry, if you change your mind later and want to cancel your Cruise Planner purchase, the onboard credits will instantly become available again to use.