In:
On all of my cruises, one thing I have never made it around to was trying the FlowRider. While I've enjoyed watching others try it, I hadn't taken the plunge for myself. I set out to find out if I could really learn to surf on a 3-night cruise.
Royal Caribbean is known for many things, but one of the activities that they are known for the best, is the surf simulator better known as the FlowRider. The FlowRider has 30,000 gallons of rushing water, mimicking what it is like to surf on the ocean. I've seen boogie boarders struggle to stay on, so watching stand up surfers being able to stay up has always been impressive.
When I noticed that Royal Caribbean offers a FlowRider surf lesson for my upcoming 3-night Liberty of the Seas sailing, I decided to sign up and find out if it is possible to learn to surf in only 3 days. 
Prior to getting onboard, I had some nerves about attempting to try it.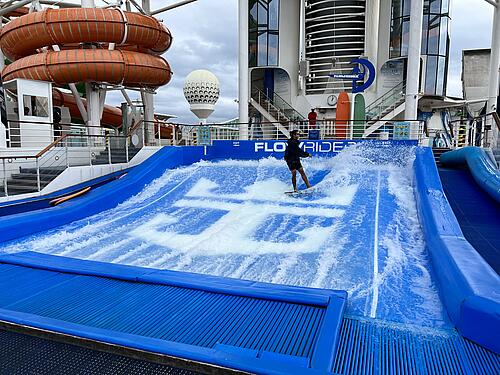 As a previous spectator of the FlowRider, I'd been scared about falling and hurting myself, or not being able to actually stand up on the board, especially in front of a crowd of people watching.
While I couldn't guarantee that those wouldn't happen to me, I did take the one preventative measure I could, purchasing a rash guard and swim shorts to wear over my bathing suits to prevent any "wardrobe malfunctions", which the force of the water has been known to cause. 
Trying out free sessions first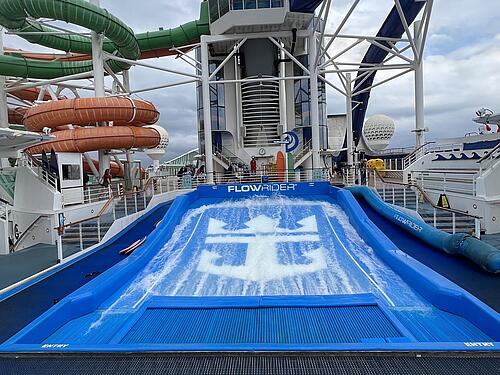 With my nerves in full force, I decided that I should head straight to the FlowRider after getting on board to get my feet wet, hoping to beat the long lines and spectator crowds.
The first session was a "Mixed Wave" session on embarkation day.
It turns out that they only allow you to try stand up surfing during their mixed wave sessions, which were offered only once a day.
On the third day, the other sessions offered were "Boogie Boarding" or "Advanced Standup Surfing" only.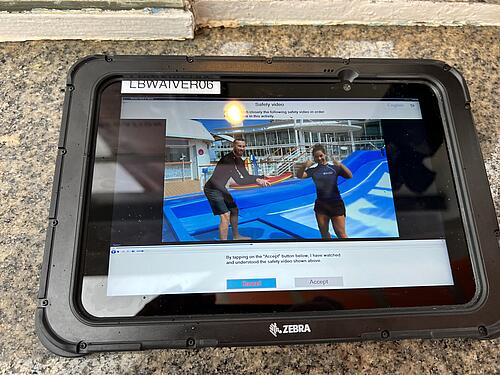 The first Mixed Wave session was at 3pm, so I made my way to the FlowRider for my first attempt.
Upon arriving I had to sign a lengthy waiver, which included many safety videos about how to properly fall to avoid injury. Once I finished signing those, I was given a blue wristband.
It turns out that everyone who wants to attempt to surf during open sessions is given a blue wristband. You're then given 1 "turn", consisting of 2 attempts to prove that you can stand up on your own.
If you pass, you're given a white wristband and can continue surfing during both the Mixed Wave and Advanced Standup Surfing sessions. 
I had assumed that while I would be limited to my one turn at a time, that once I fell twice I would be able to get back in line and try again. They told me that they didn't allow this due to trying to limit injuries from guests not being able to stand up and getting knocked over time and time again.
At that point I was glad that I had booked a lesson, as it was a dedicated hour for a small group to try as many times as you could. 
With it being the first day, the lines were very low with only 5 of us out there. Three of the other riders were very experienced, and even brought their own boards with them to ride on. I was the only one trying to stand up for the first time.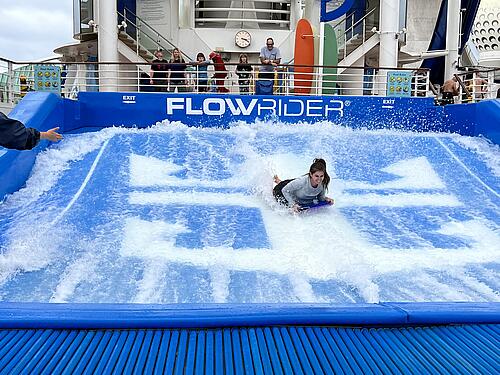 When signing the waiver I saw that everyone has to prove that they can ride the boogie board before attempting to stand up, so when my turn was up I headed over to the boogie board. The staff told me to go out into the middle of the FlowRider on the board, and then come back to the sidelines.
I'm not sure what the thought process behind that was, but nevertheless after my 15 second ride, I was deemed worthy to try stand up surfing.
Years ago my husband had tried surfing, and the instructors held his arms to help get him out into the water, from which he was able to stay up for a while. I was expecting that they would do the same for me, but I learned that after the shut-down, they no longer could hold guests' arms to guide them out into the FlowRider.
This meant that once you got yourself onto the board, you had to bend over and bounce backwards into the rushing water, and then try to stand up and steady yourself.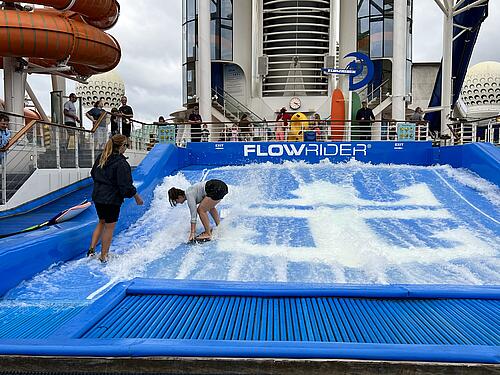 Of course, with this not being the lesson I booked, I also got very minimal instruction from the staff. They can't be spending the whole open session training people how to stand up, with the typically long lines of people waiting to take their turn. I was hoping for some more tips and guidance, but they gave me the basics and sent me out on my way.
On my first attempt, I got knocked off my board in just a few seconds. I rode the waves up to the back and made my way back down for my second attempt.
Hoping that now I had a feel for the water I would be able to stay on longer and at least make it farther out into the waves.
Unfortunately, that wasn't the case, and after around 10 shaky seconds I was knocked off for my second time. While walking to bring the board back to the front of the line, one of the instructors not-so-encouragingly told me to stick to boogie boarding.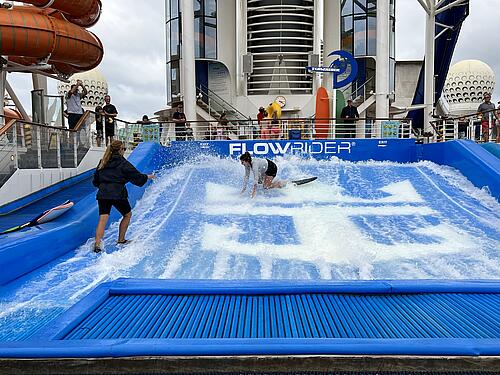 With my single turn being over, I couldn't try again until the next mixed wave session which was the next day.
While I understand that they're trying to limit injury, it was frustrating that the line was so small and I couldn't keep trying until the session was over. This made me more nervous that I wouldn't be able to learn to surf in just three days if I was only getting 1 turn per session. 
Trying again on day 2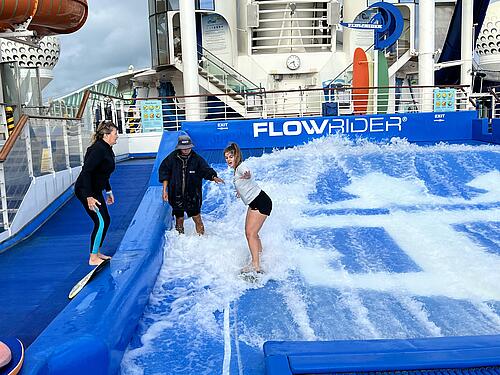 On the second day, I woke up early to head out for another surfing session.
There were only three other people there for the session, and the instructors seemed a bit more relaxed and willing to offer me guidance, which I very much needed.
During my first attempt, I wiped out again after about 10 seconds.
Before starting my second attempt, I received even more instructions from not only the staff, but also other surfers who had mastered stand up surfing. With their tips, I was able to stand up and surf for 45 seconds on my own. 
Knowing that my single turn was over, I headed to dry off and watch the rest. The staff ended up letting me try for a second turn, citing that they were in a good mood that morning.
I took them up on it, and was able to again stand up for around 45 seconds on my next two attempts. This still wasn't good enough for a white bracelet, so I had to wait until my lesson later that evening to ride again. 
Trying a private surfing lesson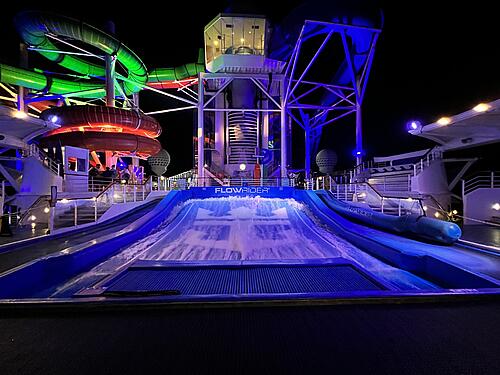 At 8pm on the second day of the cruise, we headed back up to the FlowRider for my lesson, which was a group lesson. There were 7 of us total, with no one having tried to stand up before.
During the lesson we again had to prove that we could ride a boogie board, but this time they had us get up onto our knees on the board and navigate the board across the FlowRider.
This seemed much more useful than my boogie board test out earlier in the cruise, and truly gave us a feel for how the littlest of movements in your body can affect how your board turns.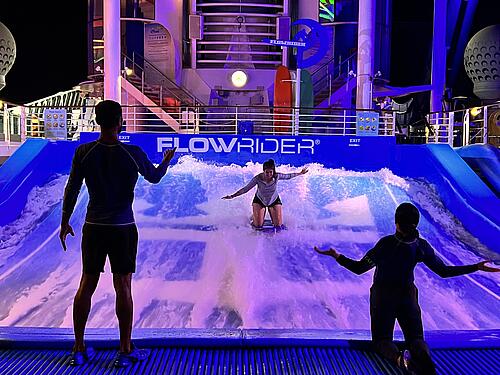 With that out of the way, it was time to try standing up again.
For the lesson, the instructors use a rope that both they and the rider hold onto while on the board. This imitates the holding onto each other's arms that they used to do during open sessions, and allowed them to help us out into the middle of the FlowRider.
Immediately I realized how much more efficient using the rope was was than trying to bend over and stand up while in the middle of the waves.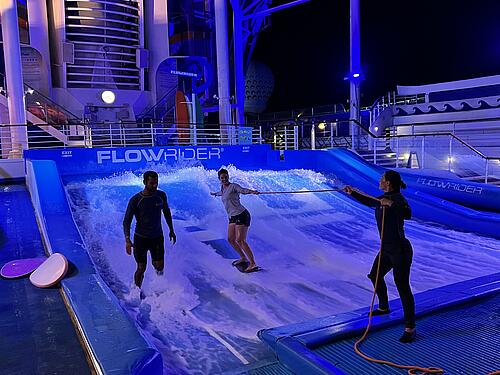 The instructor that wasn't holding the rope was on the sidelines giving us tips to stand up straight, open our chest, put our weight onto our back leg and more to keep us up.
We exclusively held the rope for our first two attempts, which were well over a minute each. On our third attempt, we were instructed to drop the rope once we got out to the middle, where it was time to put our lesson to the test. 
Our biggest pieces of training were:
Put all of your weight in your back leg
Stand up straight with your chest open
The slightest shift in weight will dictate where your board goes
With the training behind me, I stayed out there and upright for almost two minutes.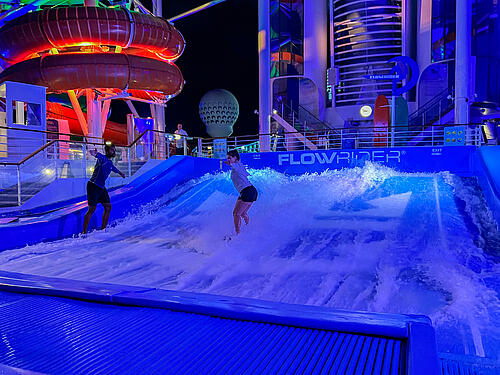 I was able to focus on my form, and attempt to navigate back and forth across the area. I even got a spin in there, though it did ultimately cause me to fall off at the end.
I went out for my last attempt of the trip, and not only was able to stand up and stay on, but also was able to walk off on the side rather than falling off the board. 
With 7 people in the group, and the lesson being only an hour, we didn't get as much time to ride as I would have hoped. However, even with the limited time, the instructors were able to help all 7 of us learn how to surf on the FlowRider. 
Does it hurt when you fall?
If you're like me, you're worried about falling and how much it hurts when you lose your balance on the FlowRider and hit the pad.
I was pleasantly surprised at how cushy the pad was, and it had quite a bit of bounce to it, designed with falling in mind.
In the waiver and lesson, they stressed the importance of holding your head once you fall and riding the wave back up, to limit head injuries.
Though I didn't notice any pain in the moment, I did start to develop bruises on my elbows from falling on them. However, these were minor and I was anticipating much worse injuries. 
Can you really learn to surf on a cruise ship?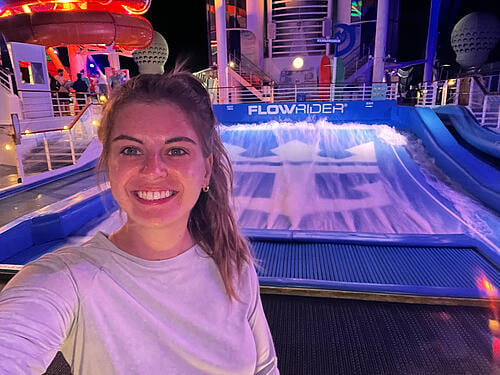 If the timing of the private lesson works for your schedule, it is the best way to learn how to stand up. Not only do you get the use of the rope, but you also get specific advice to help you. And of course, you get more than one turn during the lesson. 
While I'm not ready to go out and invest in my own board quite yet, and my bruises are still healing, I am happy to know that I was able to learn how to surf on a 3-night cruise.
Who knows, maybe you'll catch me out there on my future cruises!