In:
There's only a few days left to experience the Sky Pad before Royal Caribbean retires it.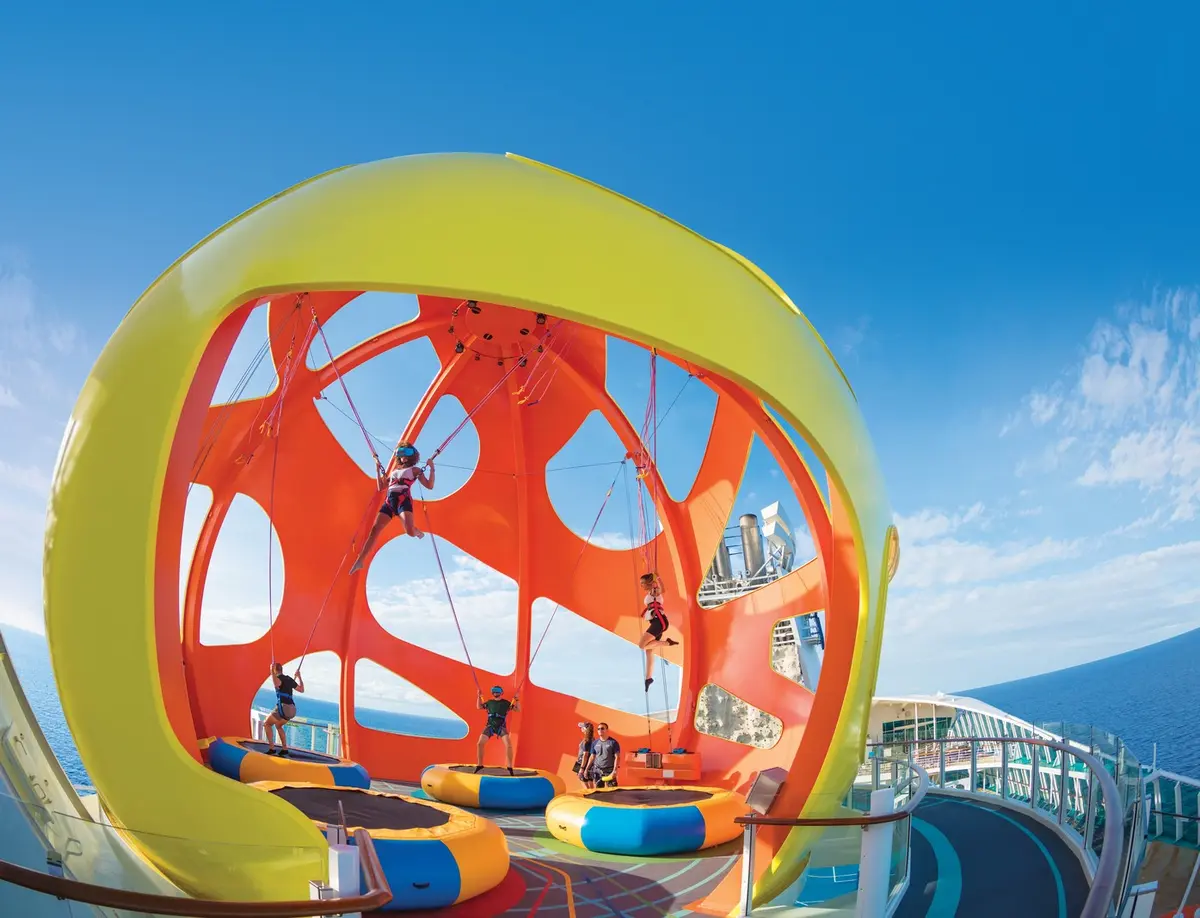 In an update to travel agents, Royal Caribbean announced it would replace the venue with an unnamed new activity.
Beginning March 31, 2023, Royal Caribbean will begin removing the trampoline experience.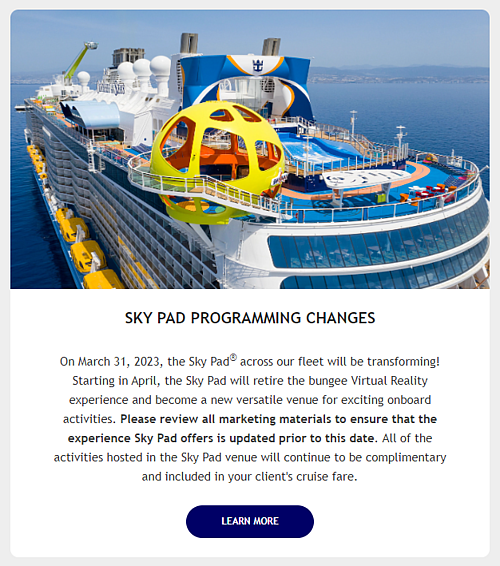 It's not clear what will replace it, but it will become something else.
"Starting in April, the Sky Pad will retire the bungee Virtual Reality experience and become a new versatile venue for exciting onboard activities."
Royal Caribbean says  all of the activities hosted in the Sky Pad venue will continue to be complimentary and included in your cruise fare. This sounds like the large yellow sphere structure itself will not be removed (at least not immediately), but the trampolines will be likely taken away.
Royal Caribbean did not say why they are making the change.
The Sky Pad is a trampoline where guests put on a virtual reality visor to engage in a game as they jump. 
Once inside, participants bounce up and down on the trampolines with the aid of the bungee cords. As you jump on the trampoline, you jump in the game. 
Similar to the FlowRider surf simulator and sky diving simulator, it was meant to offer guests a gravity-defying fun top deck experience.
The first cruise ship to get the Sky Pad was Independence of the Seas during her Royal Amplification, and it spread to a few other ships.
The ships with a Sky Pad include:
Independence of the Seas
Mariner of the Seas
Spectrum of the Seas
Odyssey of the Seas
In 2019, Royal Caribbean temporarily suspended Sky Pad on all ships as part of a safety review. It's unclear if that pause was related to a guest that was injured on the activity and sued Royal Caribbean.
While on Mariner of the Seas, the guest's harness snapped off and he fell to the deck.
What will replace the Sky Pad?
Royal Caribbean did not say what we can expect to find in the space going forward.
One thing is certain: whatever does go in the space will not have an additional cost and included in your cruise fare.
Royal Caribbean's signature activities
While the Sky Pad may be going away, there's still other great activities you can look forward to enjoying onboard.
Royal Caribbean is known for the array of onboard activities, including a few "I can't believe they put it on a cruise ship" offerings.
Miniature golf courses, surfing simulators and basketball courts are common on the biggest Royal Caribbean ships.
Rock wall
With varying difficulty levels, the rock wall is suitable for both kids and adults alike. 
Royal Caribbean makes sure your safety is paramount - that's why we provide all the essential safety equipment including helmets, harnesses and shoes for every climber. All you need to bring are a pair of socks! 
Climbers must be at least 6 years old and complete a waiver prior to climbing. Best of all, it's free and there's no need to make advance reservations! 
The rock-climbing wall has been designed with both novice and experienced climbers in mind. For those looking to take their skills up a notch, there is advanced climbing sessions and speed-climbing competitions.  Royal Caribbean also hosts teen tournaments, which are a great way for young adventurers to explore their limits safely. 
Surf Simulator
Ready to catch that perfect wave? Royal Caribbean has you covered! With the incredible FlowRider surf simulator onboard some of their ships, you can experience the thrill of surfing in a controlled environment without ever having to leave the comfort and safety of your cruise ship. 
The FlowRider is a self-contained artificial surf area with an incredible 34,000 gallons per minute pumped in order to create realistic waves. Whether you're looking to try boogie boarding or stand-up surfing, there's something for everyone. 
Best of all, it's open for free during scheduled periods during the day. Plus, if you want more than just free play time, private and group lessons are also available for an additional fee. 
But before you hop on board, be sure to check out the height requirements: 52 inches for boogie boarding and 58 inches for stand up surfing. 
Currently, the FlowRider is available on Quantum class, Oasis class, Freedom class and select Voyager class cruise ships. 
Zip Line
Ready to soar like an eagle?  Then you're looking at the right attraction.  Oasis class ships boast a thrilling zip line that offers a bird's eye view of the Boardwalk neighborhood.  This isn't for the faint of heart; it stretches out a whopping 82 feet between two points and rises 9 decks high in the air. 
In order to participate, guests must be at least 52 inches tall and weigh no more than 275 pounds; children must also meet minimum weight requirements — 75 pounds or higher — for their own safety.  Plus, it's free to use!  All you need is a signature on the waiver before boarding your flight. 
Carousel
Located in the Boardwalk of Oasis Class ships, this full-sized, traditional carousel was hand-crafted and designed with turn-of-the-century carousels as its basis - right down to the very last detail. The original artwork scenery panels on the rounding boards feature custom painted scenes that pay homage to seaside boardwalks of the past. 
But, this is more than just a stunning tribute - it's also a lot of fun!  18 figures are suspended from stainless steel poles along with one ADA accessible chariot created from poplar wood. There are 11 traditional carousel horses, including one Royal Caribbean lead armored horse complete with the crown and anchor logo. 
Water slides
Royal Caribbean has a wide variety of water slides that can offer the perfect mix of thrills and relaxation.
If you're looking for an adrenaline rush, they have some awesome speed and racing slides. There's also a spiral water slide on some ships that take you spiraling around each other until you reach the pool below.
Sky diving simulator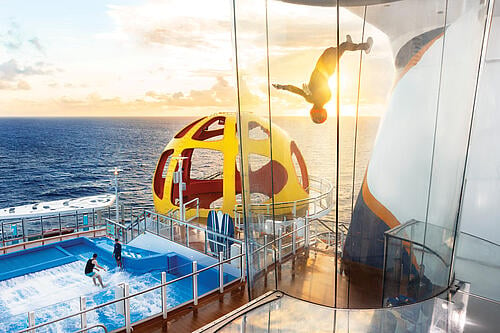 Are you looking for an unforgettable adventure while on your next cruise? Look no further than Ripcord by iFly! Located on board the ship, passengers can experience the thrilling sensation of skydiving without having to jump out of a plane. 
The complimentary flight starts with a short video tutorial teaching the basics of skydiving techniques. After that, all you have to do is change into the provided skydiving apparel and get ready for an action-packed one minute ride in the Ripcord by iFly wind tunnel! 
For those looking for an even more exciting experience, two minute rides are available at The North Star at a cost of just $49.99 per person. Advanced flying classes may also be offered onboard which comes with a separate fee. 
North Star
Onboard any of Royal Caribbean's Quantum Class ships, you'll find a unique experience that allows you to take in all the wonders of the sea from above. The North Star is a glass-enclosed observation pod that rises 300 feet above the deck of your ship, offering breathtaking 360° views of the horizon and beyond. 
The best part? During port visits, access to The North Star is completely free! You can book a time slot for yourself and up to three guests throughout most of the day. 
While at sea, each ride up The North Star comes with a cost of $29.99 per person, but it's well worth it for one-of-a-kind sights from up high. Soar above your cruise ship and take in stunning views that could only be made possible by this amazing feat of engineering!