In:
Staying connected while on your Royal Caribbean cruise is easier and faster than ever. Here is your guide to being online while on your Royal Caribbean cruise.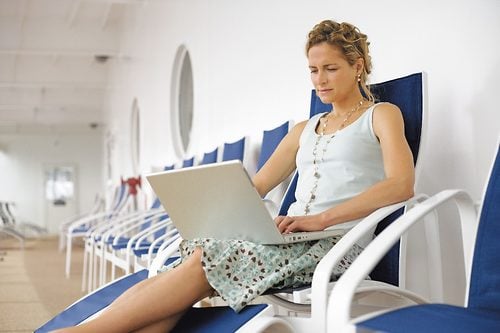 How can I get internet access on my Royal Caribbean cruise?
Guests with Wi-Fi enabled devices may connect at any time for "stem to stern" coverage from anywhere, including your stateroom.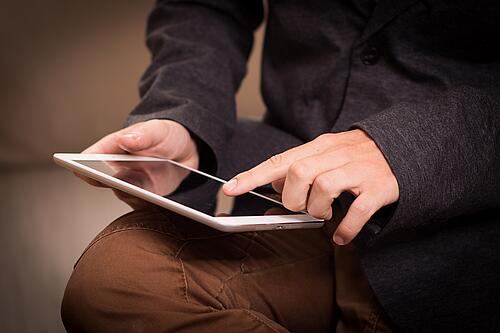 Connecting to Royal Caribbean's Wi-Fi is just like at anywhere on land:
Log on to the to the network "royal-wifi" using your device.
Open a web browser and attempt to visit any web site.
The Royal Caribbean WiFi login page will appear, with options to purchase an internet package or allow guests that already have a package to login.
What is Voom?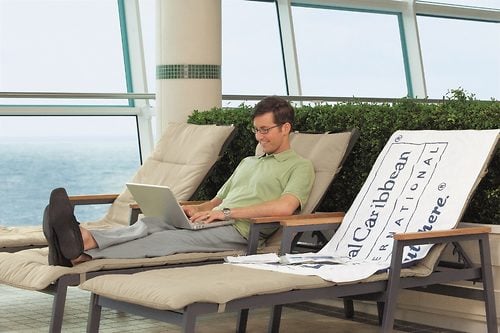 You might hear and read about something called, "Voom," which is what Royal Caribbean calls its onboard internet service. Unlike traditional internet options at sea, Voom utilizes a different kind of satellite technology to provide much faster connectivity.  
Voom offers guests the ability to stream music and movies, upload pictures, video chat with family and friends using FaceTime or Skype, check their email, lookup their stock prices, surf the web and stay connected with work via VPN.
In fact, on Oasis and Quantum class ships, you can easily stream video from services like Hulu or Netflix, or engage in Facetime and Skype video calls.
Some other ships, notably Royal Caribbean ships that spend time outside the United States, the speeds may not be quite as fast, but fleetwide, the Voom service is significantly better than onboard internet available through other cruise lines.
How do I sign up for Wi-Fi?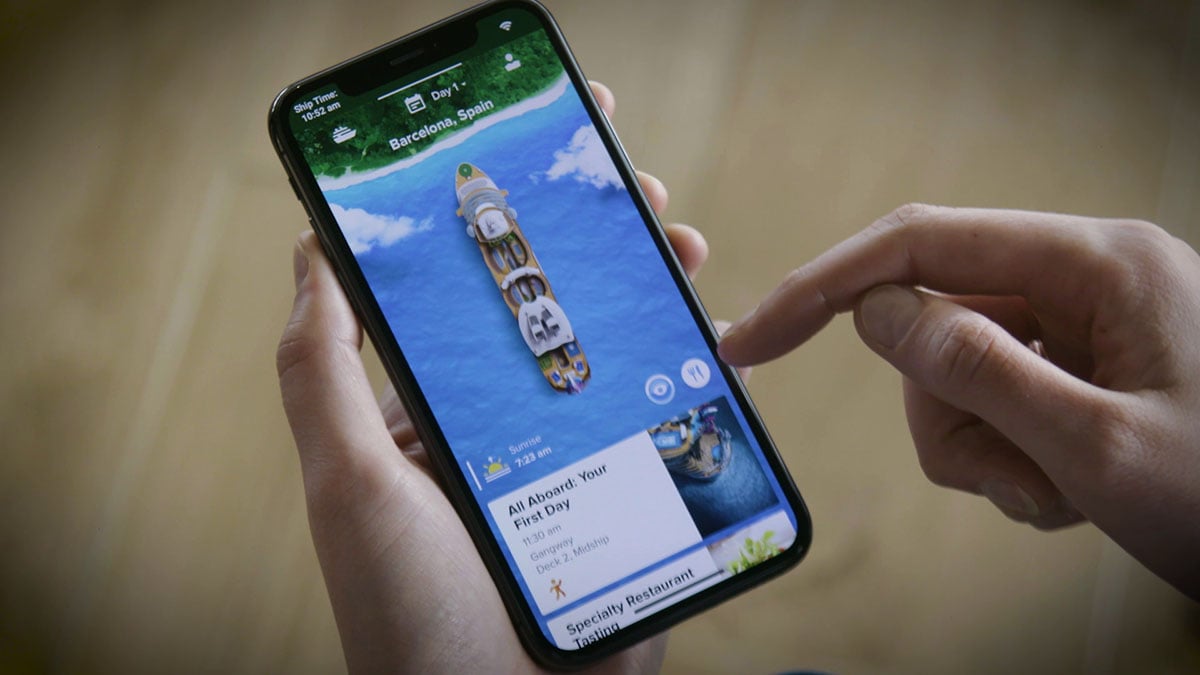 Your access to the internet onboard your Royal Caribbean ship is tied to your stateroom and account you create.  
When you first logon to Royal Caribbean's Wi-Fi, you will see an option to create an account and there you can sign up for a plan or pay for the internet by the day.  In either case, the charge for internet usage will be applied to your stateroom account.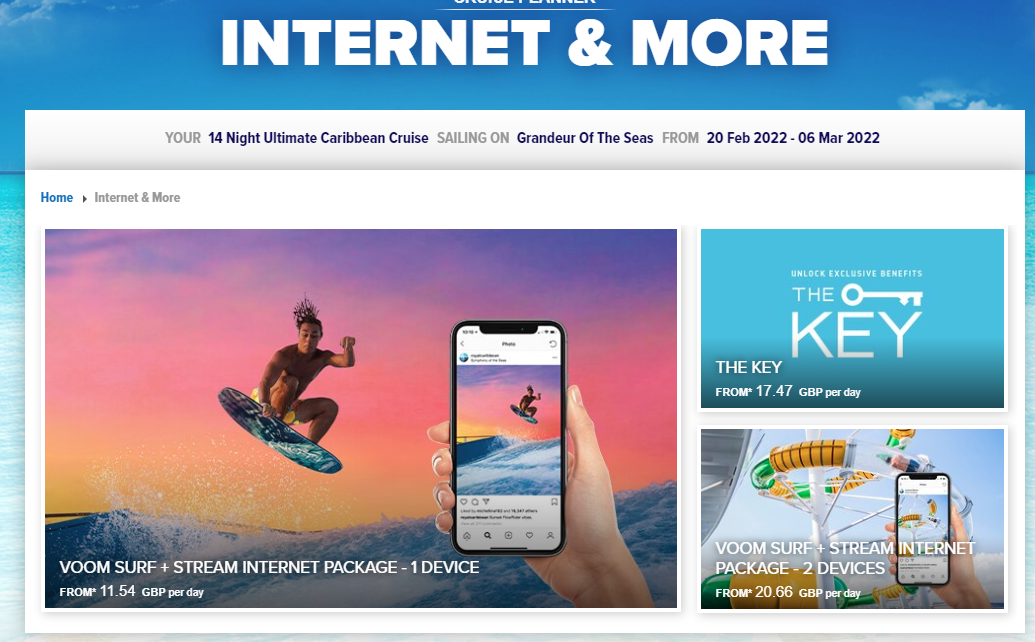 Alternatively, you can pre-purchase your wifi package and have it prepaid for your cruise.
If you buy it in advance via the Royal Caribbean Cruise Planner website, then log on to the wifi network onboard your ship and instead of being charged, you will see the prepaid plan ready to activate.
Can I use my Wi-Fi internet package at Perfect Day at CocoCay?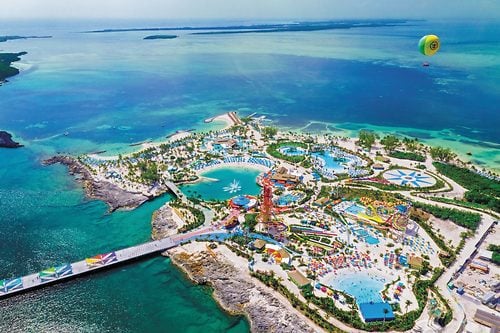 Yes, your Wi-Fi package works at Perfect Day at CocoCay for no additional charge.
What devices can access the internet?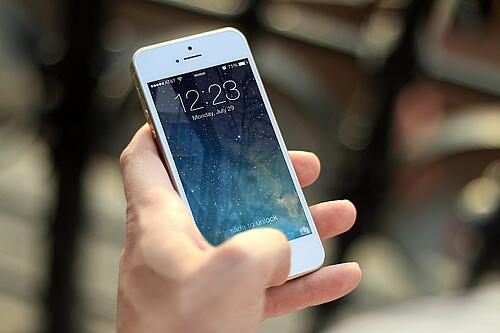 Any internet device that can access a 802.11b wireless connection can connect to the internet.  This include most smart phones, laptops and tablets.  
Royal Caribbean does provide workstations that are shared and available on a first-come, first served basis but we have found the workstations to be slow in terms of performance.
How fast is Royal Caribbean's Wi-Fi?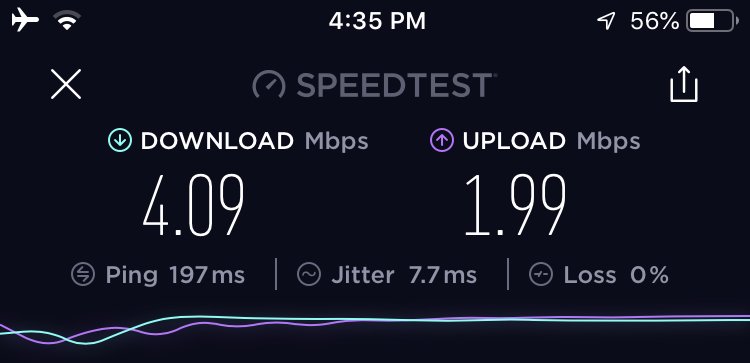 Let me be frank, internet access on a cruise ship will never be quite as snappy or responsive as it is on land.  However, Royal Caribbean's Voom packages are serviceable, and on the newer ships, pretty fast.
A number of factors can influence how fast the ship's internet is, including how many guests are using it, natural barriers and the ship's latitude.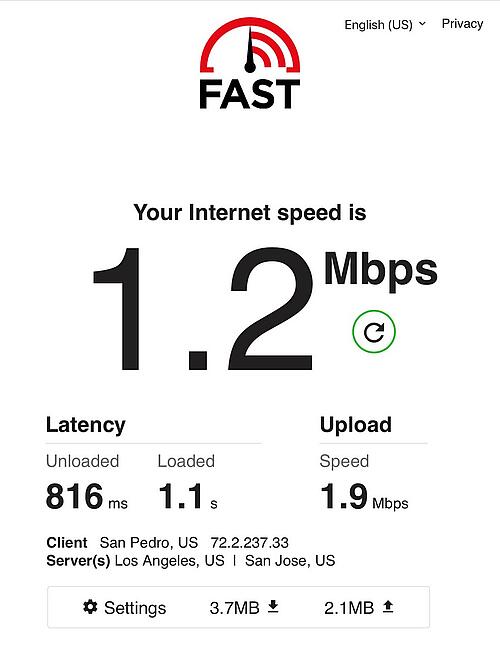 Speeds vary by two levels of plans available.  
"Surf" is good for basic needs.  
"Surf and Stream" is faster.  
Typical Surf & Stream is 4Mbps down & 2 Mbps up per user.  
Speeds don't vary much between ships but newer ships have newer technology with lower latency so it seems faster. 
How much does internet access cost?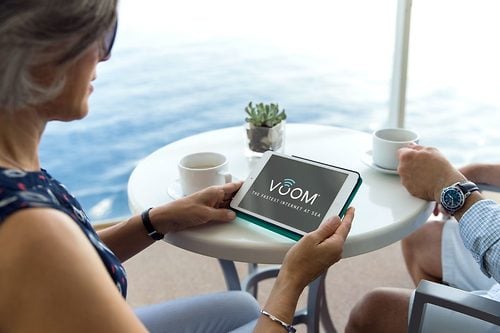 The cost of a Wi-Fi internet package varies depending on the number of devices and the service package purchased. 
Royal Caribbean offers unlimited plans that can be purchased onboard the ship or pre-purchased prior to the cruise. 
Without a doubt, you will save money by pre-purchasing your Voom internet package via Royal Caribbean's Cruise Planner site.
If you wait to book onboard, here is a copy of Voom prices from Odyssey of the Seas in 2022, which should be about the same across the fleet.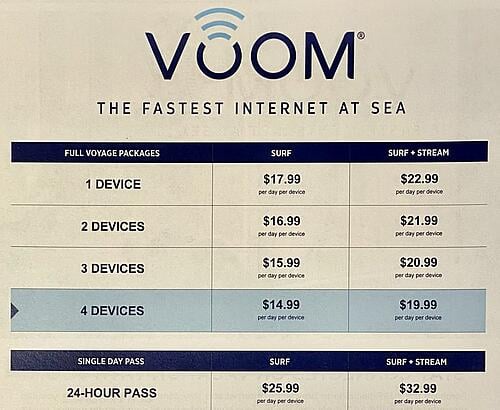 Can I switch between devices while using a Voom package?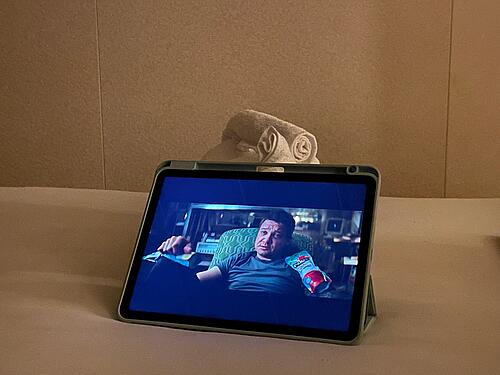 Yes, you may use as many devices as you like, but whichever plan you purchase will limit you to the number of devices that may be connected at the same time.  
To change devices, first log off the first device by typing logoff.com into your web browser.  This will log your first device out.  Afterwards, log back in with the other device.  You can do this as many times as necessary.