In:
Oasis of the Seas was a game-changing ship when she first debuted in 2009, and she is still considered one of Royal Caribbean's most popular cruise ships. Not only is Oasis of the Seas one of the largest cruise ships in the world and jam-packed with nearly endless activities, but she was amplified in 2019 to add even more dining options, activities, and amenities for guests to enjoy.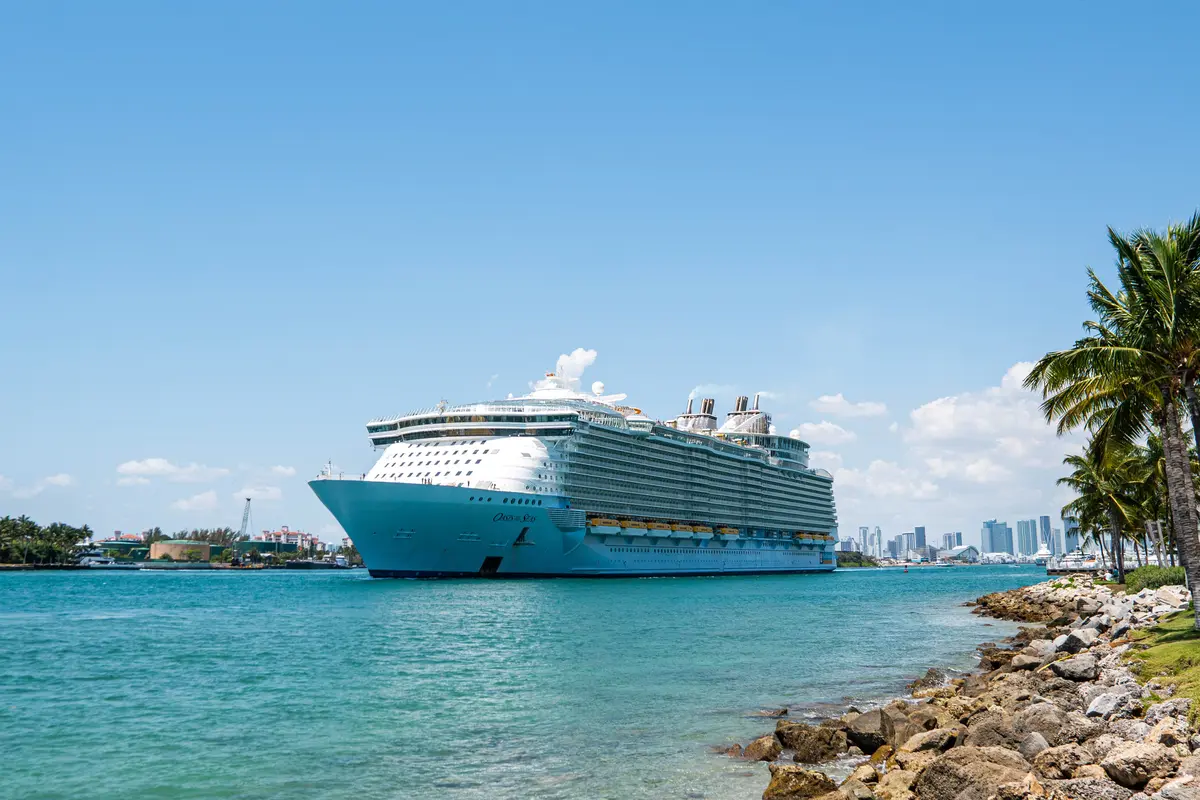 When choosing between one cruise ship or another, it's important to know what makes each ship stand apart from the others. Let's take a look at the top reasons why you should book a cruise on Royal Caribbean's Oasis of the Seas.
Portside BBQ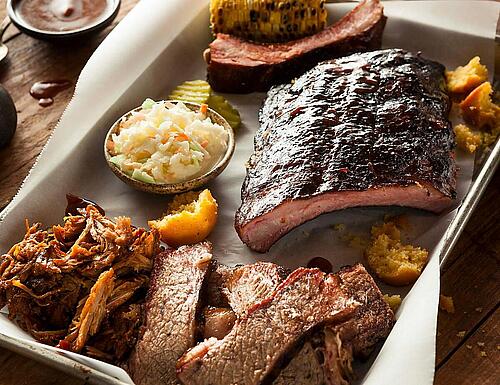 Oasis of the Seas is the only Royal Caribbean ship with Portside BBQ, which serves authentic, slow-cooked barbecue including St. Louis-style spare ribs, hand-pulled pork, BBQ half-chicken, and Texas beef brisket. Comfort food is in abundance at Portside BBQ, with sides including mac & cheese, baked beans, coleslaw, and fries. Don't forget to end your meal with the Chocolate Brookie, a half-brownie, half-chocolate chip cookie dessert that is sure to impress.
Portside BBQ is open for lunch on Oasis of the Seas and comes at an extra cost, with combos of 2 to 3 cuts, 2 sides, and 1 dessert ranging from $12.50 to $15.40. Special drinks are available at Portside BBQ as well which are not found elsewhere onboard, including freshly brewed sweet tea and the Portside Spiked Palmer.
Live music can be enjoyed from Portside BBQ, with a country guitarist performing throughout the afternoon.
Related: Portside BBQ restaurant review on Oasis of the Seas
Onboard activities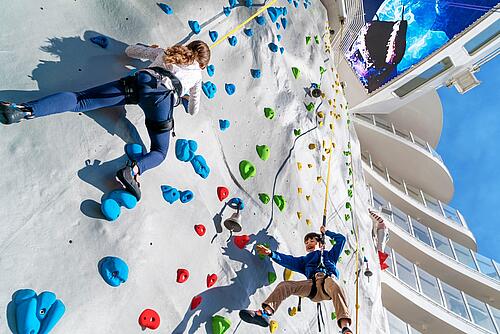 As an Oasis Class ship, Oasis of the Seas has many of Royal Caribbean's latest and greatest amenities and features that appeal to guests of all ages. Complimentary onboard activities include:
The Ultimate Abyss, a dry slide taking guests from the sports deck to the Boardwalk
Rock climbing on two 40+ foot walls
FlowRider surf simulator
Ziplining across the Boardwalk
Ice skating
The Perfect Storm water slides
Battle for Planet Z laser tag
Karaoke
Trivia
Mission Control: Apollo 18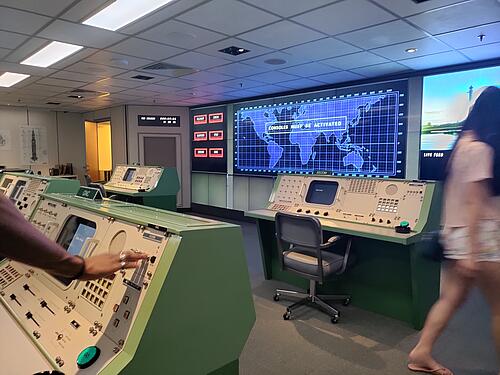 If you're looking for a unique cruise ship activity, consider trying the Puzzle Break Center, or escape room, on Oasis of the Seas.
The escape room onboard is Mission Control: Apollo 18, where guests can work in a team to figure out puzzles and clues to "escape" the room in time. Several Royal Caribbean ships have an escape room, but they all have a different theme, meaning if you tried the escape room on a different ship, the challenge on Oasis of the Seas will be different.
Mission Control: Apollo 18 takes place on a "spacecraft" that passengers must successfully launch to the moon. Six launching stations are located in the escape room, each of which has three separate tasks. 
This activity comes at an extra cost of $20 per person and lasts approximately one hour. Any guest 12 years of age or older is welcome to try the escape room.
Solarium sun deck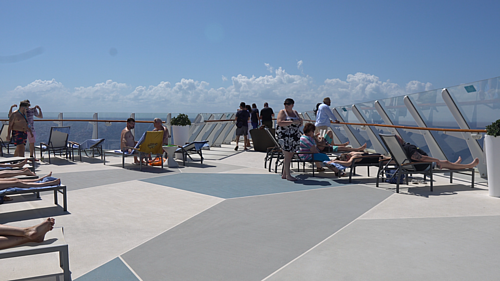 If you head all the way to the front of the Solarium on deck 15, you'll find a spacious outdoor sundeck that makes for a perfect place to spend a sea day (just make sure you apply sunscreen!).
On most other Oasis Class ships, guests will find Solarium bridge wings that extend over the side of the ship in the front of the Solarium. While these provide an excellent view and place to watch the sunset and sailaway, there is no room to sunbathe.
Guests on Oasis of the Seas will therefore love the large, adults-only sundeck that is not only relaxing, but offers some of the best views found onboard.
Small Wonders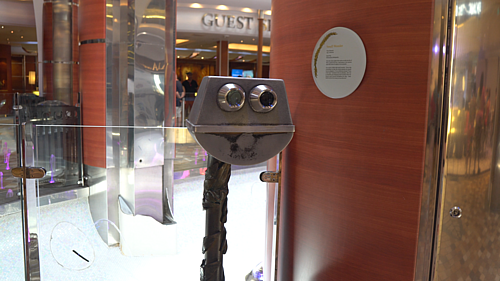 Oasis of the Seas is dotted with 42 "small wonders," a collection of artwork displayed in tiny portholes through a periscope that can only be described as cute.
By peering through the telescope, a tiny piece of 3D artwork appears. Each small wonder has its own image inside, so a scavenger hunt around the ship to find them all makes for a fun activity to do onboard.
If you cannot find them all, Guest Services will provide you with a list of where to find all the small wonders on the ship.
Related: Top 10 Royal Caribbean Oasis of the Seas hidden secrets
Central Park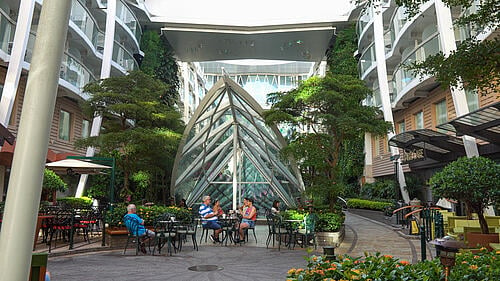 Like all Oasis Class cruise ships, Oasis of the Seas has a split-design with the Central Park and Boardwalk neighborhoods in the middle. This design creates the ship's unique neighborhoods, which give diverse atmospheres onboard Oasis of the Seas.
Central Park is one of the most beloved areas on an Oasis Class ship due to its peaceful atmosphere, where many passengers forget they are on a ship at all as they relax among the neighborhood's trees, bushes, and flowers. Comfy seating is in abundance in Central Park, allowing guests to listen to live piano music, have a drink at Trellis Bar, play chess, or read a book.
Specialty dining venues are found in Central Park as well, where guests can enjoy an upscale meal at 150 Central Park, traditional Italian cuisine at Giovanni's Table, or classic steakhouse dishes at Chops Grille. Retail stores, the complimentary Park Cafe, Vintages wine bar, and the Central Park library are located in Central Park as well.
High-energy entertainment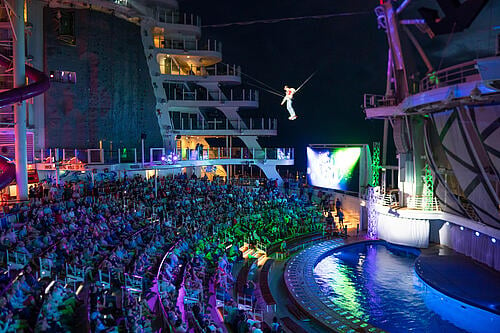 There is no shortage of entertainment options on Oasis of the Seas. In fact, you'll find it difficult to not find something to entertain you throughout the day. Live music, signature production shows, comedians, game shows, and more take place every day onboard.
The main entertainment venues onboard are the AquaTheater, Studio B ice rink, and Royal Theater.
Aqua80, an AquaTheater show on Oasis of the Seas, is a favorite among cruisers. Combining the best music of the 1980s with acrobatics, diving, slacklining, dancing, and aerial tricks, Aqua80 is a high-energy, upbeat performance to see onboard.
Those looking for Broadway entertainment can see Cats: The Musical in the Royal Theater, a 90-minute performance telling the story of the Jellicle cats and their decision of who will ascend to the Heaviside layer.
For escapades on ice, check out Frozen In Time in Studio B, which brings stories of Hans Christian Anderson to life through elaborate set design, costuming, and amazing tricks on the ice.
Cruises from the northeast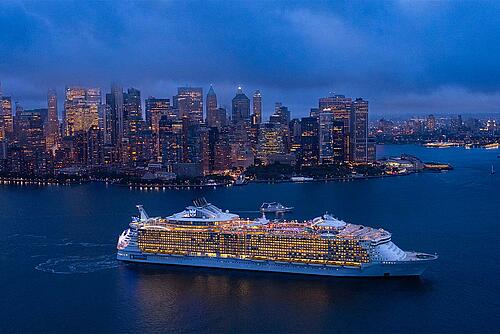 If you live in the northeast and are hoping to sail on an Oasis Class ship without having to fly to Florida, Oasis of the Seas makes a great option. She primarily sails 7-night Caribbean cruises, which run from May through October and visit Port Canaveral, Perfect Day at CocoCay, and Nassau.
The convenience of being able to drive to the Cape Liberty cruise port instead of flying to Florida makes choosing a cruise on Oasis of the Seas an easy decision for many cruisers.
Related: Guide to cruises from New York
Visit Canada on an Oasis Class ship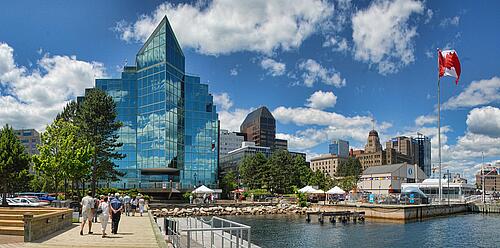 Most cruises on Oasis of the Seas visit the sunny, warm waters of the Caribbean. A limited number of itineraries, however, visit Canada's northeast ports of Halifax and Saint John. These sailings depart from Cape Liberty, New Jersey.
While in Canada, guests can enjoy walking through the historic, waterfront ports, going whale watching, visiting the Maritime Museum in Halifax, and feast on fresh seafood.
Cruises to Canada tend to be 4-5 night cruises instead of 7-nights, giving passengers a chance to try out an Oasis Class cruise ship even if they cannot take a whole week off.
Vitality Cafe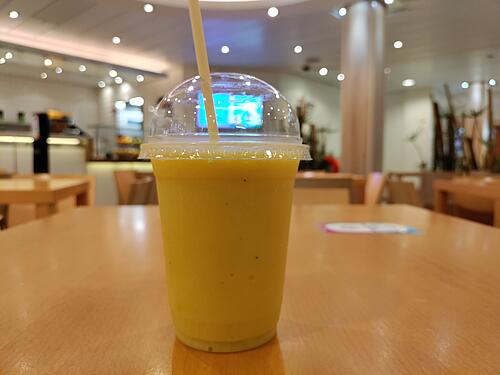 Health-conscious cruisers will love the food and drink options found at Vitality Cafe, located within the spa on Oasis of the Seas.
Vitality Cafe focuses on healthier food and drinks, offering a menu of fresh-squeezed juices, protein shakes, smoothies, and small bites like granola bars and fruit cups.
Smoothies and shakes are fully customizable, so you're able to choose from the selection of ingredients to create the drink you prefer.
Beverages at Vitality Cafe come at an extra cost but are included in Royal Caribbean's beverage packages, with the exception of protein powder. Food is complimentary.
Caribbean-style pool deck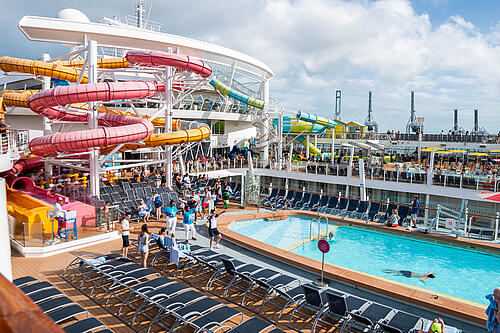 One of the biggest improvements made to Oasis of the Seas during her amplification was the Caribbean-style pool deck enhancement.
Royal Caribbean has been designing its newest cruise ships with a Caribbean resort-style pool deck design, featuring colorful seating and decor. They also feature the Lime & Coconut Bar, which serves some of the best tropical drinks onboard.
Booking a cruise on Oasis of the Seas means you can enjoy the ship's Caribbean pool deck, which will bring the perfect tropical vibe to your cruise vacation.
Diverse dining options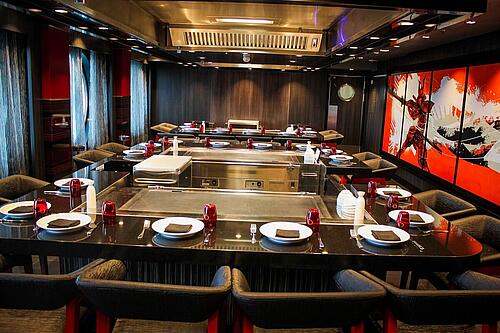 Oasis of the Seas has a plethora of complimentary and specialty dining options open for breakfast, lunch, and dinner. Whether a s'mores cookie skillet at Playmakers,  risotto at Giovanni's Table, or burrito at El Loco Fresh, it's nearly impossible to get hungry while cruising on Oasis of the Seas.
The following complimentary dining options can be found onboard:
Main Dining Room
Windjammer
Solarium Bistro
Coastal Kitchen (suite guests only)
Park Cafe
Vitality Cafe
Cafe Promenade
Sorrento's
Boardwalk Dog House
El Loco Fresh
For those who want to enhance their dining experience by dining at specialty restaurants, the following options are available:
150 Central Park
Chef's Table
Chops Grille
Giovanni's Table
Izumi
Johnny Rockets (complimentary for breakfast)
Playmakers
Portside BBQ
Vintages Wine Bar (tapas)
Starbucks
Oasis of the Seas is an excellent ship to try out a Royal Caribbean dining package due to the sheer amount of restaurants to choose from. For more information on the pros and cons of a Royal Caribbean dining package, check out our YouTube video:
Bars and nightlife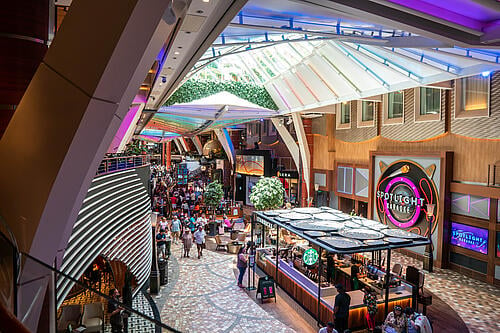 Just like restaurants, there are plenty of bars and nightlife venues to enjoy on Oasis of the Seas. 
Those who like salsa dancing will love spending the evening at Boleros, where you'll find not only live Latin music, but the best mojitos onboard!
If you prefer a nightclub experience, head of to Blaze Comedy Club or Music Hall, where you'll find DJs and live bands playing late into the night.
If a nightclub sounds too intense for your liking, relax at Jazz on 4 or Schooner Bar for live jazz and piano music that will help you wind down after a busy day onboard.
Needless to say, there is plenty to choose from when it comes to evening activities on Oasis of the Seas.
Central Park and Balcony Staterooms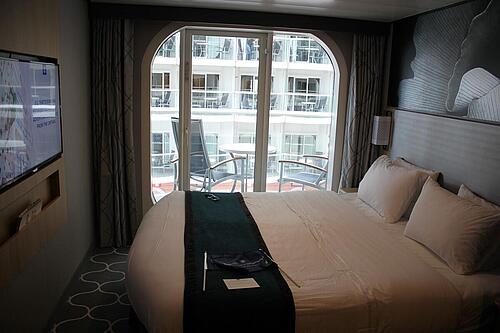 Oasis of the Seas has an abundance of stateroom options that can fit any cruise budget. Everything from the most basic interior staterooms to lavish suites can be booked on Oasis of the Seas.
Something that sets Oasis Class ships like Oasis of the Seas apart are the neighborhood balcony rooms. The Central Park and Boardwalk neighborhoods each have their own set of balcony staterooms that overlook the neighborhood.
Central Park rooms tend to be more tranquil, allowing guests to be surrounded by plants and trees and listen to live music in the evenings from their balcony. No ocean view is available from these staterooms.
Boardwalk rooms, on the other hand, are in a more dynamic environment, home to the sights and sounds of the sports bar, arcade, carousel, and AquaTheater. These rooms provide a partial view of the ocean.
Boardwalk neighborhood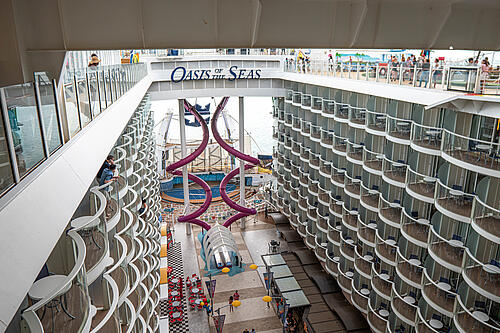 Another reason to book a cruise on Oasis of the Seas is to discover the ship's Boardwalk neighborhood, which takes guests back in time to the seaside piers of New England.
Whether riding the colorful carousel, filling up a bag with candy at Sugar Beach, eating classic American cuisine at Johnny Rockets, or ending the day with a drink at Playmakers Sports Bar & Arcade, the Boardwalk is a fun place to explore onboard during both day and night.