In:
It's the first day of your cruise and you just got onboard for a full week fun exploring, enjoying, and relaxing.  So what should you do first?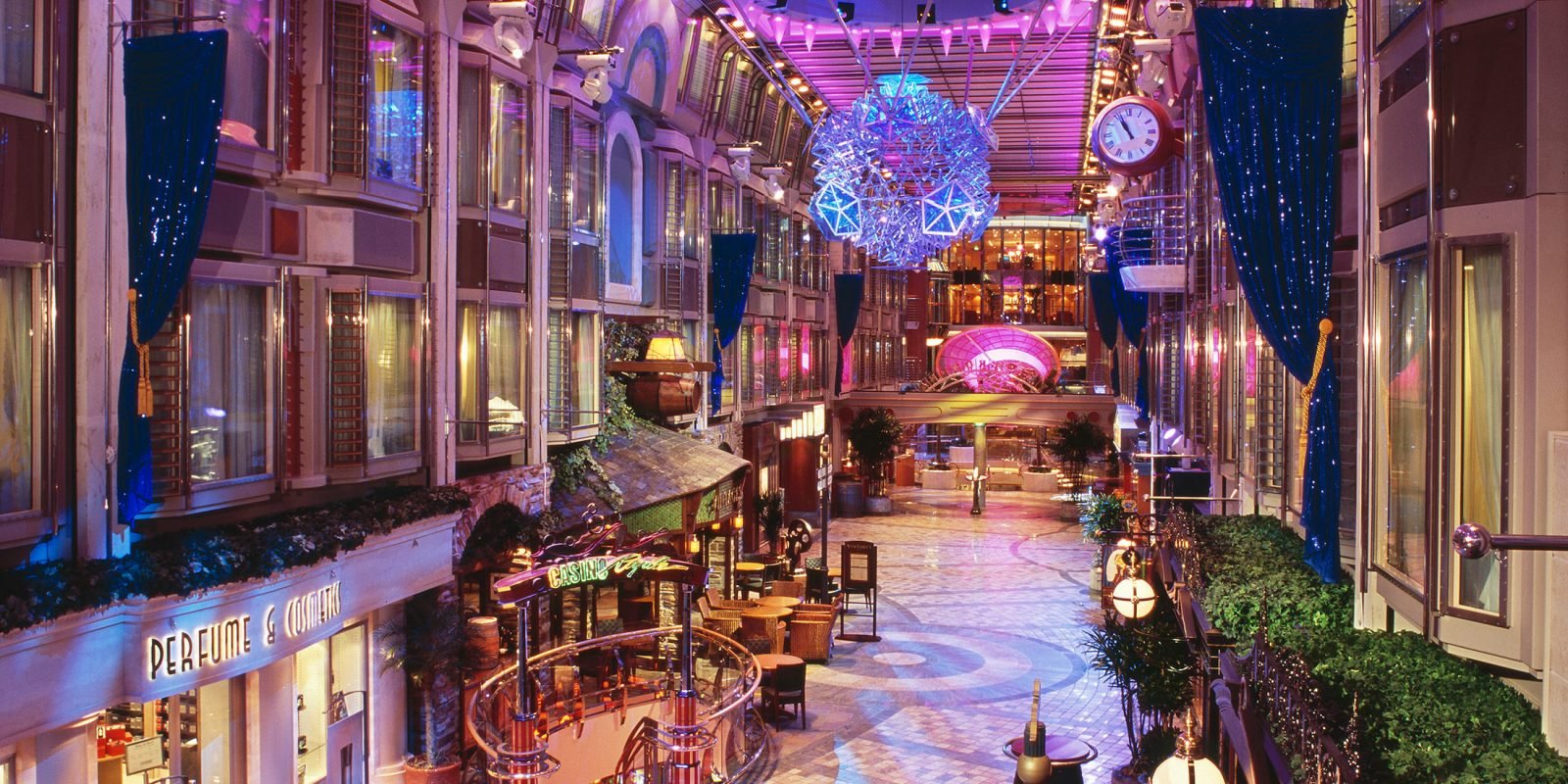 Embarkation day is a busy day because there's a lot happening and it's your opportunity to set yourself up for a great sailing to come. 
What should you do once you get onboard to ensure everything goes smoothly?
Here's a to-do list for once you get onboard your cruise ship for a fun and productive first few hours.
Do the muster drill first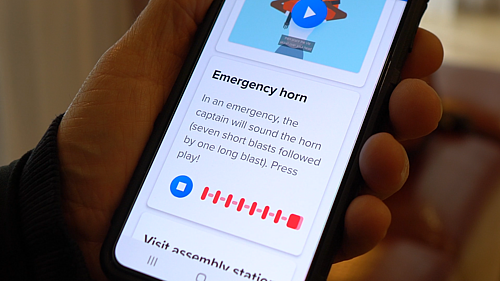 Royal Caribbean requires all passengers to complete its safety drill, and since you board the ship on the same deck (or close) your muster station is located, it's a good idea to take care of it quickly.
There's two steps to the safety drill: first, watch the safety video and listen to the emergency alarm in Royal Caribbean's app.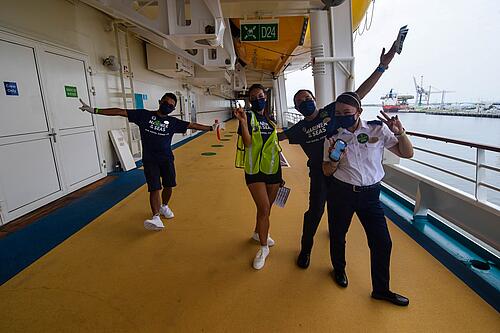 Read more: Royal Caribbean app walkthrough and tips
The next step is to visit your muster station so you know where it is. Here, your kids can get their muster bracelet that they wear for the entire cruise in the event they become separated from their party (or are in Adventure Ocean) during an emergency.
Eat lunch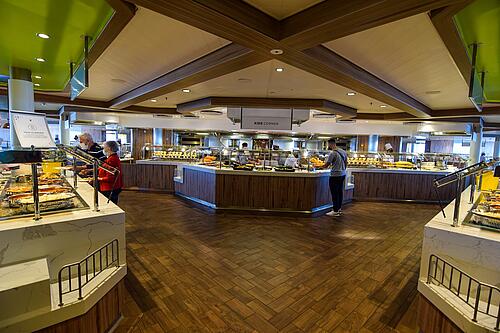 If you arrive before 1pm, go to the Windjammer and grab lunch. If it's after 1pm, skip down to "Check if your stateroom is ready".
You will find less of a crowd in the back of the Windjammer.
Another good tip is while you're sitting down to eat, take your phone back out and go through the Royal Caribbean app to book entertainment for your cruise. Just connect to the WiFi and the ability to book shows should become available.
Read more: Where can I eat on the first day of my Royal Caribbean cruise?
Book specialty dining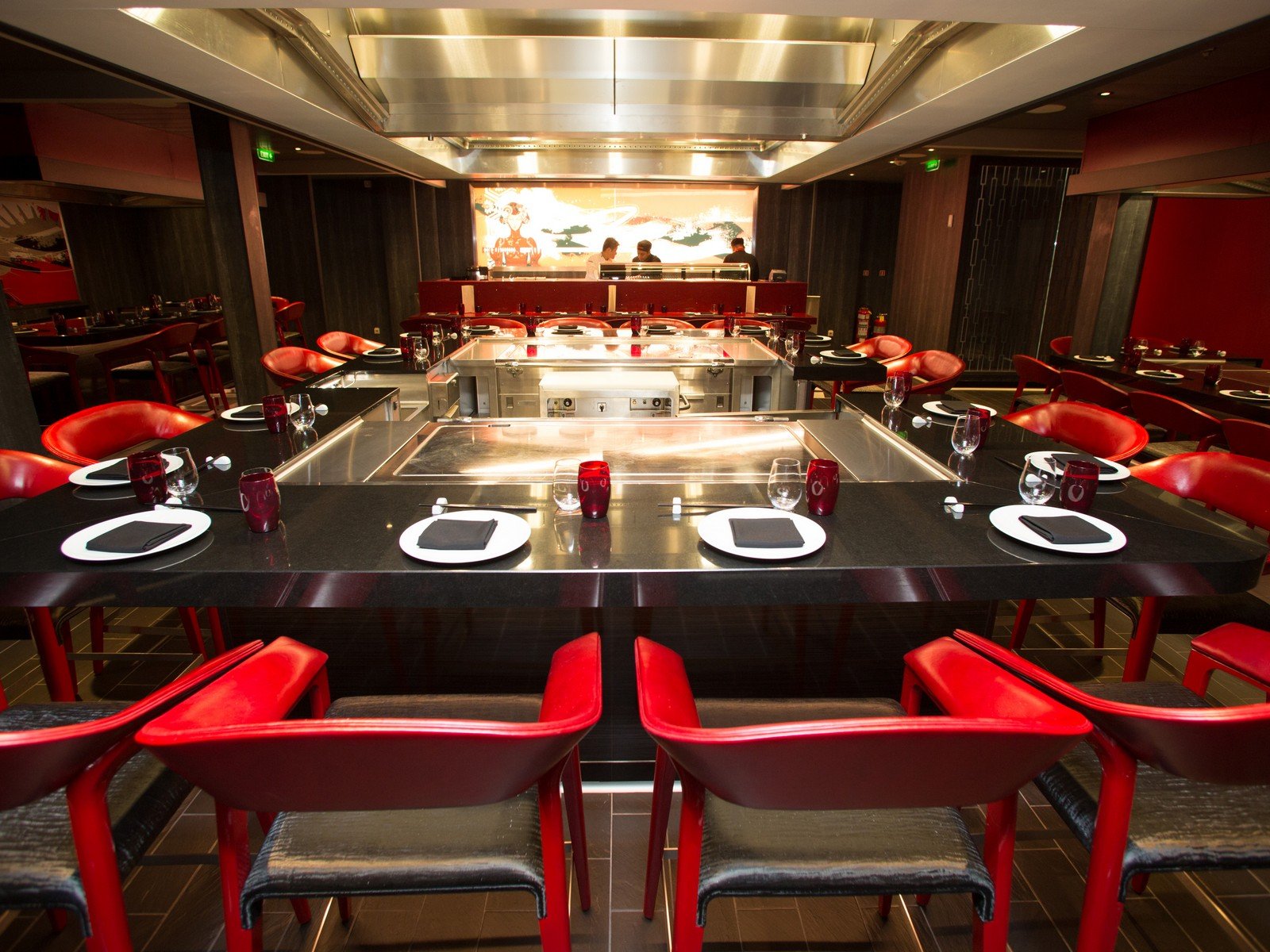 If you have a dining package, now is a good time to make reservations at specialty restaurants.
You can go to any specialty restaurant and they can book you a time at any other specialty restaurant for you.
If you don't have a dining package, you can easily book reservations via the app or by stopping at the restaurant.
Keep an eye out on embarkation day for roaming waiters that are looking to book passengers for specialty dining. They can make individual reservations whether you have a dining package or not, and can be more convenient option to reserve a time rather than walking to a restaurant.
Check if your stateroom is ready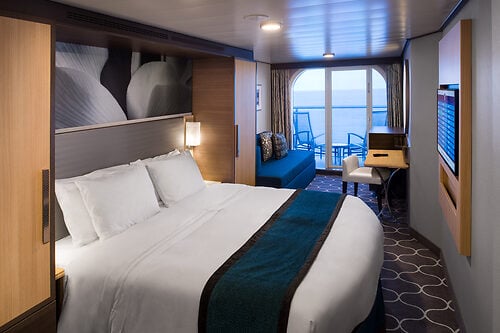 After 1pm, check to see if your cabin is ready.
You will find your SeaPass cards wedged in the stateroom number sign. If it's ready, collect your SeaPass cards, explore your stateroom, drop off your bags.
The Entertainment Schedule will be in your room as well. Work with your family to know which shows you want to see together. Also use this time to quickly scroll through the Daily Planner on the Royal app on Days 2 and 3 to identify activities you want to do together as a family. Both of these will impact which times you reserve for Adventure Ocean.
Register your kids for Adventure Ocean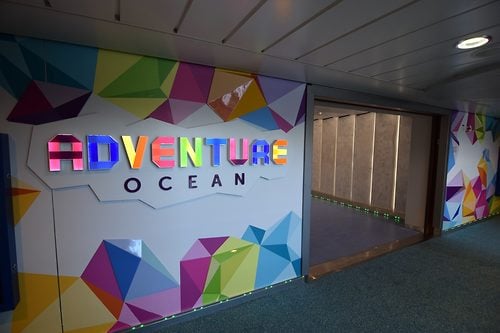 After 2pm, Adventure Ocean will open up for an open house and registration.
Registering your kids now saves time later.
Proceed up to Adventure Ocean, which is usually located on Deck 12 on most ships.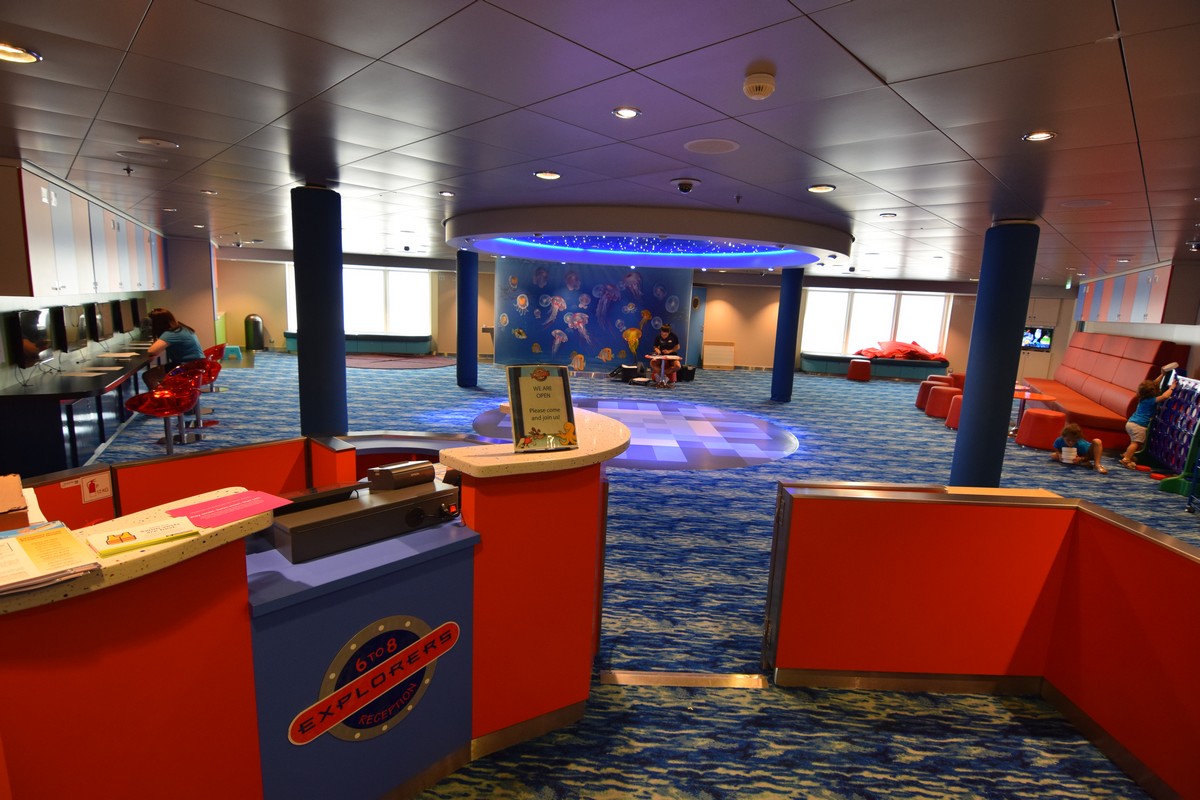 There will be three sessions per day (unless your ship is in port):
9am - 12pm
2pm - 5pm
7pm - 10pm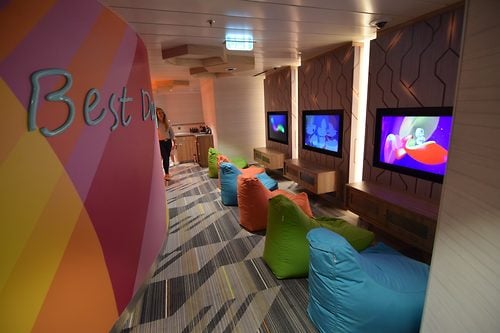 Depending on your sailing, the staff will either give you a certain amount of hours/sessions you can pre-book, or instruct you on what reservations they are offering.
If you child is less than 36 months old, she/he can be registered for the Nursery. The Nursery will also allow parents to reserve some time in advance, so be sure to review what to expect when booking nursery time.
Get a drink!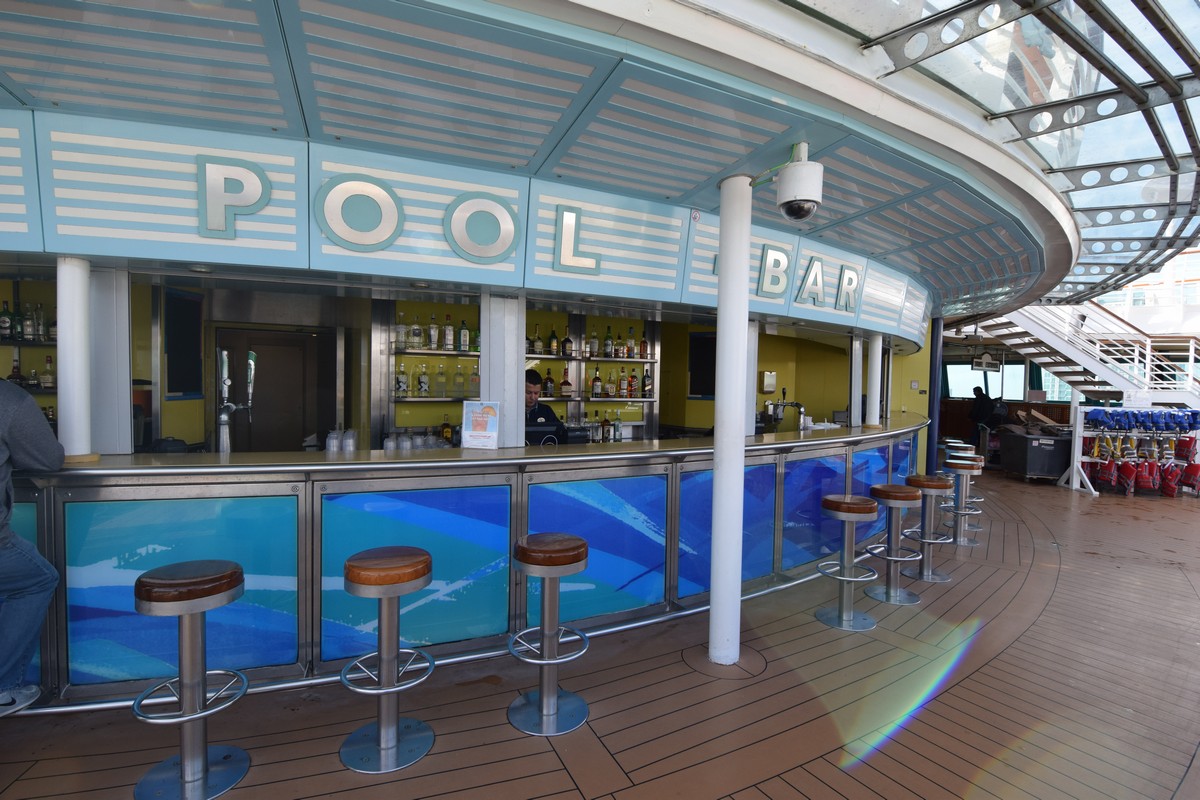 Take a break from running around, and enjoy a welcome aboard cocktail.
Getting a drink on the pool deck is a great spot, so head up to the pool bar and order one to kick off your vacation.
If you want to get a drink earlier than this but don't have your SeaPass card yet, you can just let the waiter/bartender know your cabin number. They can look you up, and verify if you have a drink package or not.
Try a top deck activity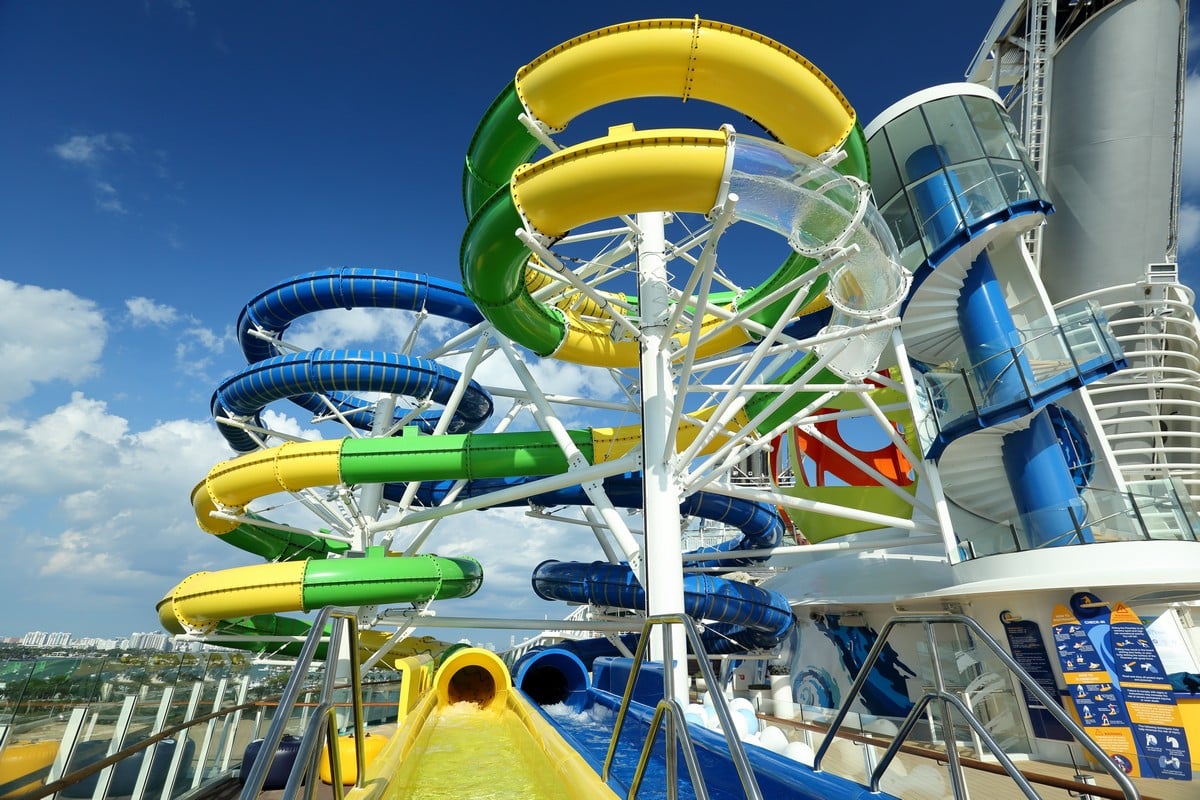 The first day of the cruise is the best time to check out the most popular activities on a cruise ship, such as water slides, hot tubs, the pool, or bumper cars.
Ideally, keep a bathing suit with you in your carry-on luggage and change back in your cabin or in one of the public restrooms on the pool deck.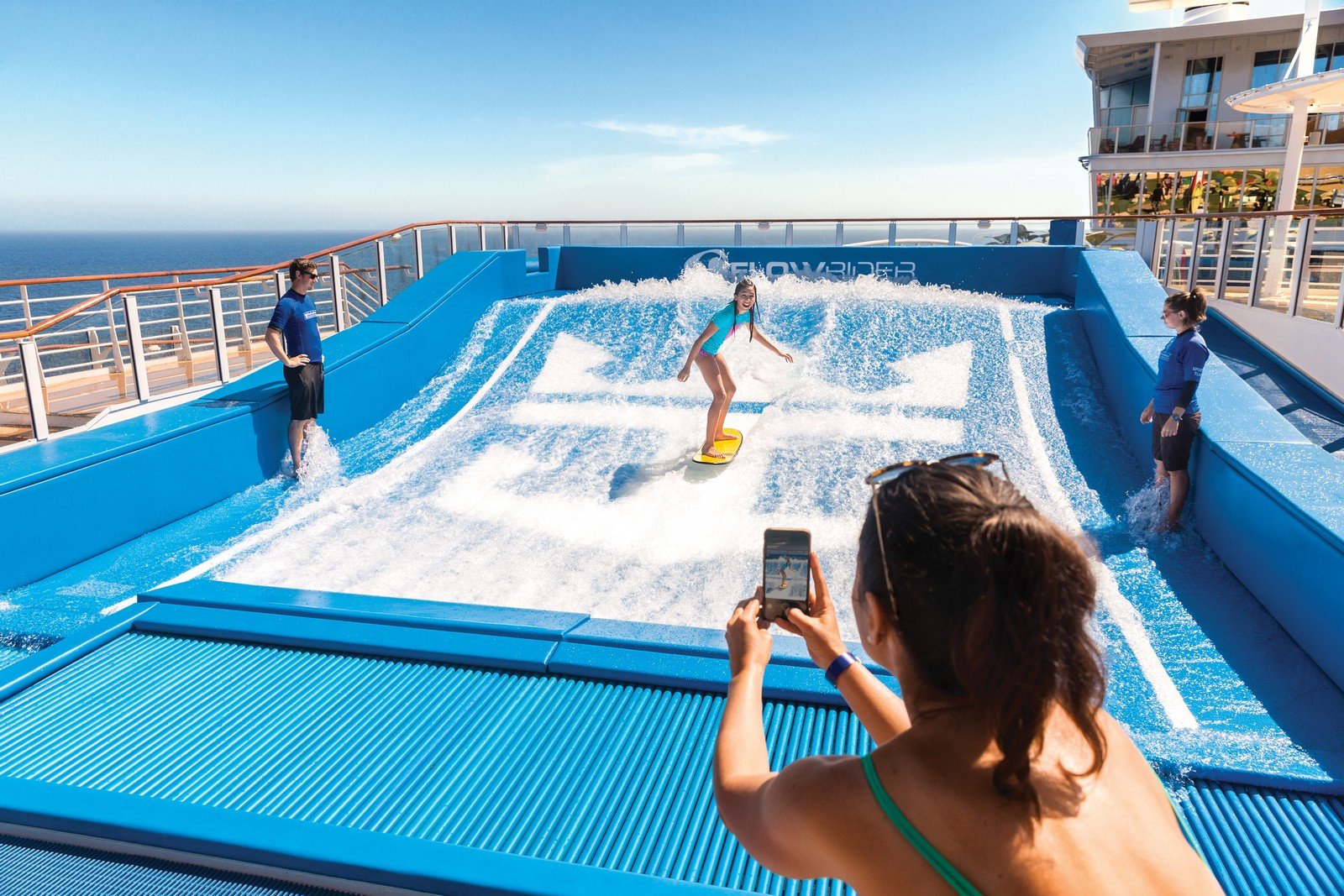 The reason why lines are shorter for these activities on the first day is most people are just getting the bearings, and they likely packed their bathing suit in the luggage that will be delivered to their cabin onboard.
Take advantage of these less-crowded times to enjoy high-demand activities.
Check your dining room table assignment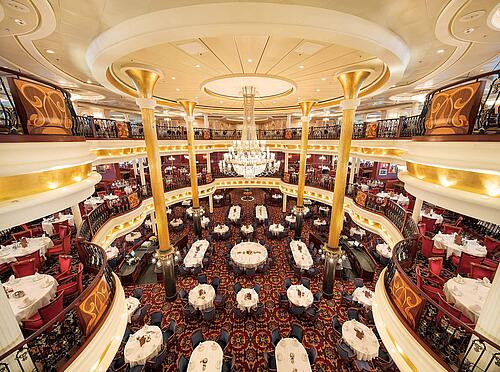 The afternoon is also a good time to verify your dinner assignment, especially if you have traditional dining.
Take a look at your SeaPass card and find your Main Dining Room and table number. You can walk into the dining room and check exactly where your table is to verify its location and that it has enough seats for everyone in your party.
If there is an issue, look for the head waiter (likely at the entrance of the main dining room) to speak to about a change.
Collect your luggage and unpack
Crew members will begin delivering luggage to staterooms in the early afternoon, so it might be worthwhile to see if your luggage has arrived yet.
Bags will be left outside your room door. If your bag is not there yet, don't sweat it. It will be delivered later on, although you could walk down the hall to see if it's in a staging area ready to be delivered. If so, you can feel free to grab it and bring it to your cabin instead.
Once you get luggage, now is a good time to unpack.
More information
Want to learn more about your Royal Caribbean cruise? Check out these articles: