In:
Purchasing travel insurance is crucial before going on a Royal Caribbean cruise, and if you travel frequently, you'll want to consider an annual travel insurance plan.
Protecting your cruise vacation in the case of medical emergencies, travel delays, or other unforeseen mishaps should not be overlooked. Having travel insurance ensures you'll be covered if things don't go to plan at any point during your trip.
Instead of purchasing travel insurance for each individual trip, though, you might want to purchase an annual travel insurance plan. Let's take a look at what these plans offer and how they can be an excellent value if you travel several times throughout the year.
What is annual travel insurance, and why should you consider it?
Annual travel insurance plans provide insurance coverage for one year of travel, therefore providing coverage for multiple trips as opposed to a trip-by-trip basis. For one set price, you'll receive travel insurance on a full year's worth of trips (provided the destination is 100+ miles from your home).
You should consider annual travel insurance if you travel more than 2-3 times during the year. Annual travel insurance works not only for cruises, but all types of traveling and vacations. Even if you only plan to take one cruise per year, your annual travel insurance plan will work for any other trips you have booked throughout the year, whether short weekend getaways or business trips.
The cost of an annual travel insurance policy will vary depending on the specific coverage you require, your age, and where you live.
My Allianz Annual Travel Insurance plan, for example, costs $280 for the year, which I find to be extremely reasonable considering purchasing insurance on a trip-by-trip basis can easily be much more expensive in the course of a year. 
What does travel insurance cover while on a cruise, and why should I get it?
It's never a good idea to go on a cruise without travel insurance. While you may want to save the added expense and put the money toward something fun on your cruise vacation, such as a shore excursion or dining package, don't underestimate the importance of travel insurance.
Many passengers partake in active activities on a cruise vacation that they may not do often at home, such as jet-skiing, zip lining, kayaking, and horseback riding. Any active activity comes with a risk, and you cannot predict if you'll need medical attention while in port or onboard.
Because regular medical insurance will not usually cover medical services onboard or in port, it's recommended to have travel insurance.
Additionally, a cruise vacation, like any other type of travel, poses a risk for trip interruption, delays, and other unexpected issues. From a bag getting lost in transit to flight cancellations, it's always better to be protected than to not have insurance when you need it most.
Travel insurance benefits can vary by policy, but you can expect to see the following items covered:
Trip cancellation (you have to cancel a trip before you depart)
Trip interruption (travel plans interrupted while on a trip)
Travel delay coverage (with a minimum required delay)
Baggage delays/loss (lost or delayed bag by an airline, cruise line, or other travel carrier)
Rental car damage and theft coverage
Emergency transportation coverage
Emergency medical/dental coverage
Medical expenses on a cruise
Travel accident coverage
Epidemic/pandemic coverage
What's the downside of an annual travel insurance plan?
One difference worth noting about an annual travel insurance plan versus purchasing individual travel insurance policies is the coverage amounts.
The total coverages can be less with an annual plan compared to an individual plan.  Certainly an annual plan will cover the essentials, but if you are looking to add the utmost coverage in terms of liabilities, individual travel insurance plans can often include higher amounts.
Our Annual Travel Insurance Plan recommendation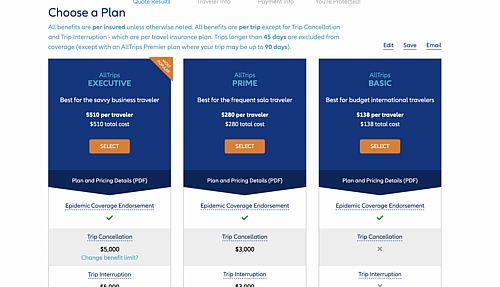 Here at Royal Caribbean Blog, we protect our trips with an annual travel insurance plan through Allianz. Allianz Travel offers travel insurance for individual trips, annual plans, and car rentals.
To be clear, Royal Caribbean Blog has no affiliation with Allianz. We just like what they offer.
They offer three types of annual travel insurance plans: Executive, Prime, and Basic. We recommend the Prime option for the best balance of affordability and coverage.
It's important to note that trips longer than 45 days are excluded from coverage under these plans. Unless you're planning six back-to-back cruises in a row, this shouldn't be an issue for most travelers.
You can read more about the annual travel insurance plans on Allianz's website here.
What if I have a credit card with travel benefits?
Select premium credit cards offer travel insurance perks–provided you book the trip with that credit card. However, you should weigh the benefits offered through your credit card versus a traditional travel insurance plan before relying on your credit card's insurance.
Not all cards offer emergency medical coverage or higher limits of trip cancellation protection. Check the following details before using only your credit card's travel insurance before a cruise:
What is covered under your credit card's travel protection?
What is the limit on reimbursement for both individual trips and the maximum reimbursement per year?
Does this card cover medical expenses on a cruise ship?
What is the maximum amount of days covered per trip through your credit card insurance?
Does the card cover just you or anyone on the trip reservation you booked through the card?
It's unlikely a credit card's travel protection will offer as much protection as a standard travel insurance plan, but you should contact your credit card policy to check.
Other cruise tips & information: