In:
Oasis of the Seas is one of the most impressive Royal Caribbean cruise ships, and it is packed with plenty to see, do and enjoy onboard.
Naturally, it is easy to miss something onboard, so we have our list of the best hidden secrets easily overlooked on Oasis of the Seas. This includes the changes Royal Caribbean made to Oasis of the Seas in 2019 as part of her $165 amplification.
10. Solarium sun deck wings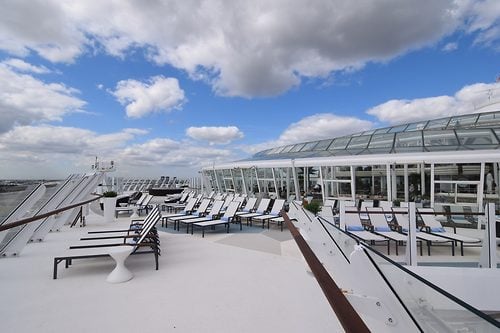 On deck 15, if you venture to the front of the ship and into the Solarium, you will find a vast outdoor sundeck in the very front that offers not only ample seating, but viewing platforms that jet out from the side of the ship to provide a fantastic perfect vantage point.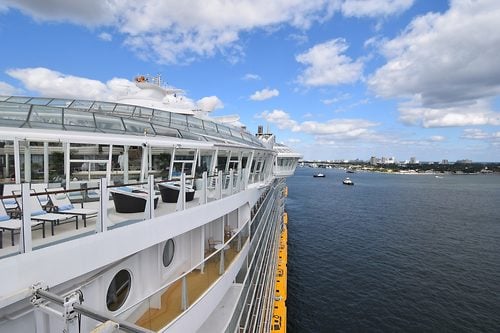 Whether sailing into a port, departing another, or just enjoying the view of the ocean, these sun deck wings are always a good photo opportunity.
9. Central Park viewing overlook
There are a pair of overlooks in Central Park that provide not only additional seating in this popular neighborhood, but a neat vantage point.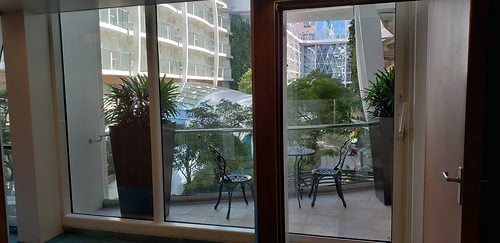 They are accessible from the aft elevator banks on 9.
8. Johnny Rockets for breakfast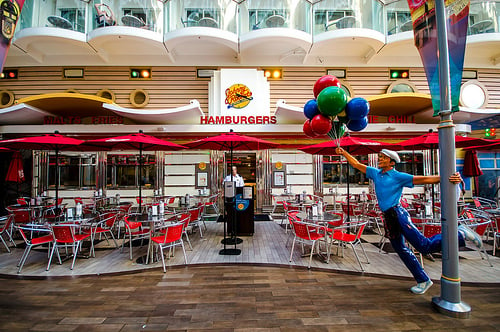 Everyone knows Johnny Rockets offers some amazing burgers and milk shakes for lunch, dinner and late night but did you also know that Johnny Rockets is open for breakfast?  And it's free!
Usually, Johnny Rockets is open from 7:30am to 10:00am, and it is a great spot to grab breakfast that will not be as crowded as the Windjammer or even the main dining room.  You will have a choice of scrambled eggs, omelettes, pancakes, French Toast and more.
Plus, you get a nice morning walk on the Boardwalk to go along with those eggs!
7. Less crowded lunch spot on embarkation day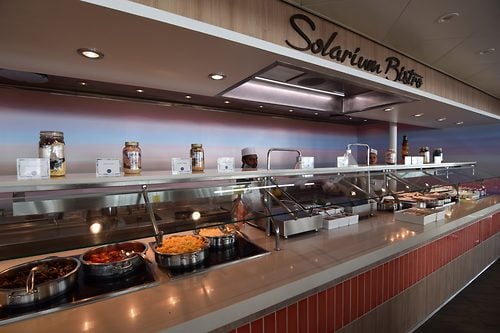 When you board Oasis of the Seas on your first day and want somewhere a less crowded for lunch, try the Solarium Cafe.
Located on Deck 15 forward, the Solarium Cafe does not get nearly as crowded as the Windjammer and if you are boarding in the afternoon when everyone wants to grab lunch, try the Solarium Cafe as a good alternative.
The Solarium Cafe also has some beautiful views of the Solarium pool and the ocean too.
6. Quiet spot to relax
Looking for somewhere that is shaded and is quiet and a great spot to sit and relax?  
Head to deck 5 and go all the way to the aft of the ship.  You will find chairs that have a great view of the ocean and are usually devoid of other passengers. You can also access this area by going behind the AquaTheater and going down the stairs.
5. Secret AquaTheater viewing area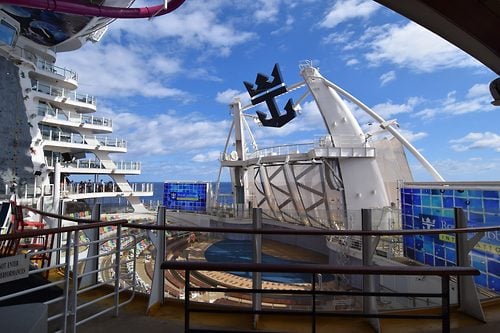 If you do not have tickets to a show in the AquaTheater, there is a hidden viewing area most guests are unaware of to see the show.
Walk to the AquaTheater, but go to either the left or right of the theater to find stairs that lead to the rock climbing wall area. There is a large viewing area, that even has a few chairs to enjoy.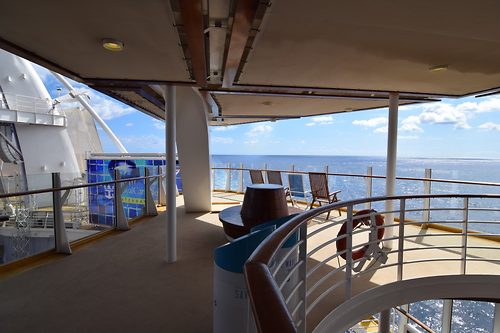 When there is not a show, it is still a great spot to enjoy a view of the ocean going past you.
4. Small wonders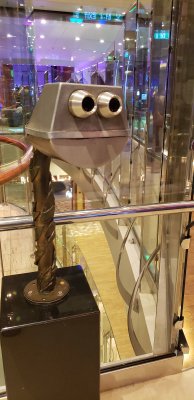 Hidden all over Oasis of the Seas is a series of art displays known as "Small Wonders", where you will find 42 natural wonders positioned all over the ship.
When you find one, there will be something that looks like a periscope or telescope that if you peer into, you will find these tiny three dimensional pieces of art.
This is a fun activity for kids or adults to try to find them all and it is one of those hidden gems many guests simply overlook.
Hint: if you give up and cannot find them all, Guest Services can provide you with a list of them all to help!
3. Virtual reality games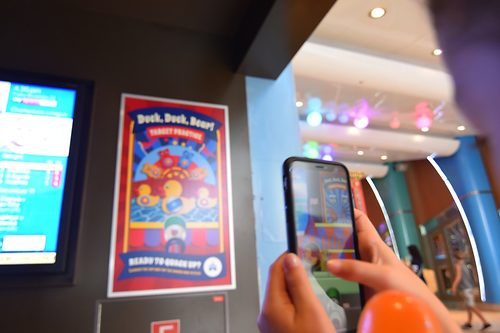 Royal Caribbean's smart phone app is free to use onboard the ship, and features a few virtual reality games that you can play in the Boardwalk neighborhood.
Once in the Boardwalk, look for the various game posters near Playmakers Sports Bar & Arcade.  Launch the app, select the icon that looks like a circus tent and then point your camera towards the poster.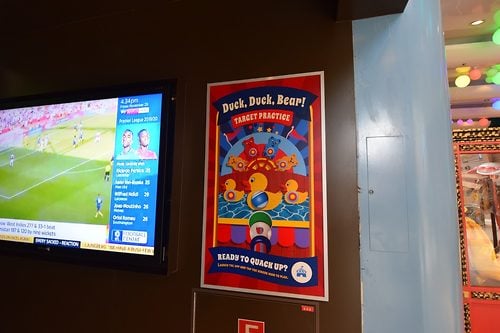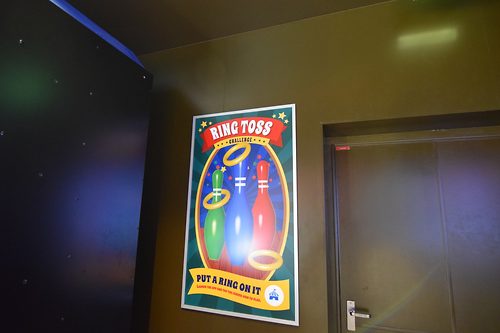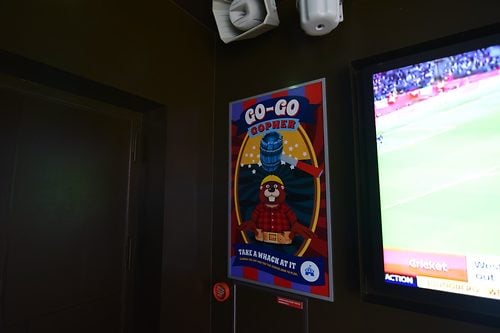 There are a variety of games you can play, and no cost to use it.
2. Teach yourself to play the steel drum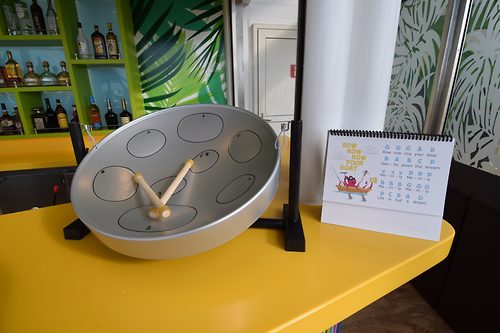 At the Lime & Coconut bars, look for mini-steel drums that you can play and learn a song or two.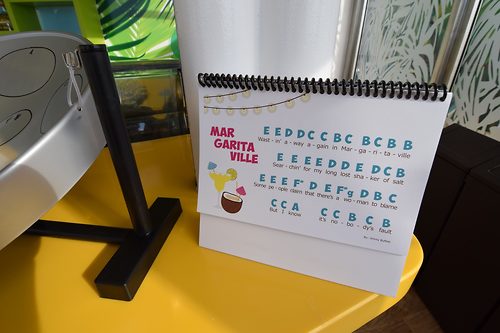 The steel drums have their notes labeled, along with sheet music to learn to play some classic bar songs.
1. Secret USB charging spots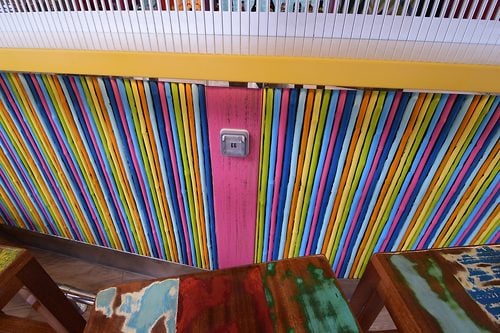 When on a Royal Caribbean ship, it seems phone batteries run out even quicker with all the photo opportunities, app options and whatnot.  If you remember to bring a charging cable with you, there are a few spots you can charge up!
These include:
Below the bar seating at Lime & Coconut
Select napkin dispensers at Portside BBQ
USB charging port behind your stateroom television
Phone charging station on pool deck near aft elevator bank on starboard side.
Did we miss any Oasis of the Seas secrets? Share them in our comments!