In:
Oasis of the Seas was a record-breaking ship when she launched in 2009, and she remains one of Royal Caribbean's most impressive cruise ships today.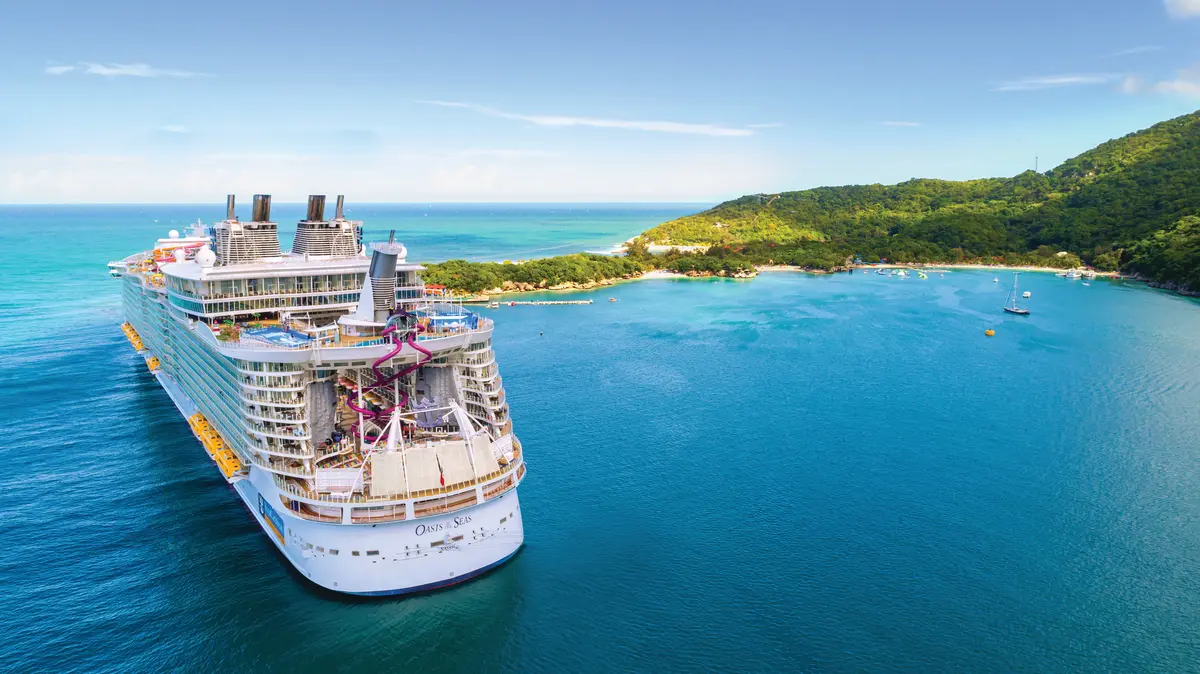 Oasis of the Seas sets the bar high when it comes to cruise ships; she has a nearly endless selection of entertainment, dining options, cabin categories, and thrilling activities to do onboard. And although you can visit a variety of destinations on Oasis of the Seas–from the Bahamas to Europe–the ship is a destination within itself.
If you're considering a cruise on Oasis of the Seas, be sure to read through this planning guide so you know everything to expect once onboard. Let's jump in!
Oasis of the Seas overview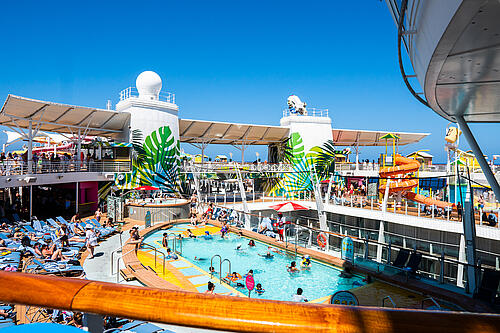 Oasis of the Seas was the first ship in Royal Caribbean's Oasis Class. With a capacity of nearly 7,000 passengers, length of 1,187 feet, and gross tonnage of 225,282, she was the world's largest cruise ship when she launched and remains one of biggest cruise ships in the world today.
In 2019, Oasis of the Seas received a $165 million amplification to modernize the ship. New dining and bar venues, a revamped pool deck, updated kids programming, and new activities were just some of the changes made to the ship. Due to the amplification, Oasis of the Seas feels new and refreshed despite being almost 14 years old.
Oasis of the Seas neighborhoods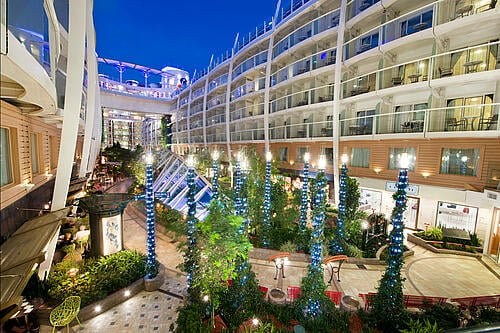 Oasis of the Seas was the first Royal Caribbean ship to be split into distinct neighborhoods. These neighborhoods range from outdoor parks to indoor entertainment centers; each aims to help manage crowds throughout the ship while providing unique experiences in each location.
These are the neighborhoods on Oasis of the Seas:
The Boardwalk, an outdoor neighborhood meant to evoke nostalgia for seaside towns. It features a carousel, candy shop, hot dog stand, sports bar, Johnny Rockets, shops, and the AquaTheater.
Pool & Sports Zone, the top decks of Oasis of the Seas with pools, hot tubs, Splashaway Bay, and sports activities
Central Park, an open air oasis in the middle of Oasis of the Seas with restaurants, retail, and lush greenery
The Royal Promenade, the main thoroughfare of Oasis of the Seas with bars, lounges, casual eateries, and shopping
Entertainment Place, the entertainment hub onboard with a comedy club, theater, jazz club, nightclub, and casino
Youth Zone, home to Royal Caribbean's Adventure Ocean kids programming
Vitality Spa & Fitness, where guests can enjoy a spa, salon, and fitness center
Oasis of the Seas dining & beverage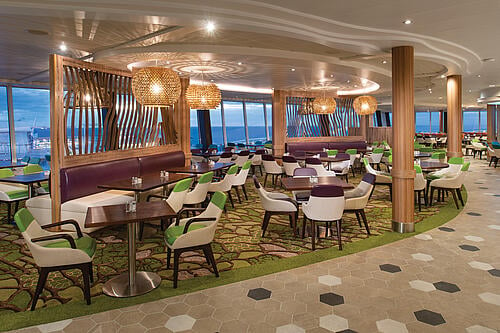 There is an abundance of food to enjoy on any Royal Caribbean cruise ship, but especially on an Oasis Class ship. Oasis of the Seas boasts over 20 locations to grab a bite to eat, from burritos at El Loco Fresh to upscale dining at 150 Central Park.
Like other ships, Oasis of the Seas has both complimentary dining venues and specialty restaurants. While there's no need to spend extra to dine at specialty restaurants, many guests prefer the ambiance and cuisine offered at these venues. However, there are more than enough complimentary options to keep you satisfied throughout any Oasis of the Seas cruise.
Oasis of the Seas complimentary dining options:
Main Dining Room
Windjammer Cafe
Solarium Bistro
Park Cafe
Cafe Promenade
Sorrento's Pizza
Boardwalk Dog House
El Loco Fresh
Vitality Cafe
Coastal Kitchen (suites only)
Johnny Rockets (breakfast only)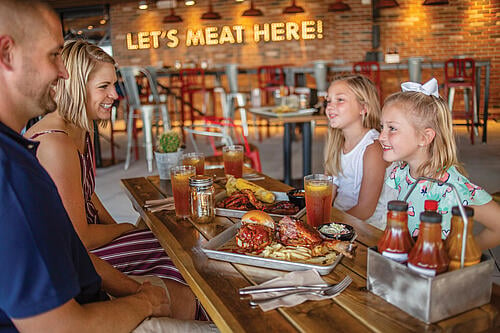 Oasis of the Seas specialty dining options:
150 Central Park
Chef's Table
Chops Grille
Giovanni's Table
Izumi Sushi & Hibachi
Johnny Rockets (lunch and dinner)
Playmakers Sports Bar & Arcade
Portside BBQ
Vintages Wine Bar
Starbucks
Sugar Beach
If you are interested in dining at specialty restaurants on Oasis of the Seas, you may want to consider purchasing a dining package. Royal Caribbean offers several specialty dining packages, including an Unlimited Dining Package, which allow you to dine at several specialty restaurants for a lower cost than booking each restaurant individually.
For more information on Royal Caribbean's dining packages, read our Ultimate Guide to Royal Caribbean's Unlimited Dining Package.
Oasis of the Seas Bars & Lounges
Just like dining, there are plenty of options when it comes to grabbing a drink onboard Oasis of the Seas. Everything from wine bars to pool bars–and even a bar run by robot bartenders–can be found onboard.
During her 2019 amplification, The Lime & Coconut was added to the pool deck of Oasis of the Seas. This tropical-themed bar offers signature cocktails that will transport you directly to paradise, including the signature Lime & Coconut, made with Malibu Coconut Rum, coconut milk, coconut syrup, guava syrup, and lime juice.
Related: Top 10 Royal Caribbean Oasis of the Seas hidden secrets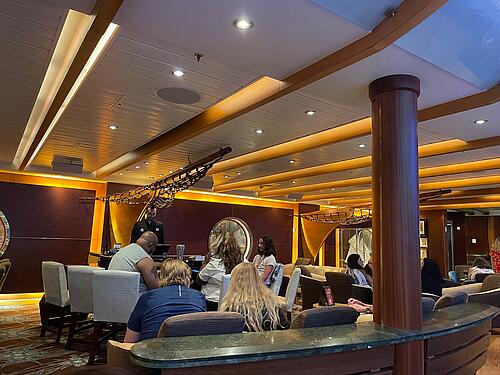 While there are standalone bars on Oasis of the Seas, many are found in lounges throughout the ship where guests can enjoy a drink with live music and other entertainment. A pub, Latin bar, jazz club, and other venues can be found throughout the ship.
Other bars and lounges on Oasis of the Seas include:
Casino bar
Jazz on 4
Blaze Comedy
Diamond Club
Spotlight Karaoke
Boleros
Globe & Atlas Pub
Rising Tide Bar
Bionic Bar
Schooner Bar
Playmakers
Trellis Bar
Vintages Wine Bar
Music Hall
Solarium Bar
Wipeout Bar
Like dining packages, Royal Caribbean also offers drink packages. Three main packages are available: the Deluxe Beverage Package (alcoholic drinks), Refreshment Package (non-alcoholic drinks), and Classic Soda Package.
If you're thinking of purchasing a drink package for your upcoming Royal Caribbean cruise, these guides should help you decide if it's the right choice for you:
Oasis of the Seas Shows & Entertainment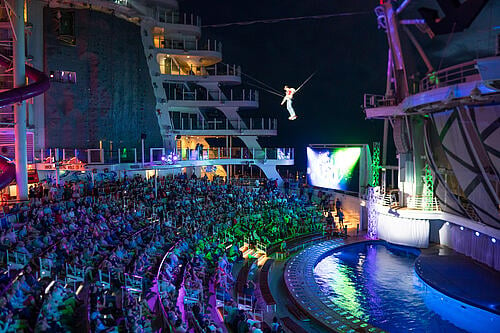 All production shows on Oasis of the Seas are included in your cruise fare. Depending on the show, reservations may be required. We recommend opening the Royal Caribbean app as soon as you board the ship on embarkation day to make show reservations for the cruise.
There are three main entertainment venues on Oasis of the Seas: the Royal Theater, the AquaTheater, and the Studio B ice-skating rink.
In the Royal Theater is CATS, the ship's Broadway musical, telling the story of a tribe of cats called the Jellicles. Other than the Broadway production, the Royal Theater hosts comedians, game shows, and guest performers during any Oasis of the Seas sailing.
In the AquaTheater is Aqua80, a thrilling show of high diving, acrobatics, and aeralists performing to the best tunes of the 80's.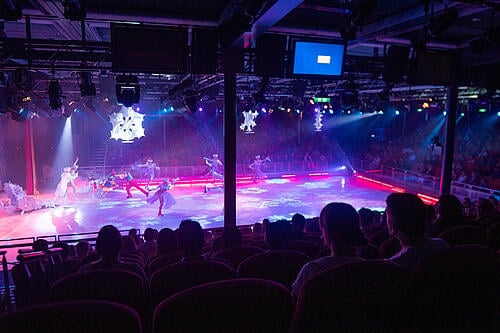 Over in Studio B, you'll find Frozen in Time, a dazzling ice-skating performance based on the fairy tales of Hans Christian Andersen.
Outside of signature production shows on Oasis of the Seas you can find:
Live acoustic guitar music at the Globe & Atlas Pub
Live Latin music at Boleros
Live piano tunes at Schooner Bar
Live Jazz band at Jazz on 4
Live bands at Dazzles
DJs
Game shows
Simply put, there's a huge variety of entertainment on Oasis of the Seas, and you'll find several options to choose from every night of the cruise.
Oasis of the Seas Pool deck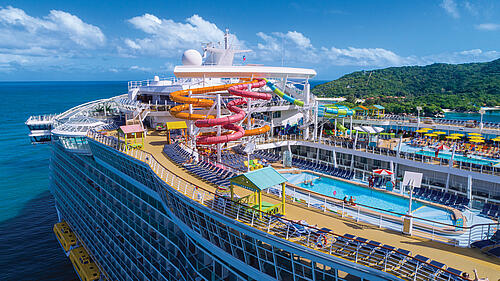 During the 2019 amplification of Oasis of the Seas, she received a Caribbean-resort style pool deck, bringing a tropical feel to the ship's highest decks.
There are four distinct pool areas on the Oasis of the Seas pool deck. You'll find three main pools and one Splashaway Bay area for kids, which has small slides, water sprayers, and climbing areas.
In addition, there are three waterslides on the pool deck available to guests of all ages. First are the Perfect Storm waterslides, a pair of twisting and turning racing slides. The other slide, the Supercell, first sends riders twisting and turning downhill before being emptied into a bowl, where they spin several times in a circle before sliding into a hole at the bottom.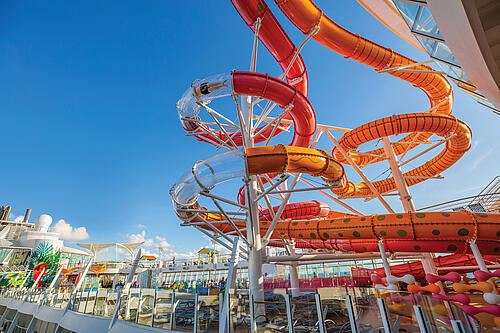 Also on the pool deck is unlimited, complimentary soft-serve ice cream, the Lime & Coconut pool bar, private cabanas (must be reserved), and plenty of pool chairs.
Solarium
In addition to the main pool deck, which is accessible to guests of all ages, is an adults-only Solarium for guests 16 and older.
The Oasis of the Seas Solarium features comfortable seating, several jacuzzis, a shallow wading pool, a bar, and a large outdoor sun deck. The Solarium offers a more relaxing atmosphere compared to the main pool deck, and it's one of the best places to spend a sea day onboard Oasis of the Seas.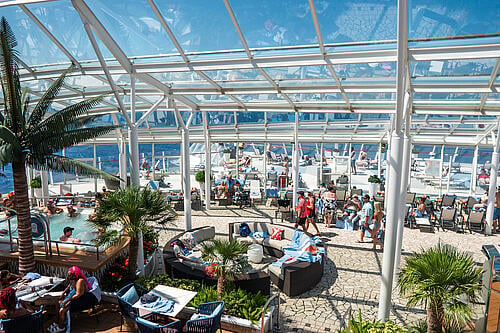 The Solarium Bistro is also located inside the Solarium. This complimentary venue is available to guests of all ages and is open for breakfast, lunch, and dinner.
Signature activities on Oasis of the Seas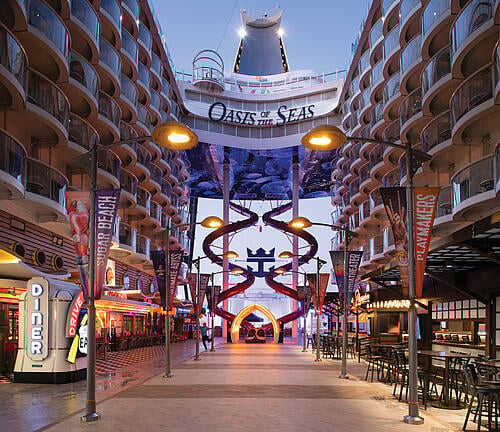 Oasis of the Seas is packed with family-friendly activities. Here are the main signature activities you'll find onboard–all of which are included in your cruise fare:
A zipline, soaring 8 decks over the Boardwalk neighborhood
The Ultimate Abyss, a dry slide from the Sports Deck to the Boardwalk neighborhood
Oasis Dunes mini golf
Sports Court for activities like soccer, basketball, and pickleball
Ping pong tables
Ice skating in Studio B
Carousel
Laser tag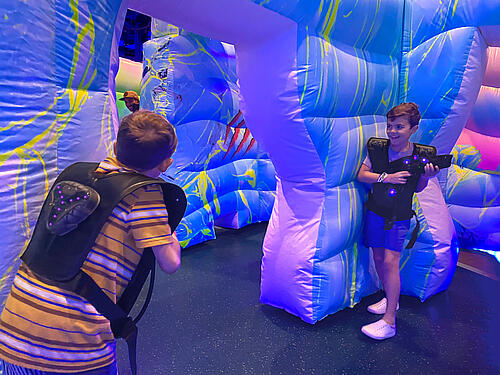 Outside of signature activities, there are even more activities listed each day in the Cruise Compass, such as family scavenger hunts, kids karaoke, family craft time at Adventure Ocean, etc.
There are, however, a few activities not included in your cruise fare on Oasis of the Seas:
The Apollo 18 escape room, where you can work as a team with other passengers to solve clues and "escape" from the room before time runs out. This activity costs around $20 per guest.
There are two arcades on Oasis of the Seas, and these come at an extra cost.
Adventure Ocean
Like all Royal Caribbean cruise ships, Oasis of the Seas provides complimentary childcare programming through the ship's Adventure Ocean program. As a plus, Oasis of the Seas has the updated version of Adventure Ocean, which gives more flexibility in activities and enhanced play spaces for passengers 6 months to 17 years old.
Adventure Ocean on Oasis of the Seas is broken into the following age groups:
AO Babies: 0-36 months (comes at an hourly cost)
AO Juniors: 3-5 years
AO Kids: 6-12 years
Teen spaces: 13-17 years
Each age group has their own room in Adventure Ocean that features age-appropriate programming and activities.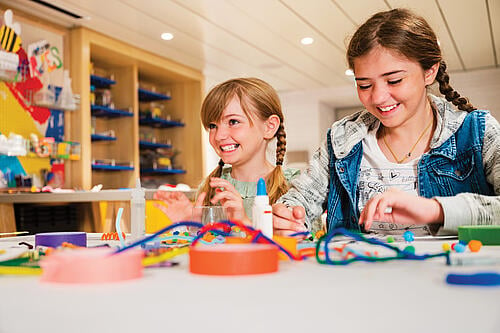 AO Kids, for example, has its own "Workshop" station where kids can do crafts and science experiments. They also have video games, dodgeball, foosball tables, and other games.
In addition to the structured programming, there's also a Play Place, which features toys and climbing structures where kids can run around and burn their energy. Kids must be supervised at the Play Place. You'll also find AO Theater in Adventure Ocean, which plays movies and hosts activities throughout the sailing.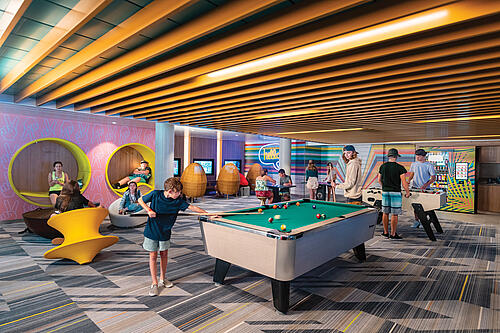 Teens on Oasis of the Seas will love Social 298, an exclusive space just for teenagers. This hangout space features comfortable seating, video games, foosball tables, interactive electronic tablets, and an outdoor patio.
Oasis of the Seas staterooms
On Oasis of the Seas you'll find interior, oceanview, and balcony cabins, as well as a wide selection of suites.
Interior cabins are best for those on a budget or those who would prefer to allocate extra money toward add-ons like a drink package, shore excursions, and specialty dining instead of an upgraded cabin.
Although they do not have a window, interior staterooms on Oasis of the Seas are a cozy place to relax and unwind after a busy day onboard.
Related: I tried the best inside cruise ship cabin hacks to see how well they worked
Oceanview and balcony cabins can provide an excellent value, as many guests prefer being able to see the ocean from their stateroom. Plus, having a private balcony can be a peaceful haven away from the hustle and bustle found elsewhere onboard, so this stateroom category is among the most popular on Oasis of the Seas.
Oasis of the Seas is one of the best Royal Caribbean ships for those planning to book a suite. As an Oasis Class ship, Oasis of the Seas features the Royal Suite Class, which provides an enhanced onboard experience for suite guests.
Benefits of the Royal Suite Class include private suite sun deck access, meals at the suites-only restaurant Coastal Kitchen, a suite concierge, Suite Lounge access, and priority boarding, among others.
Oasis of the Seas itineraries
Oasis of the Seas sails from Cape Liberty, New Jersey from May to October 2023, offering 7-night cruises to Port Canaveral, Perfect Day at CocoCay, and Nassau.
During the winter months, she sails from Miami, Florida on Western and Eastern Caribbean cruise itineraries, visiting destinations such as San Juan, Cozumel, Labadee, and Perfect Day at CocoCay.
For the summer 2024 season, Oasis of the Seas will head to Europe to offer 7-night Western Mediterranean cruises. These sailings start in either Barcelona or Rome and visit Palma de Mallorca, Marseille, Florence/Pisa, and Naples.
Considering a cruise on Oasis of the Seas? Here's our best advice and tips for planning your cruise vacation: