In:
Did you know some Royal Caribbean cruise ships have drinks served by a robot?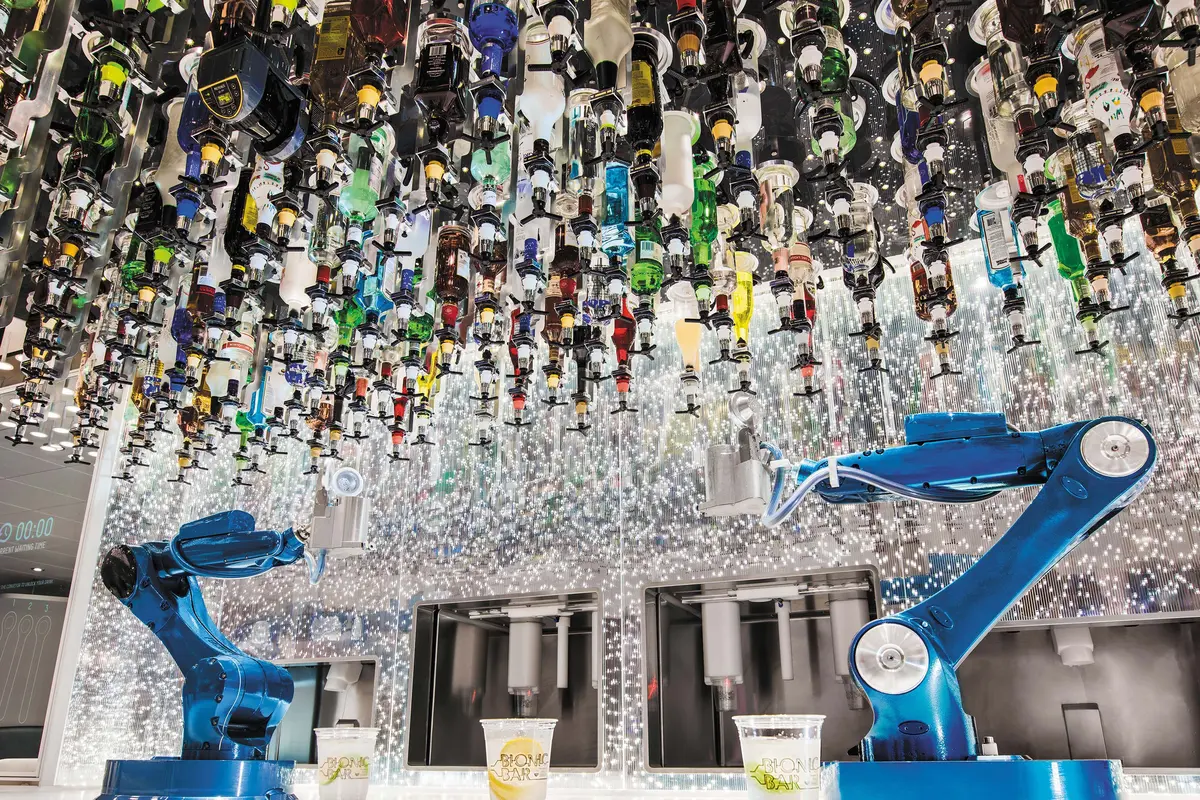 The innovative feature involved in Royal Caribbean's Bionic Bar means you can order a drink served by a robot.
You'll find these special bars on several of the cruise line's ships and offers both custom and classic drinks.
The technological wonder is a fascinating feature many cruisers want to take advantage of—here's how it works.
What is the Bionic Bar?
Royal Caribbean's Bionic Bar is a unique bar that combines technology, entertainment, and alcohol to provide a popular, interactive experience for cruisers on select Royal Caribbean ships.
This bar is a robotic system that uses a pair of bionic arms to mix and serve drinks onboard. The two robots were first introduced on Quantum of the Seas in 2014, one of the first of its time. They were engineered in Italy to be able to shake, measure, stir, and strain all types of drinks.
Since its first introduction, the bar has become a popular, innovative attraction onboard Royal Caribbean ships that offer a unique and fun way to order both alcoholic and non-alcoholic drinks.
Royal Caribbean ships are known for their innovation in this bar is just one example of the main features you can try. 
Whether you are spicing up a drink package, trying your first beverage of the day, or ordering a Mocktail just to give it a try, this bar is worth the experience.
The robots can produce 2 drinks every 60 seconds and up to 1,000 drinks per day. At certain peak hours, the bar can get extremely full.
However, many guests find that they would rather try this experience once, experience the novelty, and then move on to other bars located on the ship.  
The price of drinks at the Bionic Bar is the same as cocktails at any other bars on the ship.
Guests' drinks are charged to their SeaPass account through the SeaPass card. For guests who have a Royal Caribbean drink package, they can order at the bar, and the drink will be included in their package benefits.
Drinks ordered at the Bionic Bar still come with an automatic 18% gratuity, which is distributed to the human bar staff later on.
Attendants at the bar serve to clean the bar area, restock bottles as needed, and take care of any minor technical issues with the Bionic robot.
Read more: Ten Best Royal Caribbean Bars
How do you order a drink?
Customers can approach the bar and place drink orders on a tablet—usually an iPad or smartphone—near the counter. 
First, swipe your SeaPass card to begin the order. Then, select what drink you'd like. 
Read more: Royal Caribbean wants your Bionic Bar drink recipe
After you select your drink order, the robot bartender will start to create your beverage.
Various bottles of mixers and liqueurs surround the bar, and you can observe as the robot arm begins to select, carefully measure, and mix each ingredient. 
An interactive wall above the bar will display fun statistics about your order, the list of passengers in the queue, as well as the play-by-play progress of your drink being served.
When the drink is ready, you can scan your SeaPass card at the counter, and the robot will slide your glass over to you.
Although the bartender will try its best, the arm's technology is not perfect: sometimes items can slip and spill! 
In these moments, human crew members are present to clean up any messes, and the robot is always able to start over.
After you receive your drink, you can have a seat at the bar and continue observing or walk away to enjoy your drink in another area of the ship. 
There is no time or drink number limit on your order, so you can feel free to stay and keep placing orders.
Read more: Top 10 cocktails to try on your next Royal Caribbean cruise
Bionic Bar menu
The menu options at this bar are much the same as other drinks on Royal Caribbean's bar menus, with a few specials thrown in. 
Preprogrammed options are listed on the menu, divided between Bionic Classics and Bionic Signatures. 
There is also an option to create, select, and save your own drink combination. A multitude of custom combinations are available, with 30 spirits and 21 mixers to choose from. 
You can also choose how strong the drink should be, if you want it shaken or stirred, and if you'd like ice with it—there are endless possibilities when it comes to drink orders at the Bionic Bar.
How much is a drink at the Bionic Bar?
The cost of a drink at the Bionic Bar depends on what drink you order, but you can expect it to be up to $14 in value.
Mocktails and other non-alcoholic drinks should come in at around $8 or so.
The good news is an unlimited Royal Caribbean drink package will cover drinks up to $14 in value, so any drink you order from the Bionic Bar should be included with that.
Which ships have a Bionic Bar?
The Bionic Bar is located on the following Royal Caribbean ships: 
The Bionic Bar is usually located in a prominent area of the ship, inviting passengers to slow down and wonder at the technological marvel.
Usually, the Bionic Bar has at least a few patrons at most times of the day, with many others pausing to take pictures and videos.
Frequently Asked Questions
Can kids use the bar?
Although children are free to watch, alcoholic drinks are only served to guests 21 and over on sailing from North America and guests 18 and over on sailings from Europe, South America, Asia, Australia, and New Zealand. 
Are there non-alcoholic drinks?
Yes, non-alcoholic drinks are also served at the bionic bar and can be ordered in the same way as an alcoholic beverage. If you have a non-alcoholic drink package, it can also be utilized at the Bionic Bar.
Does it work with a drink package?
Yes, guests with a Royal Caribbean drink package may order drinks at the Bionic Bar, and it will be included with their package benefits.