In:
Royal Caribbean is looking for the best Bionic Bar drink recipe to add to its drink menu on Symphony of the Seas.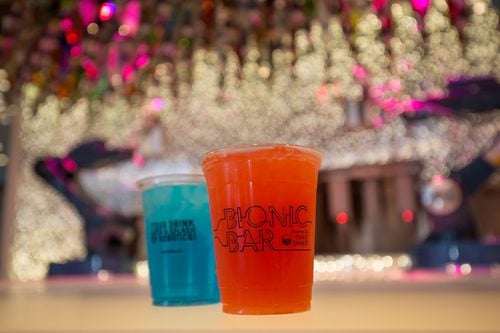 The Bionic Bar is a pair of robots that were engineered in Italy to be able to muddle, stir, shake and strain all types of drinks; the cocktail combinations are endless, with 30 spirits and 21 mixers from which to choose. 
Royal Caribbean's Crown and Anchor Society sent the open invitation to all past cruisers to share with the cruise line their drink recipe submission, and encourages as much creativity as possible. You will have the opportunity to name the drink too.
Guests can fill out the Bionic Bar Recipe Contest form and see if their favorite concoction makes the cut as the next new cocktail.
The robot bartenders can produce two drinks per minute and can make up to 1,000 each day. Guests create an order—whether a custom request or standard menu item—on a specially programed tablet or with staff. They can keep track of their order on the digital screen next to the bar, and once it's ready, the bartenders will release their drink with a simple tap of their SeaPass card or WOWband.