In:
What does trying out one of the biggest cruise ships in the world get that you might not get on a smaller ship?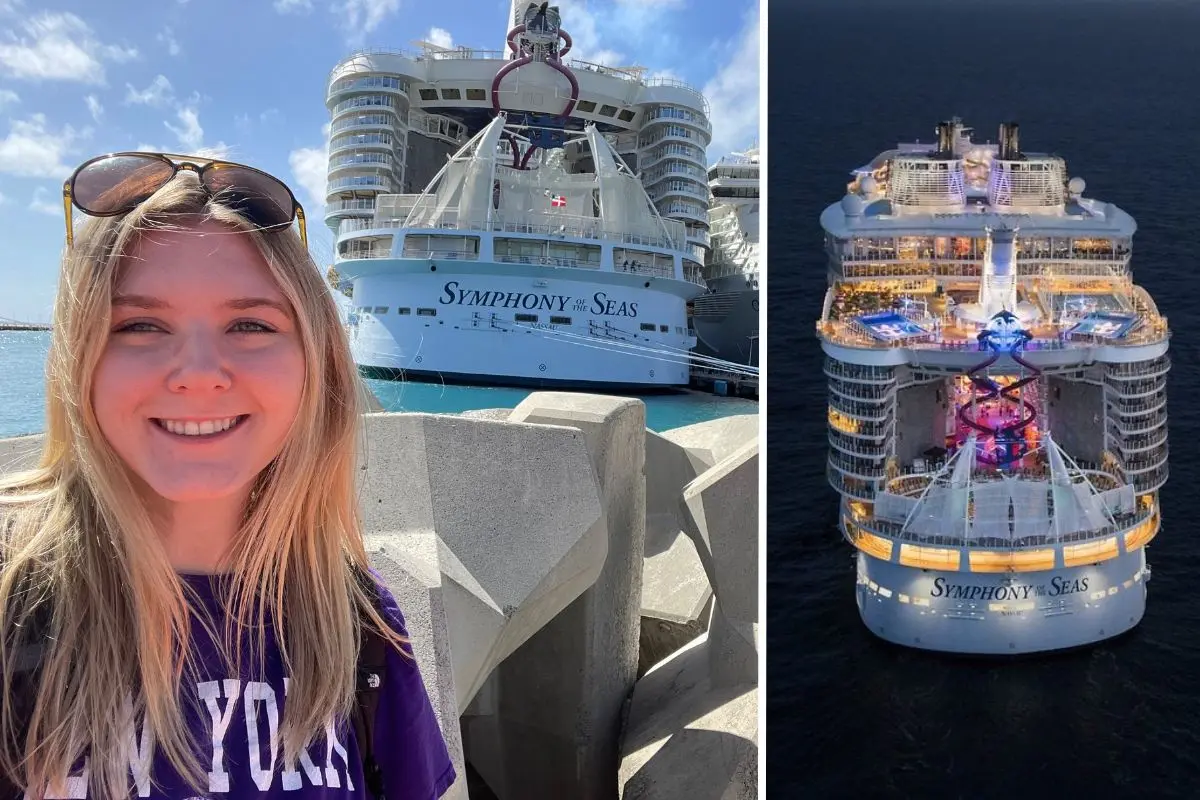 With about 40% of Americans planning to travel at least once in 2023, they are some key things that you will take into consideration prior to making the final decision. These include budget, activities, and total value for your money. Nobody wants to spend thousands of dollars of their hard-earned money on a trip that they do not enjoy!
I knew that I wanted to take a cruise in early 2023, and I decided on a 7-night cruise onboard Royal Caribbean's Symphony of the Seas. As a solo traveler, I paid $1,393.20 for the cruise fare and gratuities, which breaks down to just about $200 per night. While not the cheapest cruise vacation, I wanted to experience what the second largest cruise ship in the world had to offer.
I am no stranger to Oasis Class ships. In fact, this was my fifth time sailing on one. They are my favorite class of ship, so I was hoping to see if Symphony of the Seas lived up to my expectations. 
Besides the sheer size of the 228,081 gross registered ton vessel, here are some more reasons why I loved sailing onboard Symphony of the Seas. 
Why book Symphony of the Seas
Symphony of the Seas is filled with seemingly endless dining options and activity choices, making it an ideal vacation for just anyone looking for a mega ship vacation-- it does not matter if you are a young couple or multigenerational family. 
While not the newest Oasis Class ship, Symphony of the Seas proves that Royal Caribbean is constantly striving to improve and make the best even better! She debuted in 2018 as the largest cruise ship in the world and has some key differences that set her apart from her younger counterparts. 
The 6,680 passenger capacity ship, for instance, was the first Oasis Class ship to replace Sabor on the Boardwalk with Playmakers Sports Bar and Arcade. 
Additionally, it was the first ship in the entire fleet to receive Hooked Seafood, a specialty restaurant that serves up fresh New England-style seafood for a nominal fee. 
Of course, thanks to Royal Caribbean's Royal Amplification program, these venues can now be found on other Oasis Class ships, too. 
Since she is no longer the largest cruise ship, vacations onboard Symphony of the Seas are often cheaper than those on Wonder of the Seas, the ship that current holds the title until Icon of the Seas' launch in January 2024!
Plus, between May 2023 and April 2025, there are a wide variety of different itineraries to choose from, ranging from short 3- and 4-night cruises out of Fort Lauderdale and Miami, to 7-night cruises to Florida and the Bahamas from Cape Liberty (Bayonne), and 7-night Western Mediterranean cruises. 
Refreshed adults-only Solarium
I am 23-years-old with no children, so when I cruise, I like to be able to have a space to retreat from families. Not only is the Solarium a child-free place, but it is aesthetically a nice place to be. 
Unique to Symphony of the Seas is a one-of-a-kind art installation that is comprised of thousands of dichroic acrylic elements. You will not believe how beautiful it is at night!
Unlike on Harmony of the Seas, which I sailed on back in 2018, I did not have to leave the Solarium to take a dip in the pool. That was a major plus for me! In essence, I never had to spend time on the regular pool deck. Unless, that is, I wanted to take advantage of the other amenities, such as the Perfect Storm waterslides.  
And while all Oasis Class ships have a Solarium Bistro onboard, I found the one on Symphony of the Seas to be particularly nicer. The two-story space shares the top floor with the specialty restaurant Hooked Seafood. It has a much more refined feel, despite the fact that children can technically eat there, and I preferred it over the Windjammer Marketplace!
Unique entertainment options
Royal Caribbean is known for their entertainment options onboard their cruise ships, particularly their newer ones. In total, Symphony of the Seas has four main shows: Hairspray, HiRO, 1977, and Flight: Dare to Dream.
Of course, there's also live music, comedy shows, and more. There was never a moment that I was bored during my cruise. In fact, I found trying to squeeze everything in to be a bit overwhelming (totally worth it, though!). 
I was a bit disappointed to find out that Hairspray was not a full-length Broadway-style production. That being said, the 90-minute show was my favorite! I had previously seen it onboard Oasis of the Seas in 2014 and remember it being hilarious, especially the cast's ability to improv with the technical difficulties.
Thankfully, there were not any issues during this show, but the cast still had an unmatchable energy; it was evident that they loved what they did. 
The best piece of advice I can offer when it comes to shows is to make reservations for all of your "must-sees" as early as possible, especially the AquaTheatre show. You never know if later productions will have to be cancelled due to unfavorable sailing conditions. 
More complimentary dining
I am a huge foodie, and going out to eat with friends and family is one of my favorite things to do! Knowing that, you can imagine that the dining options onboard a cruise are important to me. 
I do not mind splurging on specialty restaurants every now and then, but one way I like to make sure that I get my money's worth on any cruise vacation is by eating as much complimentary food as possible. 
In the past, I have been disappointed with the lack of complimentary dining options onboard Royal Caribbean ships. Thanks to the Royal Amplification program, though, many ships have begun to get more options, following in the footsteps of Oasis Class ships. 
Between the Main Dining Room, Park Cafe, El Loco Fresh, Solarium Bistro, Boardwalk Dog House, Sorrento's Pizza, Windjammer Marketplace, and Cafe Promenade, I found it easy to rotate between dining options and never get tired of anything. 
El Loco Fresh was my favorite quick-service spot, as I loved being able to build my own tacos and nachos! The array of hot sauces and salsas was great, too. 
What are the advantages and disadvantages of sailing on Symphony of the Seas?
Advantage: Tons to see and do
As I previously mentioned, I was never bored during my cruise. Aside from the numerous entertainment options, there were other onboard activities that I wanted to cross off my list, including zip lining, mini-golf, sliding down the Ultimate Abyss, relaxing in Central Park, and more.
In fact, I did not even the chance to try everything out, which makes Symphony of the Seas is a great vacation option for those who constantly like to being thinking about what is next!
Disadvantage: Limited ports of call
I have been on ten cruises to the Bahamas and Caribbean throughout my life, meaning that I have visited many of the same ports over and over and over again. The repetition did not really bother me when I was younger; I was glad to be on a vacation! 
Now, however, I am more focused on cruises with different itineraries. In June, I am going on my first-ever Europe and Mexican Riviera cruises, and I could not be more excited! Every single port of call will be a new place for me.
Due to the size of Symphony of the Seas, it is harder (nay, impossible) for the ship to be able to sail to certain places. You will not, for instance, ever find the ship in Alaska! 
Cabins
Symphony of the Seas has cabins available for all budgets and travel preferences, from affordable interior cabins to the lavish two-story Ultimate Family Suite. 
Related: The 5 best cabin locations on a cruise ship
Inside cabins
When I sailed on Symphony of the Seas, I stayed in an interior stateroom. While this meant that I did not have any access to natural sunlight, I was able to spend money on other experiences to enhance my overall experience, such as a shore excursion in St. Maarten and lunch at Izumi. 
Most inside cabins are somewhere between 150 and 260 square feet, with the latter being the Family Interior Stateroom that can accommodate up to six guests. 
The cheapest option will be a standard inside room; however, you can also select a virtual balcony stateroom or one with a window that overlooks the interior of the ship, whether that be the Boardwalk, Central Park, or Royal Promenade. 
Ocean view
Ocean view staterooms are a great option for those who want to be able to see outside but who do not necessarily want to pay for a balcony. Like with inside cabins, the largest of these rooms are categorized as "Ultra-Spacious Oceanview" rooms and are 270 square feet. In comparison, the smallest are around 180 square feet. 
Balcony
When booking a balcony stateroom on any Oasis Class ship, it is important to pay attention to what category you are looking at, as there are balconies that overlook Central Park, the Boardwalk, and ocean.
Naturally, the latter will be the most expensive. Plus, at 55 square feet, their balconies are more spacious than the 50 square foot balconies that accompany Central Park and Boardwalk balcony rooms. 
In terms of the inside square footage, however, all standard balcony rooms are around 180 square feet. 
Suites
Suites onboard Symphony of the Seas are divided into three categories that comprise what is known as the Royal Suite Class: Star Class, Sky Class and Sea Class. Suites in the first two categories come with more perks than Junior Suites, the only suite in the Sea Class. 
In total, there are eleven different types of suites to choose from: Junior Suites, one- and two-bedroom Grand Suites, Owner's Suites, one- and two-bedroom AquaTheatre Suites, Crown Loft Suites, Star Loft Suites, as well as a single Royal Loft Suite, Villa Suite, and Ultimate Family Suite. 
Dining
Complimentary
There are ten complimentary dining options available to all guests on the ship, regardless of stateroom:
Main Dining Room
Windjammer Marketplace
Solarium Bistro
Park Cafe
Cafe Promenade 
Sorrento's
Boardwalk Dog House
El Loco Fresh
Vitality Cafe
Room Service (note that outside of the continental breakfast, there is a $7.95 delivery surcharge). 
Those staying in suites can access Coastal Kitchen for breakfast, lunch, and dinner; however, Junior Suite guests can only dine here during dinner. 
Specialty
Specialty restaurants offer a more intimate dining experience compared to complimentary options. They, of course, come with an additional surcharge and are not included in the base price of your cruise. Regardless, they are a great way to make your vacation a little more special:
Chops Grille
Jaime's Italian
Wonderland
Izumi Hibachi and Sushi
Hooked Seafood
150 Central Park
Vintages Wine Bar
Playmakers
Johnny Rockets
Starbucks
Things to do
There's genuinely no shortage of things to do onboard Symphony of the Seas. During the day, you can relax by one of five pools, hang ten on one of two FlowRider surf simulators, zip line  above the Boardwalk, play a round of mini-golf or see what game is being played in the Sports Court, or ride down the Ultimate Abyss slide or Perfect Storm waterslide trio. 
Even if you do not want to cool off in the pool, the pool deck is home to many events that you may want to watch, such as the belly flop competition, scuba classes, poolside bingo, and more. It is important to check your Cruise Compass daily to make sure that you do not miss anything!
In addition to the fifteen bars and lounges on the ship, there are so many different entertainment options that will keep your evenings booked solid! From the Broadway-style musical Hairspray, to HiRO, 1977, and the Royal Caribbean Productions original Flight: Dare to Dream.
Children and teens will love Royal Caribbean's award-winning youth programming, whether that be Adventure Ocean for those up to 12-years-old or their teen-exclusive lounges.