In:
Royal Caribbean suites provide a range of benefits that can greatly enhance your cruise experience, from an exclusive suites-only lounge to private dining experiences and priority embarkation.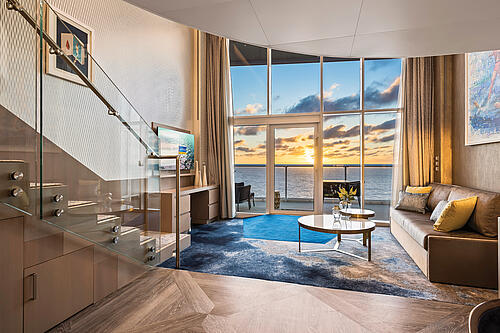 Royal Caribbean suites are impressive, with some even spanning two levels with a private jacuzzi, multiple bedrooms, and a personalized Royal Genie service.
Many guests opt to book a suite for a more comfortable living space, but they might not be aware of all the perks suite guests receive onboard a Royal Caribbean cruise. Knowing which benefits come with a suite can help you maximize the value of your vacation and get the most out of your time onboard.
Here's everything you need to know about the perks you can receive with a Royal Caribbean suite.
Junior Suite Perks on Royal Caribbean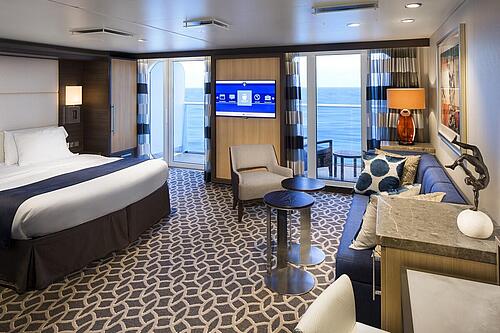 The "stepping stone" into the world of Royal Caribbean suites is with a Junior Suite.
Despite the name, however, Junior Suites are more similar to a balcony stateroom than a suite. They don't come with many of the benefits you'll find in Grand Suites and above. Nonetheless, there are a few perks of staying in a Junior Suite.
First and foremost, a Junior Suite will provide more room in both the cabin and balcony, leading to more comfort for guests. You'll also have a full sized bathtub and walk-in closet in a Junior Suite.
In addition to extra square footage, Junior Suite guests receive the following benefits:
Priority boarding
Royal Caribbean bathrobe
Luxury Bathroom Amenities
Lavazza Espresso Coffee Machine
Pillow Top Mattress
Dinner at Coastal Kitchen on select ships
Double Crown & Anchor Society points
Related: Royal Caribbean's Junior Suites: What you need to know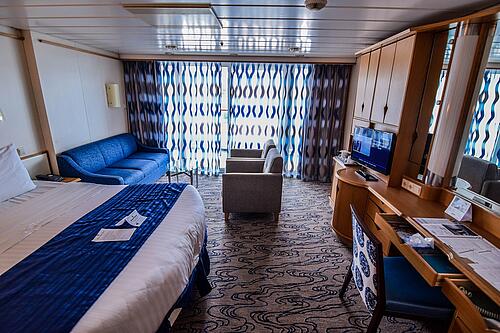 Note: The benefits listed below are for guests staying in Grand Suites and above. Junior Suite guests do not have access to most suite benefits on Royal Caribbean such as the Suite Lounge, Concierge Service, etc.
Onboard experience benefits for suite guests
Suite Lounge/Concierge Club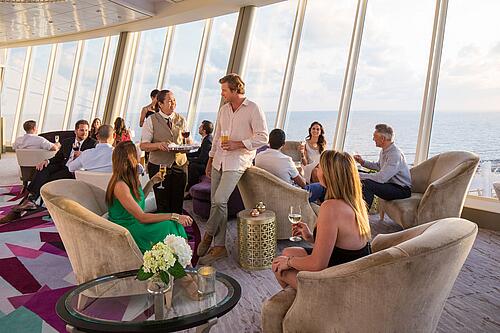 A major perk of staying in a suite on a Royal Caribbean cruise is having access to the Suite Lounge (also known as the Concierge Club on select ships). Suite Lounge access is available to guests staying in a Grand Suite and above.
The Suite Lounge is a relaxing, exclusive getaway on an otherwise busy cruise ship. At the Suite Lounge, guests can enjoy complimentary snacks and hors d'oeuvres throughout the day and complimentary alcoholic beverages in the evening.
The Suite Lounge is open 24/7 and can offer a nice way to mingle with other suite guests onboard or simply enjoy the peace and quiet with a beautiful ocean view.
Related: Is a suite on Royal Caribbean worth it?
Concierge Service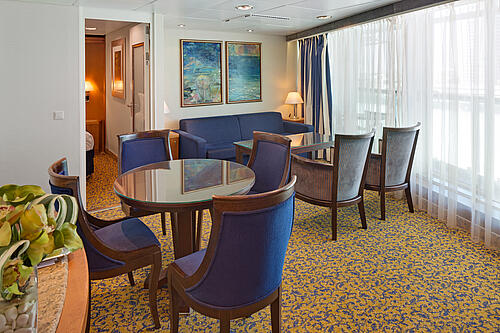 A convenient service available for suite guests on Royal Caribbean is the Suite Concierge, a crew member who acts as a suite guest's own (enhanced) Guest Services during the cruise.
The Suite Concierge can help with booking shore excursions, dining reservations, show reservations, answering any questions, and settling billing discrepancies.
The Suite Concierge can help you check-in to your flight and print documents if you do not have an internet package. They are also available to escort you off the ship on disembarkation day.
Related: 10 Surprising things you didn't know the Royal Caribbean concierge can do for you
Suite Sun Deck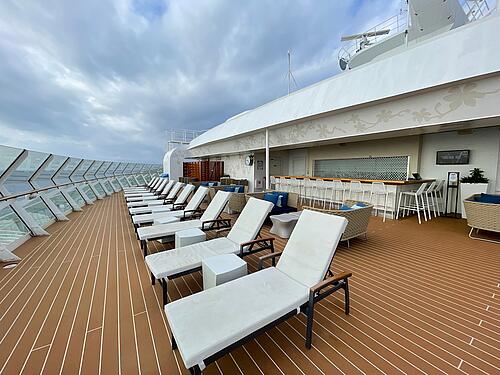 Voyager, Freedom, Quantum, and Oasis Class ships have a designated area of the pool deck reserved just for suite guests. Usually the Suite Sun Deck is located on the deck above the main pool area. Suite Sun Decks can be a really nice benefit for suite guests, as they have comfortable, reserved seating away from the crowds on the pool deck below.
Wonder of the Seas even has its own Suite Neighborhood with a large private Sun Deck with a plunge pool, private bar, and comfy loungers.
Reserved entertainment seating
Suite Guests won't have to worry about finding a seat for shows onboard, as they will find a reserved seating area in the main theater, Studio B, AquaTheater, and Two70 for main entertainment lineups.
Complimentary pressing on First Formal Night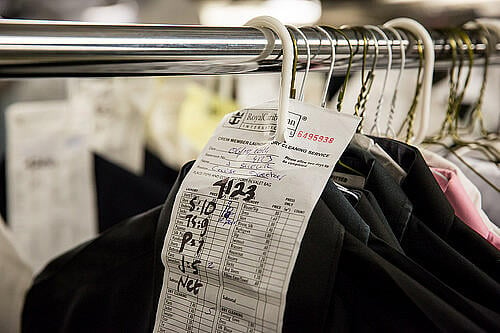 If you're splurging on a suite, you'll want to take advantage of as many benefits as you can to maximize your value. A relatively small benefit that can be a nice extra perk is complimentary pressing on your itinerary's first formal night.
Sending evening gowns or a suit to be pressed can run between $7.50-$15 per item, so this is a nice extra perk for suite guests.
Tours and Suite Parties
Another perk of staying in a suite are the complimentary backstage tours and events offered to suite guests. Backstage tours can vary by ship and sailing, but you can expect to see tours of the ship's bridge, galley, or theater.
You'll receive an invitation to a tour in your suite. If you do not see one, ask the concierge if any tours will be available on your sailing.
Priority bookings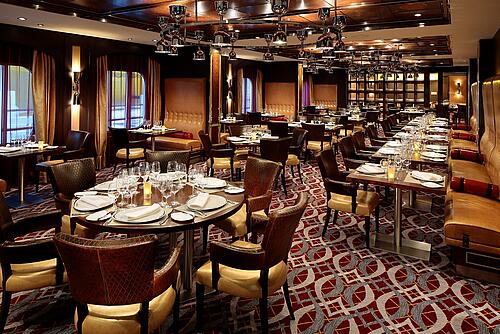 Another nice benefit for suite guests is that they can have priority bookings on spa appointments and specialty dining reservations. If you did not book dining reservations or a spa treatment ahead of time, speak to the Suite Concierge before your cruise (they will send you an email a few days before the sail date) about making reservations.
2 Crown & Anchor Society points per night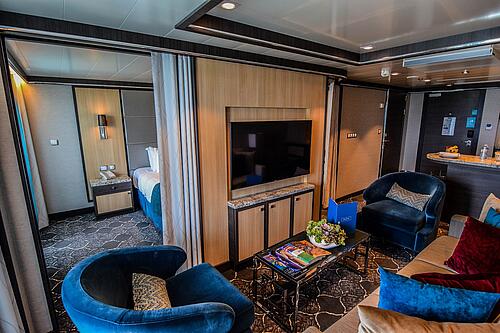 One of the best suite perks on Royal Caribbean is that you will receive double Crown & Anchor Society points on your cruise. The Crown & Anchor Society is Royal Caribbean's Loyalty Program which can lead to fantastic benefits once you accrue enough points.
When you stay in a normal category room (interior, ocean view, balcony), you'll receive 1 point per night of your cruise. In a suite, however, you receive 2 points per night.
Related: Crown and Anchor Society loyalty program info, tips & secrets
Embarkation & Disembarkation benefits for suite guests
Priority boarding & departure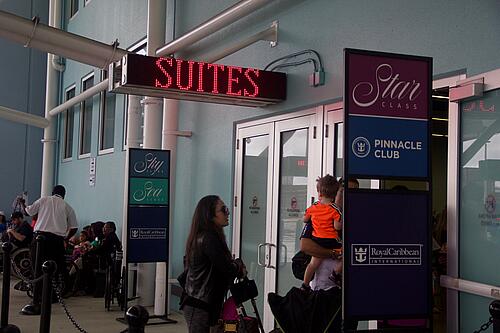 Suite guests have priority boarding on embarkation day, meaning they will be the first guests able to board the ship. They also have a dedicated check-in line at the cruise terminal on embarkation day.
On disembarkation day, suite guests have priority departure, so they won't have to wait for their luggage tag number to be called and can disembark whenever they choose.
Guests in Royal Suites and Villa Suites will not only receive priority embarkation, but an officer will meet them at the terminal to escort them on the ship.
Welcome gift
Once you enter your suite, you'll find a welcome gift, which can change depending on suite tier. Guests in Grand Suites, Panoramic Suites, and Owner's Suites will receive complimentary Evian water and a fruit amenity whereas those in Royal Suites and Villa Suites receive Moët & Chandon champagne.
Sign-up fee waived for luggage valet service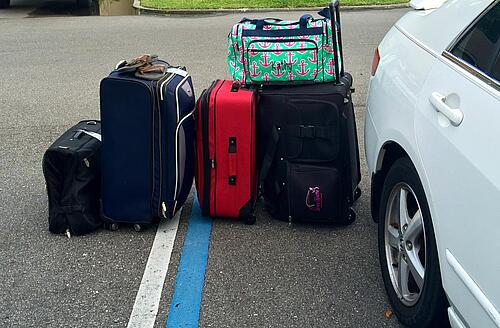 On select itineraries, Royal Caribbean offers a luggage valet service. This service enables guests to bypass the airport check-in process, as guests will receive boarding passes, luggage tags, and baggage claim checks while onboard the ship. Luggage will be delivered directly from your suite to the airport and onto your flight.
This service is currently only available in Seattle, Washington.
Benefits while in port for suite guests
Priority tendering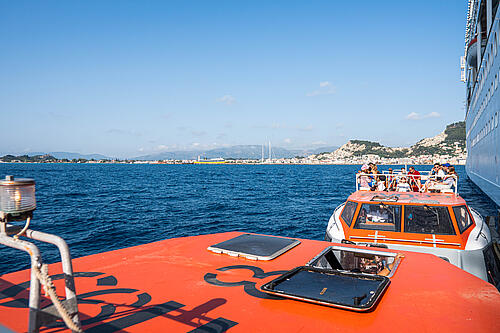 While most common cruise ports have a dock, there are some ports which require tendering on a smaller boat to get to and from port from the ship.
For non-suite guests, it's necessary to get up early and grab a tender ticket as soon as possible in order to maximize your time in port. Suite guests, however, have priority tendering access, so you can bypass the line and get to port without a wait.
Barefoot Beach at Labadee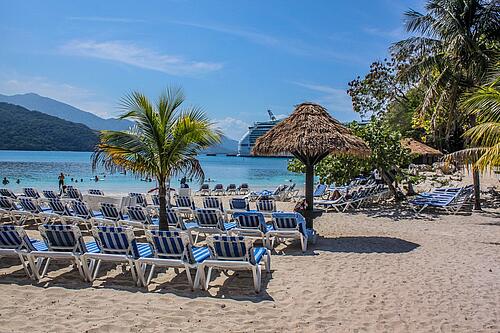 If you're staying in a suite on a cruise itinerary visiting Royal Caribbean's private destination of Labadee, you'll have access to Barefoot Beach, the port's suites-only beach.
Barefoot Beach offers a relaxing getaway with calm, clear waters and plenty of lounge chairs perfect for sunbathing. The beach also has cabanas available to rent at an extra cost as well as a complimentary lunch which offers more upgraded options than buffets elsewhere on Labadee.
In-suite benefits
More space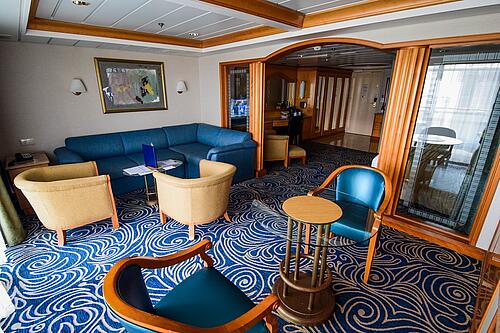 One of the primary reasons many guests book a suite on a Royal Caribbean cruise is for the extra space. Cruise ship cabins are known for being small, and suites can offer a more comfortable living space with extra perks.
Depending on the suite, you can find an extra large couch, dining table, walk-in closet, larger balcony, etc. Some suites may even have 2 or 3 bedrooms, allowing for more privacy for guests.
Nicer bathroom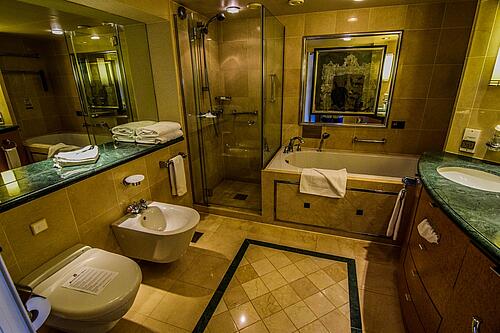 Another in-suite perk is a larger bathroom. Suite bathrooms all have a bathtub and upgraded toiletries. Some suites even have a separate shower, double sinks, and bidet!
Additionally, certain suite categories may have two bathrooms in the suite which can be nice for larger families.
Pillow Top mattress
In addition to more living space and an upgraded bathroom, suite guests will also enjoy an upgraded mattress. Beds in Grand Suites and above have a Luxury Pillow Top Mattress instead of the normal mattress you'll find in interior, ocean view, and balcony cabins.
Dining benefits for suite guests
In-suite dining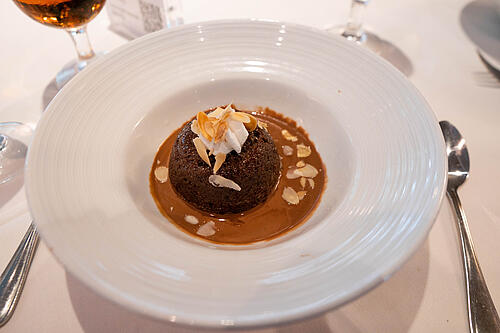 Suite guests on Royal Caribbean receive complimentary room service and the ability to enjoy in-suite dining from the Main Dining Room menu. This offers a nice way for suite guests to have a private meal in their suite at any time the Main Dining Room is open (or 24/7 for room service).
Coastal Kitchen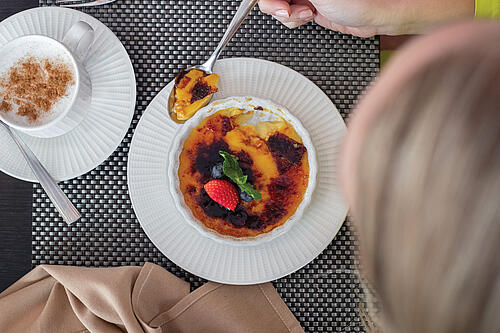 Suite guests on Quantum and Oasis Class cruise ships have access to Coastal Kitchen, Royal Caribbean's suites-only restaurant. Coastal Kitchen is complimentary for suite guests and offers a more intimate dining experience than venues like the Main Dining Room or Windjammer.
Coastal Kitchen is open for breakfast, lunch, and dinner and offers a rotating menu with a focus on Mediterranean-inspired cuisine with fresh, seasonal ingredients.
Guests in Grand Suites and above can eat at Coastal Kitchen at any time during the week, but the restaurant is only available for dinner for Junior Suite guests.
Private dining & disembarkation breakfast
Select ships without Coastal Kitchen offer private breakfast and lunch seating for suite guests. These meals take place in a specialty restaurant onboard, although the menus are more similar to the MDR or Coastal Kitchen than the specialty restaurant menu offerings.
Royal Suite Class Benefits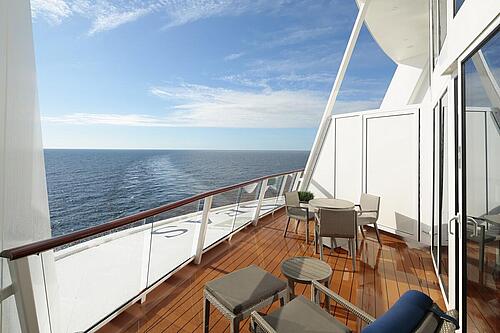 If you thought Royal Caribbean's suite benefits couldn't get any better, there's more: the Royal Suite Class, available only on Quantum and Oasis Class ships.
The Royal Suite Class has three tiers: Sea Class, Sky Class, and Star Class.
Sea Class
Sea Class is the Junior Suite Class in the Royal Suite Class and comes with the same benefits as staying in a Junior Suite on other Royal Caribbean ships, with the addition of dinner at Coastal Kitchen.
Sea Class benefits:
Dedicated Check In Line
Priority Boarding
Coastal Kitchen Dinner
Royal Caribbean bathrobes
Luxury Bathroom Amenities
In-room Lavazza Espresso Coffee Maker/Tea Service
Sky Class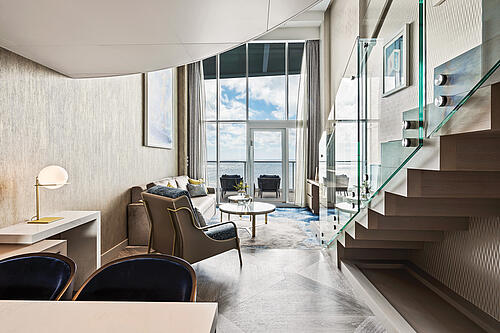 Sky Class benefits are for guests staying in a One Bedroom AquaTheater suite, Crown Loft Suite, Owner's Suite, Royal Family Suite, Superior Grand Suite, and Grand Suite.
In addition to the Sea Class benefits, Sky Class guests receive:
Complimentary VOOM internet: 1 device per guest
Concierge Serve
Exclusive Signature Activities
Suite Lounge Access
Priority Departure
Coastal Kitchen for breakfast, lunch, and dinner
Related: 10 things to know about Sky Class suites on Royal Caribbean
Star Class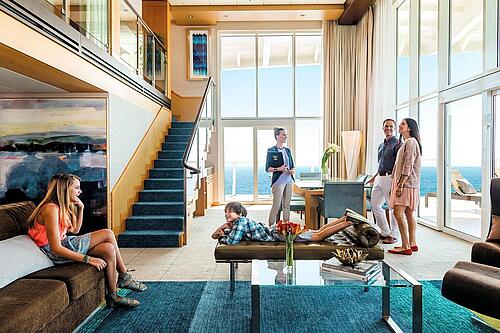 Star Class is the most luxurious experience you can have on Royal Caribbean and is available to passengers staying in Royal Caribbean's biggest suites: the Royal Loft Suite, Owner's Loft Suite, Four Bedroom Family Suite, Grand Loft Suite, Sky Loft Suite, Ultimate Family Suite, and Two Bedroom AquaTheater Suite.
The biggest benefit of staying in a Star Class suite is having a Royal Genie, a crew member who is your own personalized concierge and "magic maker" throughout the week. Royal Genies can cater their services to your cruise preferences, whether that means delivering Starbucks to your room every morning, reserving you seats at a specialty restaurant, hosting an in-suite dinner in your room, etc.
Related: My advice for someone using a Royal Genie on a Royal Caribbean cruise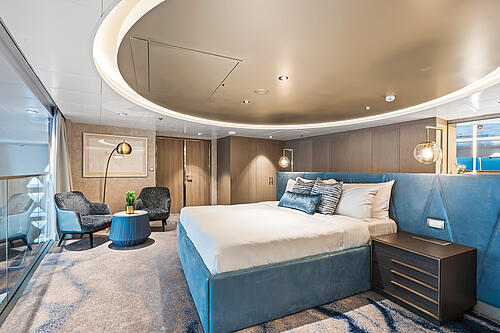 In addition to the Royal Genie as well as the Sea Class and Sky Class benefits above, Star Class guests receive:
Complimentary gratuities
Complimentary specialty dining (including in-suite specialty dining)
Complimentary Deluxe Beverage Package
Complimentary mini bar
Complimentary pressing and laundry services
Still and sparkling water replenished daily
Luxury pillows
Priority entrance to onboard activities
More Star Class tips & tricks:
More cruise advice