In:
Have you ever thought about making the jump up to a suite stateroom for your next Royal Caribbean cruise? Suites do come with a higher price tag, but they also have their own set of perks and benefits that may factor into that decision.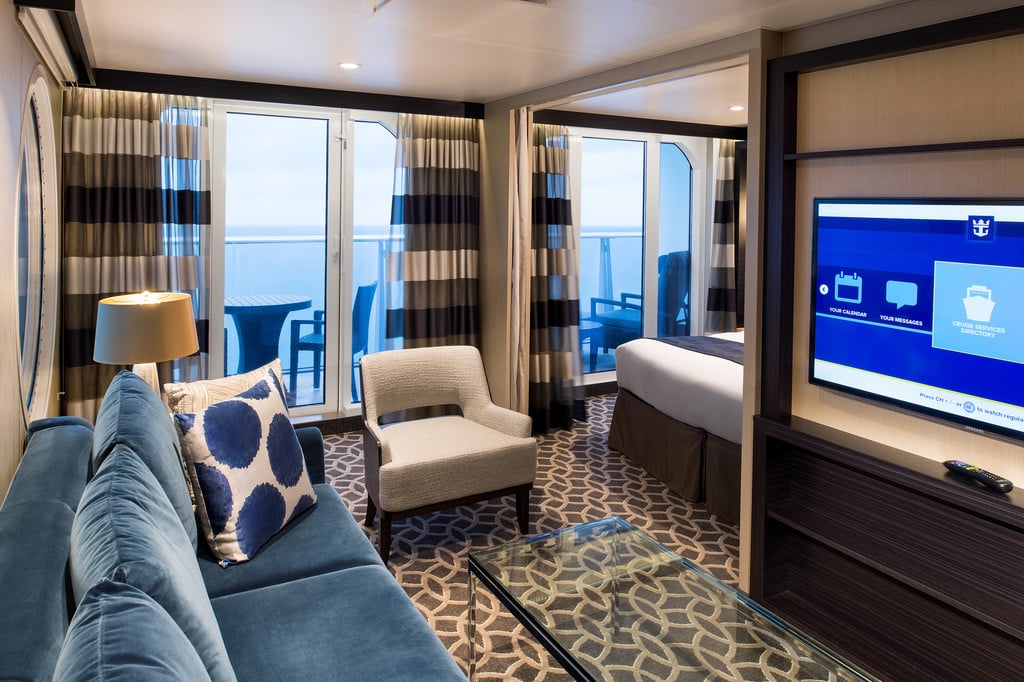 Here's a few things you should know when you start to consider if the increased price is "worth it".
Royal Caribbean has suite benefits exclusive for Oasis & Quantum Class ships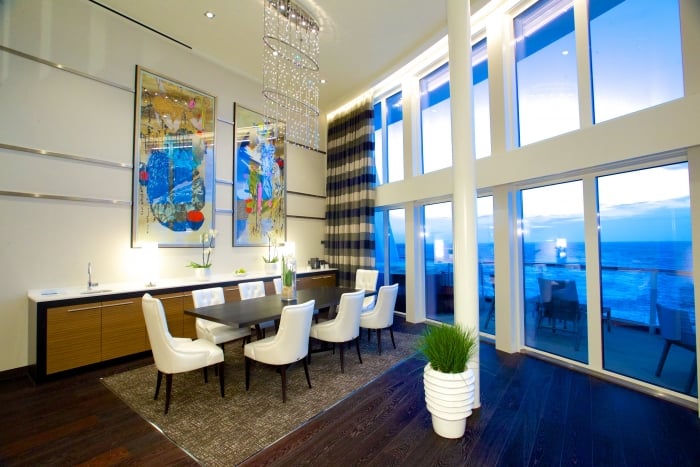 In 2016, Royal Caribbean began offering a completely different suite benefits program on its Oasis and Quantum class ships., known as the Royal Suite Class.
The Royal Suite Class is only offered on these ships, and it aims to expand upon the standard Royal Caribbean suite benefits (some of which are listed below).  Essentially, these ships offer expanded suite benefits and paying for a suite on these ships certainly gets you a lot more.  Of course, suites on these category of ships usually come with a higher price tag too.
The Royal Suite Class has the Sea Class, Sky Class and Star Class categories, and they deliver luxurious suites, as well as additional exclusive services and amenities, depending on the class you book. On the whole, Royal Suite Class accommodations are among the most spacious at sea, with some truly magnificent rooms you can book, such as the two-story Royal Loft Suites or Ultimate Family Suite.
These suites go far beyond your typical hotel digs, sporting private balconies—some with private Jacuzzis—expansive bathrooms, dining areas, kitchens, and even lofts. They also feature special "Royal Genies" ready to help customize your vacation every day—arranging private dining, reserving seats for every show, making reservations at the suites-only restaurant and more.
The Royal Suite Class experience includes the Ultimate Beverage Package; unlimited VOOM internet access; and luxe linens and bath products in select suites.
Special embarkation day perks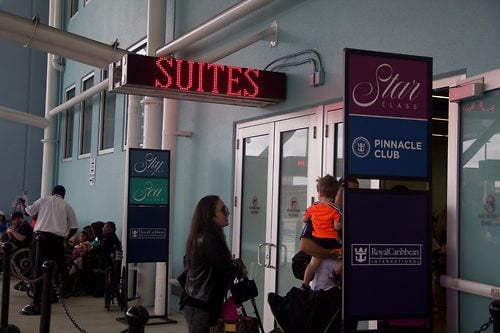 Getting onboard your Royal Caribbean ship is something everyone has to do but if you're a suite guest, Royal Caribbean makes the entire process a little easier.
Being in a suite means you will have dedicated port agents to help you check in.  Priority check in means less time waiting to get yourself checked in compared to everyone else on the ship.  
Then you get a special area just for you to wait, often with nicer furniture and perhaps some refreshments too.  Even before you board, you're already living the "good life" with those suite perks.
You will get a gold SeaPass card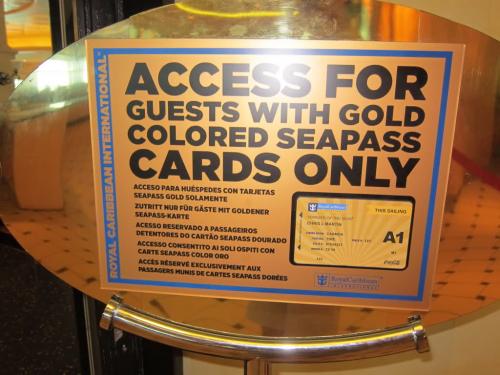 All guests who staying in a suite will have a gold color SeaPass card, which helps Royal Caribbean easily know if you're a suite guest or not.
Besides that good feeling deep down of having a special card, the gold card allows staff immediately know you are a suite member.
So when you get to the theater or pool deck and there is special reserved seating for you, the crew member will direct you to it.
Note, if you are on an Oasis or Quantum Class ship, the Royal Suite Class SeaPass cards are different colors to indicate if you are in Sea Class, Sky Class or Star Class.
Concierge lounge access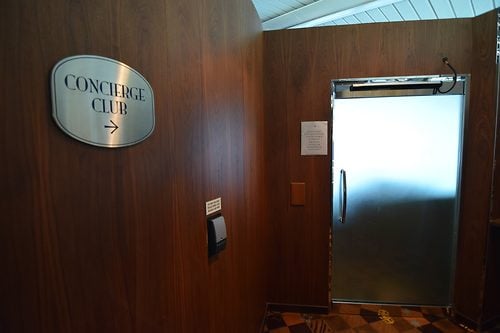 On most Royal Caribbean ships (a concierge lounge is not available on Majesty of the Seas), there is a concierge lounge for suite level guests that offers you a private area to get away from the hustle and bustle of the ship.
One of the chief benefits of the concierge lounge is access to complimentary alcoholic drinks every evening, which include beers, wine by the glass and select liqueurs. There also au d'oeuvres served in the evening, along with snacks during the day and a light breakfast in the morning. A 24 hour coffee and espresso machine is also available to use in the Concierge Lounge.
Access to the lounge is available for your use 24 hours a day and is staffed with a dedicated Concierge, who will attend to your individual needs.  The staff can help you reserve specialty restaurants, shows or any assistance you need on the cruise.
There are some pretty sweet rooms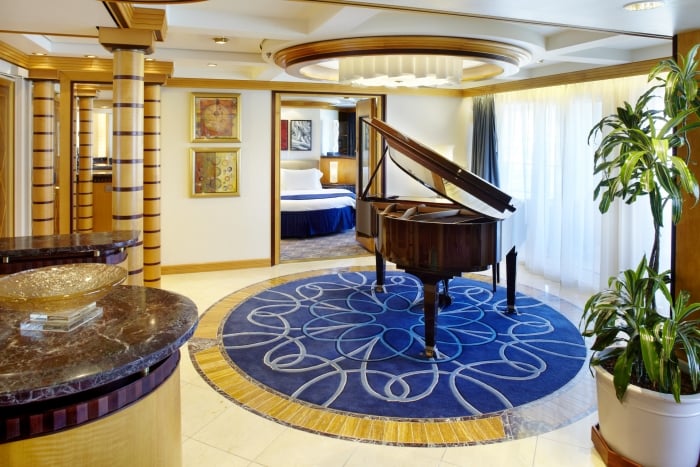 It's important to remember that your suite itself comes with a lot of neat features not found in other staterooms as well as a lot more space.
Royal Caribbean designed their suites to be quite desirable with furnishings you'd be surprised to find at sea.  Pianos, wet bars, jacuzzis, extra large balconies and more are typical with most suites.
Looking at photos of suites, you quickly realize why people pay a lot more for these special staterooms. They are exquisite and depending on how far up the suite ladder you go, the word "luxurious" really gets its definition. 
Special sun decks for suite level guests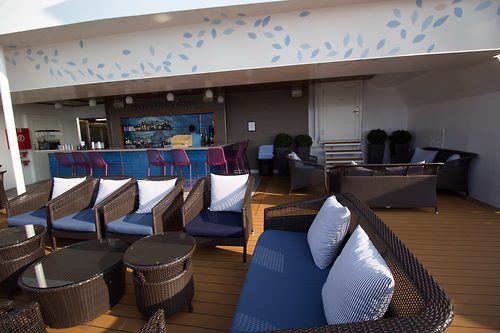 On Quantum, Oasis, Voyager and Freedom class ships, you will find a private area of the pool deck for suite guests.  
The lounge chairs here are a little more comfortable than other chairs in the area and are reserved just for those staying in a suite, which means less competition to fight for a chair.  It makes getting a spot on the pool deck much easier and you also get a great vantage point of what's happening around the pool.
On Voyager and Freedom Class ships, the Suite area on the pool deck is comprised of reserved lounge chairs.  On Oasis and Quantum Class ships, there is a private area of the pool deck that includes lounge chairs, bar access and more.
Double Crown and Anchor Society points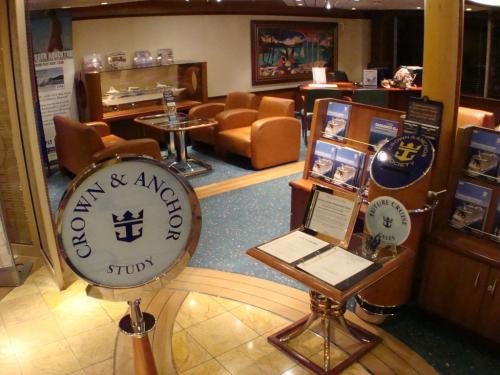 One of the best benefits of staying in a suite is it helps catapult you up the Crown and Anchor Society ladder much quicker.
Each Royal Caribbean cruise you book in a suite gets you double the regular Crown and Anchor points.  That means instead of 7 points for a week-long cruise, you will now get 14 points.  If you stay in a suite by yourself, you will get triple Crown and Anchor points!
For anyone looking to accrue points fast and reap the benefits of Diamond status or above, staying in a suite can really help.
Complimentary pressing service on formal night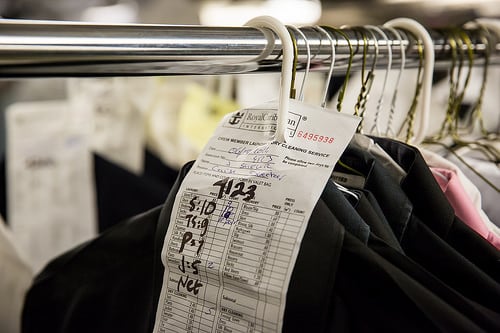 Photo by Jeff Goldberg
You pack all your clothes for your cruise and as hard as you may try, inevitably, when you unpack onboard your clothes are wrinkled or have creases in them.  If you're a suite guest, for formal night you don't have to worry about wrinkles or creases!
Suite guests get complimentary pressing service that will iron your clothes for you and return them so on formal night, you can look your finest.  This is a service that usually costs a few dollars per item, but it's one less thing you will have to worry about now.
Junior Suites do not have all the benefits of other suites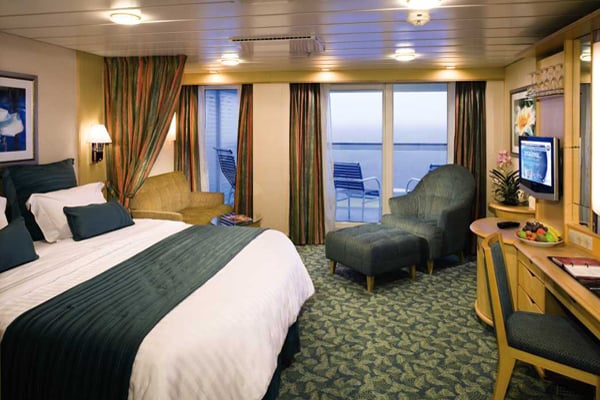 It is woth noting that Junior Suite staterooms may have the word "suite" in the name, but they are not considered a "full suite".  This means it does not get the full level of benefits outlined earlier in this post.
Junior Suite guests do get some nice benefits, such as:
Priority embarkation/disembarkation
Double Crown & Anchor Society points for each night
Walk-in closet
Enhanced toiletries
Full bathtub
Sea Class benefits  (Oasis and Quantum Class ships)

Coastal Kitchen access for dinner only
Luxury Pillowtop Mattress
L'Occitane Bathroom Amenities
Junior Suite guests do not have access to the Concierge Lounge, Concierge service or suites-only areas of the ship.