In:
Have you ever considered upgrading to a suite? Royal Caribbean's Royal Suite Class offers guests a wealth of benefits, across three tiers of suite benefits. The bulk of the suites in the Royal Suite Class fall into the Sky Class of offerings.
If you are considering booking a Sky Class suite, or perhaps have already booked one, here are the ten things you should know about what you can take advantage of on your Royal Caribbean cruise (ascots optional).
Embarkation day is so easy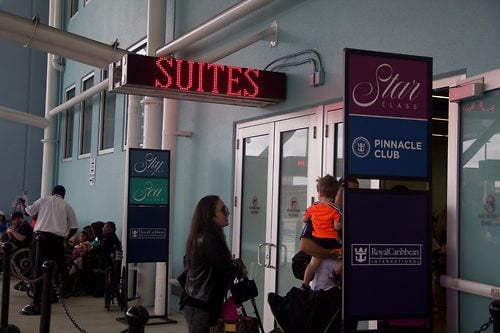 Royal Caribbean has made embarkation day pretty simple for all guests, but when you stay in a suite, embarkation becomes a real pleasure.
When you arrive to the terminal, there is a dedicated entrance and line just for suite guests. This means you have a shorter line and will get to check-in quicker.  Likewise, there is a special line at the check-in desk for suite guests.
Once checked in, there is a suite lounge that you can wait in.  Often there are light refreshments available while you wait.  And your wait will be short, since suite guests will be the first to board the ship.
All of this means you spend less time waiting, and get your cruise vacation started earlier.  Families with children can appreciate the benefit of minimizing wait times.
There is a concierge lounge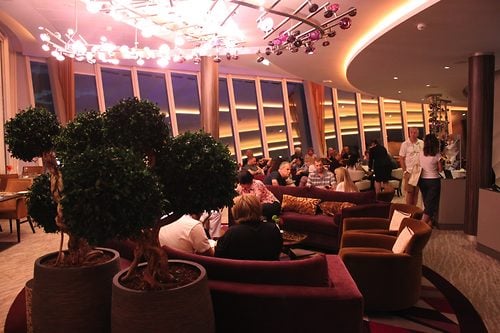 Sky Class guests have access to a dedicated Concierge lounge, which is a private area to relax, enjoy drinks or food, and meet other suite guests. Bar service is available from 11:00 am to 11:00 pm in the Suite Lounge, serving a wide array of beverages for purchase. Hors d'oeuvres, petit fours and complimentary bar setup with a selection of wine, spirits, beer and soft drinks every evening from 5:00 pm to 8:30 pm.
Of course, the concierge lounge is where you can find the concierge officer.  This person is a wonderful resource, because they can often do everything Guest Services can do without the usual Guest Services line. The concierge can schedule shows and dining, and often has many resources at their disposal to get problems solved. Even if you think something is not possible, ask the concierge, because they are quite helpful.
Your concierge will email you before the cruise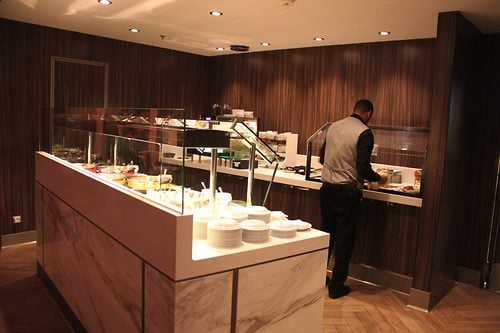 Speaking of the concierge, they will email you one to two weeks before your embarkation date to introduce themselves.
The email contains some basic information about the concierge.  This will include the name(s) of the onboard concierge, brief summary of services available, and information about special options at a Royal Caribbean private destination.
If you are interested in reserving a cabana at Labadee and CocoCay, be sure to email the concierge to get access to it.
You will get complimentary internet for every guest
Sky Class guests receive one free high-speed Voom Surf and Stream internet package for the duration of the cruise, per guest. 
This means each person booked in the suite will receive an unlimited internet plan to use during the cruise.  This includes children.
Access to the suite sun deck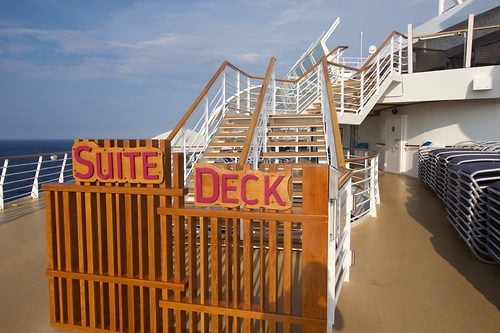 Sky Class guests have access to a private sun deck that is reserved just for suite guests.
The sun deck includes loungers, a bar, and even cabanas for use.  It is a private oasis that is free of the chair competition that can be an issue later in the day.
Special events for suite guests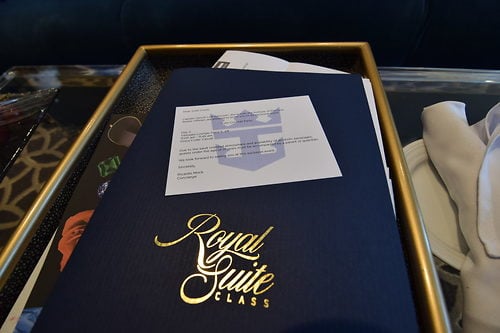 During the cruise, the concierge will invite suite guests to special events.  Often there is at least one reception for suite guests with Senior Officers.
Invitations will be sent to your stateroom, but this is a fun opportunity to enjoy a few drinks and chat with high ranking officers on your cruise. 
Oasis class ships in Labadee will often have a private sailaway event on the helipad for suite guests.
Meals at Coastal Kitchen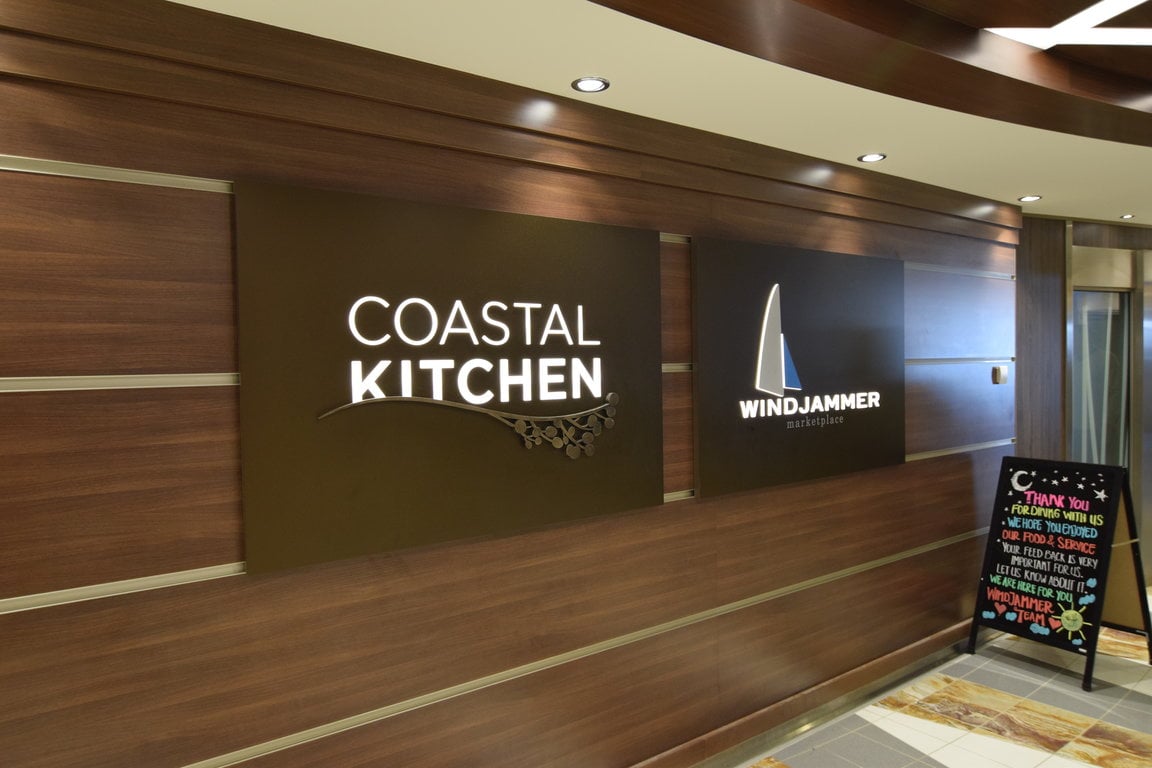 Royal Suite Class guests can take advantage of a restaurant just for them, Coastal Kitchen. Coastal Kitchen is a relatively new restaurant concept for Royal Caribbean, centered around the the idea of combining Mediterranean influences with California fresh food. Royal Caribbean designed the restaurant to be all about fresh food. From Pacific Coast favorites like sea bass ceviche, to the Central Valley's sliced avocado and homemade blueberry pie, to Med-inspired tastes like Serrano ham, whipped goat cheese and roasted grapes.
Sky Class guests can eat breakfast, lunch, and dinner in Coastal Kitchen.
Reserved seating for shows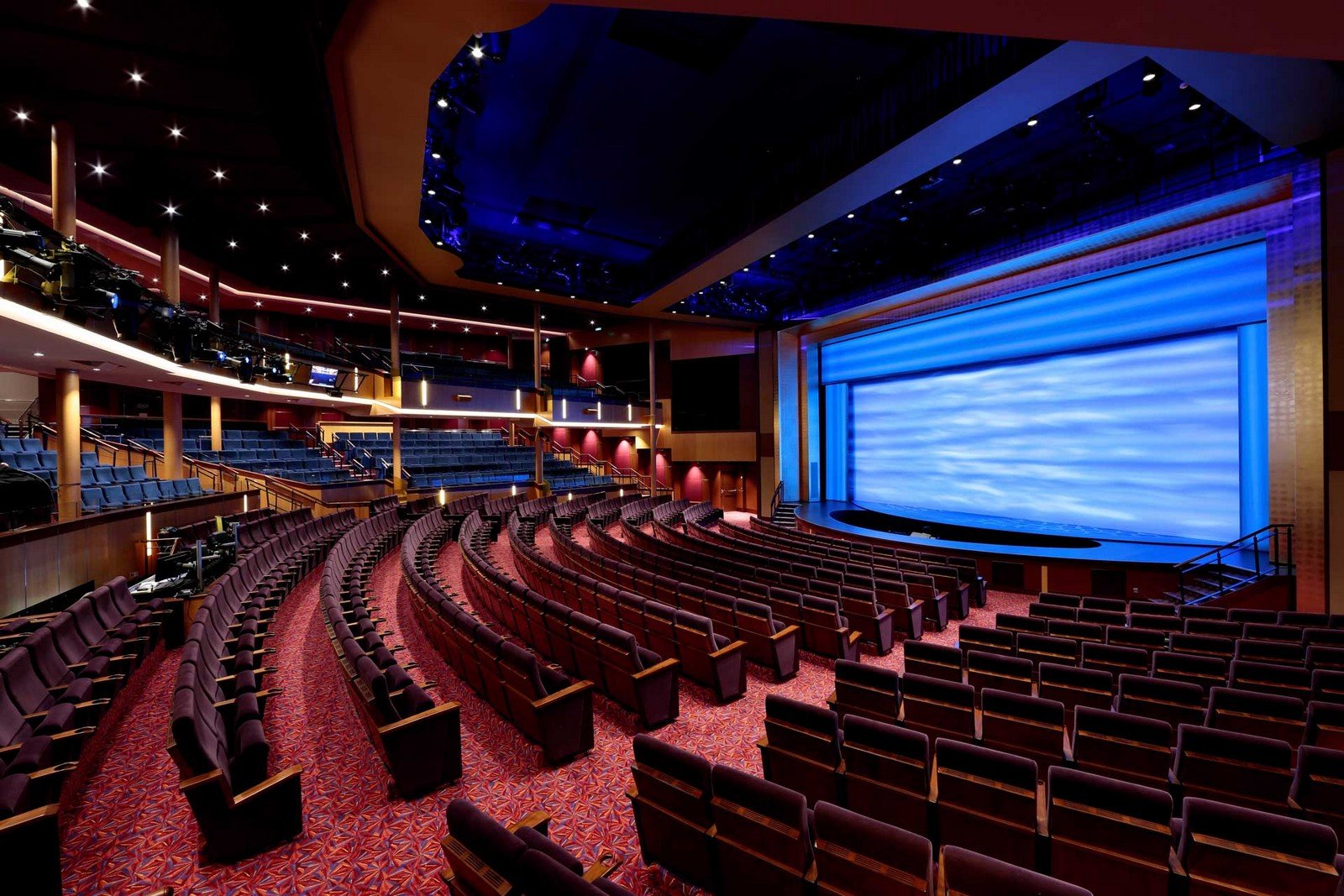 One nice to have perk of being a Sky Class guest is reserved seating in the theater.
Reservations for shows are not necessary for Sky Class guests. Instead, show your SeaPass card at the entrance 20 minutes prior to show time. This is a great option for someone that books a cruise at the last minute, or just likes to figure out their daily plans as they go.
To be fair, the reserved seating for Sky Class guests may not be your preferred spot, so making show reservations in advance via the Cruise Planner or Royal iQ app is still a good idea.  
Escorted disembarkation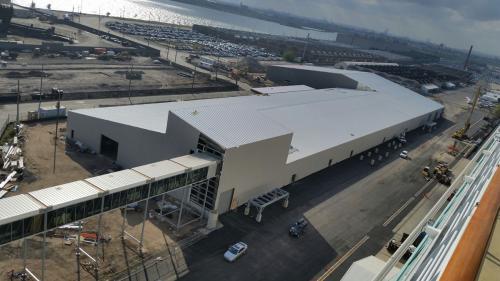 One of my favorite benefits of being a Royal Suite Class guest is the escorted disembarkation.  Instead of waiting for your luggage number to be called and then wait in line in the terminal, the concierge will offer you times to be escorted off the ship and bypass the line.
At the time you select, the concierge will prioritize an elevator for suite guest use and literally walk them off the ship and essentially take them all the way to where the porters are waiting.  It makes the disembarkation process as seamless as possible.
The amazing rooms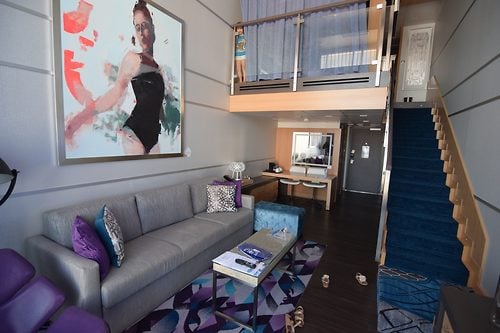 The top reason to book any suite is for the suite stateroom itself. 
Sky Class rooms include
Aqua Theater Suite
Crown Loft Suite
Owner's Suite
Family Suite
Superior Grand Suite
Grand Suite
These rooms include an incredible amount of living space, along with extra large balconies and sometimes more than one bathroom. The rooms are immaculately decorated and incorporate the latest in modern design.
While the benefits of being in Sky Class mentioned earlier in this post are lovely, the stateroom is what the Royal Suite Class experience is all about. Staying in one of the best staterooms on your ship is a great feeling.
Your thoughts
Have you stayed in a Sky Class suite previously? Do you have questions about Sky Class? Share your questions and experiences in the comments below!