Guide to Royal Caribbean Voom WiFi Internet prices and tips
In:
Staying connected while on your Royal Caribbean cruise is easier and faster than ever. Royal Caribbean has invested heavily in onboard internet, offering its unique branded service that offers guests superior coverage and faster speeds than the competition. Here is your guide to being online while on your Royal Caribbean cruise.
How can I get connected on my Royal Caribbean cruise?
The primary means of connecting to the internet is via WiFi that prevalent throughout the ship. Guests with WiFi enabled devices may connect at any time for "stem to stern" coverage from anywhere, including your stateroom.
All guests need to do is connect to the Royal WiFi wireless network and then open a web browser and attempt to visit any web site.  From that point, the Royal Caribbean WiFi login page will appear, with options to purchase an internet package or allow guests that already have a package to login.
What is Voom?
You might hear and read about something called, "Voom," which is what Royal Caribbean calls its onboard internet service. Unlike traditional internet options at sea, Voom utilizes a different kind of satellite technology to provide much faster connectivity.  
Voom offers guests the ability to stream music and movies, upload pictures, video chat with family and friends using FaceTime or Skype, check their email, lookup their stock prices, surf the web and stay connected with work via VPN.
In fact, on Oasis and Quantum class ships, you can easily stream video from services like Hulu or Netflix, or engage in Facetime and Skype video calls.
Some other ships, notably Royal Caribbean ships that spend time outside the United States, the speeds may not be quite as fast, but fleetwide, the Voom service is significantly better than onboard internet available through other cruise lines.
How is WiFi access controlled?
Your access to the internet onboard your Royal Caribbean ship is tied to your stateroom and account you create.  
When you first logon to Royal Caribbean's WiFi, you will see an option to create an account and there you can sign up for a plan or pay for the internet by the minute.  In either case, the charge for internet usage will be applied to your stateroom account.
What devices can access the internet? 
Any internet device that can access a 802.11b wireless connection can connect to the internet.  This include most smart phones, laptops and tablets.  
Royal Caribbean does provide workstations that are shared and available on a first-come, first served basis but we have found the workstations to be slow in terms of performance.
What about using Skype or Facetime on my Royal Caribbean cruise?
With Voom internet, Skype, Facetime and other VOIP applications are allowed to be used by guests.
How much does internet access cost?
Royal Caribbean offers unlimited plans that can be purchased onboard the ship or pre-purchased prior to the cruise. Royal Caribbean offers unlimited plans as follows for guests that purchase it onboard the ship.
Here are the 2018 prices for Royal Caribbean's Voom internet access, if purchased onboard:
Surf & Stream Voom

1 device: $19.99 per day, per device
2 devices: $18.99 per day, per device
4 devices: $16.99 per day, per device
Single Day Pass: $29.99 per day, per device

Surf

1 device: $15.99 per day, per device
2 devices: $14.99 per day, per device
4 devices: $12.99 per day, per device
Single Day Pass: $22.99 per day, per device
The good news is Royal Caribbean routinely offers a discount on its Voom internet packages for guests that pre-purchase their internet packages via the Cruise Planner.  There is also a Crown and Anchor Society discount on Voom packages purchased onboard, however we have found the online purchases to be a much better value than onboard discounts.
In general, you should opt for an internet package rather than paying per minute to get the best deal.  
Can I switch between devices while using a Voom package?
Yes, you may use as many devices as you like, but whichever plan you purchase will limit you to the number of devices that may be connected at the same time.  
To change devices, first log off the first device by typing logoff.com into your web browser.  This will log your first device out.  Afterwards, log back in with the other device.  You can do this as many times as necessary.
Alternatives to Royal Caribbean WiFi
If the price of Royal Caribbean's Voom internet is too much for you, or you do not feel you need to buy a package for the duration of your cruise, there are some other options consider, including connecting while at port.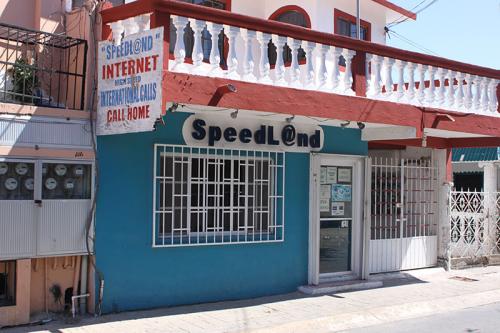 Your Royal Caribbean ship will visit different ports of call during your cruise, and there will be lots of restaurants, bars and other establishments that offer WiFi access, either for free or a small cost.  Many of these places may simply offer WiFi access if you purchase something.  In almost all cases, the costs to connect in these ports is significantly cheaper than what Royal Caribbean offers.
If you want to find a good place to connect, try asking a Royal Caribbean crew member where they go for internet access because they visit these ports regularly and know where to find the best deals.