In:
Guests looking for a larger stateroom that provides a few suite perks combined with a balcony experience often look to a Junior Suite on Royal Caribbean's cruise ships. Junior suite staterooms are available on all Royal Caribbean cruise ships and this blog post is aimed at helping everyone understand better what a Junior Suite cabin offers and why you might want to book one.
Junior Suite Basics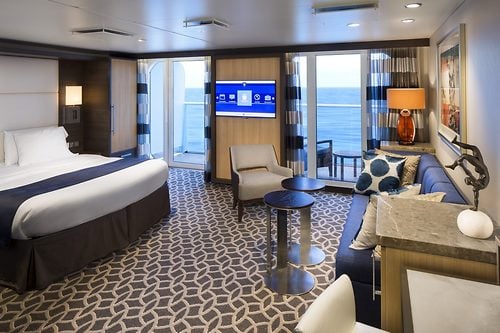 Junior Suites are the first type of suite staterooms that Royal Caribbean offers.  Despite its name, Junior Suites have more in common with balcony staterooms than suites.
The exact layout and size of a Junior Suite will vary between classes of ships, but they all are essentially a large cabin with private balcony that offers more perks than a regular balcony stateroom.
In most cases, you will find in a junior suite two twin beds that convert to a Royal King, a sitting area with sofa bed, private balcony and a private bathroom with a bathtub.
The exact size of a junior suite varies from ship to ship, anywhere from 112 square feet on Empress of the Seas to 299 square feet on Brilliance of the Seas.  Most junior suites are about 290 square feet.
The size of the balcony ranges as well, from 40 square feet on Empress of the Seas to 161 square feet on Quantum-class ships.
Spa Junior Suites
In recent years, Royal Caribbean has begun offering on its Quantum-class ships a new type of Junior Suite, known as the Spa Junior Suite.
The Spa Junior Suite comes in at 267 square feet and offers a large, spa-inspired split bath with soaking tub.  There's also a shower with frosted glass wall that allows natural light from living area.
The bath tub also features a rain shower head and a hand held shower head.
Junior Suite Perks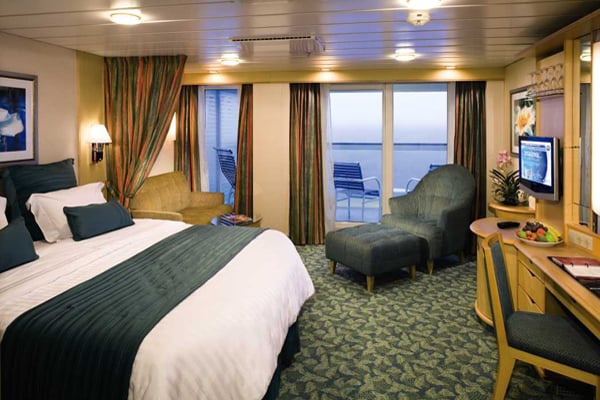 The most common question about a Junior Suite is why book this category of stateroom and what benefits does one receive by staying in one.
Without question, a Junior Suite offers more space than a regular balcony stateroom and that means more living space in your cabin.  This extra space is in both the cabin and the balcony.  When it comes to accommodations on cruise ships, every extra square foot of living space is wonderful.
In addition to the living space, Junior Suites offer a full size tub, which is is great for families or those who like having more space in their shower, as well as a walk-in closet.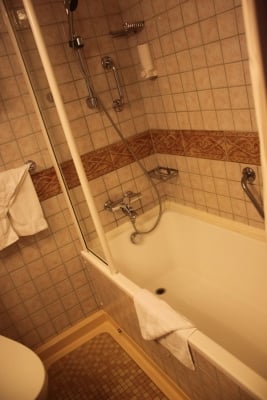 Junior Suites also offer guests double Crown and Anchor Society points, which means guests can move up the ranks of the Crown and Anchor Society levels much faster. 
Junior suites also include tea and coffee service ensuite and terry bathrobes (for use onboard). In addition, junior suite guests receive silver SeaPass cards to distinguish themselves as suite guests to Royal Caribbean staff.
Royal Suite Class
In May 2016, Royal Caribbean ushered in a new revamped approach to its suite benefits program called the Royal Suite Class, and Junior Suites are included in this.
Available on Quantum- and Oasis-class cruise ships, Junior Suites qualify for Sea Class benefits.  These include:
Dinner access to Coastal Kitchen (dinner only)
Luxury Pillowtop Mattress
L'Occitane Bathroom Amenities
What Junior Suites do not include
Despite the word, "suite" being in the name of the Junior Suite, guests staying in a Junior Suite do not receive the full suite perks.  
This means guests do not receive the same level of benefits and access that guests staying in Grand Suite or higher staterooms do.  Most notably, this includes access to the concierge lounge, concierge service or reserved suites-only areas of the ship.
Are Junior Suites worth it?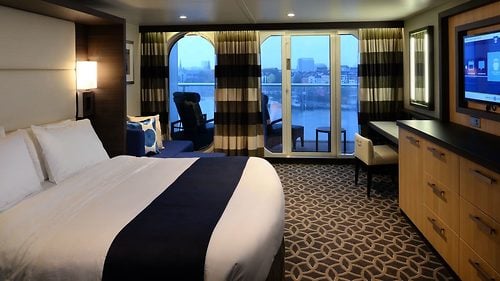 The bottom line is Junior Suites are extra large balcony staterooms that provide a less-expensive means of splurging for accommodations on a Royal Caribbean cruise without breaking the bank.
The extra living space and perks of a Junior Suite are a nice to have benefit, that provide for a much more enjoyable experience while in your stateroom. Between the extra storage space, larger balcony and bathroom upgrades, many guests easily can see and appreciate the extras.
Many Royal Caribbean veterans will tell you the determining factor to if a Junior Suite is worth the price is it depends on the price difference between it and a regular balcony stateroom.  Many times, a Junior Suite upgrade cost is nominal, while on other sailings the price difference has been more substantial.  
While a Junior Suite may not offer nearly as many perks and incentives as a traditional suite stateroom, it does include enough advantages to satisfy the needs of most guests looking to enjoy something nicer than a balcony stateroom but cannot or will not opt for a more extravagant suite.