In:
Those looking to book their next cruise in a suite onboard a Royal Caribbean ship might be wondering about the differences between a Junior Suite and higher tiered suites.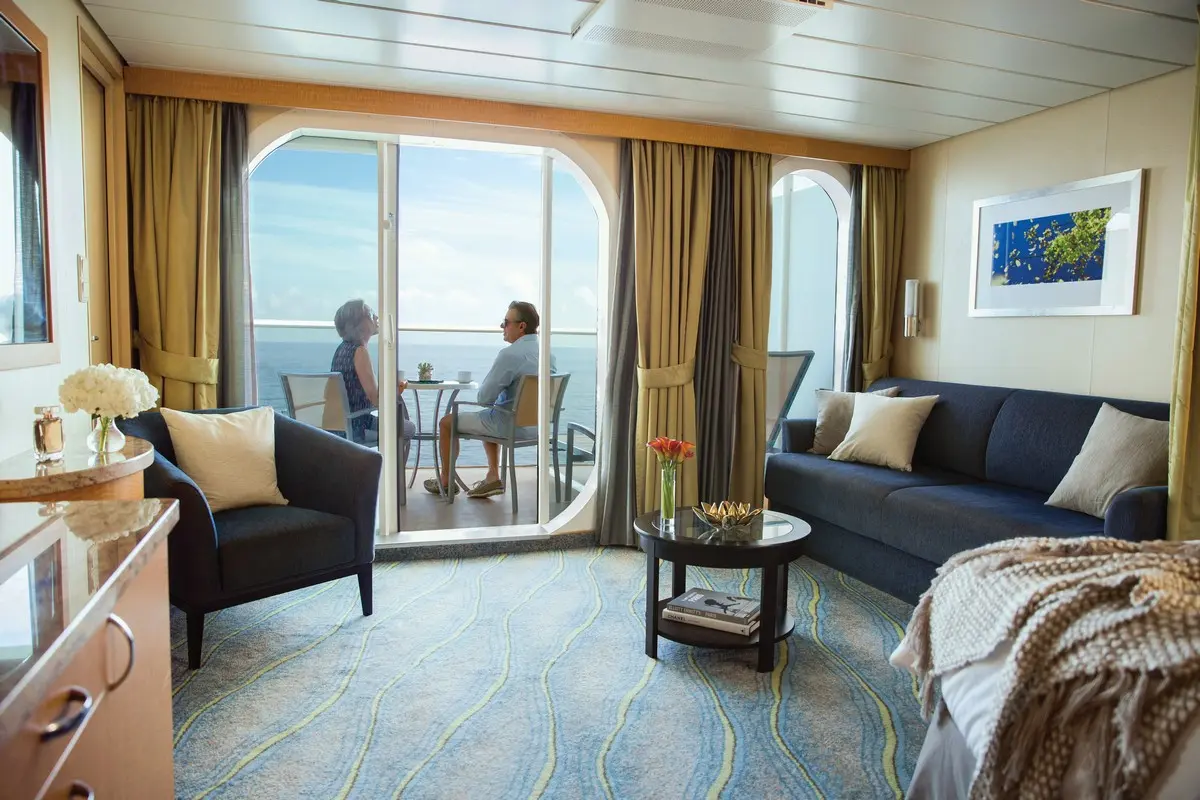 A Junior Suite is the entry-level suite on all Royal Caribbean vessels, meaning that you will not be able to enjoy the full suite experience. Even though these staterooms have a few additional perks than standard cabins, they can be thought of like larger balcony cabins. 
Here's everything you need to know about staying in a Junior Suite and the associated perks. 
What ships have Junior Suites onboard?
Junior Suites can be found on all Royal Caribbean ships; it does not matter if you are sailing on a Vision Class ship or the world's largest cruise ship, Wonder of the Seas. Since it is the lowest tier of suite available, there are more onboard than say, for instance, Grand Suites or Owner's Suites. That being said, the number of available Junior Suites will be fewer on older ships.
Vision of the Seas, for instance, has 77 Junior Suites. In comparison, Wonder of the Seas has over 100! 
How big are Junior Suites?
The exact size and layout of Junior Suites varies between classes of ships. In essence, though, they are large cabins that offer more square footage, both inside and on the balcony, than standard balcony cabins.
Most fall somewhere between 240 and 300 square feet with balconies ranging from 50 to 80 square feet. The best way to tell how large the Junior Suite you are looking at will be is to check out the ship's deck plan. 
In most cases, Junior Suites come equipped with a Royal King bed than can be covered into two twin beds that covert upon request, a sitting area with sofa bed, private balcony, larger closet, and en-suite bathroom with a bathtub and larger vanity area. 
What perks come with staying in a Junior Suite?
Unfortunately, staying in a Junior Suite does not grant you access to the full list of suite amenities. 
If you want to utilize the concierge, have priority access to dining reservations and spa bookings, access the suite lounge, or enjoy a private breakfast in a specialty restaurant (or Coastal Kitchen), you will need to consider booking a Grand Suite or above. 
In terms of what comes with a Junior Suite, the primary benefits that you will get are Royal Caribbean bathrobes for onboard use only, a Lavazza espresso machine in your stateroom, luxury bathroom amenities, and priority boarding.
Colored SeaPass card
If you stay in a Junior Suite, your SeaPass will be a different color than the standard blue SeaPass for regular cabins. 
It will be silver for those staying in Junior Suites onboard Vision, Radiance, Voyager, and Freedom Class ships. Since Oasis and Quantum Ships have the Royal Suite Class onboard, SeaPasses on these ships are determined by what category of suite you are in: Sea, Sky, or Star. 
Junior Suites are the only suites that are part of the Sea Class, which comes with a blue-green SeaPass card. 
Note that colors can vary based on ship and sailing!
Coastal Kitchen
If you are sailing on an Oasis or Quantum Class ship, you will find that there is a dedicated suites-only restaurant called Coastal Kitchen. While those staying in Grand Suites and above can access it for breakfast, lunch, and dinner, Junior Suite guests can only eat here for dinner based on availability.  
You will want to make sure that you head to Coastal Kitchen on embarkation day to make any reservations. A good tip is to be flexible with your dining times. If you are set on eating at 7:00pm everyday, for instance, you may be disappointed if they say they can only seat you early or late. 
Extra Crown & Anchor loyalty points
Those staying in standard staterooms will get one Crown & Anchor loyalty point for each night of the cruise. For a 4-night vacation, for example, you would earn 4 points, and for a 7-night cruise, you would earn 7. 
Those staying in a Junior Suite, however, will be awarded two points per night, so a 3-night cruise would get you 6 points, while a 7-night would get you 14. 
Staying in a Junior Suite is one way to climb the Crown & Anchor loyalty ladder faster to get rewarded with additional perks, such as daily drink vouchers, free laundry, welcome waters in your cabin, and more. 
What do Junior Suites not include?
Guests staying in Junior Suites will not get the majority of suite benefits that are available to those staying in Grand Suites and above. Here are the benefits those guests receive from staying in a regular suite:
Pillowtop mattress
Priority departure 
Concierge service
Suite Lounge/Concierge Club access with hors d'oeuvres and cocktails every evening)
Priority dining, spa, and shore excursion bookings
Bridge, galley, and backstage tours
VIP pool deck seating (not available on Vision or Radiance Class)
Priority tendering 
Welcome Evian water & fruit 
Ability to order from the Main Dining Room for in-suite dining (during operating hours)
Complimentary 24-hour room service
Private breakfast and lunch seating (location varies by ship and sailing)
Departure breakfast 
Reserved seating for shows 
Complimentary pressing on first formal night
And, of course, since Junior Suites are in the Sea Class on Oasis and Quantum ships, they will not be eligible for any Star or Sky Class perks. 
The main perk is the additional space. For a family of four staying in one cabin, this would be much more comfortable than one standard balcony!
How much does it cost to stay in a Junior Suite? 
Since Junior Suites are the lowest tier of suite available on Royal Caribbean cruises, they are also the cheapest. If, however, you are trying to cruise on a budget, you may find that they are still relatively expensive compared to other cabin options. 
The cost depends on the ship, time of year, and length of itinerary, and as with most cruises, the newer the ship, the most the suite will cost. 
A Junior Suite on a 7-night Greek Isles cruise on Odyssey of the Seas departing in August 2024 starts at $2,423 per person, based on double occupancy. In comparison, an obstructed ocean view balcony is currently being advertised for $1,763 per person.   
A 7-night Southern Caribbean cruise onboard Rhapsody of the Seas that also departs in August 2024 starts at $1,393 per person, based on double occupancy, for a Junior Suite. In this case, a balcony is not too much less, as they begin at $1,238 per person! 
There is no set price for a Junior Suite, so if staying in one on your upcoming cruise interests you, take the time to do some research or reach out to a travel agent who can assist you with the booking process.
Sometimes, getting a Junior Suite is worth the cost because the price difference between it and a standard balcony stateroom is minimal.
And while it may not include as many benefits as other higher tiered suites, there are enough perks to (often) justify the up charge, with one of the most important being the double Crown & Anchor points. An extra couple of hundred dollars to help you upgrade to the next tier may well be worth it.