In:
Booking a suite on a cruise ship means enjoying some of the most lavish and expansive cabins available onboard.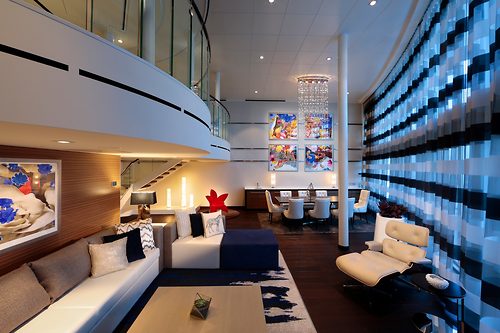 All of that luxury comes at an expensive price, but just because you are paying more does not mean you cannot get a lot of value back from the room.
While suites are definitely a splurge, there are some easy ways to maximize the value you get from staying in a suite on a cruise ship.
Look for an email before your cruise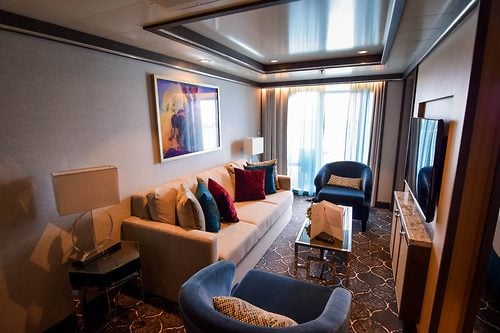 About a week before your cruise sets sail, the suite concierge should send you an email to welcome you onboard and give you an overview of what to expect once you board the ship.
This email is not only a great way to know your suite concierge's name, hours and where to find him/her, but it also gives a good overview of the amenities available to suite guests onboard.
This email is also your first opportunity to book certain suite-only offerings, such as cabanas or reservations at special events.
In addition, you can email the concierge with any special requests.
Use the suites-only check-in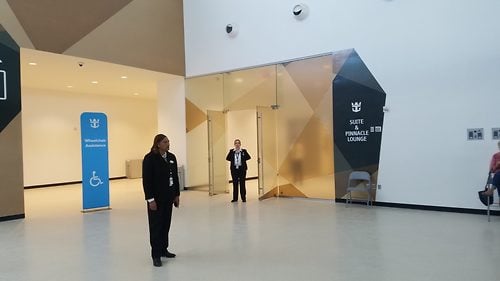 When you get to the cruise terminal on the first day of your cruise, look for a special check-in area just for suite guests.
Even if you have elevated status in Crown and Anchor Society, the suite entrance has shorter lines and a special waiting area that ensures you will be among the first guests to board the ship.
If you happen to overlook the suites check-in area, one of the cruise terminal employees should redirect you back to the suites line, but save yourself time and keep an eye out for it.
Spend time in the Suite Lounge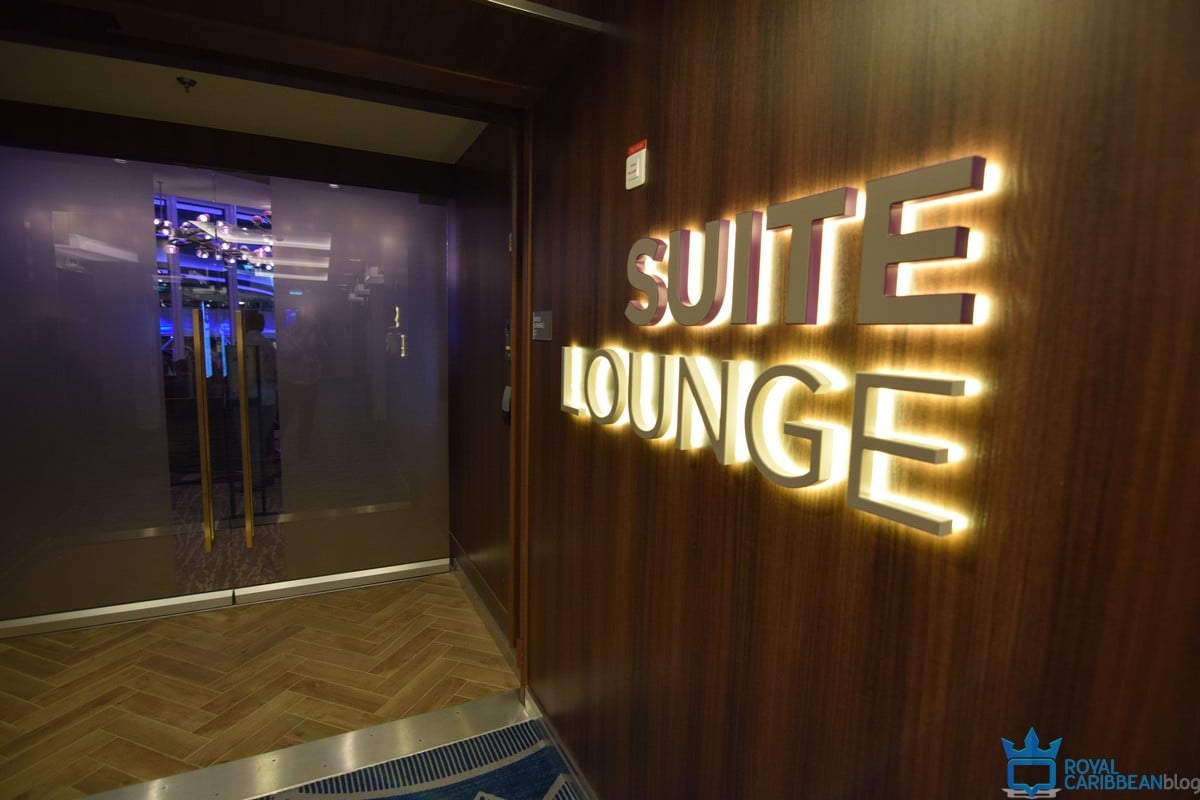 The focal point of the suite experience is the Suite Lounge (also known as the Concierge Lounge on some ships).
This special area allows suite guests not only a restricted access space just for suite guests, but it also provides complimentary snacks and hors d'oeuvres throughout the day.
In the evening, there is complimentary alcoholic beverages served, which adds a great deal of value to being in a suite. The exact hours will vary, but it is usually for 3-4 hours per evening, and it is unlimited drinks while in the lounge.
Many suite guests also enjoy the lounge as an opportunity to meet other guests and talk about cruising, their experiences that day, and otherwise chit-chatting. Frequent suite guests look forward to the social aspect of being in the suite lounge and enjoying meeting others.
Take advantage of the concierge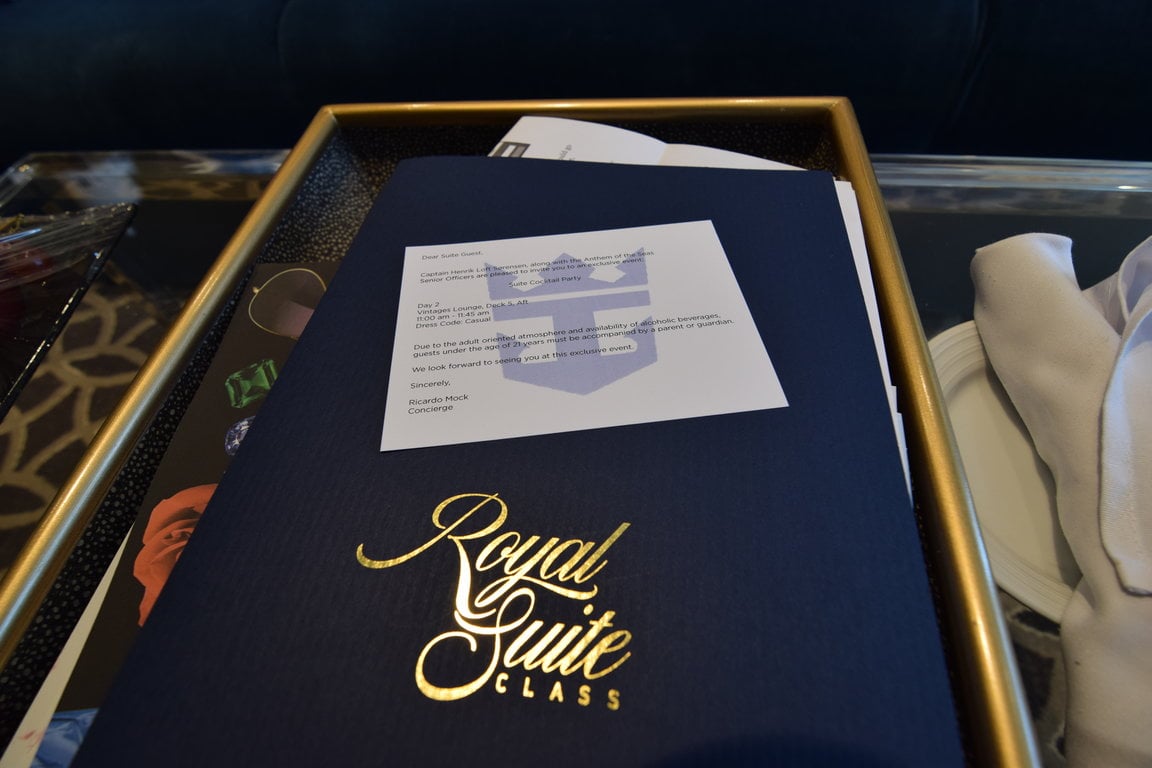 The suite concierge is more than just a glorified guest services option.  The concierge is there to save you time and make your cruise experience easier.
It is a good idea to meet the concierge at some point on the first day of the cruise. Some guests stop by the suite lounge in the afternoon of the first day, and a lot more will visit the lounge on the first evening when the complimentary beverages are available.
The concierge can handle everything the front desk of the ship can do, such as billing issues, re-issuing SeaPass cards and more.  
The true value of the concierge is they are your go-to problem solver. Need to make a dining reservation? Not sure what to do in a port? Having an issue with your stateroom? The concierge knows exactly how to rectify these issues quickly.
In short, get to know the concierge early and do not hesitate to reach out them with questions or concerns.
Enjoy reserved seating at shows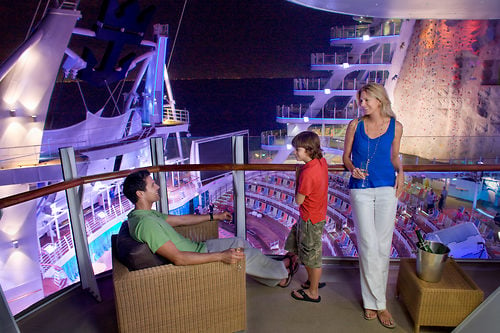 Suite guests are able to take advantage of reserved seating at the major shows during your cruise.
You can speak to the concierge about the exact location, but performances in the Royal Theater, Two70, Studio B and AquaTheater have a special area for suite guests to go and enjoy the show.
These seats are on a first-come, first-taken basis, so be sure to get to the show on time.  In addition, if no suite guests claim the seats by a certain time, they can be opened up to other guests.
You should be aware that while these reserved seats exist, they may not be exactly where you want to sit. It is a good idea to investigate where the seats are, and determine if you are better off finding your own seats elsewhere.
Go to the private beach in Labadee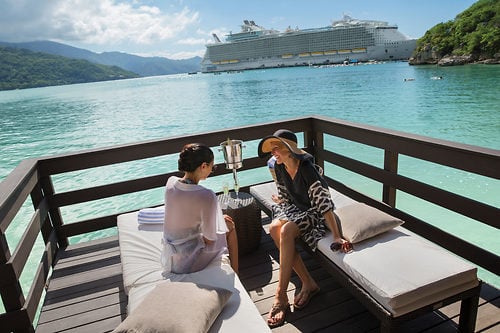 At Royal Caribbean's private destination, Labadee, there is a special beach area just for suite guests known as Barefoot Beach Club.
This beach is reserved only for suite guests, and provides an exclusive area just for suite guests, complete with a lunch buffet area just for them.
In addition to the complimentary beach for suite guests, there are cabanas available to rent. These cabanas can be reserved via the suite concierge.
If you want a cabana, be sure to act fast as they sell out quickly. Your best bet is to reply to your suite concierge's email before the cruise to reserve one.
Complimentary tours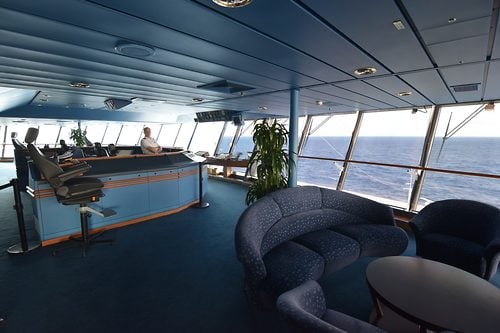 On most sailings, suite guests will be invited by the concierge to enjoy a complimentary backstage tour.
These tours will vary, but can be tours of the ship's bridge, galley or theater.
Invitations will be sent in a card, so keep an eye out for it.  If you do not see it, there is no harm in politely asking the concierge if there are any tours available for suite guests.
Escorted disembarkation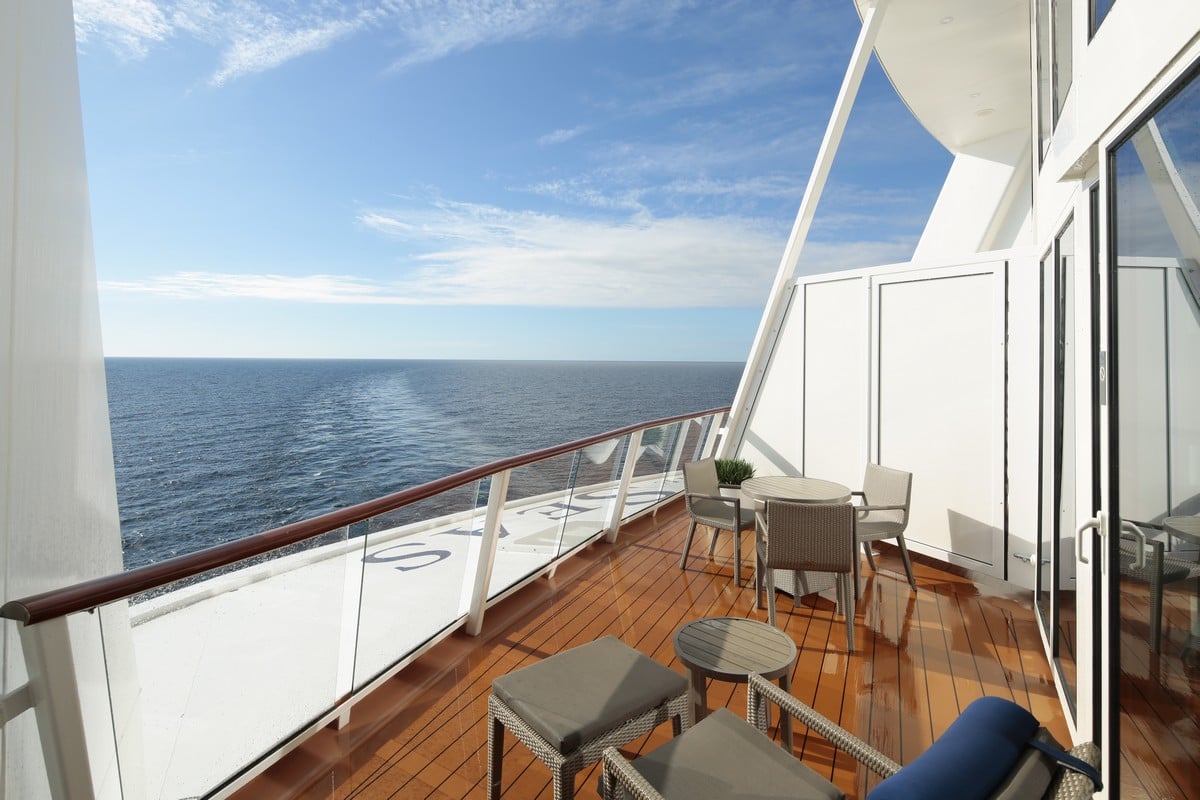 Perhaps my favorite perk of being in a suite is the escorted disembarkation process, which means no waiting in a line to get off the ship.
On the final morning of your cruise, the suite concierge will have select times where he/she will walk you off the ship and bypass nearly all the lines.
This has the potential to save a lot of time, as lines to disembark the ship can easily back up quite a bit.
Royal Suite Class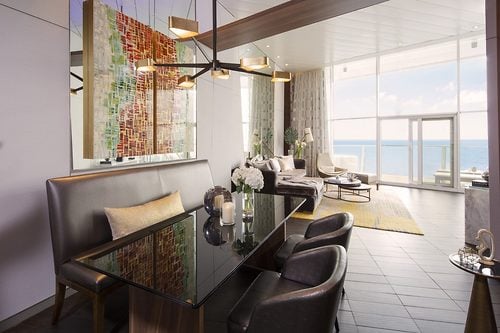 If you happen to be in a suite on an Oasis or Quantum Class ship, then the suite benefits get taken to a different level with the Royal Suite Class.
The Royal Suite Class represents the very best suite benefits across the fleet, and if you want to get the most out of your suite experience, you would be best served to try one on an Oasis or Quantum Class ship. Guests staying in the Royal Suite Class are entitled to certain benefits not available on other classes of ships.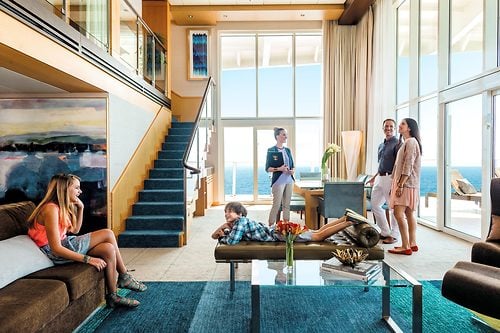 Most notably, Sky Class guests get complimentary WiFi for every person in their room (even kids), and Star Class guests have access to a Royal Genie.
The Royal Genie is part concierge, part butler, and part wish maker. If you book a Star Class room, plan nothing in advance and let your Royal Genie take care of all the details. They can hook you up with pretty much everything you would need onboard the ship.