In:
At the top of the Royal Suite program is Star Class, which offers guests sailing in Royal Caribbean's most spacious and well-appointed rooms the top tier of benefits.
The Royal Suite Class are suites offered on the Oasis and Quantum Class ships. These ships include:
Oasis of the Seas
Allure of the Seas
Harmony of the Seas
Symphony of the Seas
Quantum of the Seas (Singapore sailings)
Anthem of the Seas
Ovation of the Seas
Wonder of the Seas
What is a Star Class suite on Royal Caribbean?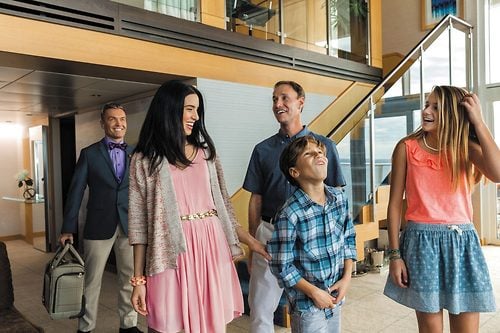 The top tier of the Royal Suite Class is Star Class, and guests staying in this room receive a wide array of amenities, perks and services while onboard.
The benefits of Star Class include:
Dedicated check-in line
Priority boarding
Access to Coastal Kitchen restaurant for breakfast, lunch, and dinner
Bathrobes
L'Occitane 50 ml Bathroom Amenities
Duxiana Mattress
Frette Linens
In Room Mr. Coffee/Tea Service
Complimentary Voom high-speed WiFi

Each guest booked in Star Tier suites will receive complimentary VOOM on one individual device of their choice.

Concierge service
Access to Sun Suite Deck
Exclusive signature activities
Complimentary Minibar stocked with Coca-Cola Beverages and Water
Laundry and Ironing Services
Priority Departure
Royal Genie
Complimentary Gratuities
Complimentary Specialty Dining
Complimentary Deluxe Beverage Package
What rooms are Star Class?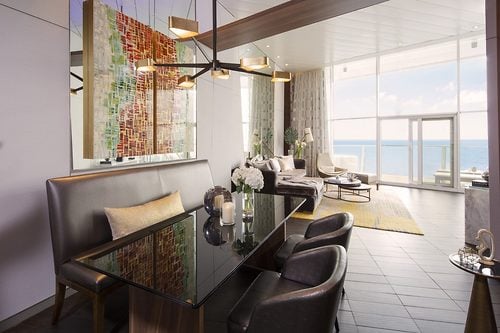 The Star Class cabins are hotel-style stays, with the most spacious to enjoy at sea. 
Royal Loft Suite
4 Bedroom Villa Suite
Owner's Loft Suite
Grand Loft Suite
1 Bedroom Owner's Panoramic Suite
2 Bedroom Grand Panoramic Suite
Star Loft Suite
2 Bedroom Spacious AquaTheater Suite with Large Balcony
2 Bedroom AquaTheater Suite with Large Balcony
Ultimate Family Suite
What is Royal Genie service?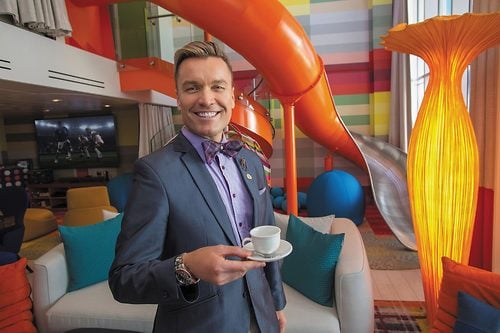 Arguably the best perk of staying in a Star Class room is your own Royal Genie.  All suites within the Star tier will receive the Royal Genie experience.
The Royal Genie's job is to craft experiences, and curate your entire vacation around what you wand your family want.  They offer their guests VIP experiences all around the ship.
There are many services offered by the Royal Genie, here are the top services offered:
Exclusive access to private Shore Excursions, VIP Seating, signature activities and more, before they open to anyone else.
Helps coordinate in-suite parties, such as surprise parties, cocktail hours and more.
Keeps suite stocked with favorite snacks and drinks.
Expedited Boarding and Departure
Personal shopper to help guests shop for gifts, keepsakes and all the best brands onboard.
Provide a personal photographer to remember the cruise.
Due to the exclusive nature of these services, they cannot be extended to friends and family members sailing on the same voyage who are not booked as Star guests.
In the weeks before the sailing, Royal Genies will learn guests' specific preferences.
2 weeks before: The Royal Genie will contact a guest to confirm arrival information via e-mail.
10 days before: The Royal Genie will invite guests to download the Loop app – an exclusive Star Tier messaging tool that allows fast, easy and convenient communication between them and their Royal Genie. Loop will be available from point of download until four days after their cruise.
How much do I tip a Royal Genie?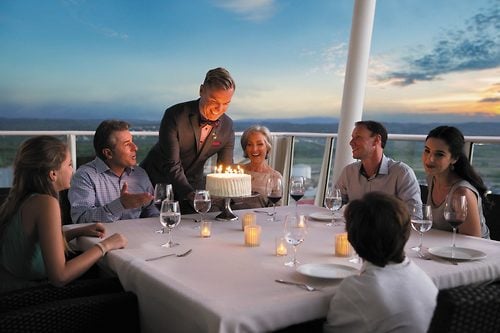 The short answer is, there is no pre-determined or advised amount.  It is completely up to you.
Many cruisers have thoughts on how much to tip their Royal Genie, so you may find their input helpful.